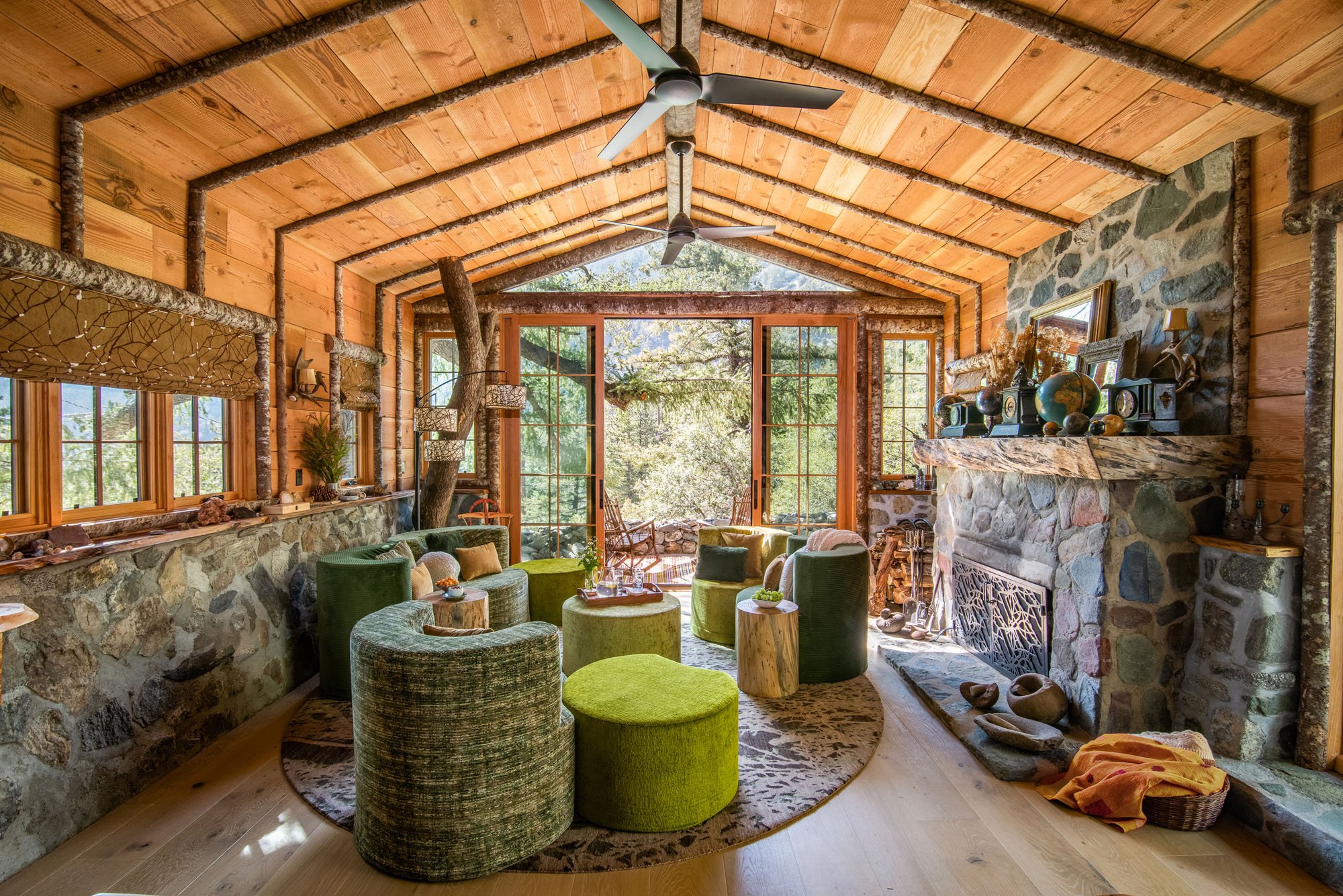 September 13, 2022
Los Angeles Firm CarbonShack Redesigned a Historic Cabin with Resiliency in Mind
Between the mouse problem, a leaking roof from a previous shoddily-done remodel, the need for an additional bedroom, and lack of natural light, something had to give. Pallrand says, "I remember waking up one morning and thinking, 'You know what? We're going to have to sell this thing or tear it down.'" But with a deep love of nature and a location ideal for his wife who is faculty at Harvey Mudd College, located down the hill from the cabin, the couple decided the best way to move forward was to do a complete renovation.
When it came to redoing the roof, the firm had to address the potential snow-load at the site's 6,500-foot-elevation. On the other hand, forest fires were of equal concern. National Forest guidelines state that cabins need to maintain their historic appearance through the use of natural materials such as wood shingle, "But I'm not going to put all this money into a place and make it out of matchsticks which are going to burn in the next fire," Pallrand notes, "I wanted to make this thing resilient."
---
More from Metropolis
---
In order to do so, Pallrand utilized HardieShingle, a type of cement shingle siding that helped him meet the National Forest guidelines while remaining fire resistant. He also added a specialty, Shaker-inspired metal roof, changed out all the windows to double-pane (which are harder to break in the case of fire), and employed rigid insulation made of wood chips and paraffin, "so it never burns." 
Using rigid insulation on the outside of the structure helped with energy savings too. Instead of cellulose or fiberglass insulation, Pallrand used wool. He also installed an electric heat pump for the hot water heater, lowering the project's carbon footprint by not having to burn logs in the fireplace or potbelly stove for heat.
The interiors are also inspired by green design principles as well as the natural hues and patterns found in the region. "We wanted to bring in the story of the environment into the finishes because people sometimes think of green construction and sustainability as boring," Pallrand says. Whether it's custom millwork and furniture made from salvaged lumber, live-edge Douglas fir battens, or custom-designed kitchen tile and drapery based on mycelium patterns, the region's beauty shines through the home's living spaces, literally and figuratively. Afterall, "One main part of the redesign was to open up the house to the views," says Pallrand. "Now you sit in the living room and instead of sitting in the living room looking at wood paneling, you're watching the snowfall or the trees move in the wind.​​"
Ultimately, the decision to renovate the cabin turned out to be a good idea after all. Pallrand notes that the cabin reminds him and his wife of their childhoods and their love of nature, and just as the park service initially intended, it serves as a place for their family to come together in the outdoors. "The house is kind of like a phoenix," he concludes. "In time, my kids could take this house apart and build a new one out of it."
Would you like to comment on this article? Send your thoughts to: [email protected]