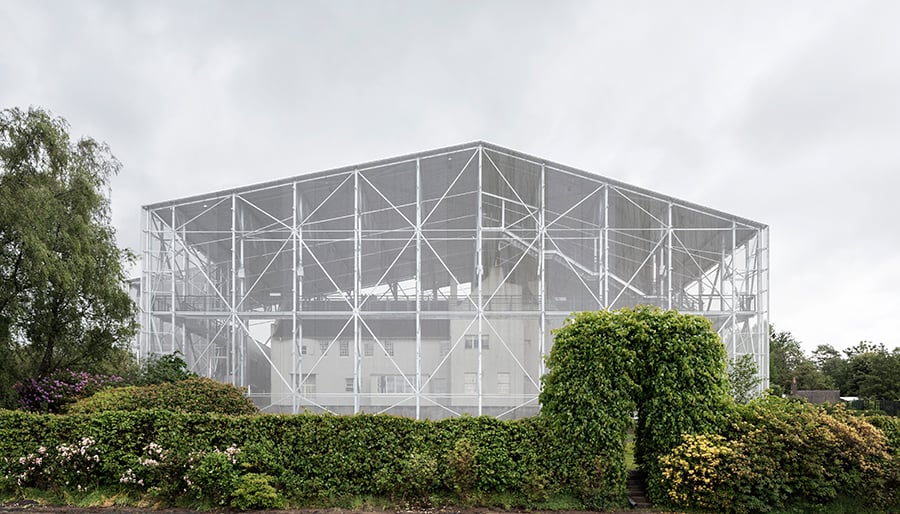 June 19, 2019
Chain Mail Now Protects Charles Rennie Mackintosh's Renowned Hill House
London studio Carmody Groarke designed a steel chain mail enclosure—with no less than 29,000 square feet of mail—that shields the Arts & Crafts masterpiece from water damage.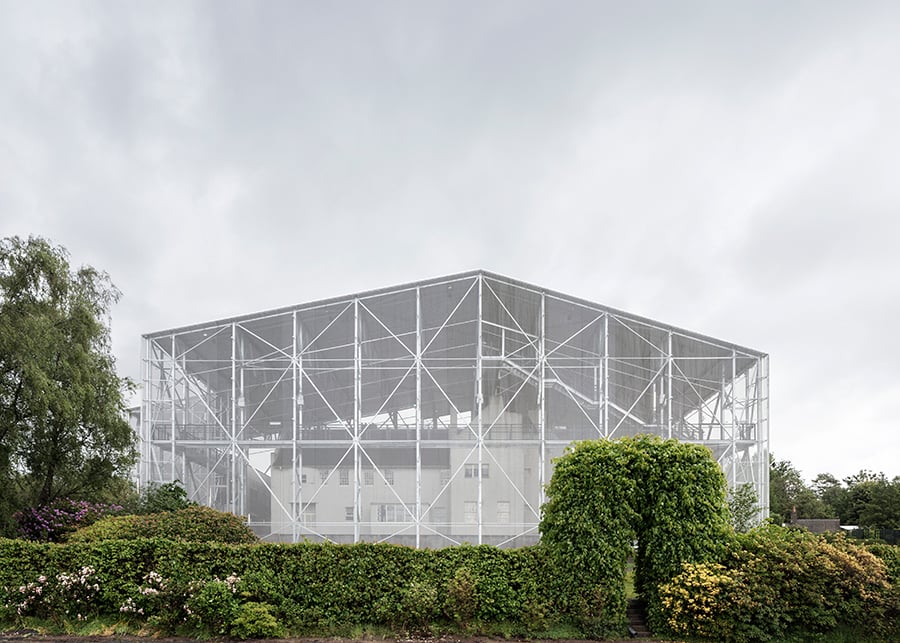 ---
Upon learning that a prized Charles Rennie Mackintosh building is about to be restored, one holds his or her breath—in four years, two fires have ravaged the legendary Scottish architect's masterful Glasgow School of Art building. (The second blaze was ignited while reconstruction was still taking place.) Now another Mackintosh building requires repairs, though this time it's a dwelling, and one that's considered to be the Scottish architect's best domestic work.
Built in 1902 for publisher Walter Blackie and his family, the "Hill House" boasts views of the River Clyde and the odd nuclear sub. The main catalyst for this intervention is water damage. The white cement render employed by Mackintosh for the facade was an idea borrowed from Spanish architecture. But in the damp Scottish weather, the material has cracked and fallen away.
Water now threatens the interiors as well, where more Mackintosh masterpieces can be found (the architect designed everything inside the house, including its furniture, which features his trademark high-backed chairs). However, the immediate challenge facing preservationists was how to stabilize the structure and shield it from further rain. The answer was chain mail—and lots of it.
---
More from Metropolis
---
London studio Carmody Groarke cloaked the Hill House in some 29,000 square feet of chain mail—weighing just over 9 tons—as part of a structure that now envelopes and ensconces the building. The new metal membrane keeps its distance from the house, allowing restoration to take place and permitting visitors to walk around the premises (via a series of catwalks), all while keeping the house visible.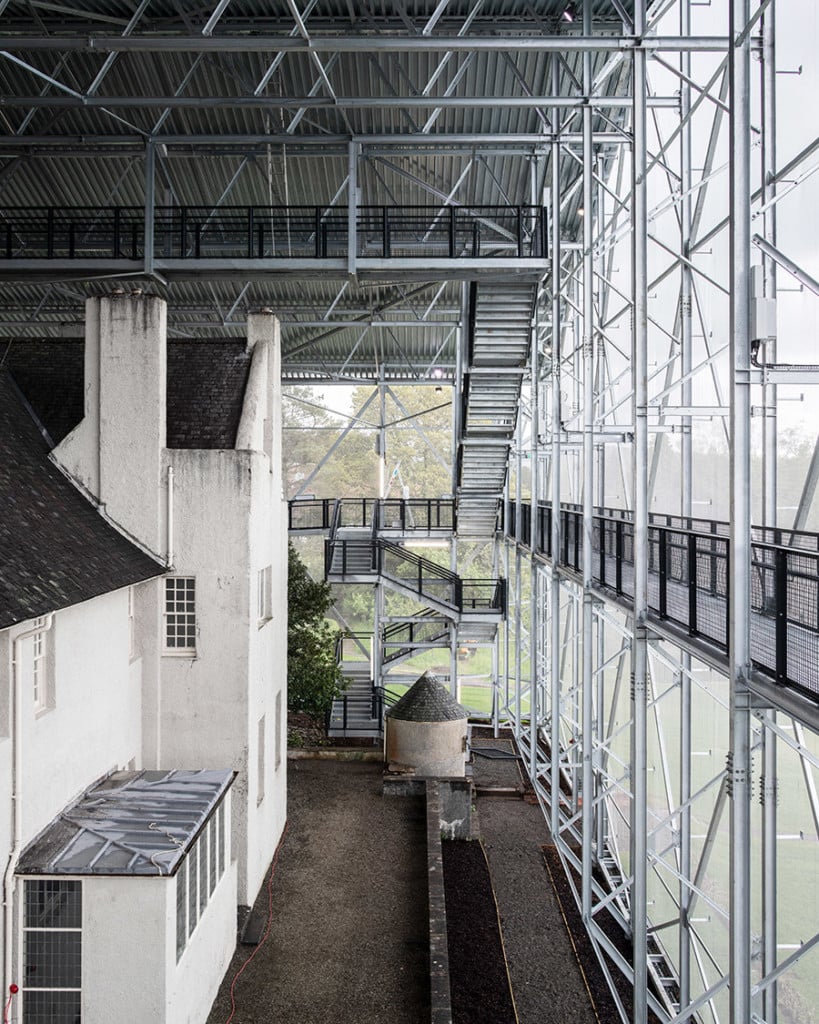 "We like to think of it as stopping the clock on the decay," Andy Groarke, cofounder of Carmody Groarke told Metropolis. A standard galvanized sheet metal roof stops most of the rain from entering the shell, but Scotland is renowned for its blustery weather. The studio's research shows that chain mail can "catch" 90 percent of rain that falls at an angle. "Chain mail slows the [rain]water down and makes it drip down," adds Groarke. Glass could have been used, but the firm wanted to avoid its "solid qualities," when viewed at an angle.
The chain mail was assembled first in sheets. These were then sewn together on site with wire—not welded, which presented a fire risk. Even in wet conditions, the architects were cautious to avoid yet another fire to a Mackintosh building. As a result, "cold" construction was followed throughout the project. The metal structure can handle sub-zero conditions too: Its design was "ice-loaded," meaning it can support the weight of the chain mail and any ice that may freeze on it. Furthermore, the chain mail has been tensioned to withstand windy conditions.
At its peak, the mesh structure is 85 feet high, not touching Mackintosh's work at any point. An elevated walkway system allows patrons to peer into upstairs bedrooms and a rooflight while restoration work is carried out—which won't commence for another three years, during which the cement surfaces will dry out.
The restoration itself could take up to 15 years, but this doesn't worry the architects. "It's designed to last as long as it needs to," said Groarke.
You may also enjoy "Junya Ishigami's Stone-Canopied Serpentine Pavilion Is Set to Open."
Would you like to comment on this article? Send your thoughts to: [email protected]