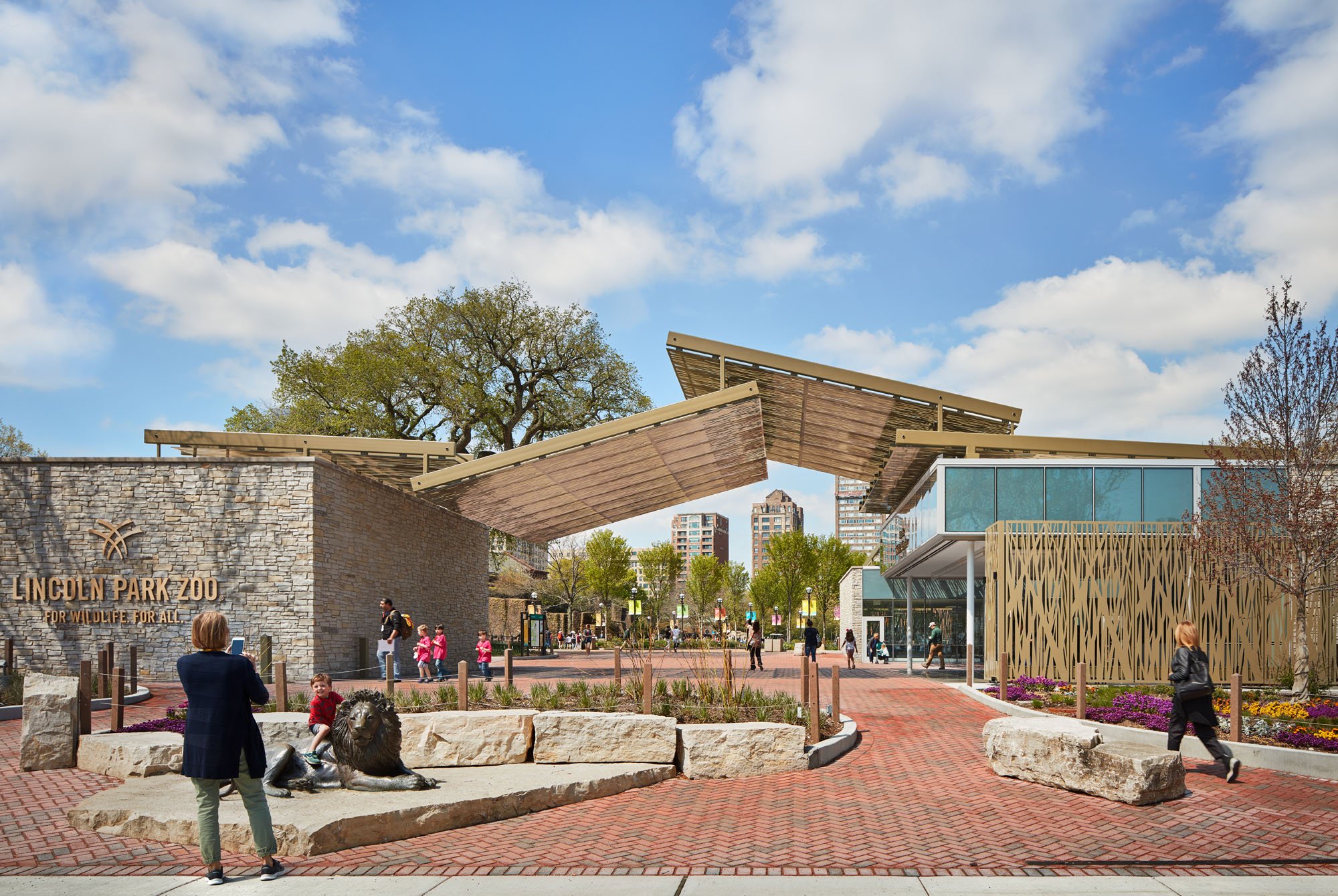 July 20, 2022
Chicago's Lincoln Park Zoo Raises Expectations for Public Space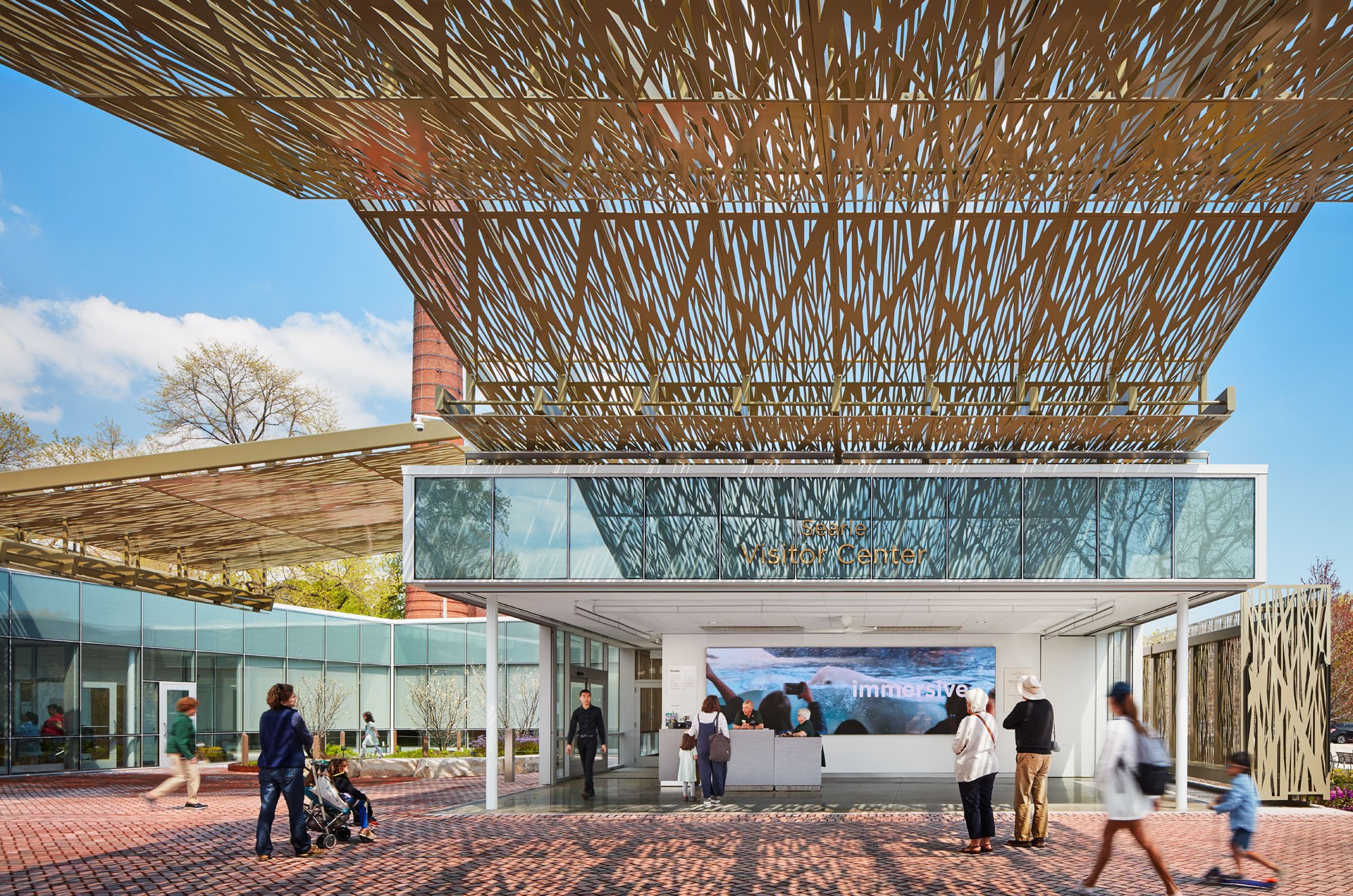 Because there's no admission fee, and therefore no ticketing counter, programming for the Searle Visitor Center could be an expansive gesture to the public—a "gateway," in Ross Barney's words. The firm divided the program into two separate buildings and, by connecting them with a steel canopy laser-cut with a pattern resembling slender reeds or stalks of bamboo, created the effect of a grand entrance into the Zoo. On the left, a rectangular building clad in Midwest limestone houses the bathrooms. On the right, a U-shaped building clad in glass holds the visitor center. Designed to be fully retractable, the walls can roll away to fully open the center's programmatic space to the outdoors. At night, a large steel gate cut with the same pattern as the canopy slides between the two building volumes, ensuring that no animals escape.
---
More from Metropolis
---
The Zoo's public nature meant that RBA had to consider groups of potential users with vastly different relationships to the buildings. It could have been tempting for them to design in order to offend the smallest number of people, a decision which frequently results in the kind of boring, utilitarian public spaces all too common in our cities. In light of this, the building's retractable walls, a subtle design move that encourages people to see indoor and outdoor spaces as connected, is its most compelling feature. "The whole idea of the design was to explore human comfort," says Ross Barney. "I think the design pushes the question: what do you really need to be comfortable?"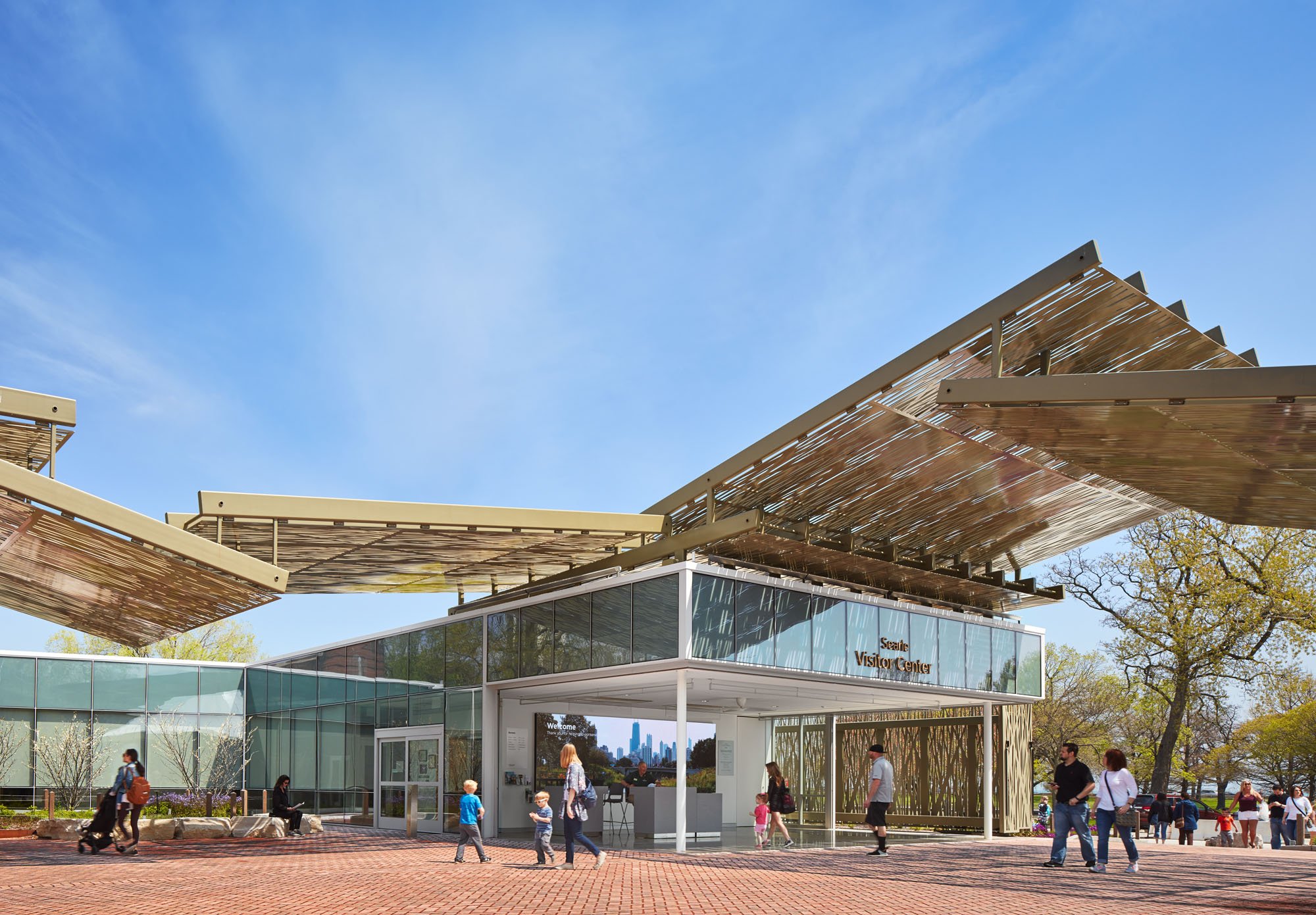 The answer might vary depending on who's being asked. A staff member or volunteer who has to spend all day on their feet inside the center, for example, might want the walls to remain closed to ensure that the temperature remains predictable throughout the day. A visitor, on the other hand, might enjoy the freedom to meander in and out.
It might also happen that extraordinary circumstances change people's preferences entirely. When the pandemic hit, Ross Barney says, "the building was always open." Given the strict rules that required social distancing and masking, the retractable walls that allowed the indoor space to become an outdoor one "became a health feature." RBA could not have predicted the pandemic, but their design—which doesn't underestimate people's ability to engage with public space but rather challenges the public to inhabit buildings in a new way—made it possible for Chicagoans to take advantage of the public spaces in their city at a time when they most needed it.
Would you like to comment on this article? Send your thoughts to: [email protected]