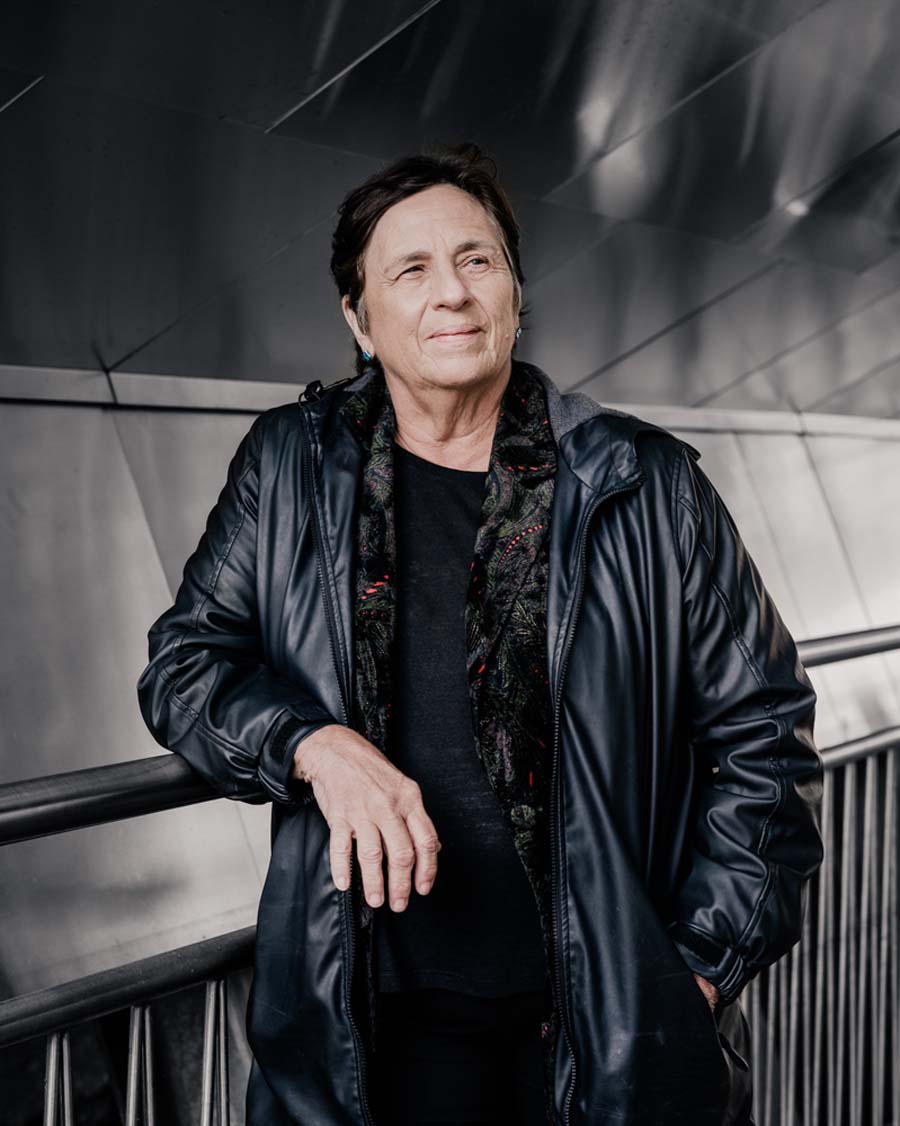 January 16, 2018
Carol Ross Barney is Chicago's New Daniel Burnham
Over the past decade, Chicago architect Carol Ross Barney has moved beyond the design of buildings toward stewardship and restoration of urban ecology.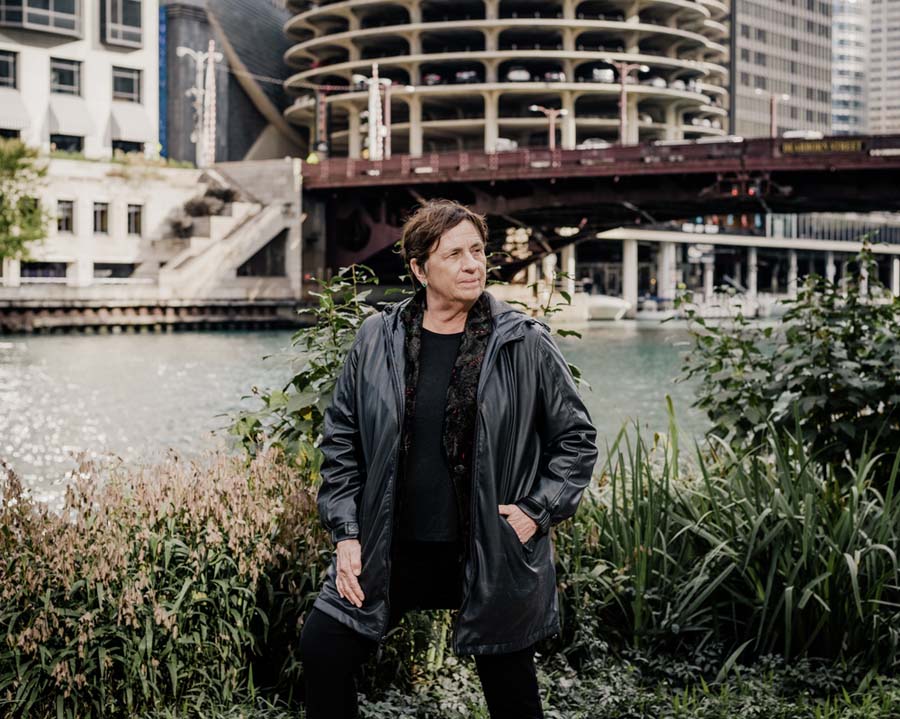 ---
As a lifelong Chicagoan, Carol Ross Barney has seen the Chicago River transition from an effluent-filled cargo highway to a vibrant recreational spot, one where her grandsons go fishing. "They can throw their line in and pull out two- to three-inch fish immediately," she says. It has even become a habitat for otters. As for people, the river has become an alternative commuting path: Some kayak to work. In many ways, these historically polluted stretches of Chicago now form a corridor offering a rich range of experiences and visitors. This dramatic reversal is thanks in no small part to the Chicago Riverwalk, which might be Ross Barney's career-defining project. "The attitude of the people toward the river is really changing, and I think that's the biggest story," she says.
The product of more than ten years of planning and design, the Riverwalk has had many champions, but none have been as consistent as Ross Barney. In her advocacy, she has gone through her own identity shift, from an architect of buildings to an urbanist to an ecological steward of Chicago's history-defining yet oft-forgotten waterway. The river has "taken over our practice," says Ross Barney. "I see my role as being a storyteller, a catalyst, to make people think in the same directions."
She began studying the river in 2001, but strategies for what to do with the Second City's second waterfront reach back much further. In his famed 1909 Plan of Chicago, Daniel Burnham suggested an orderly, dual-level promenade. Chicago's small, marshy river was the key link between the Great Lakes and the Mississippi River watershed. As countless raw materials for the conquest of a continent piled up on the Chicago River's shores, the next step was to build a great city that could begin manufacturing things with them. It was a legacy based not on access to exceptional natural resources, but on exceptional access to transit.
---
More from Metropolis
---
Ross Barney's long career in Chicago—capped off by a 2017 AIA Chicago Lifetime Achievement Award— is almost entirely made up of public works. She thrives on solving knotty, seemingly prosaic infrastructural problems, with a special emphasis on transit. Her consolidated car rental facility at O'Hare Airport (currently under construction) will be a massive 4.5-million-square-foot multimodal hub with two 60-foot-wide courtyard forests on its roof. Costing $782 million, it will be used by 30,000 people a day in a whirl of cars, rail lines, buses, and air traffic at one of the nation's largest airports. Ross Barney's long-standing relationship with the Chicago Transit Authority (CTA) has delivered the system's best contemporary stations and renovations. Her 2010 Fullerton and Belmont station upgrades established a basic material palette of stainless steel and translucent canopies that she has since refined into more dramatic and expressive directions. The Cermak-McCormick Place station (which serves Chicago's convention center) is a monumental tunnel of perforated steel, while her Morgan Street station in the trendy West Loop artfully boxes all manner of scrims and steel supports in glass.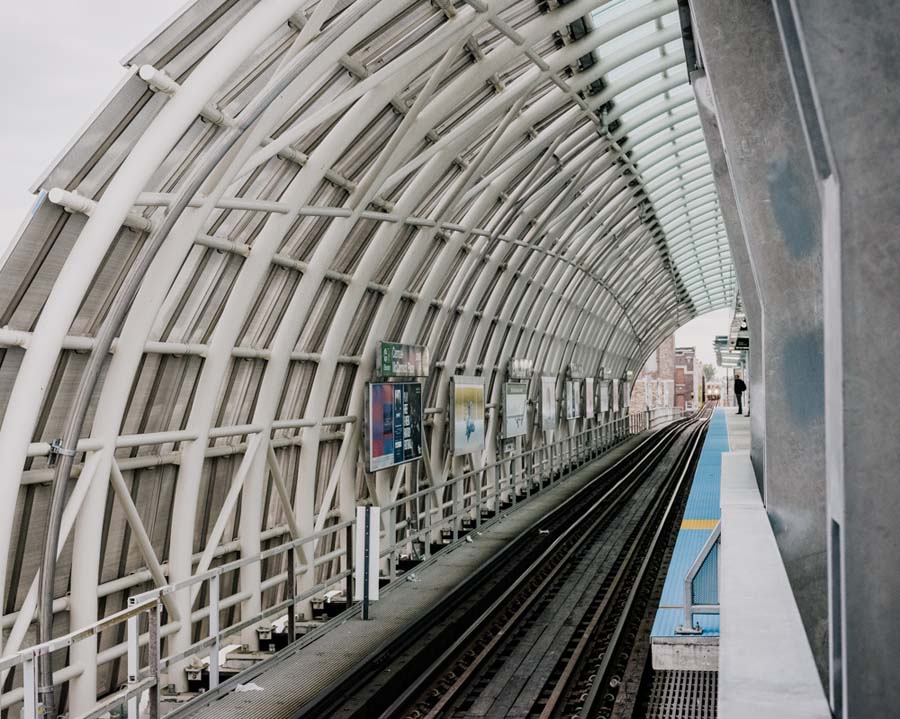 ---
With this transit work, Ross Barney has shown a knack for designing and understanding the complexities of infrastructure. She also played a critical role in the planning and development of Chicago's elevated rail park, the 606, which was uniquely funded as a transit landscape for bike commuters. From this perspective, her engagement with the river is a natural progression. Infrastructural systems encompass buildings and landscapes, and with the Riverwalk, Ross Barney's practice does too.
The plan for the Riverwalk's second and third phases came out of an intensive collaboration with the landscape architects at Sasaki. As with much of Ross Barney's infrastructural table-setting, "there weren't a lot of boundaries for what was architecture and what was landscape architecture," says Gina Ford, principal and landscape architect at Sasaki. In 2009, Ross Barney completed the first section of the 1.25-mile-long Riverwalk, which connects the northeast reaches of the Loop to the Lake Street Bridge. Subsequent extensions were conceived as independent urban rooms separated by Chicago's iconic bascule bridges. For its second phase, Ross Barney and Sasaki designed the River Theater section, a handsome rise of terraced stair seating with diagonal pedestrian ramps. They also added several other elements: The Water Plaza is a joyous zero- depth water feature with spray that leaps and burbles, while the reflective metal canopies under the bridges have turned them into some of the city's premier selfie spots. At the Marina Plaza, food and drink vendors have an easy time enticing joggers and strollers to stop and sip awhile, and the Cove serves as a kayak launch. The last piece in the puzzle, the Jetty, opened last year and was conceived as a place for fish as much as for people. Habitat lattices offer spots for aquatic flora and fauna to latch onto, and piers are supported by columns drilled with holes to attract fish. Docks reach out toward floating planting beds, tempting fisherwomen to linger as well. It's the Riverwalk's most direct invitation to get close to the water.
Cultivating a closer relationship to the river through a riverside network of parks is one step toward helping Chicago address its water quality issues. Decades of industrial use took a toll on the Chicago River, as has its antiquated combined sewage and stormwater system, which dumps waste into the river when the storm sewers are overwhelmed by heavy rain. (The website Is There Sewage in the Chicago River unsparingly tracks these instances. In the past ten years, sewage has been dumped into Chicago-area rivers on 640 days.) This pollution took the river to the brink. In the 1970s, there were only a handful of species of fish living there, their habitats largely destroyed by the concrete channelization of the river. It was functionally dead. Today, thanks to improved sewage treatment facilities and restored habitats, there are more than 75 species. A healthy river network can also ease inequality in a very unequal city, by providing access to recreation and green space through vast swaths of Chicago that desperately need it. "It's one of the systems that can actually change the face of the city," says Ross Barney. "It's a move toward social justice."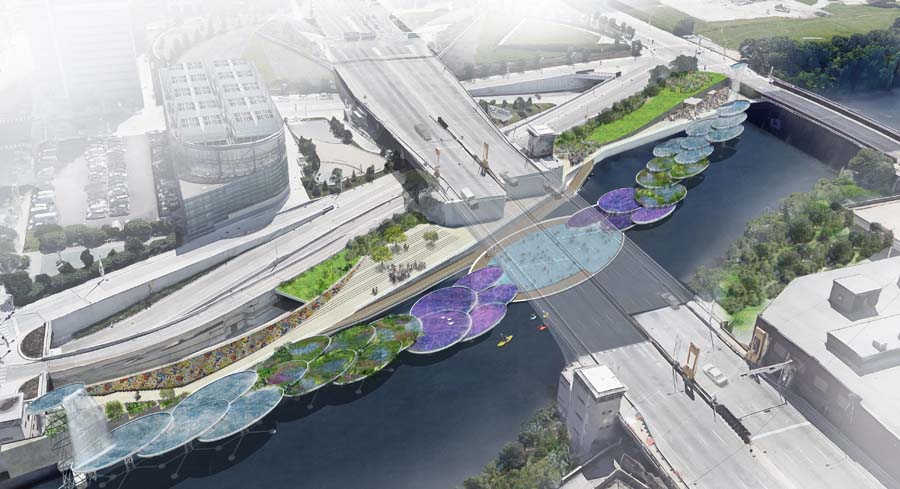 ---
And a move that needn't stop at the city limits. Ross Barney's Great Rivers project (initiated with help from the city, the Friends of the Chicago River, and the nonprofit Metropolitan Planning Council) sets goals and timelines for transforming 150-plus miles of riverfront across Chicagoland's three rivers: Chicago, Calumet, and Des Plaines. It's a wholesale restoration program for an entire urban ecosystem that promises to make it habitable and useful for people and wildlife. Throughout, it intertwines human infrastructure networks with managed greenscapes in ways typical of landscape architecture's current obsession with the melding of gray and green infrastructure. This means expanding the water taxi network while simultaneously doubling the acreage of designated nature preserves. It means designing prairie trails that run under the power lines near the Calumet River on the far South Side. And it means converting industrial shipping channels to in-stream wetland parks perfect for kayaking and birdwatching. One of Ross Barney's river proposals would turn a disused shipping channel most known for its consistent stench (nearby residents have dubbed it "Ass Creek") in the Hispanic neighborhood of Little Village into a wetland park for swimmers and fishers. The name of the proposal, typifying Ross Barney's total lack of pretense about the dirty work of making cities better, is "Ass(et) Creek." From her website: "We want to convert the Collateral Channel from ass to asset."
In the Great Rivers plan, leafy suburban trails get a graphic branding upgrade, while more urban sites get denser mixed-use development. As with the Riverwalk, nature is always closer at hand, but it's never pristine or Edenic. These are working landscapes, formerly at the behest of industry, and hopefully at the behest of the public in the days ahead. The plan touches dozens of municipalities and was drawn up with the input of 6,000 people. "I wouldn't say there is anything really comparable to what we did," says Josh Ellis, vice president of the Metropolitan Planning Council.
At first glance, Ross Barney's ambition for the river seems comparable to the previous decade's downtown landscape showstopper: Millennium Park, which did so much to give the city a communally accessible public plaza in sectarian Chicago. "We thought that from day one," says Margaret Frisbie, executive director of the Friends of the Chicago River.
But according to Ellis, the most applicable comparison here is Burnham's lakefront. Ross Barney's tenacity has opened up a rare and enviable opportunity among architects. Here she is playing a distinct role in the conception and execution of a truly huge urban project. Like Burnham, Ross Barney's work has helped bend public policy and regulations to her will. The Riverwalk required an act of Congress to complete, and today 30 feet of public right-of-way is mandatory for development along the river. This level of civic engagement can create a self-reinforcing feedback loop, as appreciation for the river breeds a new awareness among Chicago's citizenry. Says Ellis, "That can manifest itself at the ballot box, through spending, through volunteerism, through support for stronger environmental standards." And that is likely to be Ross Barney's greatest legacy. "She's a genius," says Frisbie. "She brings people with her, which I think is a reflection of Burnham."
Carol Ross Barney is one of Metropolis's 2018 Game Changers—read about the others here.