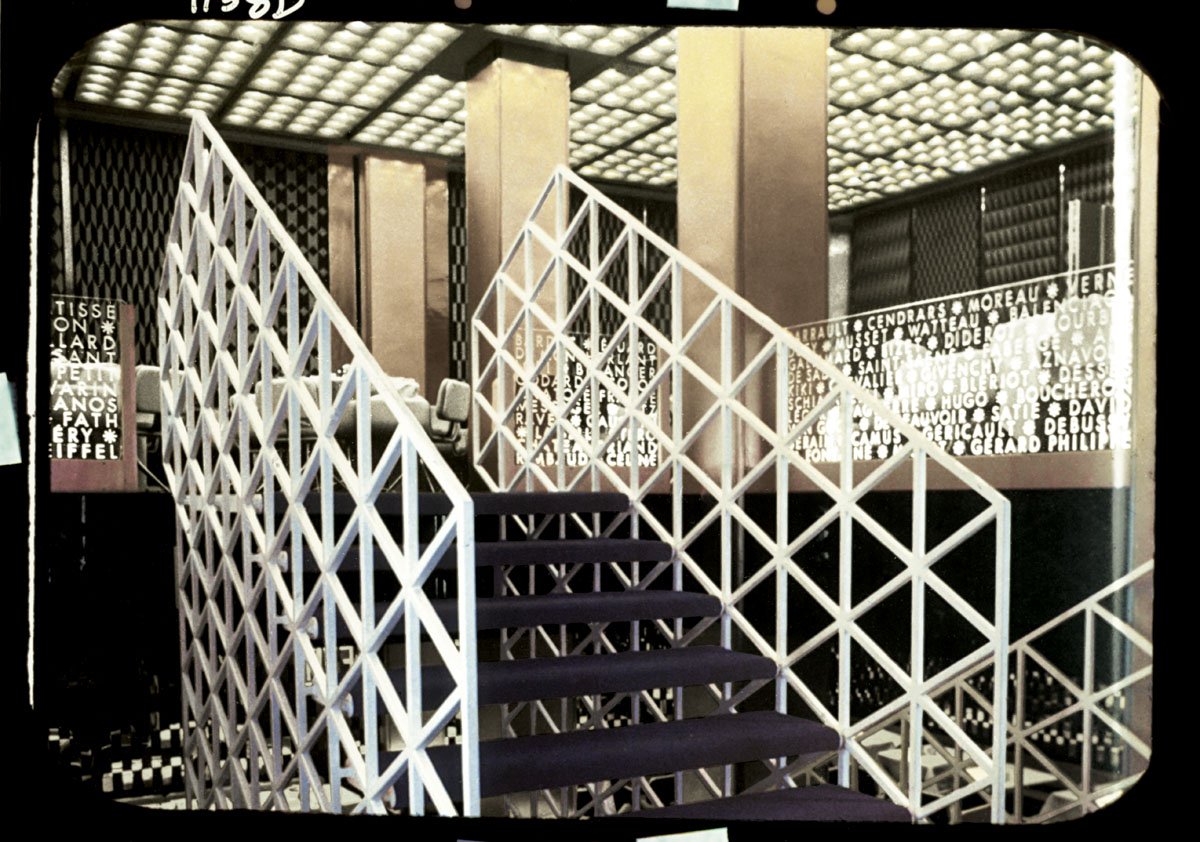 June 29, 2014
Classic Alexander Girard Patterns Get a Design Upgrade
Skyline Design finds that the midcentury designer's famous patterns work very well with contemporary materials.
Applications
Adding a graphic anchor to spaces, the collection is suited for a broad variety of interior applications such as accent wall panels, room dividers, feature walls, and workstation panels.
Courtesy Girard Studio
---
More from Metropolis
---
In 2012, Charlie Rizzo, the president of Skyline Design, visited the Herman Miller showroom in Chicago and saw Textiles by Alexander Girard: Exhibition of Vintage Designs and Objects. After further research, he discovered the monograph Alexander Girard (AMMO Books, 2011), which contained the designer's enormous body of work. "It seemed obvious that many of the designs were transferable to glass," he says. "As a trained architect, Alexander Girard was interested in all building materials and their interaction in a space. Layering and translucency form a continuous thread in his work. Glass seemed an ideal material to explore his interest in patterning in a contemporary context."
Lydia Esparza, Skyline's design strategist, reached out to the Girard Studio, led by Aleishall and Alexander Kori Girard. Within a year, the two companies had developed the Alexander Girard Collection—ten of the designer's graphic patterns rendered on low-iron, PPG Starphire tempered glass, using Skyline's proprietary single-sided Eco-etch technique, which is created with recycled aluminum oxide for a fine, consistent finish. Combining Eco-etch with AST I four-color digital glass printing reproduces matte translucent color, while opaque versions are achieved with Skyline's Vitracolor back paint.
Properties
The ten designs, which were initially conceived for textiles, are rendered in transparent, translucent, and opaque effects, and in innumerable color iterations created by Girard.
Above and below courtesy Kelsey Lindsey
The development process was focused on retaining Girard's original expression. "Archival research yielded meticulously translated images into digital files," says Rizzo. "Color was equally important. Though Girard was known primarily for his perspective on color, he also developed many neutral variations." Taking this into account, Skyline developed both neutrals and color. "We celebrate the Alexander Girard legacy," says Rizzo. "And bring it forward into the twenty-first century."
Composition 
The patterns are created using Skyline's proprietary etching and glass-printing techniques on low-iron, PPG Starphire tempered glass.