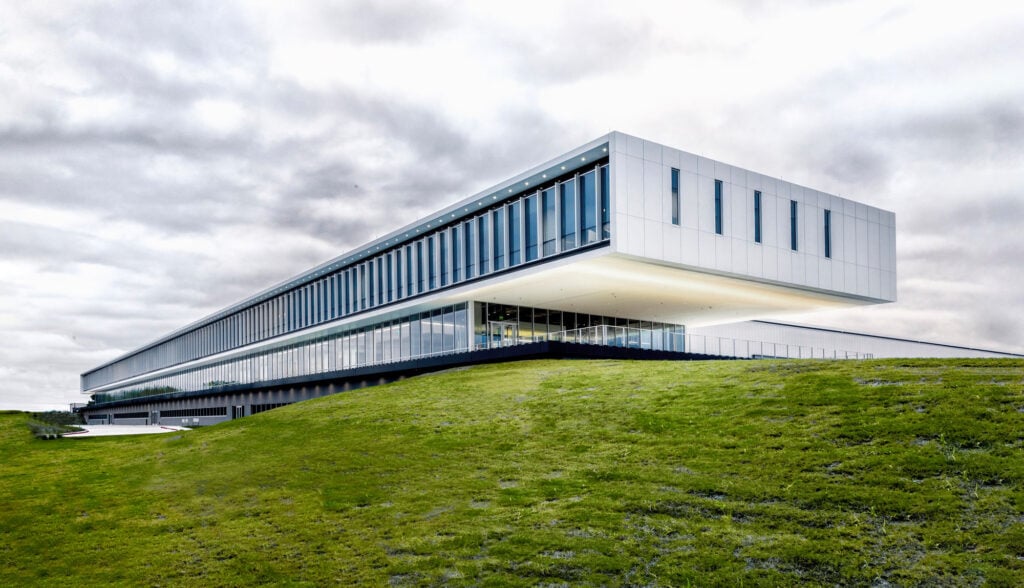 April 11, 2022
Student Wellness Drives the Design of a New Community College
It's a campus where some 7,000 students have the opportunity to learn and collaborate in a space designed with their wellness in mind, Murph said. Fritted glass softens the searing Texas sun to reduce solar heat gain while allowing high levels of mood-boosting daylight to fill every space.
Two courtyards in between the 500-foot-long classroom buildings create a shared space for cross-discipline work and are built around a landscaped bioswale water collection system that leads to a garden.
---
More from Metropolis
---
But Perkins&Will senior associate Mary Dickinson says that the outdoor spaces' most important function has nothing to do with classwork, explaining that "outdoor space has become so coveted since we've entered COVID. To be able to get outside is a reprieve that students want." She also notes that the low reflectivity of the glass reduces heat in the courtyard, too, so if it's 100 degrees outside, it could be 20 degrees cooler in the shade of the buildings.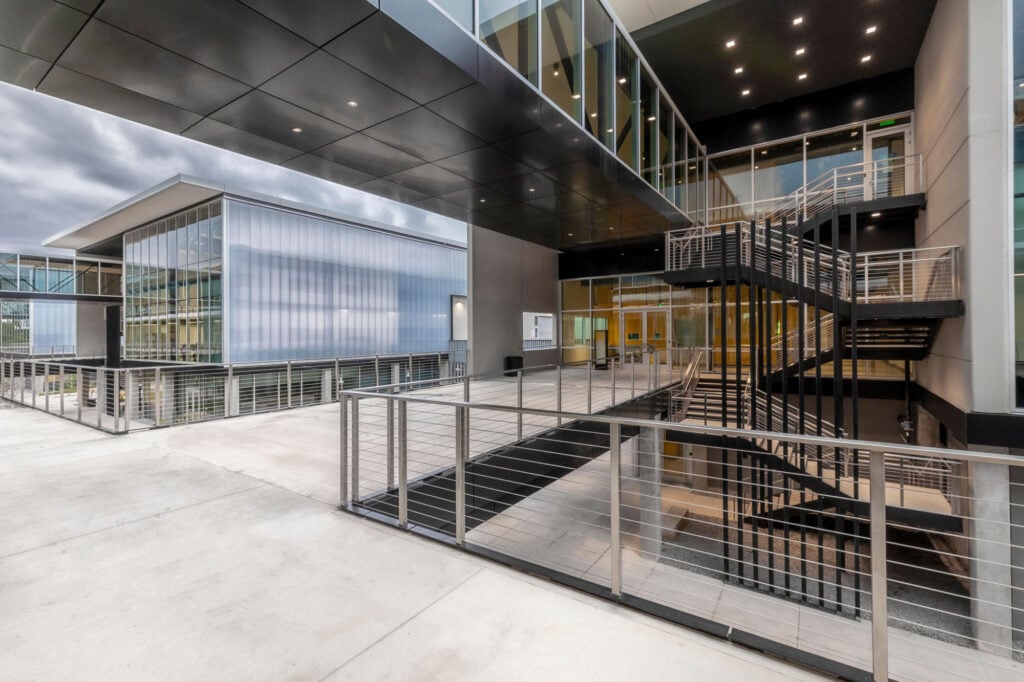 Vandana Nayak, a principal in the firm's Dallas office, says that the entire project was built with high-need, high-growth, and high-wage occupations in mind. "[Collin College] saw the gaps in the job market for North Texas, and they specifically added programs to meet the expanding needs of the economy," she says, adding that these fields include drone technology and construction management.
Higher education buildings have become something of a specialty for Perkins&Will, but this is the first project specifically suited for vocational trades. "I've been working on higher education buildings for 10 years, but this was the first that would house as many workforce departments— automotive, nursing, welding, and information technology—as well as dual credit high school students," Murph says.
These departments needed an appropriate level of separation and interaction, but, he says, "We saw an opportunity to bring together an incredibly diverse student population in terms of age range, stage of life, and academic focus."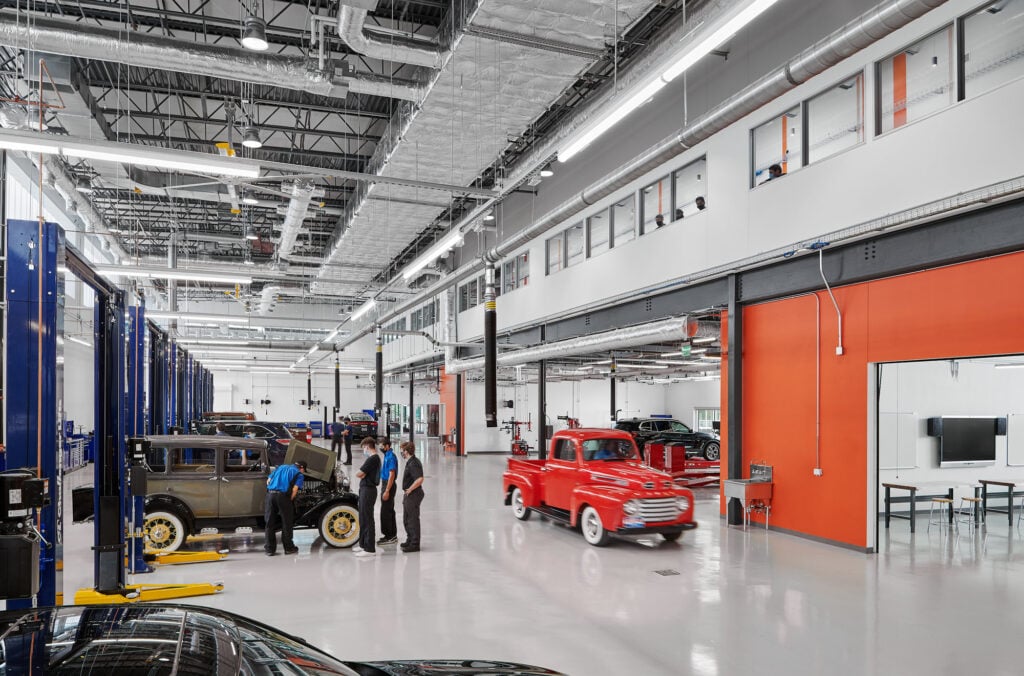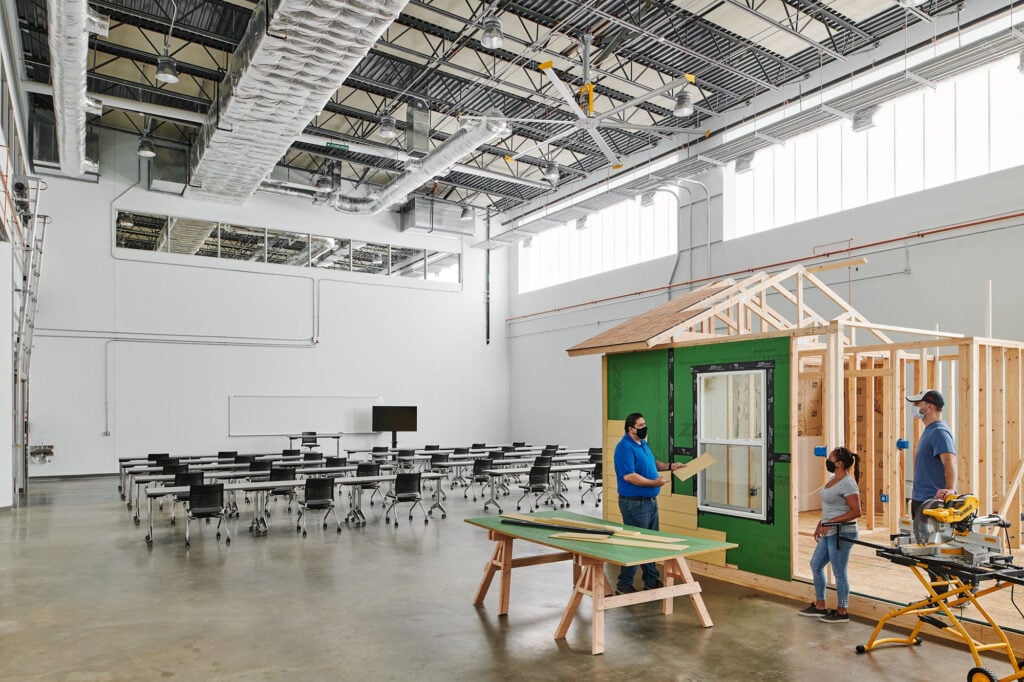 The top floor of the academic hall extends beyond the first floor on the north and south sides of the building. One cantilever shades the main entrance while the other that creates an outdoor dining area for the cafeteria and on-campus Starbucks.
Interior designer Kevin Mereness knew that the interstitial spaces would be where the students experience a strong sense of place and where they could build a community and a culture that is unique to them. "We chose a tectonic design aesthetic to show off the buildings' own inner workings," he says. Plumbing, electric, welding, and construction students can see those systems at work, such as the steel frame holding up the cantilever or the cast-in-place concrete frame in the main building.
The restrained material palette means that the building can evolve if the school's needs change. "We wanted it to be a canvas so things can constantly change on the inside, or the outside," says Nayak. While it's simple rectangular shape means its possible to add additional floors, "They can bring in new programs, they can design it to whatever the community needs next," concludes Nayak.
In the 18 months since the campus opened, Zoom-fatigued students are eager to return to in-person learning. Collin College, which started in 1985 in the nearby town of McKinney, now has nearly 60,000 students, and the CCTC campus has seen a 36 percent increase in enrollment from the first to second year.
"We wanted to bring dignity to the design for these blue-collar trades," Murph says. "They have waitlists for some of these programs now."
A well-designed campus isn't the only reason for that waitlist, of course, but Murph said it's hard not to notice a building like this, especially at night, when the light inside glows through the glazing, inviting outsiders to get curious about what's inside.
Would you like to comment on this article? Send your thoughts to: [email protected]