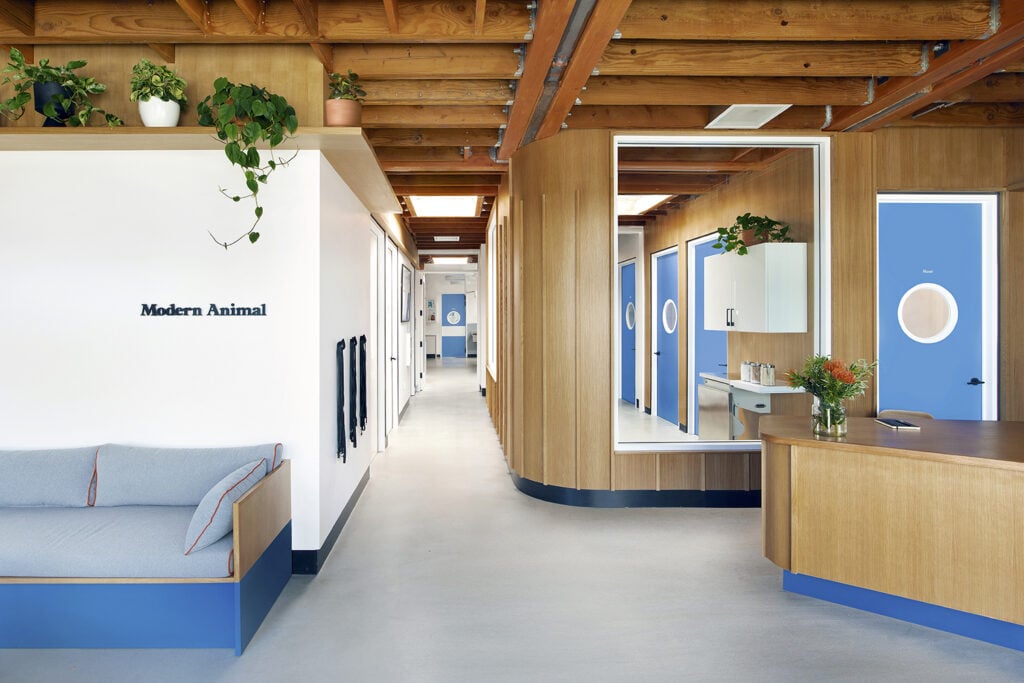 May 31, 2022
Creating a New Template For the Vet Experience
Modern Animal CEO Steven Eidelman introduced the brand's first location in early 2020, coinciding with the onset of the pandemic. The subsequent rise in pet ownership then triggered intense demand for veterinary services and a quick expansion. Four clinics have been completed and four more are in the works in the L.A. area, and plans are in place for the Bay Area as well as other states thanks also to multiple rounds of venture capital funding.
To support Modern Animal's Fear Free-certified veterinary practices and its tech-enabled processes, the Design, Bitches team thought through every step of the treatment and care process. It was essential for the interiors and materials to be both highly efficient and more humane. There are no crowded waiting rooms or cramped, unpleasant exam spaces. Modern Animal members book appointments via an app and streamlined records are largely digitized, eliminating the need for a cluttered, space-consuming filing systems in each office. And because animals are also sensory-aware beings, why not introduce a more dynamic color palette beyond the functional, sterile basics, along with comforting surfaces?
---
More from Metropolis
---
Each project has been a tenant improvement in an existing building, so every layout differs. The open sightline provided through a corridor to the back of the clinic at the first location on Beverly Boulevard in Los Angeles emphasizes transparency, and is a feature the designers try to replicate at other Modern Animal facilities whenever possible. Other internal spaces factor in the need for privacy for both humans and animals. Exam rooms are mostly enclosed, while rooms that contain windows place openings at a 30″ height minimum to lower cats' and dogs' stress levels.
In contrast to what Rudolph says is "all plastic laminate everywhere and vinyl" typically seen in vet settings, Design, Bitches selected surfaces and details that are "more durable and nicer to the touch." Countertops are by Caesarstone, tile is from Fireclay, and other "domestic-feeling materials" include lighting fixtures from Ravenhill Studio, Hay and Rich Brilliant Willing. Soft surfaces appear in the form of bench cushions in the reception areas and exam rooms, and every Modern Animal location has a multipurpose quiet room with unfixed upholstered furniture and gentle lighting. Color is important, too. Periwinkle blue is applied to doors and accent walls, and contrasts with a cinnamon red and yellow "to bring in some brightness and a sunny feeling," Rudolph explains.
Most of the changes implemented at subsequent locations are function-driven, but there have been some noticeable tweaks. More natural wood white oak surfaces have been added to exam rooms, and lighting is calibrated to be "a little cozier," Rudolph notes. Design, Bitches researched materials that would prove to be "durable, stain-resistant and hold up to cleaning chemicals," and yet with this level of intensive end-user, Modern Animal isn't maintenance-free. "They probably have to repaint relatively often," Rudolph says.
Would you like to comment on this article? Send your thoughts to: [email protected]