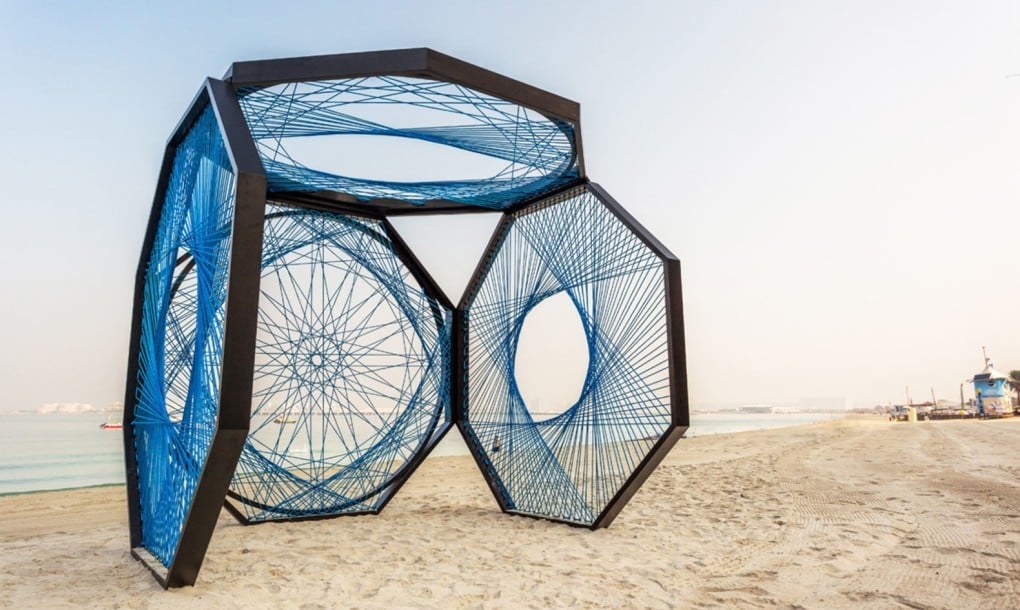 March 23, 2016
Dubai: Making a Creative Capital from Scratch
Dubai is building a design district in the hopes of becoming the creative capital for the Middle East, North Africa, and beyond.
One of the installations constructed by local designers for the inaugural Dubai Design Week in 2015, Yaroof by Aljoud Lootah references the traditional form of fishing in the area. Nylon ropes strung on octagonal frames also call to mind arabesque motifs.
All photography courtesy Dubai Design Week
---
In cities where a faded industrial area exists, a creative community often follows. It's a well-established cycle of urban regeneration that has played out in Berlin, London, and New York. Attracted by cheap rent and large, empty spaces, the creatives come, building up areas with independent cafés and stores before inevitably being priced out of the market by the very gentrification they helped to bring about.
So what happens in a city so young that it doesn't have a dilapidated area for the creatives to occupy? When the city in question is Dubai, which was still just a desert fishing settlement until around the 1960s, you build it from scratch, of course. With the second part of a three-phase build unveiled last year, Dubai Design District (known as d3) is a sprawling 15.5-million-square-foot development located in a desert plot on the eastern edge of the city. Circled by multilane highways and located between downtown Dubai and a wildlife reserve, d3 has been masterminded as a framework from which to grow and sustain a new design ecosystem.
---
More from Metropolis
---
The site, acquired in 2013 by developer TECOM Group, is already being utilized by 2,000 design practitioners, mostly brands and established studios, spread across 11 buildings. By 2018 TECOM hopes to open what it calls the project's "cultural epicenter"— a one-million-square-foot creative community designed by Foster + Partners comprising workshops, studios, and residences for start-ups and emerging local designers. A one-mile waterfront commercial strip with boutiques, hotels, and hospitality and leisure facilities is slated to follow in 2019. When complete, the development will house over 10,000 design practitioners and will play host to large design events such as Dubai Design Week—a new initiative that debuted in 2015—and Design Days Dubai, which hosted its fifth edition this month. "Our vision is to become the heart of the Arab world's design scene," explains d3's chief operating officer, Mohammed Saeed Al-Shehhi.
"It's becoming a badge of honor to say your hotel or office was designed by a Dubai-based studio."
"Since Dubai is a relatively dispersed city, having a design district helps create a platform for people in this specific field to interact on a much closer level," says Ayah Al Bitar, a young designer and graduate of Parsons School of Design who has taken a studio in the district. A sense of community and opportunity for cross-pollination was "nonexistent" in Dubai before the arrival of d3, according to fellow tenant Viktor Udzenija, who moved to the city in 2008 and has since started his own interior architecture practice. "There are so many young companies here from various fields of work," he says. "I's a unique opportunity that d3 is creating—trying to get everyone to move here to work together and create something together."
Conversations about d3 began back in the early 2000s, heralding the start of a long period of research and planning before the build began in 2013. "What's been challenging about this project is that we're delivering two million square feet of built-up areas [in phases one and two combined] that will be inhabited by all kinds of creatives," explains Lindsay Miller, managing director of d3. "The goal for us is making sure the mix is right in every building. we took a lot of time to look at who was neighboring whom."
The Dubai Design District (d3) is planned as a creative neighborhood within reach of the city's downtown.
For the district's all-important second phase, d3 has enlisted Foster + Partners to generate a scheme with pedestrian-friendly streets and outdoor event spaces that echo New York's Meatpacking District and East London's Shoreditch neighborhood. "The joy of creating a design community is that we can borrow from centers of excellence around the world to ensure that the site we create fully caters to the needs of the industry," says Al-Shehhi.
Indeed, one of the distinct advantages of building from scratch is the removal of the threat of rising rents due to gentrification. the d3 creative community has been tailored to the needs of the United Arab Emirates' emerging designers and artists, and the price of renting a space in one of the community's shared workspaces, Al-Shehhi says, will reflect this: "We interviewed our target market to understand what they wanted and therefore what price was feasible for them. We have developed a wide range of spaces, facilities, and pricing options that allow each entity to develop their space, bespoke to their needs."
In 2013, an extensive study titled the "MENA [Middle East North Africa] design outlook" was commissioned by the Dubai Design and Fashion Council with support from d3. The study's findings vindicate Dubai's considerable investment, stating that the MENA design industry, which had a market value of over $100 billion at the end of 2014, is expected to grow at an average rate of 6 percent annually—twice that of the global design sector.
"Dubai says it wants to move from being a consumer and importer of design to being a producer and exporter—that's a lovely idea, but it won't happen overnight," says interior design firm director Pallavi Dean, a d3 resident who says the district's atmosphere reminds her of working in London's Clerkenwell neighborhood seven years ago. "The good news is that we're definitely making breakthroughs. Until five years ago, most clients with money only wanted branded Italian furniture and architects or interior designers from big-name studios in London or New York. Now it's becoming a badge of honor to say your hotel or office was designed by a Dubai-based studio, with locally made furniture."
London-based architecture firm Foster + Partners has designed a central community space for the district, due to be completed in 2018.
The district is also being planned as a regional hub for design. During Dubai Design Week, Jordan, Kuwait, Pakistan (pictured), Saudi Arabia, Tunisia, and the UAE showcased the best design work from their countries as part of an exhibition called Abwab, which means "doors" in Arabic.
The installation Earth Hives by Emirati artist and designer Latifa Saeed and Syrian-born designer Talin Hazbar reexplores the legacy of terra-cotta craft in the UAE.
Untitled (Archway), a structure built of glass filaments, was designed and built by Anjali Srinivasan, a graduate of the Rhode Island School of Design. Srinivasan directs ChoChoMa Studios, the only artist-run handcrafted-glass-making enterprise in Dubai.
Ali Al-Sammarraie assembled his Detritus Wall installation using refuse cardboard and wood.
During the design week, d3 also hosted a number of other exhibitions and retail events. Exit Through the Design Shop was a mobile shopping experience by Dubai-based retailer s*uce.