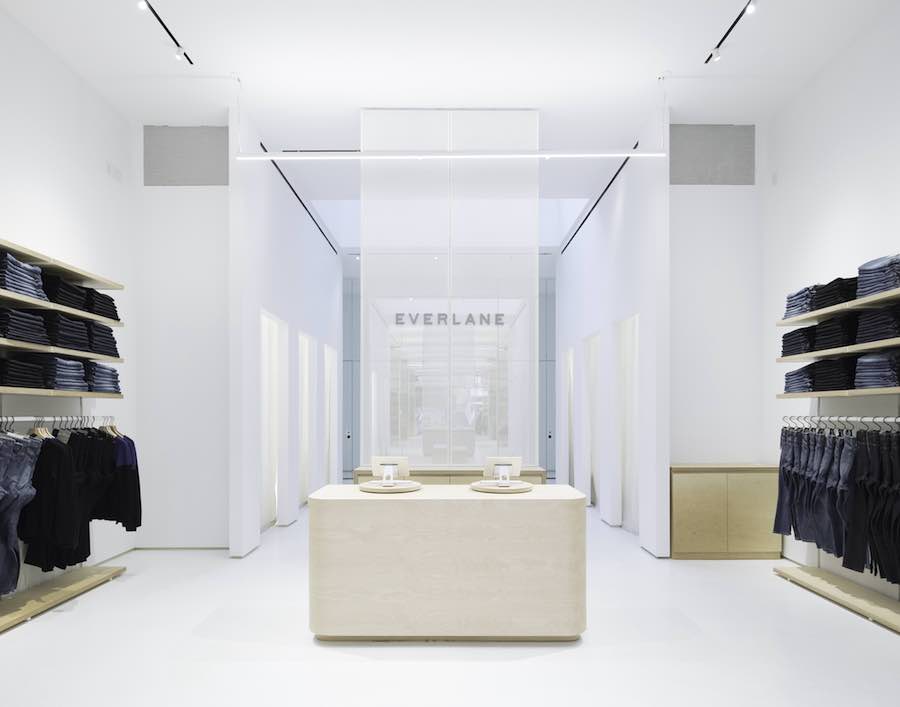 February 6, 2018
Everlane's New Soho Flagship Goes Back to Basics—Radically
The e-tailer's first brick-and-mortar store, designed by New York firm Leong Long, embraces its ethos of "radical transparency."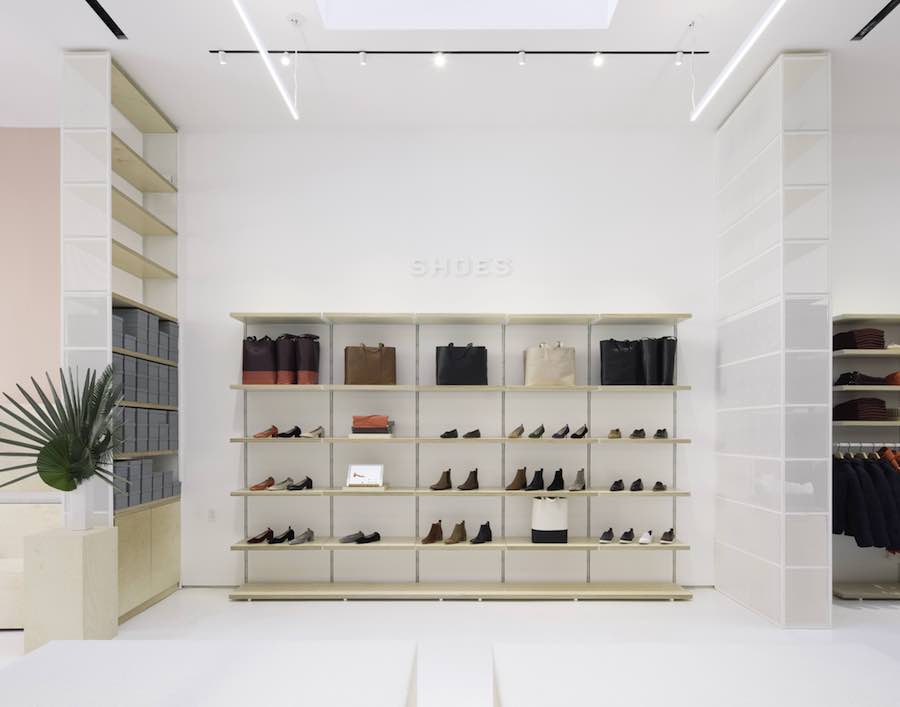 ---
Consider the online purchase of one of Everlane's signature cashmere crewnecks: Before even hitting "add to bag," you will learn that the sweater originates in a knitwear factory in Dongguan, a city of eight million in China's Pearl River Delta. You will learn that this facility employs 800 workers, many of whom enjoy playing mah-jongg on the weekends. And you will learn that the base cost to produce the sweater is $45, and it will be sold to you for $100.
This practice—this minute attention to detail and narrative—is part of what Everlane calls "radical transparency," an ethos that both underpins the company's identity and drives its business model. "I think people are looking for brands that stand for something," says Michael Preysman, who launched the San Francisco–based company in 2011. "We've done it by being careful about what we do."
That deliberate approach is working. Everlane today produces more than 20,000 T-shirts a month. Recode reported the company earned north of $50 million in its fifth year. Products are regularly wait-listed; last summer its Day Heel had a 28,000-person queue.
---
More from Metropolis
---
Everlane managed to achieve such cult status without opening a single brick-and-mortar store. In fact, in 2012 Preysman swore to the New York Times that he would "shut the company down" before venturing into permanent retail.
This winter—to the delight of its legions of fans—Everlane did a volte-face, opening its first-ever flagship in New York's Soho district, designed by local architecture studio Leong Leong. Like the brand's clothing, the store's interiors—awash in natural light and muted colors—exude a minimal, thrown-together chic. True to form, Everlane announced opening day in a single tweet that read: "4 skylights, 40 gallons of paint, 65 yards of fabric, 98 sheets of plywood, 4,500 pounds of glass, 16,000 screws." And, like its virtual waiting lists, the lines went down the block.
---
A bustling brick-and-mortar storefront might seem a rarity in a climate in which many retailers face uncertain futures. CNBC reported that companies announced nearly 7,000 store closures in 2017 (a 200 percent increase from the prior year), with even more projected for 2018.
In spite of such doomsday projections, Utpal Dholakia, a professor of marketing at Rice University's graduate school of business, says there is no reason why online retailers should stay away from physical stores—they just have to do it right.
Dholakia has researched what marketing experts refer to as "omni-channel retail," a strategy in which companies create seamless brand experiences between digital platforms and physical stores. "More channels is equal to more loyalty and more engagement," he says. "The more experiential the product, the more important the physical store."
At Everlane, these insights are apparent. Over lunch hour shortly before the holidays, the Soho flagship was buzzing with customers touching the soft cashmere garments and trying on leather Chelsea boots as Blondie's "One Way or Another" played on the stereo.
Architect Christopher Leong, who heads up Leong Leong with his brother Dominic, stood near the entrance observing the scene. "For us it was interesting collaborating with [Everlane] and taking an online store and thinking about what a physical store is," he says. "We were unpacking where [the two experiences] overlap and where they're really different."
Everlane had already experimented with a number of limited pop-up shops (one cheekily named Not-a-Shop, another called Cashmere Cabin) and worked closely with the architects on developing a permanent retail concept. The primary goal, according to Leong, was transferring Everlane's "radical transparency" mantra to the store itself. This is achieved immediately at street level: 14-foot-tall panels of structural glass open up the facade, giving passersby a glimpse. Once inside, visitors encounter a foyer-like zone featuring stadium-style seating (backed at present with a millennial-pink accent wall) that accommodates shoe try-ons, shopped-out customers, and events.
The store is housed in a deep, 3,000-square-foot space that was originally a garage and is punctuated with industrial sawtooth skylights. Apparel is oriented symmetrically on either side of the store's primary axis, with white perforated steel shelving partitioning the floor into distinct areas for footwear, denim, and more. At the very back of the store, near a series of generous, light-filled fitting rooms, the architects placed a high mirrored wall that accentuates the building's depth.
Catering to different types of customers—those who desire a quick, in-and-out shopping experience and those who seek a slower, more in-depth one—was also a key concern of the designers. To that end, the store offers a concierge service and quick point-of-sale stations with tablets. Above all, the architects sought to underscore interpersonal connection and community rather than highlight the tech. "We wanted to avoid the idea of technology being sort of a gimmick," explains Christopher Leong.
The store is still working out some of the kinks created by crushing popularity. (At press time, it rated just 2.5 stars on Yelp, owing to out-the-door lines and half-hour waits to check out.) But Preysman, Everlane's CEO, sees this first flagship as a prototype for future expansion. He tapped Leong Leong to design a second store in San Francisco, set to open this spring, and in coming years, he expects to open five to ten additional stores across the country.
Good design, Preysman says, is crucial to the company's continued success in brick-and-mortar. In fact, he thinks in another life he probably would have become an architect. Ultimately, "one of our key goals is to bring our design and experience to life," he says. "Hopefully we can live up to it."
You might also like, "Everlane Pulls Back Curtain on Business Model and New HQ."