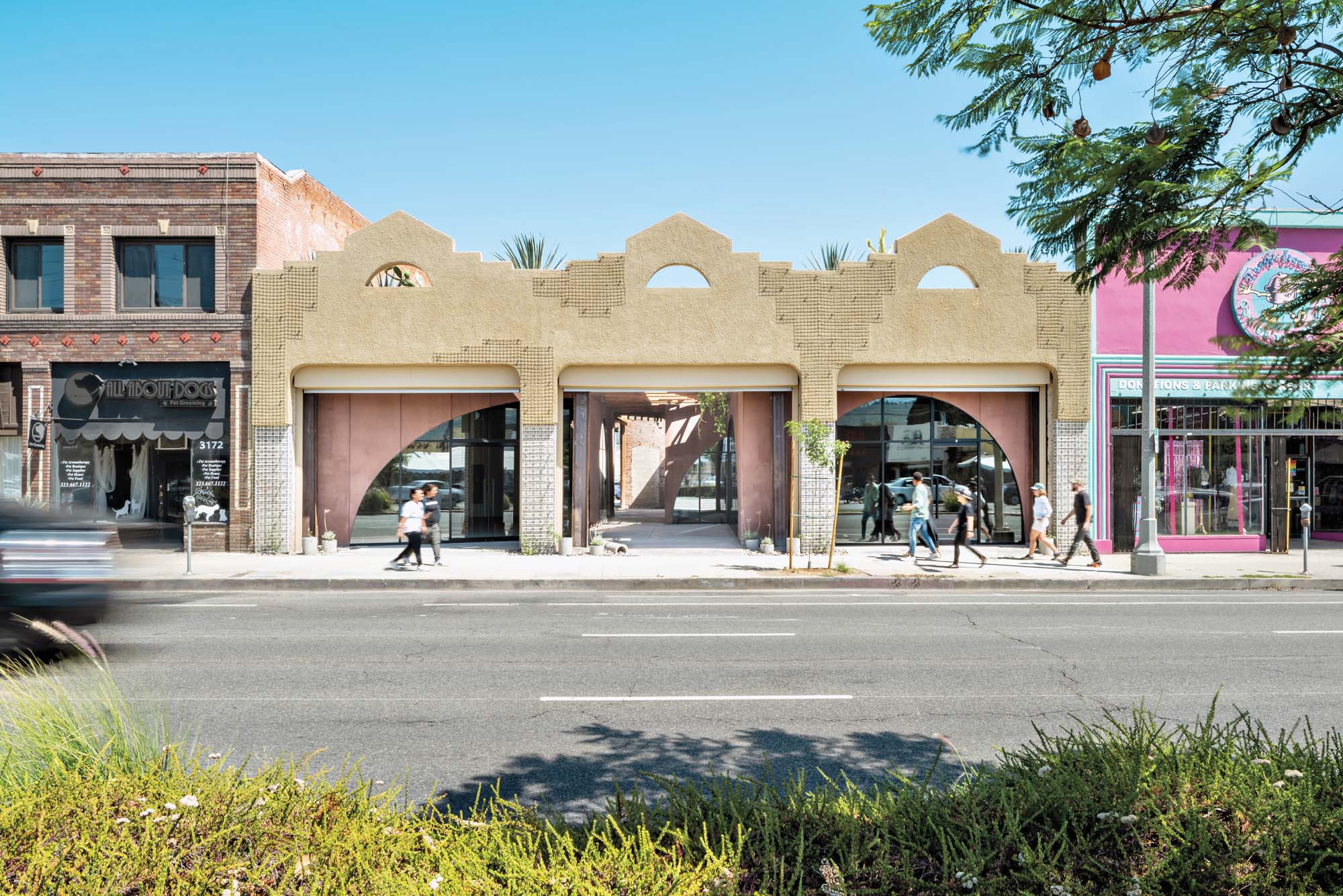 October 5, 2023
Formation Association Creates a New Pedestrian Passageway in L.A.
In London and Paris, the indoor shopping arcade is a beloved urban form. Now, for different reasons, the covered commercial passageway is being reimagined in the city of Los Angeles. Local architecture firm Formation Association transformed a nearly century-old masonry building into Atwater Canyon, a multi-tenant retail and restaurant complex organized around a welcoming pedestrian passageway that deftly merges indoor and outdoor spaces.
Cofounder and design director John Chan and his team introduced a series of wide exterior and interior storefront arched openings and earthy materials, such as hand-raked plaster walls in a muted dusty rose palette, to integrate with preexisting details. The building's three bays, a parapet wall with eyelet openings, and decorative ceramic tile remain familiar fixtures to residents. Subtle yet forceful landscape elements by David Godshall of Terremoto include rooftop succulent plantings. Formation Association designed trellises to support native California morning glory vines. Along with branding and signage by graphic designer Jessica Fleischmann of Still Room, these valuable contributions come from local collaborators who are attuned to the community context.
For Chan, the building's materiality and construction evoke a meeting of "Gordon Matta-Clark openings" with Japanese joinery. The designers highlighted exposed brick walls, studs, joists, and rafters from the original building.

Los Angeles's Atwater Village neighborhood is characterized by long blocks and a scant tree canopy. Atwater Canyon aims to provide a pedestrian-friendly experience by connecting the property's street-facing facade on Glendale Boulevard to municipal parking lots in the rear. While European cities may have needed arcades to protect against precipitation, Angelenos benefit from a respite from L.A.'s unrelenting sunshine. Yet the project eagerly embraces it too. Chan notes, "You see the edge of Griffith Park raking across that opening, which is really magic when the sun is going down."
Would you like to comment on this article? Send your thoughts to: [email protected]