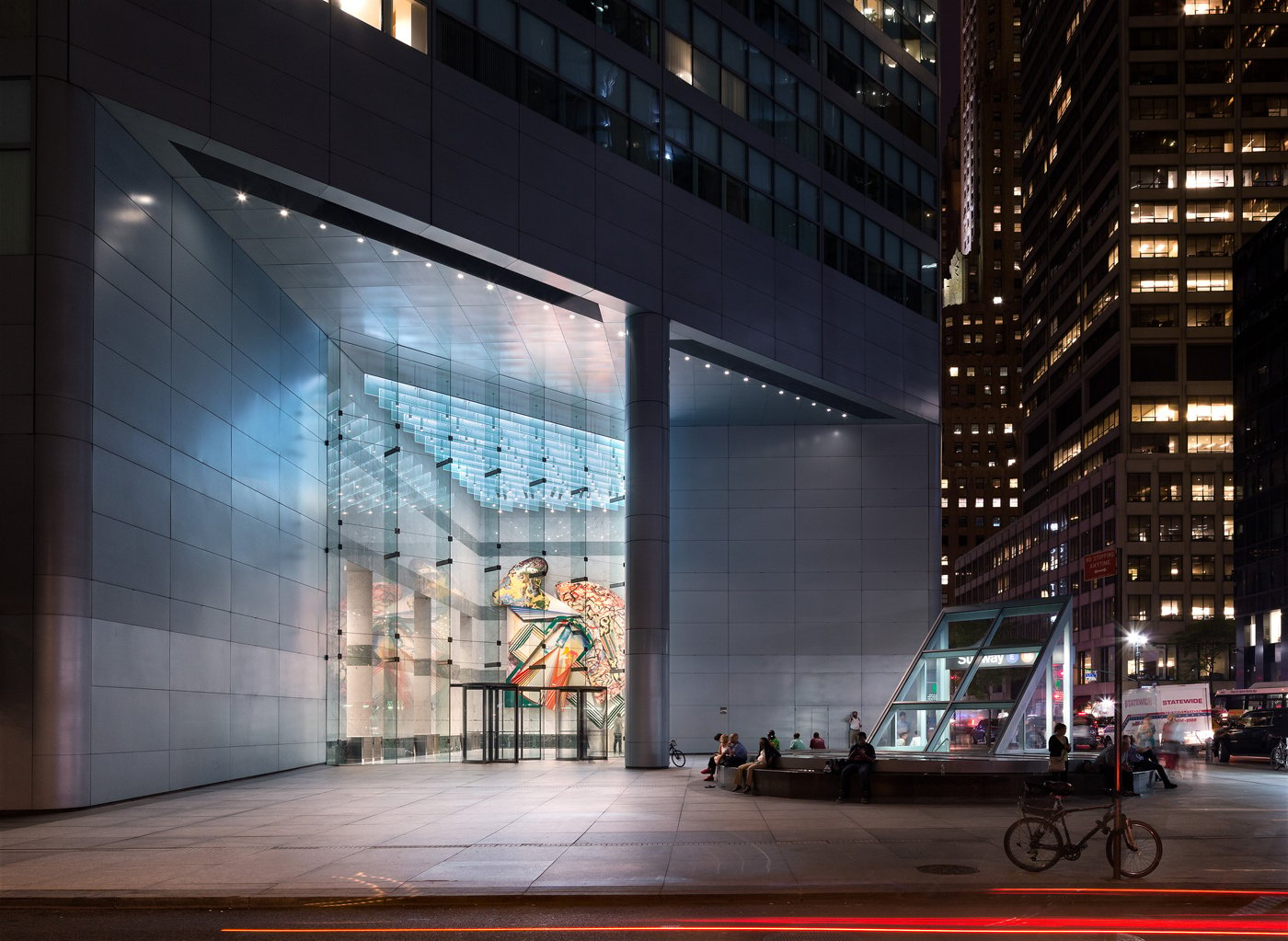 April 28, 2017
FXFOWLE Gives Famed Manhattan Lobby a "Light" Refresh
To restore one of New York's most impressive lobbies, FXFOWLE leveraged lighting as a key design element.
Built in 1986, New York's 599 Lexington Avenue has been widely regarded as one of the famed architect Edward Larrabee Barnes's greatest skyscrapers. One of its corners is sliced away on a diagonal, revealing a soaring entrance lobby, separated from a public plaza by a 50-foot-high glass wall. The interior is largely unadorned, save for bands of green marble that serve to offset the vertical thrust of the space and a striking Frank Stella bas-relief, commissioned specifically for the building in 1985.
Although the owners, Boston Properties, are highly dedicated to preserving the space, they found the lobby was beginning to look dated, so they turned to Bruce Fowle, founding principal of FXFOWLE Architects and Barnes's longtime friend and collaborator, for a solution.
The challenge was to both update the interior and retain its essence, all without changing the materials or inserting any elements that would compete with Barnes's original detailing or Stella's Salto nel Mio Sacco. Fowle zeroed in on lighting design as the key to the project. "The previous design had the same down-lighting on the inside and outside, which obscured the lobby from the exterior. And once you were in, the harsh light from the downlights prevented you from looking up," he says. "No matter where you were observing from, you failed to get a sense of the grandeur of the space."
---
More from Metropolis
---
FXFOWLE teamed up with Tillotson Design Associates to create a selection of fixtures for the space, from custom pendants in the elevator area to theatrical lighting illuminating the Stella sculpture. The showstoppers are a series of LED fixtures that alternate with rows of suspended glass baffles. "They adjust the proportions of the space and add a little sparkle," Fowle says.
The redesign is rounded out by a sculptural reception desk, which had previously been tucked away in a niche, and graphics designed by Pentagram—transforming the space with increased functionality in mind, but also revealing a shift in priorities as workspaces move away from corporate austerity to a more intimate, human scale.
Although the interventions are largely centered on the building's interior, their impact is immediately apparent when observing the space from the public plaza. "Our goal was to create one continuous space," Fowle explains. "Your eye penetrates all the way through, drawing the passersby into the space."