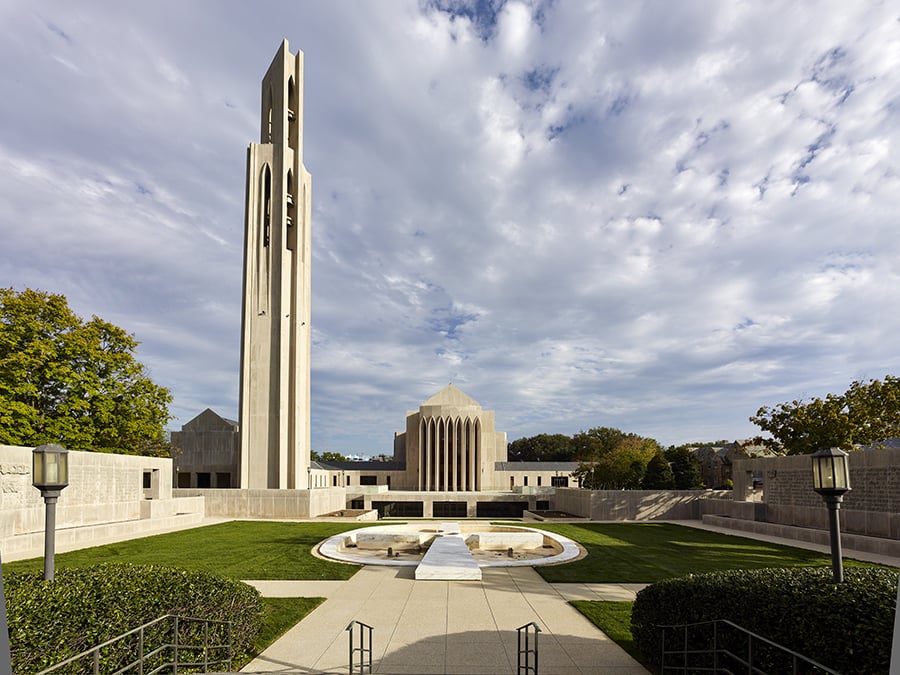 January 25, 2022
A Quietly Wonderful Midcentury Church Gets Its First Makeover in Half a Century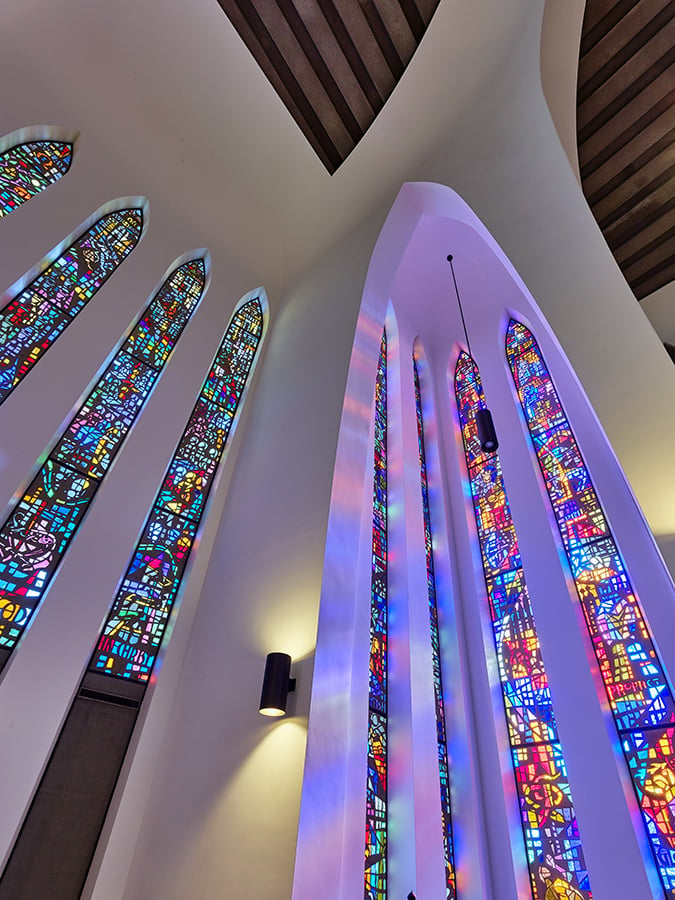 Hassan describes the church, located in D.C.'s Tenleytown neighborhood, as "Modern Gothic," with an emphasis on soaring verticality through its bell tower, vaulted sanctuary, and stained glass lancet windows. Somewhat paradoxically, the design also "used the sloping site's topography to make a three-story building appear like one story from the street, with the sanctuary and bell tower emerging above the plinth of the garden and secondary spaces," says Hassan. Wagoner also worked with landscape architect Boris V. Timchenko to create a sunken forecourt marked by a central fountain.
BBB allowed the strict organizing grid that Wagoner utilized throughout the project to inform its interventions, and carefully chose all new materials and finishes—like wood, architectural concrete and glass—to complement the historic material palette. Hassan notes that the D.C. Historic Preservation Review Board's (HPRB) 2019 approval of the church's historic landmark application (developed by the church and BBB) essentially had no impact on the firm's plans, says Hassan.
---
More from Metropolis
---
One of the primary issues of the building— which stands as the third-largest religious center in the nation's capital—was circulation between levels. With the amount of activity inside, "people can easily get lost there," says Hassan. BBB solved this by adding an open central staircase (as well as a rear entry with two new elevators) that now connects all three floors. The building also needed additional space for meeting rooms, classrooms, and special events. In response, BBB integrated multi-purpose "garden rooms" at the front. These additions, clad partially in salvaged limestone, have expansive glass walls opening onto a new lower-level courtyard. Their roofs have occupiable terraces that connect to the existing north terrace. Hassan notes that the new meeting spaces make sense and don't feel like an "intrusion" or something that would compromise the image of the building.
The Architect's Newspaper reports that while the project is complete at the main cathedral building, there are smaller projects across the 12-acre campus that will continue over the next couple of years with the capital campaign formally ending in 2023. Hassan declined to respond on what to expect for these smaller projects. Similar renovation projects led by Beyer Blinder Belle include the restoration and expansion of Holy Rosary Catholic Church, as well as the restoration and relocation of the Adas Israel Synagogue in Washington, D.C. A few of their more well-known works include the revitalization of Grand Central Terminal and their comprehensive rehabilitation of New York City Hall.
Would you like to comment on this article? Send your thoughts to: [email protected]