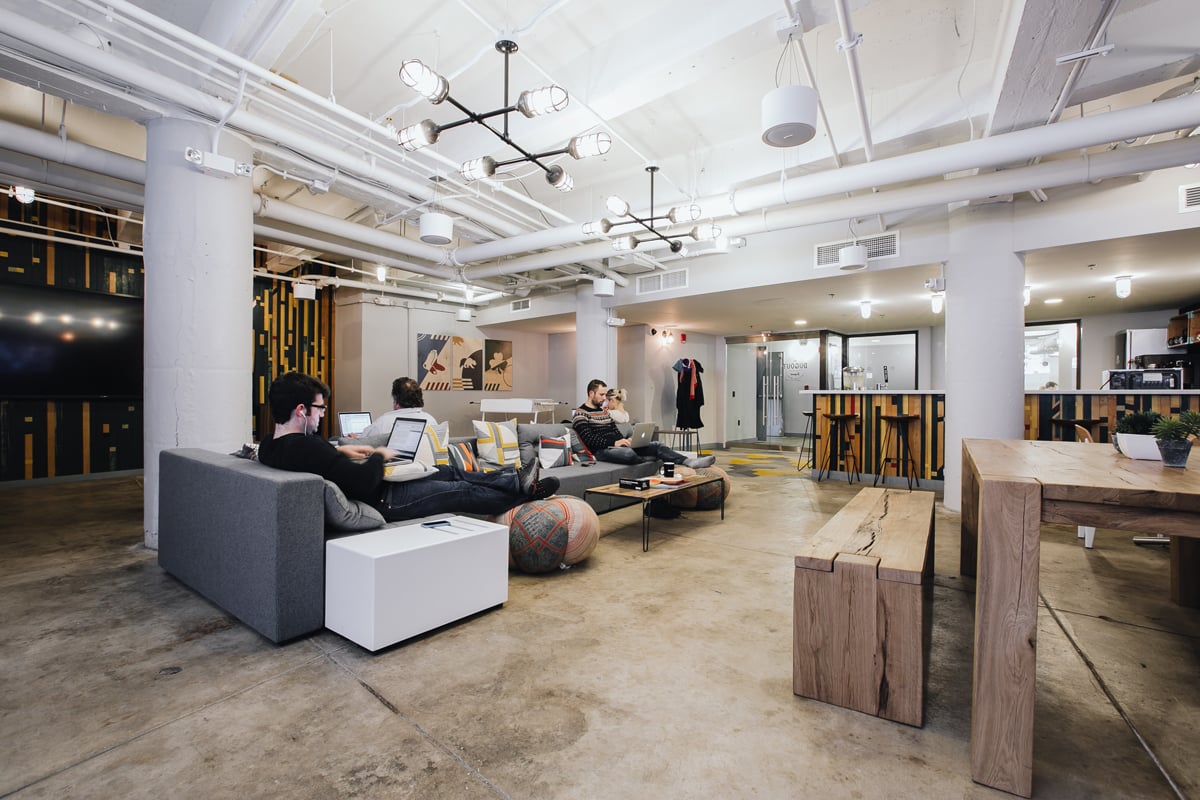 June 11, 2014
How WeWork Designs The Ultimate Flexible Workplace
WeWork's network of shared work spaces hits upon the perfect design strategies for its diverse mix of members.
WeWork members at Boston Seaport lounge on a Monolog Sofa by Sandin + Bülow for HighTower. The industrial-chic ceiling lamps are from Baselite Corporation.
All photos courtesy WeWork
---
More from Metropolis
---
It's an office design question that remains undecided—yes or no to Ping-Pong tables? Supporters point to the improved office culture; detractors maintain that these distractions are too rarely used to justify the space they take up. The answer might be in the middle. "When you say, 'That area is for recreation, and this area is for business,' that's when it works less," says Miguel McKelvey, the cofounder and design director of WeWork, one of the largest communities of shared work spaces in the country. "We try to take a room that works for karaoke and transform it into a conference room during the day. We have a conference room in this building that converts into a Ping-Pong table."
Founded in 2010 by McKelvey and Adam Neumann, WeWork currently operates in 19 properties in six American cities, with six more to open by the end of this year, including one in London. The company's well-designed private cubicles and lively networking opportunities attract a diverse set of tenants—among WeWork's community members are big tech names like Reddit, Airbnb, BuzzFeed, and Shutterstock, as well as the usual mix of consultants, designers, and freelance writers.
"In our environment, there's a collision between individual pursuit and collaboration," says McKelvey, a trained architect who heads WeWork's 40-person design and construction team. Unlike, say, Google, which promotes a single corporate culture, WeWork's approach to office design is more eclectic. But certain guiding principles have been key to the company's early success and rapid expansion. "One of the small things is that we choose buildings on corners," McKelvey says—so there are always at least two angles of light. At Fulton Center in New York, the interior partitions are glass, allowing the sun to reach far into the space, and creating stunning views at every turn.
In-house designer Jeronimo Jimenez inserted this quiet space into a row of cubicles at New York's Fulton Center. Acoustic foam on the ceiling and Filzfelt Polka floor mats help with noise control. Graphic designer Jeremiah Britton created the custom newspaperinspired wall-covering.
WeWork has a weakness for buildings with good backstories—it recently opened locations above the Golden Gate Theatre in San Francisco and in the former Wonder Bread Factory in Washington, D.C. McKelvey isn't afraid of letting his team add idiosyncratic flourishes—papering over a wall in New York with old Wall Street Journal pages, or covering the elevator bay on a techie-filled floor with colorful floppy disks. "That sort of here-ness is important, both to respond to the architecture and to that community," he says.
Housed in a former a creditunion bank, WeWork SOMA, in San Francisco, retained the original woodwork and has a linoleum floor laid in a chevron pattern.
Often, one location suggests a detail that the WeWork team will replicate elsewhere. While expanding to another floor in Fulton Center, the designers put in a connecting stair. Facilitating professional encounters is part of WeWork's mission—it has its own networking app—so McKelvey was struck by how people gravitated toward the new feature. "Now we think about that as part of the equation—we know that it will become a hub of activity." WeWork takes a laissez-faire attitude to office rules, and the tenants' varying work styles are generally accommodated. Standing desks are popular, and stickers and decals proliferate. In one conference room at Fulton Center, three women perched themselves on a table (the one that converts into a Ping-Pong table) and made notes directly on the glass walls. "People use space in ways that you never would've guessed, which for me would be uncomfortable," McKelvey says. "I would personally never do that."