March 20, 2018
Knoll's New West Hollywood Location Reflects History in the Making
A new residential-focused Knoll store, designed by Johnston Marklee, looks forward while taking cues from the furniture manufacturer's vibrant past.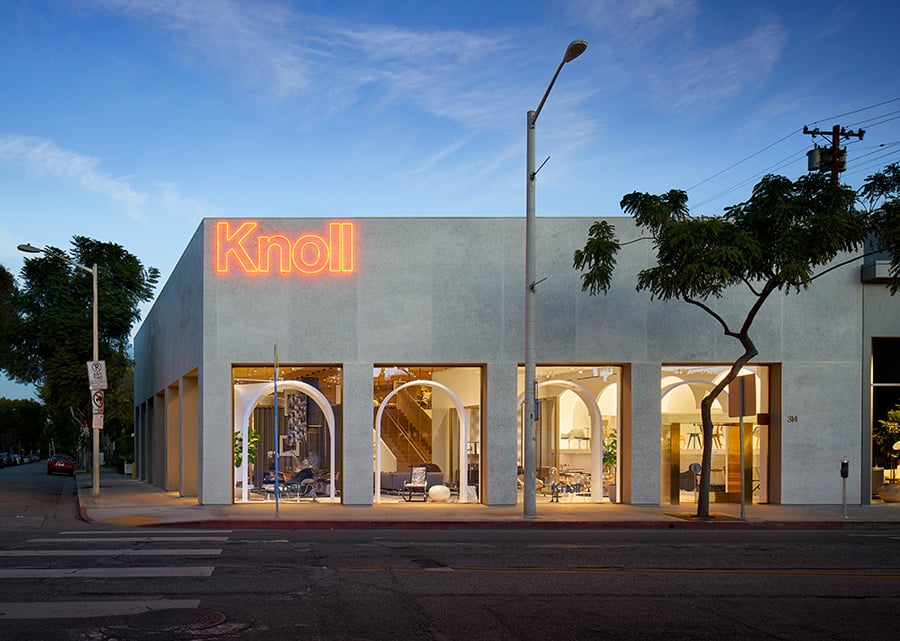 To most, Knoll's legacy is one expressed in tubular steel and bent plywood, shaped by masters such as Marcel Breuer, Mies van der Rohe, and Harry Bertoia. But Knoll, which celebrates its 80th anniversary this year, also revolutionized the way furniture was sold by creating showrooms that were as much design laboratories as they were sites of commerce. "The object," Florence Knoll, the company's trailblazing leader, has told Metropolis, "was to maintain a Knoll identity with different solutions in interior architecture."
These solutions—and the business—continue to evolve. Knoll may be best known for its high-end residential furnishings, but the company (in the United States anyway) has come to dominate the contract market. This January, in an effort to increasingly reach residential consumers, Knoll opened its second direct-to-consumer retail outlet in a former Steinway piano gallery in West Hollywood. The design team, led by Los Angeles architecture firm Johnston Marklee, aimed to create a showroom that reflected Knoll's new business goals but was also steeped in the brand's rich design history.
One of the primary challenges was to create a unified facade, as the original '90s-era Steinway building actually comprised two structures. The solution, according to Anton Schneider of Johnston Marklee, was to introduce a new, gray terrazzo facade so that it appeared as a continuous volume.
---
More from Metropolis
---
Many of the interior architectural answers for the new Knoll Home Design Shop came straight from the company's archive, says Schneider, who worked closely with Knoll's design director Benjamin Pardo. "At the firm we're always looking at reference and we do a lot of research on the brands that we work with, or the history of how they came about," Schneider explains.
The design team was particularly struck by a 16th-century castle in Tangiers, owned by one-time Knoll president Yves Vidal during the '60s and outfitted entirely in the company's Modern furnishings. Its ornate curvature became the inspiration for a series of elegant Palladian arches (a Johnston Marklee signature) that handily frames views into the store while breaking down the scale of the monolithic facade.
Northern Italian Modernism also provided a key aesthetic touchpoint, especially for the store's elegant material palette of reflective gold, white plaster, and herringbone white oak flooring. The designers draped gray FilzFelt from the ceiling in soft loops, like overturned barrel vaults. These rich material choices combined with careful lighting solutions help the showroom emulate a residential space. Polycarbonate skylights surrounded by gold mirrors softly diffuse daylight near the entryway and above a mezzanine level.
The exterior lighting, however, is a different story.  The architects, after poring through Knoll's vintage signage, opted to emblazon the building with a glowing neon logo for a contemporary, punk-ish feel.
"It takes a lot of time to go through images and the ideas behind them," says Schneider. "it's not an idea to copy, but it's to keep passing that tradition forward."
You might also like, "North Carolina Design: Anchored by Deep Roots, the State's Furniture Industry Is Evolving."