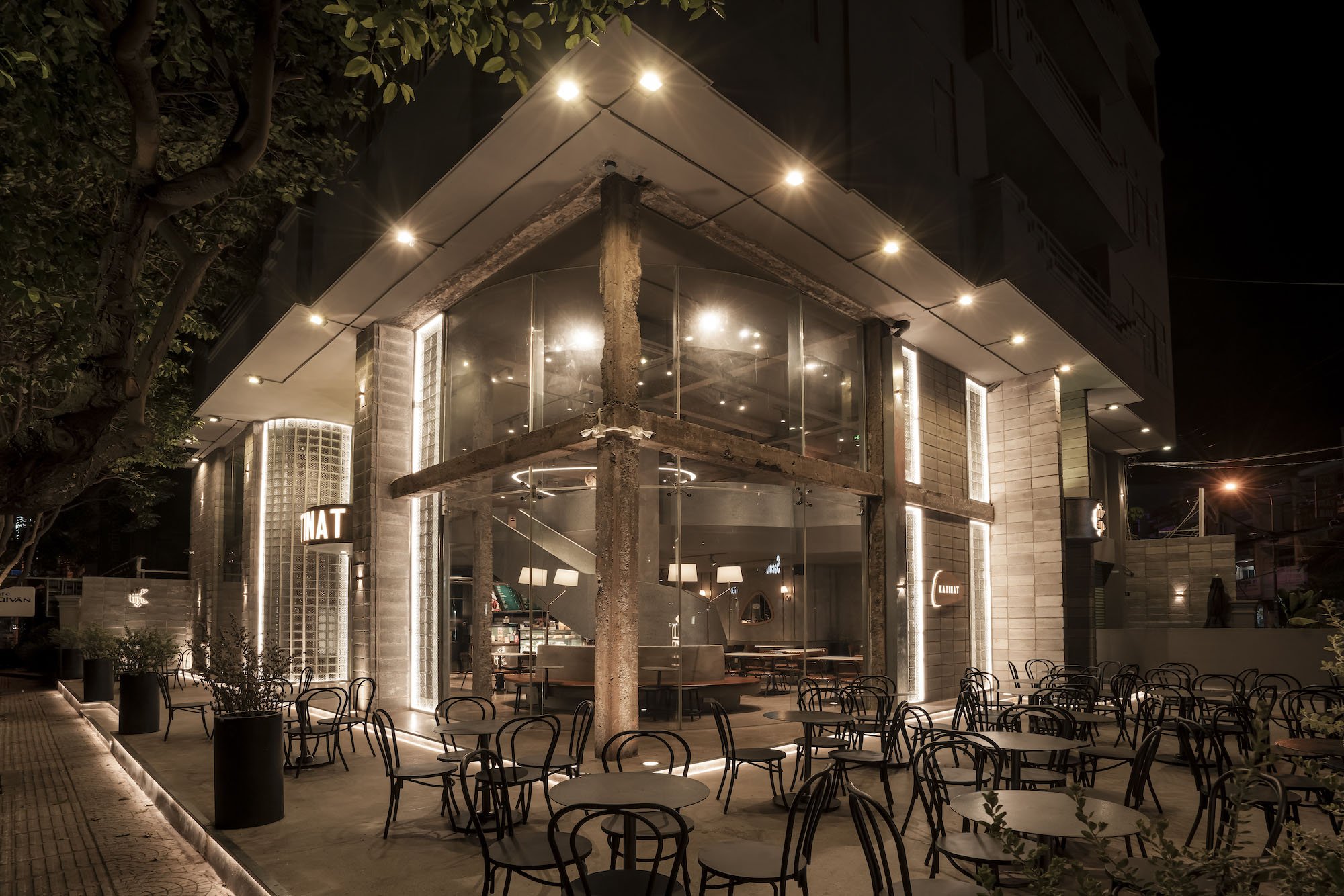 December 2, 2022
Vietnamese Coffee Chain Katinat Café Transforms a Former Kindergarten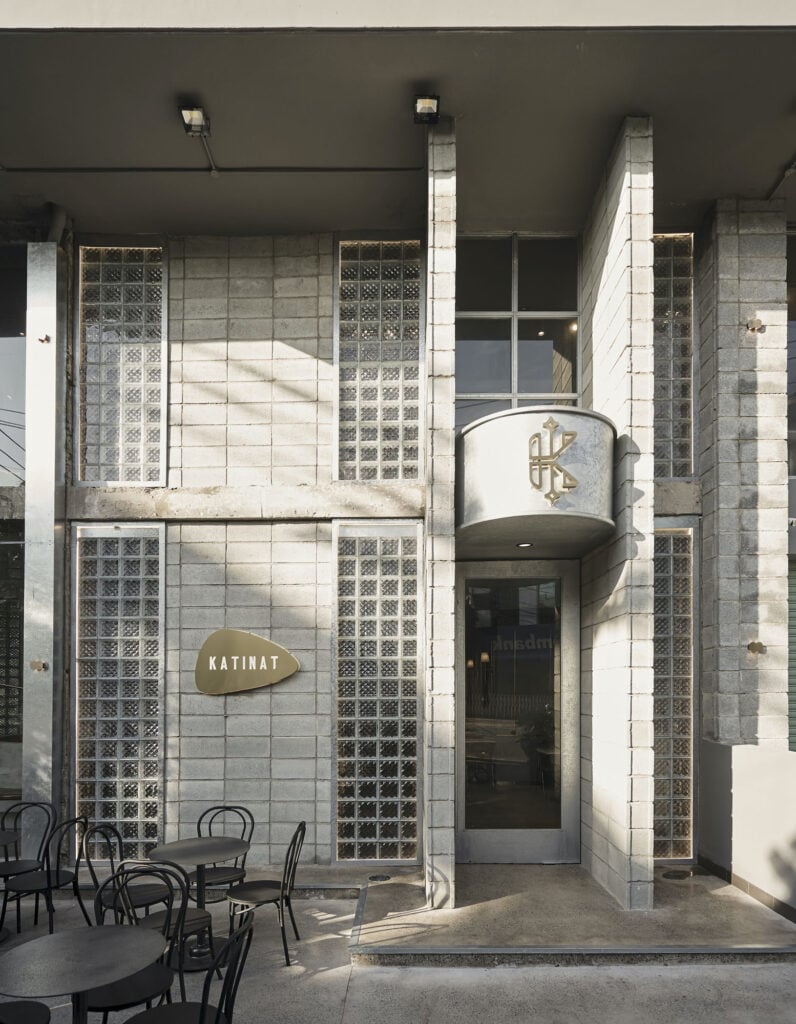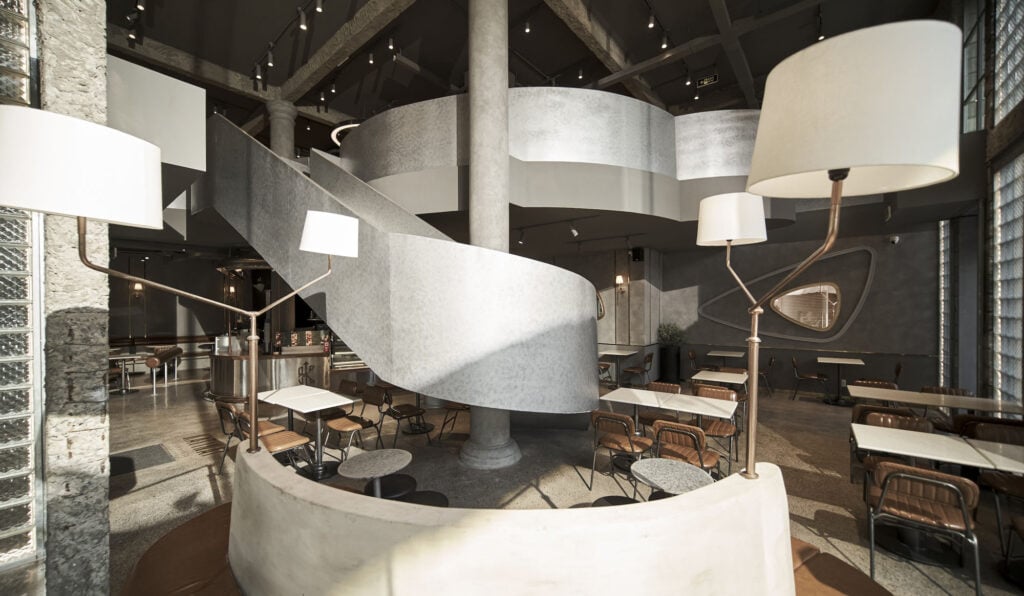 Inspired by the concept of creating "a rough shell embracing a warm soul," HCMC-based design firm Module K/Soulroom designed and constructed the café in just 65 days during the post-lockdown period in Vietnam. The firm specializes in the fusion of past and present, east and west, and has previously completed 15 design projects for the Katinat brand.
The interiors of the new Ho Chi Minh location were designed as part of the Katinat CoffeeMaster Concept 2022. The clients hoped to maintain the pre-existing structure of the former kindergarten, but wanted to remove the glossy coats of paint and transform the atmosphere into a more robust and modern hangout. "Customers should experience different spatial and emotional environments while enjoying their coffee, but recognize the branded atmosphere of Katinat," says project manager Dung Le. "We chose to incorporate curved counters, circular stairs, and galvanized materials to create strength as the basis. Then we used thin metal sheets to wrap texture around the structures and create counterbalancing curves."
---
More from Metropolis
---
The resulting café design is sleek, but infused with rustic moments of charm, including Parisian-style tables and chairs in a cozy outdoor seating area. Exterior glass block walls patterned with the Katinat brand logo create delicate shadows on the surfaces inside, while double-height windows invite light and connect the exterior and interior design.
Inside the café, a massive stainless-steel coffee bar framed with bronze strips of varying heights forms an organically shaped focal point. The spacious ground-level lounge is broken up by raw-edged concrete columns and casual banisters topped with bolster cushions. Pale, multicolored speckles in the terrazzo floors are echoed in the matching terrazzo tabletops, while curved banquettes and upholstered stools in shades of mocha, cinnamon, and tobacco brown soften and warm the space.
A sculptural, loosely spiraled staircase, formed from stainless steel and wrapped in textural metal sheets, features illuminated steps leading up to the slightly more compact mezzanine level. The mezzanine balcony's organic curves echo the rounded shapes of the staircase and allow patrons to glimpse the main floor. The upstairs seating area features several Jetsons-worthy ovoid mirrors in bronze frames that mimic the shape of the Katinat brand logo, an oversized, suspended ceiling light, a large triangular counter that serves as a shared workstation, and double-arm table lamps.
Despite the purposeful use of contrasting materials, a subtle sense of coherence strengthens the Katinat's cozy, modern design. Austere yet comfortable, the thematic color palette and logo-inspired shapes infuse the space's decor with an elegance that feels right for even casual occasions.
Would you like to comment on this article? Send your thoughts to: [email protected]