January 11, 2022
The Designer Who Created a Kaleidoscopic Nest in the Sky
This immersive art experience begins at a basement-level tunnel entrance, accessible through Grand Central. Mirrored elevators transport visitors to the 91st floor, with doors opening to reveal an illuminated dayglow antechamber that heralds Air, the crown jewel of SUMMIT. Air's main space, Transcendence, connects the two main floors with a "chamber of light and glass" composed of 25,000-square-feet of mirrors, naturally lit by full-length windows and placed to refract light from the city. A glass balcony wraps a mirrored entryway and connects the spaces to the outside world, offering singular views of sites like the Chrysler Building and Bryant Park. The product of two years of design and installation, Air's mirrored floors are built upon a structural aluminum frame, raised above concrete slabs, and crafted from German-designed annealed glass that is secured by a structural honeycomb laminated to the underside. Each reflective surface is built to accommodate the daily shifting of heat and light.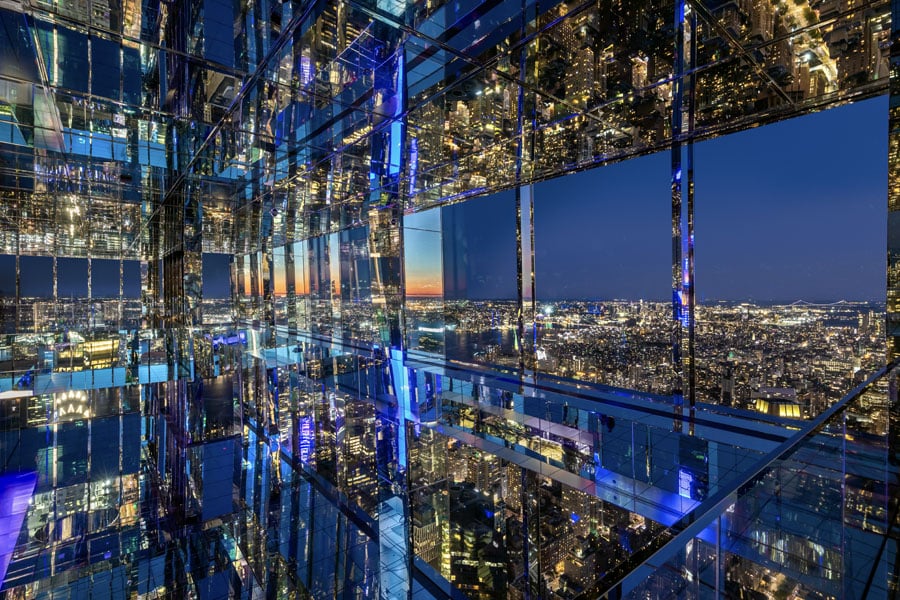 "The idea of Air is that it's a living organism," Kenzo told Metropolis during a December tour, noting the installations' responsiveness to the elements, "I wanted to make a physical space that was capable of having a deep, emotional, and psychological relationship with a human being." Walking through this "structureless environment," Transcendence flows into Affinity, another mirrored room adorned with free-floating silver Mylar orb balloons, an homage to Andy Warhol's Silver Clouds and the work of Yayoi Kusama, whose floor-based reflective installation Clouds occupies one of the smaller, successive rooms.
---
More from Metropolis
---
The denouement of Air is Unity, a massive, pulsing 47-foot-wide upright LED video screen reminiscent of a technicolor storm cloud, a nod to seminal video artist Nam June Paik, Kenzo's great uncle. The floor is skirted by Levitation, an enclosed glass ledge designed by Snøhetta that gives the feeling of weightlessly floating above the city, and Ascent, a glass elevator leading to One Vanderbilt's peak. Snøhetta also crafted the interiors in the areas of Summit outside of Air, as well as a small gallery space and the 93rd-floor terrace.
SUMMIT's overall design was guided by Kenzo's recurring childhood dream of waking up in a mysterious, mirrored two-floor space at the top of a glittering penthouse. But SUMMIT's ethos was grounded in energy conservation. "I wanted to create something that, hypothetically, didn't require electricity—day or night—and had to rely on the reflection of the sun and ambient light of the city." Kenzo's vision is enhanced by a sound bath crafted by Sound Designer Joseph Fraioli (Tenet).
"As New Yorkers, we are disconnected from nature, and our sense of time is chaotic and pressurized. As a result, you often don't appreciate how nature factors into the city and how you are part of the larger story. In many ways, I think of this as an escape from the rivers of chaos below," says Kenzo, who spent much of lockdown installing. "I built Air to provide a universal feeling–you begin to see the city work as an organism, an extension of nature." A chance to view both the metropolis and yourself differently, he explains. "We're connecting you to the outside world, but equally, it's about connecting the outside world to you."
Would you like to comment on this article? Send your thoughts to: [email protected]