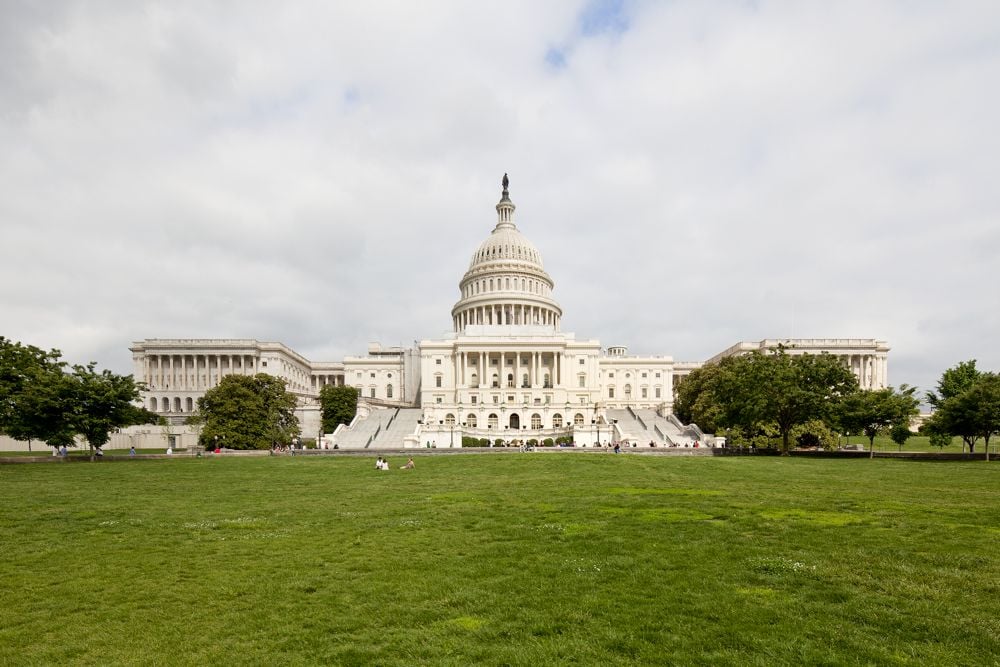 December 12, 2013
Laurie Olin Explains The Trouble With Washington
The noted landscape architect dissects how clumsy, ill-considered security measures have impacted our nation's once majestic capital.
As told to Avinash Rajagopal
Frederick Law Olmsted's pastoral vision for the grounds of the U.S. Capitol (viewed here from the western side) has been ruined by recent ad hoc security measures.
---
More from Metropolis
---
Photo by Magda Biernat
The mess we're in developed over two stages—security panic followed by security envy—and it didn't start with 9/11. It began much earlier, when various terrorist events, starting with the 1972 Munich Olympics and the bombing of several embassies in Africa, caused the federal government to take a defensive posture out of fear. This led to the quickest, easiest, cheapest, heaviest solutions, and they all ended up in the pedestrian realm because the streets couldn't be blocked. The sidewalks of New York City, Chicago, and Washington, D.C., were jammed with huge concrete planters or highway barriers that were meant to be temporary. Many of them persisted for years; some of them are still with us.
There has been a closing down of the public realm, which I find tragic. I believe it must be reclaimed as a civic space—visible, serviceable, handsome, and well-built. But first it has to undergo some design thinking about where defensive security measures can be placed and how they might be deployed.
The United States Capitol grounds were redesigned between 1874 and 1892 by the great landscape architect Frederick Law Olmsted. His fabulous design partook of the pastoral imagery of his earlier work in New York City's Central and Prospect parks, with verdant spaces, clumps of trees, curvilinear paths, and free-flowing movement. The detail was Victorian, but quite lush, whether in the bronze casting, the stone carving, or the handsome low walls. Everything was a procession that guided movement, helped with grading, dealt with drainage, and produced a kind of sequence of views that led you to your government at work.
That's the opposite of saying: "Stay out, keep away, don't come near"—which is what happened to the grounds after 9/11. The area is under the jurisdiction of the architect of the Capitol, who answers only to Congress. Therefore, they did things their way, and with their own contracts. Everything that Olmsted had designed was suddenly thwarted, cut off, blocked. Some changes are in the wrong place; many are unnecessary. They're ugly. Today the whole crew that messed things up—that president and his staff, the architect of the Capitol—are gone. But no one has thought to undo the changes and make it right.
Security is not a new problem for landscape architects. Look at the Iron Age forts across northern Europe and central Asia, and you will see moats, banks, berms, barriers, and hedges. Look at the fences around the Royal Parks in London, and the gates of the chateaux in Europe. We consider many of these security measures a part of our design legacy. But they weren't built for tanks. We have a new level of problem, bringing the military into what was either a civic or domestic realm. That's been our trouble—how do you take these things that are negatives, and leverage them? How do you turn them into something that will enhance the public environment?
When we were working on the Federal Reserve Bank in Kansas City, Missouri, we designed some low retaining walls, stone benches, and then basins and fountains. There is this ensemble of things that look like park furniture, welcoming and gracious. But you're basically sitting on an anti-terrorist device, meant to keep cars at a distance and stop fast-moving vehicles. Then there's what Lucinda Sanders, my colleague at OLIN, did at the Museum of Jewish Heritage in Lower Manhattan's Battery Park City. The beautiful black basins and benches with lights under them—those are crash barriers. But they're also places where kids play. The pieces that Rogers Marvel Architects did at Wall Street are goofy and sculptural. They're in the middle of a street that had to be closed for now, but they don't appear to be fences, bollards, or gates.
You don't want to make the design arbitrary. You want people to think, "This is inevitable, and this is comfortable." One of the things that interests me about the work of the Olmsted firm was its spirit: Don't make anything too short; err on the side of generosity, make it seem ample. People want to feel that there's no meanness, that there's a kind of ease with which things are done. Of course, you have to work a lot harder to make something look easier.
The writer J. B. Jackson once said that every American is entitled to an environment that is biologically wholesome, socially just, and spiritually rewarding. Security is part of the wholesomeness; sound, safe, functional. But the minute you add "socially just," that means you're not discriminating, you're not keeping anybody away out of convenience. We need to think about how to achieve this, but on a much more lasting basis. We must have a transparent government, we must have an open society, we must have safety for the citizenry, and we must design for all these ideals.