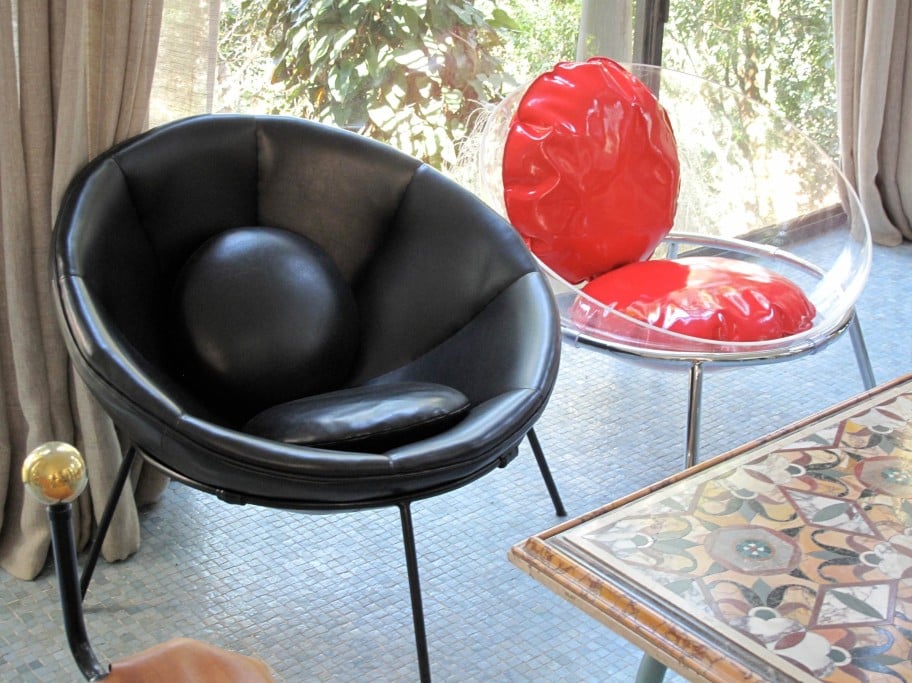 December 19, 2013
Lina Bo Bardi's Classic Bowl Chair Reissued
The design work of Italian-Brazilian architect Lina Bo Bardi is finally getting the attention it deserves.
It seems to be the season for the great women of industrial design. After the Charlotte Perriand lovefest at Design Miami earlier this month, now its time for another fierce, anti-elitist designer to get her due. Next month, the Italian design brand Arper is set to formally launch their special edition of Lina Bo Bardi's Bowl Chair, in a whole array of new materials and colors.
Bo Bardi was born in Rome in 1914, and made São Paulo her home from 1946 until her death in 1992. Her first few years in Brazil were spent designing furniture and interiors, and the Bowl Chair, conceived in 1951, dates from that period.
It's a bold chair by any standard, but it is positively prescient for its historical period. The spherical form predates Eero Aarnio's well-known Ball Chair by over a decade. While the original materials—smooth black leather and black tubular steel—are stolidly modernist, a clear-plastic and red-cushion prototype from Bo Bardi's home predicts a pop sensibility well before its time.
---
More from Metropolis
---
The original prototypes for the Bowl Chair. Note the modernist black-leather model contrasted with the ahead-of-its-time pop aesthetic of an alternate version.
Courtesy Arper
But the truly remarkable thing about the Bowl Chair is its concept—a seat that can be tilted and swiveled within its frame to suit the sitter's posture. Bo Bardi's later architectural career was defined by this idea of putting the human being at the heart of any design. It was an idea that grew from her deep ethical and political beliefs. Speaking at the first exhibition of her works at the University of São Paulo in 1989 (covered in more detail here), she described herself as Stalinist, out of loyalty not only to a communist worldview but also to the man who liberated Italy from ascism. She also called herself anti-feminist, having no truck with the women's liberation movement, which at the time often portrayed women as special beings with "feminine" power. Bo Bardi spoke instead of a direct equality, inspired by how working-class women have always labored shoulder-to-shoulder with men.
Her aim, with design, was simple: "You should always look for the ideal, decent object, which could also be defined by the old term 'beauty,'" she said. It is not hard to see this clarity in the Bowl Chair, both in its concept and its final form.
Bo Bardi seated in her Bowl Chair.
Courtesy F. Albuquerque
Arper's re-edition takes the chair one step further towards Bo Bardi's vision for it. The 500 chairs in the special line will be produced in many combinations of colors and materials, an idea that the company discovered in the designer's original sketches, which are now held by Instituto Lina Bo e P. M. Bo Bardi. Arper's other changes—using plastic instead of metal for the frame, and replacing some of the manual production techniques with mechanical production—are harder to reconcile with Bo Bardi's beliefs, but she wasn't a great believer in historicism, in any case. "It is necessary to consider the past as a historical present, still alive," and to "forge another 'true' present that could not be found in books," she told her audience in 1989.
In keeping with Lina Bo Bardi's beliefs about gender relations, one must be wary of reducing everything to a male-vs-female discourse. But one can't help but admire how much more ideologically consistent, more humanist, and more fearless the women of modernism were. If only for this reason, the new attention to their work and their lives is immensely valuable.
__________________
The exhibition "Lina Bo Bardi: Together," first organized by the British Council in London in 2012, is currently on display at the Pavilion De l'Arsenal in Paris. Yale University Press just put out a volume on Bo Bardi's career, complete with rare archival material that helps situate Bo Bardi's political, social, and cultural influences and allegiances. See also our on-site look at Bo Bardi's "personal modernism."