April 10, 2018
This Interior Designer Is Cornering an Untapped Demographic—Urban Bachelors
Taking a sartorial approach, interior designer and entrepreneur Sabrina MacLean homes in on bachelor pads for her new venture, Maison MacLean.
---
After years of collaborating with her mother, Carola Hinojosa of the Miami-based Hinojosa Studio, interior designer Sabrina MacLean has launched her own independent venture, Maison MacLean—a boutique decorating service oriented to what she believes to be an untapped demographic: urban bachelors.
In an era of increasingly fluid gender identities and marital values, the proposition skews toward daring, if only for its seemingly blithe embrace of convention. Yet in her experience working on high-end residential and hospitality projects, MacLean says, she simply identified a market need and saw an opening to cater to a specific niche. "I saw that the projects always went supersmoothly, the decision-making process is much quicker," MacLean recalls about her experience working with male clients. "They just want to get things done, and they want the expertise of an interior designer to lean on."
Maison MacLean's business model is formed around an expeditious six- to eight-week process designed to appeal to "men with serious agendas, taking out of their hands what can be delegated and executed quickly," says MacLean. Clients begin with an "interactive digital tool" that functions not unlike an online personality quiz, with a range of questions about fashion and lifestyle preferences. It asks what type of professional you are (finance/law, real estate, creative, or other), your go-to fitness routine (weight lifting, running/jogging, yoga, or cardio/spin), your favorite type of fashion statement (blazer, socks, pants, or pocket square), and so forth.
---
More from Metropolis
---
"[Urban bachelors] just want to get things done, and they want the expertise of an interior designer to lean on," says MacLean.
Creating an interactive digital element may appeal to clients who are familiar with any number of interior-design start-ups that have cropped up over the years, and the promise of added convenience they advertise. Pinterest and Houzz serve up endless repositories for bookmarking and sharing ideas, akin to an image library—while more recent ventures like Modsy and Tylko have offered AR tools that allow users to shop for furnishings by matching the pieces with 3D-rendered visuals of their actual home.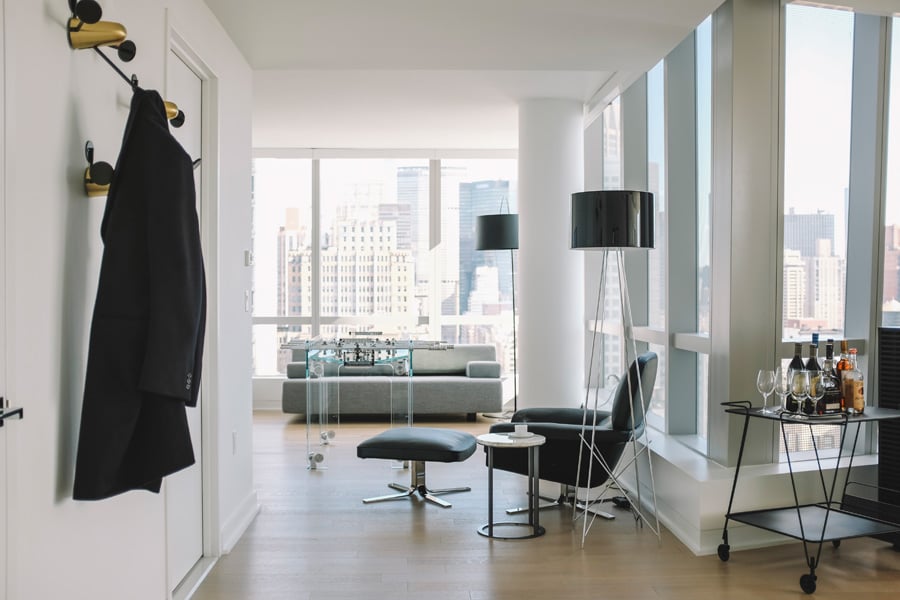 ---
Maison MacLean's process isn't quite as high-tech or social-media based, nor does it rely upon an exact algorithmic science. It's still very much a boutique design-services firm that styles furnishing selections personally, based on the response and an on-site follow-up visit. However, the simple online quiz expedites the intake and research stage significantly, she explains, as well as the design selections that follow. "How you dress is how we style," says MacLean, who then distills the profile to create a mood board of patterns, colors, textures, and furnishings from high-end design brands, retailers, and showroom suppliers with whom she has established relationships over the years. Consider it an interior-design service for the BuzzFeed generation.
Through a series of streamlined on-site meetings and approvals, the studio guarantees a finalized turn-key product, down to white-glove service, in just a few weeks. It's an impressive timeline for a semi-personalized design service involving high-end furnishings that are often made to order and require substantially longer lead times. By partnering with retailers like Design Within Reach and DDC to keep a running inventory of in-stock items, MacLean can ensure specification and fulfillment within a specific window of time. Since much of the design process involves waiting for items to ship and arrive, MacLean charges clients 90 percent of all fees upfront, "because we need to take orders fairly quickly," she says.
There are a few key caveats: Maison MacLean's services don't include interior renovations, and spaces are decorated as is (so if you want to knock down a wall or redo the kitchen, you'll need to call a contractor or an architect). The studio's focus on urban apartments is also a logistic factor: Limiting projects to more compact residences allows quicker completion. Since items are typically bought in-stock from retailers, there may be fewer options available for selecting upholstery or finishes.
All said, the overall experience demystifies the interior- design process for the uninitiated—and greatly speeds it up for those for whom time is at a premium, addressing a sweet spot that sits somewhere along the wide spectrum between bespoke and automated.
You might also like, "CookFox Converts a Storage Facility into a Lush, Luxurious Apartment Complex."