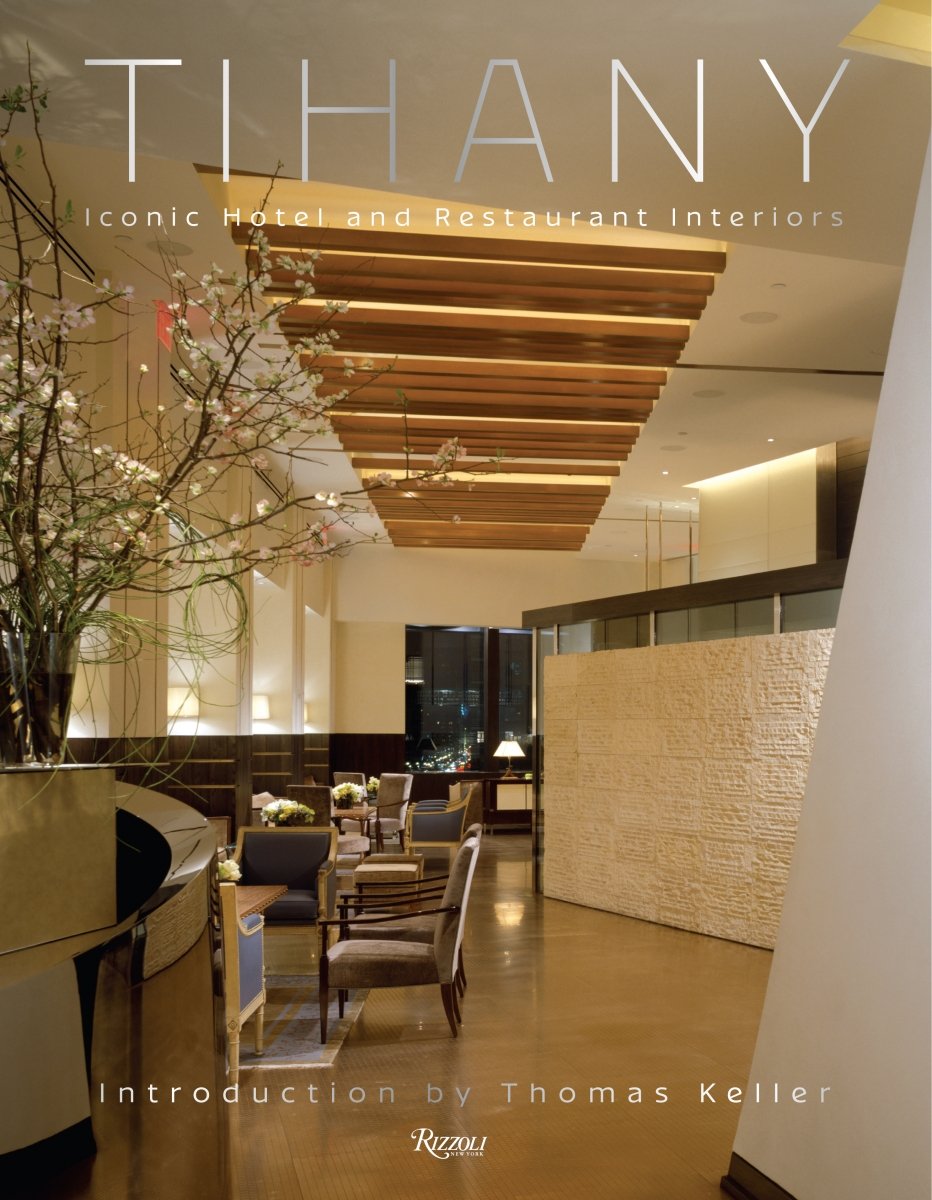 May 12, 2014
Adam Tihany, The King of Hospitality Design
A look at the work of Adam Tihany, the iconic interior designer
"I have no one style," writes Adam Tihany in his new monograph from Rizzoli entitled Tihany: Iconic Hotel and Restaurant Interiors (Rizzoli, 2014). While that's a claim even the most form-driven architects and designers like to make today, it's one that Tihany can make with a certain degree of credibility. His restaurants and hotels, spaces like Le Cirque 2000 and Per Se and the Mandarin Oriental hotel, share a sensibility—lush materials, sophistication, dramatic lighting—but the Tihany "style" is deliberately all over the map, both literally and figuratively.
"Think of me as a custom tailor," the interior designer writes in a long and fascinating prologue that kicks off the book, which collects a series of 15 hospitality projects from all over the world. "If I do a custom suit for Thomas Keller, it will fit him. And it's not the same suit that will fit Daniel Boulud or Jean-Georges. Why would they all hire the same guy? Thomas Keller doesn't want his restaurant to look like Daniel Boulud's. Daniel Boulud doesn't want his restaurant to look like Wolfgang Puck's, or Heston Blumenthal's, or Pierre Gagnaire's."
---
More from Metropolis
---
The monograph's cover features an interior shot of the Thomas Keller restaurant Per Se in New York.
Tihany, who will be in conversation with Metropolis editor-in-chief and publisher Susan S. Szenasy May 19 at ICFF, has a fascinating backstory. For an interior designer with a long history of working with some of the most famous chefs in the world, Tihany sort of stumbled into his life's calling. Born in Transylvania to Romanian parents, he grew up in a Hungarian speaking household, in Jerusalem, transfixed by the light of the ancient city; two days after completing his military service in the Israeli Army, he jumped on a plane to Milan, to attend architecture school, and almost immediately became immersed in the Italian way: the idea of designing at all scales. When he moved to New York, he took on a restaurant commission and realized that hospitality projects offered a unique opportunity to, in his words, "touch everything."
Tihany's design for Daniel, the lauded eatery from chef Daniel Boulud, in 2008 coincided with his firm's 30th anniversary.
As he built his practice in the 1970s, Tihany opened a restaurant on East 79th Street in New York City called Remi. It was the education of a lifetime. "Every day running Remi made me a better designer," he writes. At one point he and his partners owned and operated four restaurants. The experience gave Tihany a great deal of sway with restaurateurs, who respected the designer's keen operational feel for the business: "Meaning that I could tell a client, 'This works and this doesn't work,' I'm not just saying it from an aesthetic standpoint, or because I don't like fitting a service station next to this column…"
The Gold Bullion Wall in the entrance lobby of the Mandarin Oriental in Las Vegas
Even with a global reputation spanning four decades, Tihany still operates his firm on the atelier model, a holdover from his early days in Italy. Although his office could easily be two, three, or even four times larger, the firm tops out at about sixteen, and remains exceptionally picky about the projects it chooses to design. Marnie Tihany, the interior designers's wife and director of business development, keeps a list on hand of preferred cities. Tihany explains, "It's a little game we play here: sometimes she'll call out a name of a city. And if everybody says 'Yes!' we know we have to do the project! Does anybody want to do to Venice? 'Yesssss!' Nanjing would not get that response."