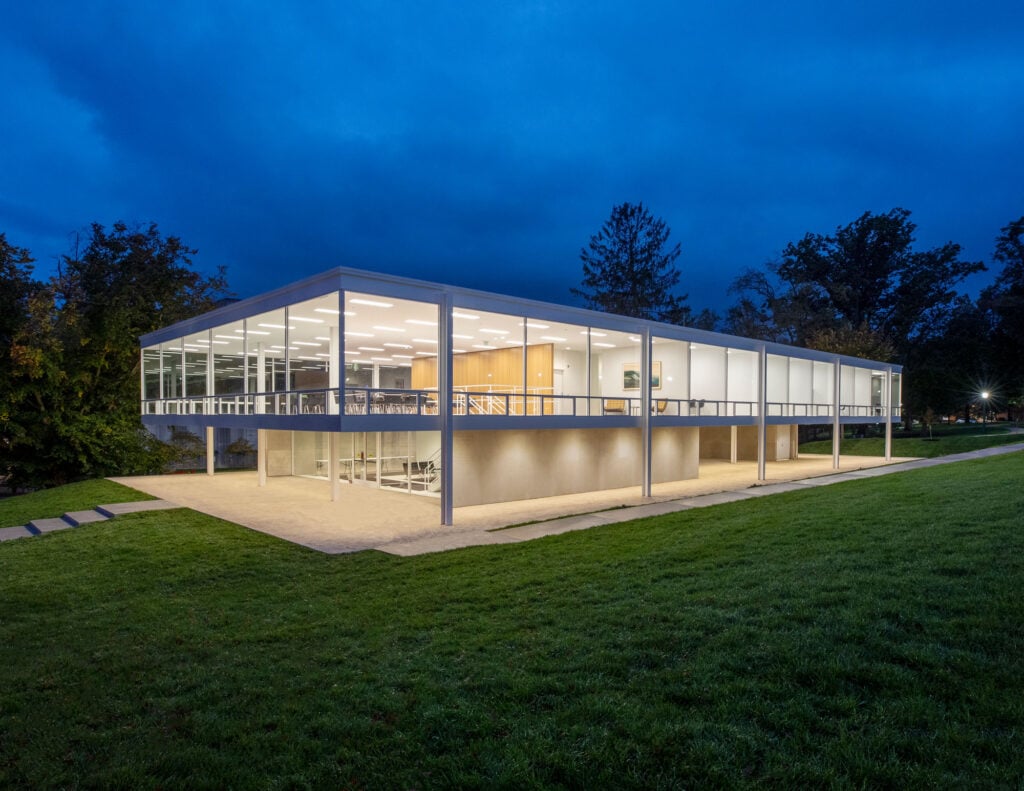 May 3, 2022
A Brand-New Mies van der Rohe Joins Indiana University's Collection of Modernist Buildings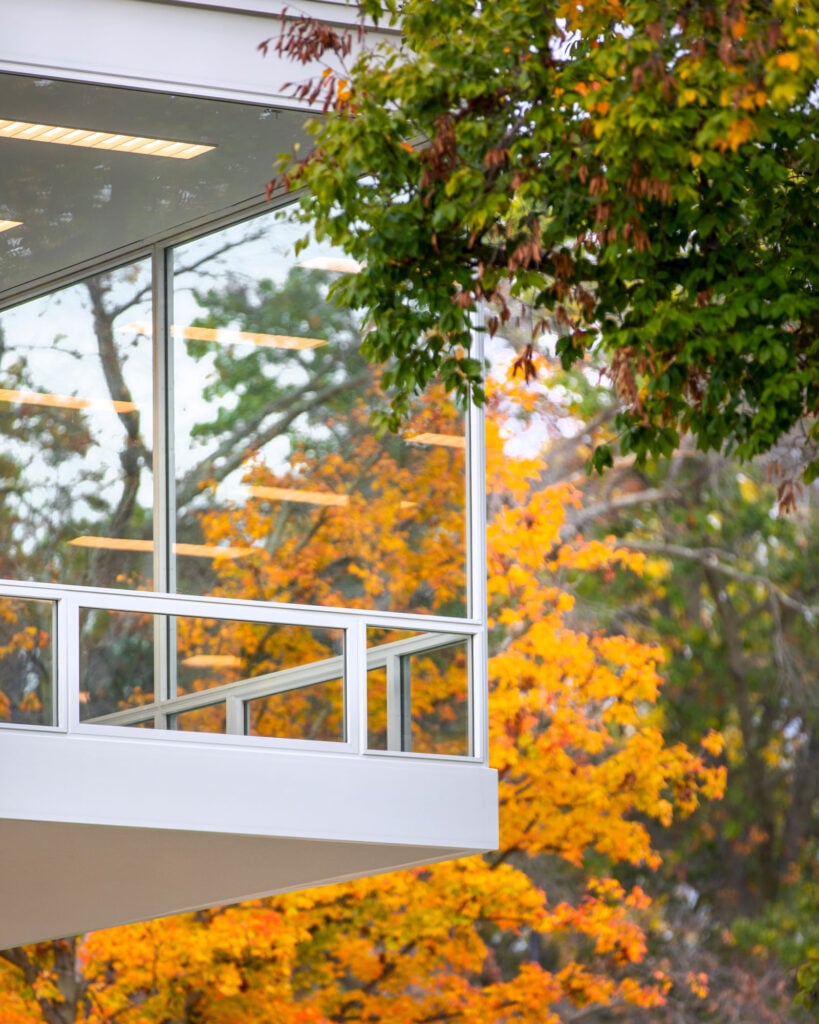 Flash forward to 2013, when IU alumnus Sidney Eskenaz, founding donor of the school that bears his name and a member of the Alpha Theta Chapter of Pi Lamda Phi, the fraternity that commissioned the Mies house, told the university about Mies' design. As a young law student, Eskenazi helped the fraternity manage a building permit denial by the city of Bloomington for the project; Mies' office gave him two floor plans and a rendering to assist him in his efforts. He gave a scan of these documents to Michael A. McRobbie, then- president of the university, in 2013.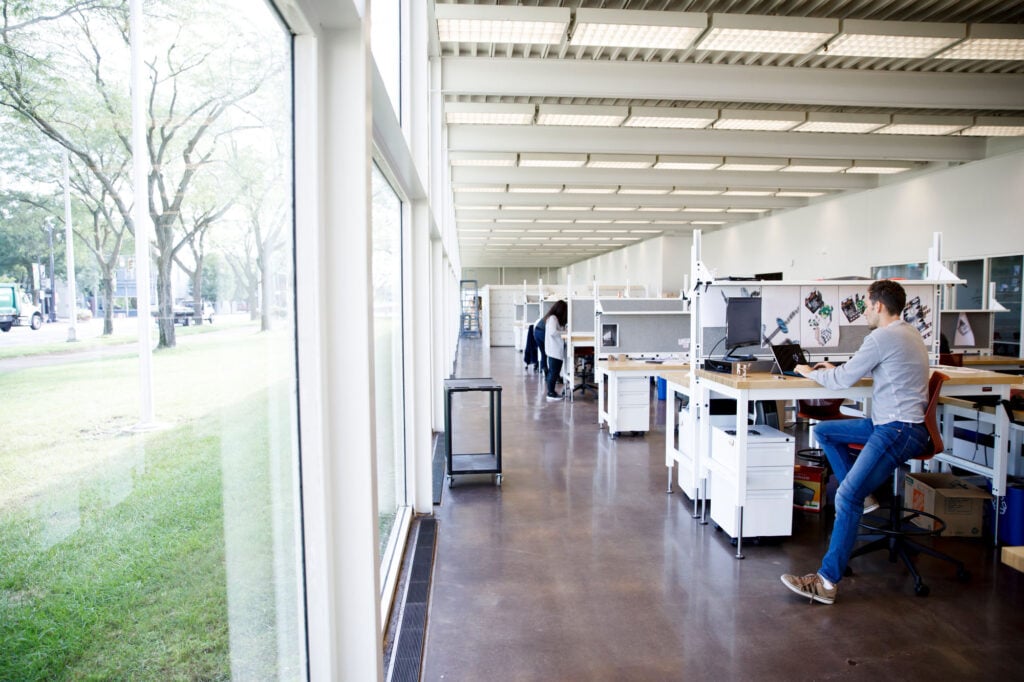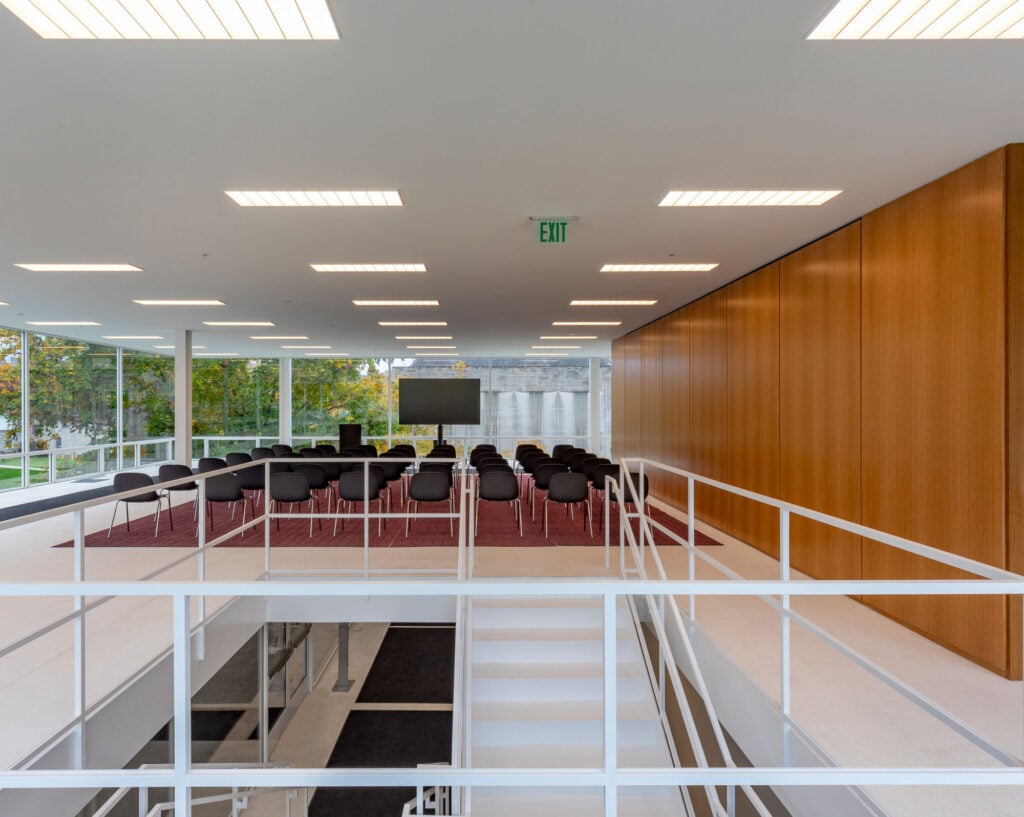 The actual blueprints for the building were found in Mies' archive at MoMA by Smith Group JJR, the university's master planning consultants, in 2014. Adam Thies, associate vice president of capital planning for the university, found additional documentation of the building in the Ryerson and Burnham Libraries at the Art Institute of Chicago in 2015 and 2021, as well as at MoMA in 2019 and 2021.
The two-story, 60-foot-by-140-foot building is based on the original 70-year-old design but deviates slightly from the materials Mies would have had available and conforms to regulations that were not a concern in 1952. Though it is constructed of white-painted steel, gray limestone, and white epoxy terrazzo, the liberal glazing is insulating and high-performance. To conform to today's building code, it also features an additional stair; hydraulic elevator; modern heating, cooling and ventilation systems; and sprinklers. Its lower level has a mechanical room and is mostly open-air, while its elevated second story, which has lecture, workshop, student collaboration and administrative spaces, features wrap-around, floor-to-ceiling windows. According to the school, the building, which is furnished with designs by Mies and Florence Knoll, "has a strong relationship" to both the Farnsworth House and Mies' early concepts for buildings on the Chicago campus of the Illinois Institute of Technology.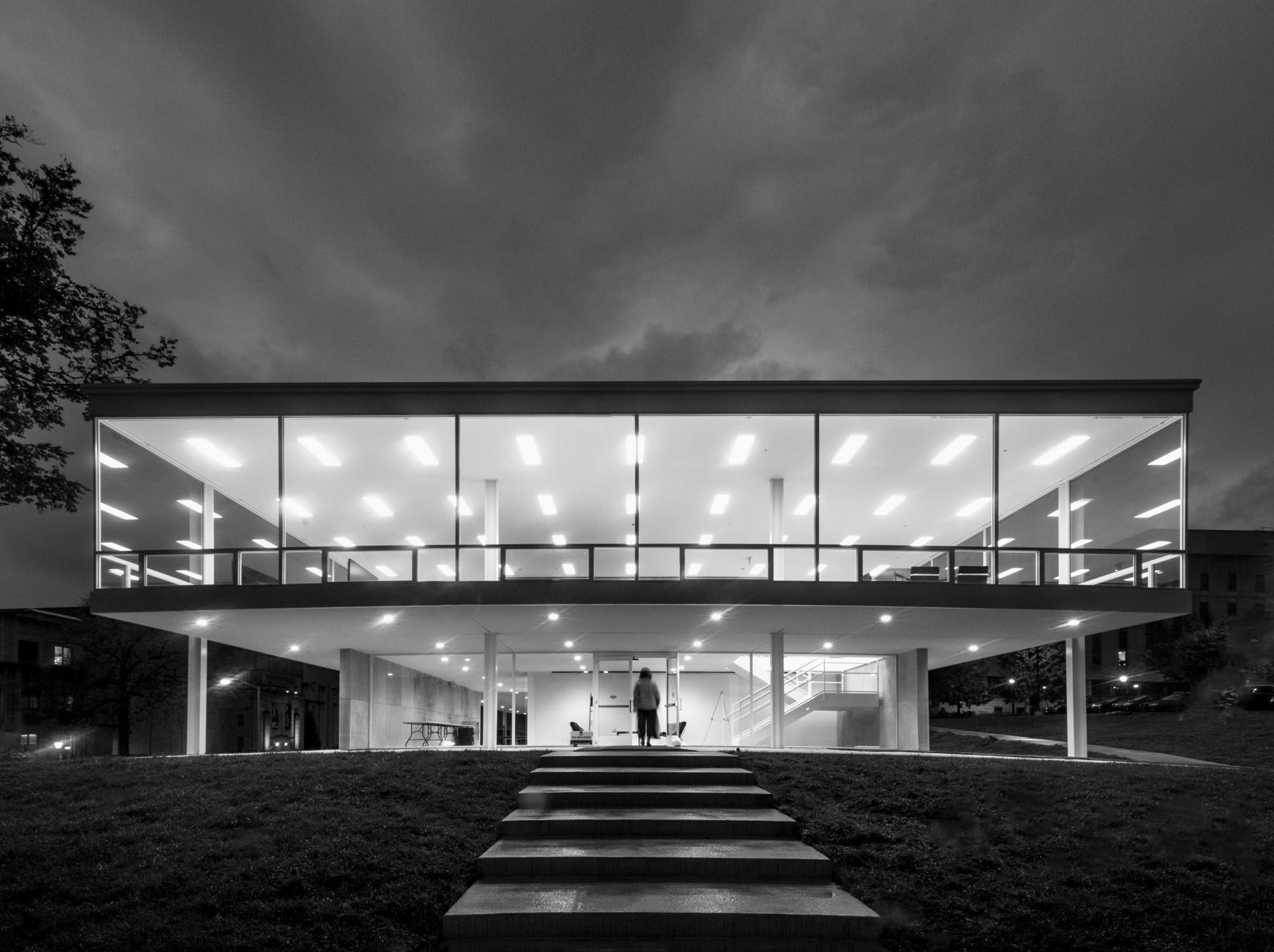 Goldsmith's glass and steel Republic Building on the other hand—described by the Columbus Area Visitors Center as "a linchpin in the redevelopment plan for downtown Columbus in the late 1960s"—originally offered passersby a literal window on the newspaper's operation: Its printing presses were visible from the street until they were moved to a larger plant in Columbus.
When the university's architecture program moved into the Republic Building, it outfitted it with a visual studies studio, fabrication lab, exhibition gallery and flexible auditorium space. It purchased the building—which was vacated by the newspaper in 2016 and later owned by Columbus Regional Health, a southwestern Indiana health system—in 2018. According to Thies, the building required little modification for its new role; Peg Faimon, founding dean of the Eskenazi School, said "its architecture stands up very well, it's functioning for us very well."
She also said the Mies building serves as a community hub for the Eskenazi School's multiple disciplines on the university's Bloomington campus.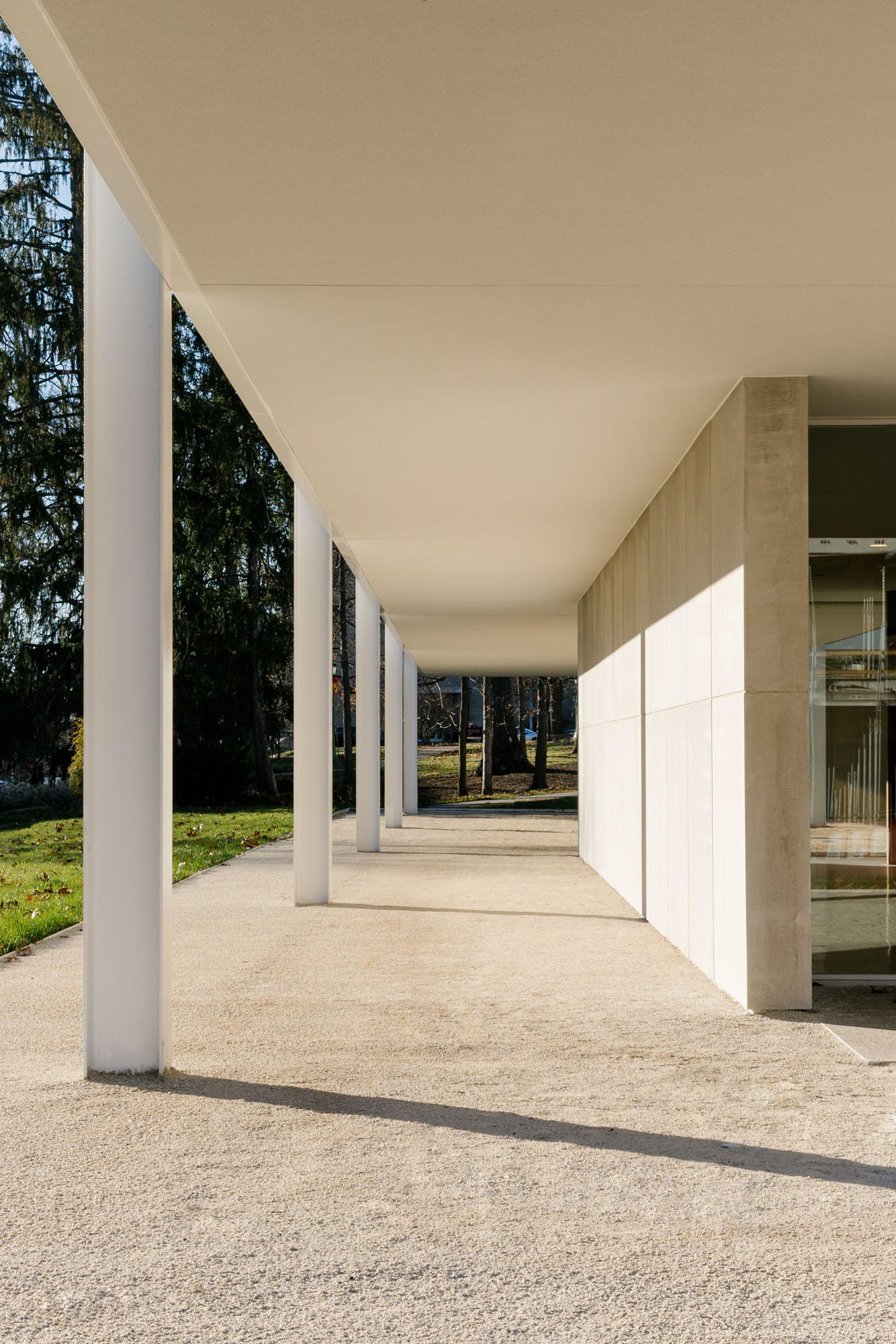 Would you like to comment on this article? Send your thoughts to: [email protected]