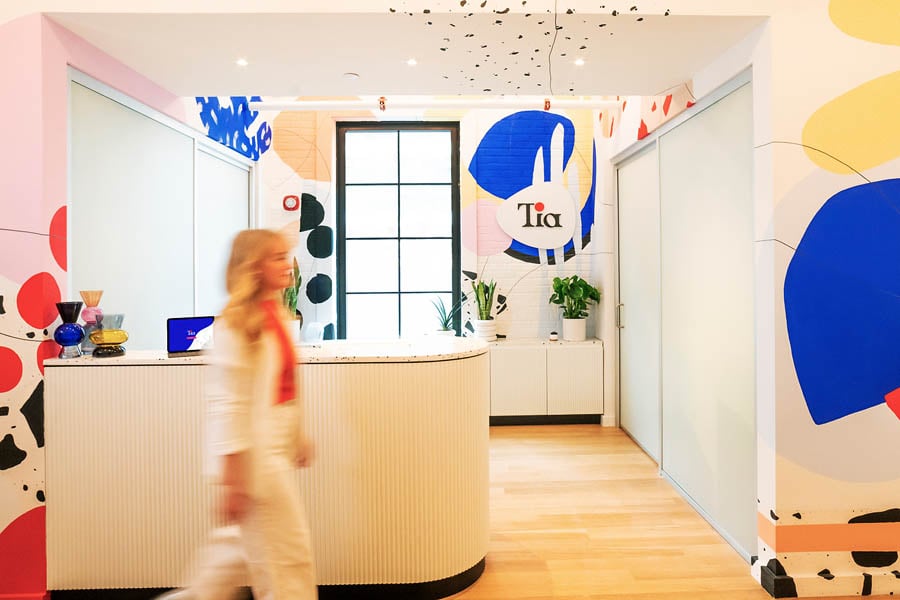 October 10, 2019
7 Projects That Signal The Rise of Haute Health Care
A millennial wave of health care interior design is sweeping the world, bringing the comfort and style of restaurants and clubs to everything from primary care clinics to dentist's offices.
---
It's no longer enough for waiting rooms to have comfy chairs and a few glossy magazines. Health care has gone full-on hospitality with reception areas that look like clubs and exam rooms that embrace comfort and on-trend colors. The designification of medical facilities cuts across the industry—from stylish women's-care start-ups to sleek dental practices to CBD wellness centers whose professionally crafted interiors hit all the design marks (think dusty-pink furniture, soft, rounded shapes, glowy pendants, and lots and lots of terrazzo). Here's the best in high-design health care, represented by seven practices, shops, and offices that prove sterility in medical spaces needn't extend to the interior design.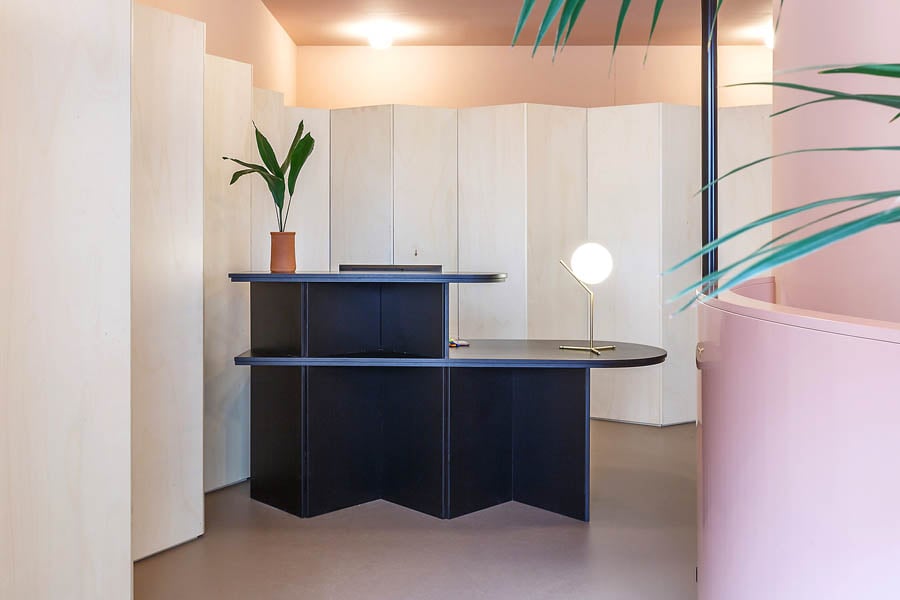 ---
Clínica Ruiz Nadal
Plastic Surgery
Majorca, Spain, 2019
Clínica Ruiz Nadal is a plastic surgery practice whose eye for aesthetics extends to its office design. Located on the picturesque Spanish island of Majorca, the office balances the need for openness and privacy with a series of seating areas and enclosed spaces that make use of lush materials. Spanish studio SMS Arquitectos arranged the clinic to open onto a waiting room that plays with contrasting shapes and colors. Dark teal curtains back- drop round, rosy banquettes, providing a discreet space for patients not yet called in for appointments. A dark, curved reception counter is framed by plywood panels arranged in a zigzag pattern to hide shelves and storage. Behind the curtains, blush-colored walls welcome visitors into the sooth- ing surroundings of the procedure rooms. Globe lights, modern furniture, and lots of plants accent the space, giving it the bright feel of a high-end restaurant instead of a clinical environment.
---
More from Metropolis
---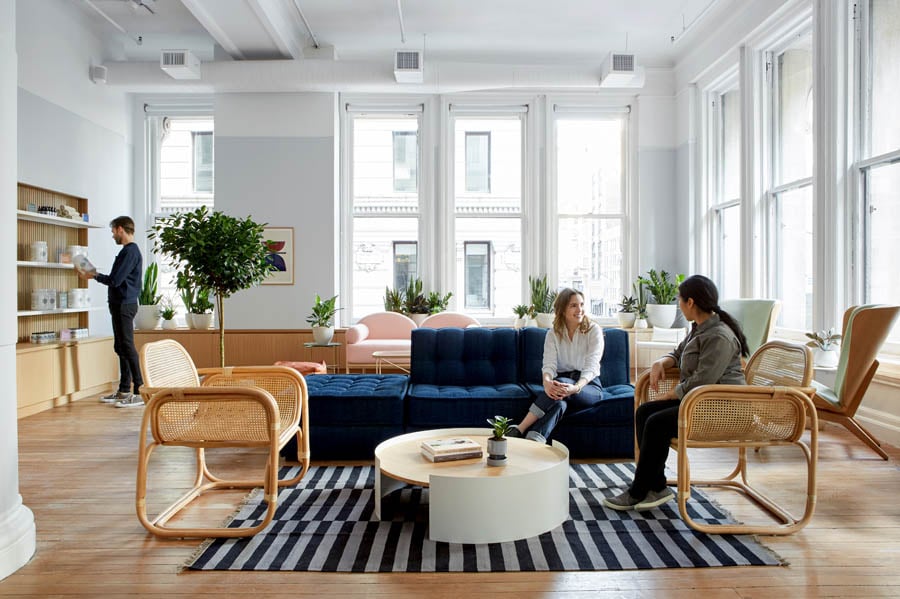 ---
Parsley Health
Primary Care
New York City, 2019
Located in the heart of New York City's Flatiron neighborhood, Parsley Health is a primary care clinic whose sprawling, airy office looks like your most stylish friend's loft. Alda Ly Architecture & Design— the firm behind many of the outposts for The Wing— maximized the 5,500-square-foot headquarters with an open-plan layout that connects the reception area with a members' lounge. Hilko Designs, which collaborated on the interiors, outfitted a seating area with pastel textiles and rattan chairs. The room flows into a kitchen space with a long wooden table and kombucha on tap. The office is inspired by re- search into biophilic design, and you'll find plants strategically dotted throughout the office and soaring windows that bring in lots of natural light. A hallway designed around a botanical installation leads to the office's exam rooms, where upholstered couches and built-in medical tables make the spaces feel less sterile and more like homey reading nooks.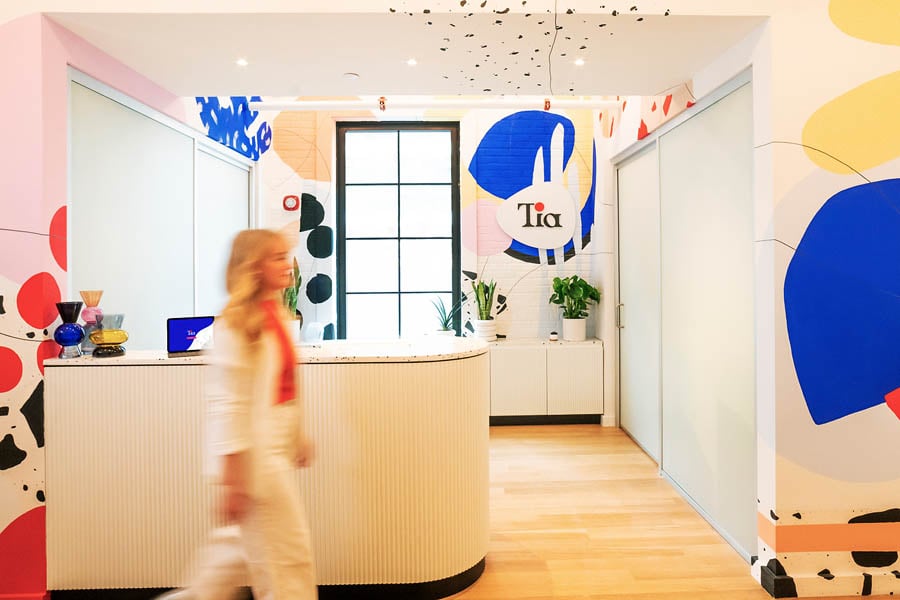 ---
Tia Clinic
Women's Health
New York City, 2019
Tia is a members-only women's health start-up that reimagines the clinic experience one colorful exam room at a time. Founded by two ex Googlers, Tia began as an app and recently opened its first IRL clinic in Manhattan. Rockwell Group designed the office to feel like an extension of the online experience—meaning bright, comfortable, and tailored to a youthful clientele. Employees greet patients in a reception space framed by a terrazzo countertop and a splashy geometric mural. The waiting area is arranged like a living room, with a sleek white couch, hanging plants, and book- shelves stocked with titles by Joan Didion and Simone de Beauvoir. A hallway filled with woman- made art leads to four exam rooms that feature exposed brick walls and furniture in primary colors. A built-in armoire finished in black speckled paint hides custom-designed robes and socks that Tia's aesthetically minded patients can slip on while they wait for their doctor.
---
The Urban Dentist
Dentistry
Berlin, 2018
Walking into The Urban Dentist feels like stepping into a nightclub—only much, much cleaner. Designed by Studio Karhard, the German architecture firm behind famed nightclub Berghain, this Berlin dental practice is perfectly calibrated to banish fear, induce relaxation, and maybe entice patients to bust a dance move or two. Karhard eschewed typically stale dentist decor, instead filling the space with muted furniture, ambient lighting, and moody tones meant to create a calm atmosphere. A reception desk made from Max Lamb's dark, chunky terrazzo awaits patients near the entrance, while modern lighting fixtures dangle from the ceiling and play off colorful partitions that give the industrial space a feeling of coziness. The treatment rooms, while slightly more conventional in design, feature lighter terrazzo countertops and pale pink cabinetry. Of course, there's still the dreaded patient chair, which remains steadfastly clinical, lest you forget you're at the dentist.
---
London Animal Hospital
Veterinary Medicine
London, 2018
Dogs might not appreciate the attention to detail at the London Animal Hospital in Camberwell, but their humans certainly will. The stylish veterinary office is a 24-hour-care facility that houses some of Europe's most advanced veterinary technology, though you'd never guess it from its warm minimalist look. London architecture studio Almanac reconfigured the former print shop into a light-filled space that caters to humans and animals alike thanks to trendy design touches and sturdy materials that can withstand wear and tear from paws. The waiting room's exposed beams and battens are painted a crisp shade of white that pops against the ocean-blue walls. Light plywood benches fill the common space and are designed with specific pets' needs in mind—cat benches come with armrests for securing a carrier; dog benches remain open for pets to jump up next to their owners. During nighttime hours, globe pendants hanging from the ceiling add a warm ambience.
---
The Face Only
Dermatology and Skin Care
Moscow, 2019
Step inside The Face Only, a dermatology and skin care boutique in Moscow that looks like a high- fashion spaceship. Imagined by Dmitry Vorontsov and Harry Nuriev of New York–and Moscow-based Crosby Studios, the enterprise takes the best parts of antiseptic clinicality—metallic finishes, clean lines, fluorescent lighting—and exaggerates them into fashionable design features. The walls of the mono- chromatic office are upholstered in a silvery material that gives the space a futuristic feel. A wall painted matte gray complements the terrazzo floor speckled with silvery flecks. The studio's architectural leather chairs face elongated, brightly lit mirrors that tilt for- ward and dangle from a suspension rope branded in a modern sans serif font. The whole thing would feel utterly dystopian if it weren't for the powder-pink stools, poufs, and sinks scattered throughout the shop, which give The Face Only a cool and friendly fembot vibe.
---
Standard Dose
CBD and Wellness
New York City, 2019
At Standard Dose, a new CBD-focused store and spa in New York City, wellness is about more than body and mind—it's also about immersing customers in gorgeously serene surroundings. The three-story space opened this summer, and its neutral palette of peachy pinks, whites, grays, and pale wood is like a chill pill in architectural form. SR Projects, in collaboration with TUNA, built out the space, which includes a day spa in the basement and a retail shop, tea bar, and meditation room on the ground floor. Visitors can perch atop plush geometric pillows in the meditation room and bask beneath a CoeLux skylight that mimics natural daylight to sync with circadian rhythms. The roof is outfitted with couches and tables for events, but there's plenty of room for visitors to stretch out during yoga classes, which Standard Dose plans to offer during the warmer months.