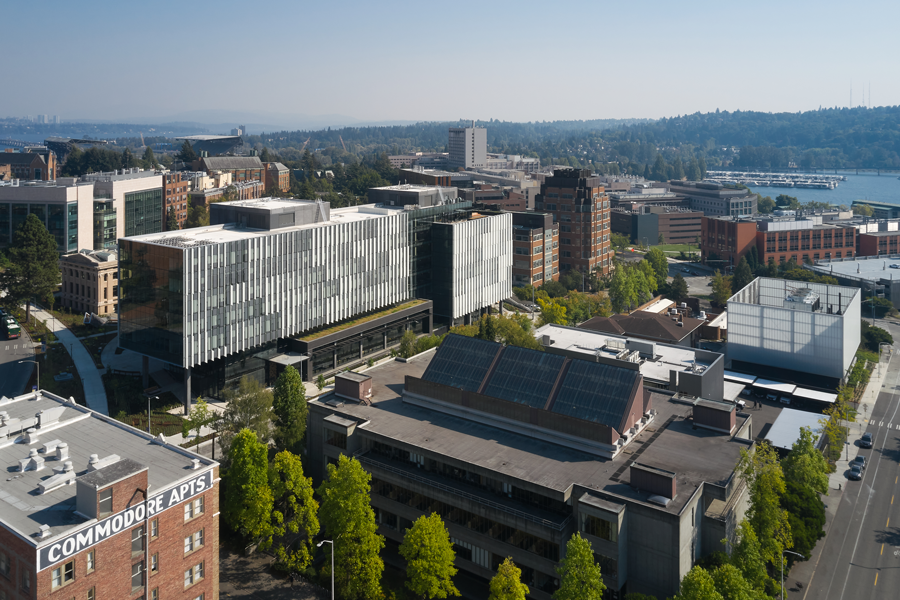 February 9, 2021
In Seattle, Miller Hull Establishes a Global Hub for Population Health Research
The eight-story Hans Rosling Center takes cross-disciplinary collaboration as its watchword.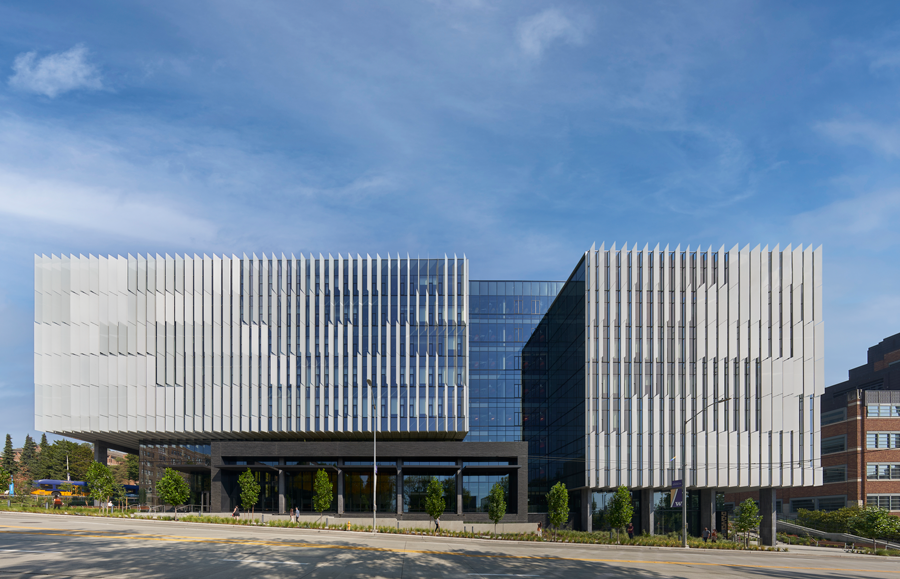 ---
At the University of Washington (UW) in Seattle, which has emerged as a leader in global health data during the pandemic, the new Hans Rosling Center for Population Health is poised to become an epicenter for life-saving public health research.
"This project was about planting a flag in the sand, announcing Seattle as the center of gravity for research and innovation around population health," says Ruth Baleiko, partner at Miller Hull Partnership, which designed the building. "For UW, this was a big, bold, and audacious project."
Designing the Hans Rosling Center for Population Health
Located on a transitional site between the historic campus core and an up-and-coming university district, the building creates a new campus nexus. Miller Hull's design of the 290,000-square-foot Hans Rosling Center was driven by the belief that interdisciplinary collaboration is key to solving global health challenges, bringing together departments including the School of Public Health, the Department of Global Health, and the Institute for Health Metrics & Evaluation (IHME), an independent research center providing data on global health issues, including COVID-19.
---
More from Metropolis
---
"UW has broad expertise across disciplines, as well as strong external partnerships with community groups and government entities," says Derek Fulwiler, director of strategy for UW's Population Health Initiative, which commissioned the project. "That ecosystem now has a single home, a place for out-of-the-box creative conversations that will lead to the next generation of solutions for population health." The building announces its ethos of collaboration through a parti of interlocking rectangular volumes, which contain seven stories of research offices and hover above a ground floor of public convening spaces and classrooms.
The Miller Hull Partnership Designs a Space for Engagement
"The building's manifesto is about engagement: within and between teams inside, and beyond the four walls," says Miller Hull's Baleiko. Envisioned as a series of neighborhoods where various office types intermix with shared meeting spaces, the floors are arranged around a central convening stair meant to encourage healthy movement, as well as to advance the guiding aim of cross-pollination among occupants and visiting partners.
There was a challenging 30-foot grade change on the site, which the architects addressed by creating three "ground floors" at different elevations, each with its own entrance. A massive, covered porch along the north facade is a welcoming refuge in Seattle's rainy climate. "The building is porous and accessible, inviting people in from all four sides and allowing movement through it," says Baleiko. Tempering transparency with a subtle grandiosity, the building's west facade of three-foot-deep fins creates a dramatic rippling effect visible from the nearby interstate. Each fin was carefully oriented to mitigate glare and solar heat gain without sacrificing views.
A Design Build Approach Yields Innovative Solutions
The fins are just one example of innovative, cost-effective design solutions that emerged from the Hans Rosling Center's new integrated design-build approach—a delivery method UW piloted with this project. Miller Hull and contractor were selected as a team, developing the design collaboratively with trade partners and university stakeholders through a risk-reward partnership. Key partners agreed to put their fee at risk if the building went over budget, but could also earn a reward from an incentive fund if it met UW's cost targets. The budget was largely driven by a $210 million grant from the Bill & Melinda Gates Foundation that provided major underwriting for the Center (some funding also came from the Washington State legislature and UW).
The risk-reward structure meant all team members had buy-in and gave Miller Hull access to consultants early on, allowing for quicker decision-making and less value engineering. "This was the largest, fastest-moving project I've been a part of in my 32-year career," says Brian Aske, project director at Lease Crutcher Lewis, Miller Hull's construction partner. The soon-to-be LEED Gold certified building was completed in just three years and $6.5 million under budget.
"The camaraderie on this project was unlike anything we'd ever experienced," says Baleiko. "It's a different paradigm—rather than designer as maestro, it's design leadership in the midst of diverse viewpoints."
Although the Hans Rosling Center currently sits empty due to the very population health challenges it was built to address, UW's Fulwiler remains optimistic. "Once we can get in the building and it's safe to gather again, the sky's the limit as to what we can achieve together."
You may also enjoy "A New Model for High End Health Care."
Would you like to comment on this article? Send your thoughts to: [email protected]
---
Register here for Metropolis's Think Tank Thursdays and hear what leading firms across North America are thinking and working on today.