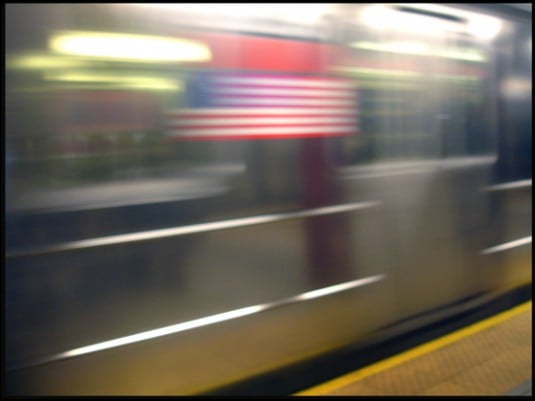 February 29, 2012
New York Impressions
Empire State BuildingPhoto: Joseph G. Brin © 2012 More from Metropolis Have you ever seen someone do a bad impression? It's kind of embarrassing. You either have the gift or you don't. Philadelphia should just give it up, stop trying to be New York City or wishing it was New York City. We already have […]
Empire State Building
Photo: Joseph G. Brin © 2012
---
More from Metropolis
---
Have you ever seen someone do a bad impression? It's kind of embarrassing. You either have the gift or you don't. Philadelphia should just give it up, stop trying to be New York City or wishing it was New York City. We already have two fake Chrysler Buildings (Liberty Place I & II) in Philadelphia. Embarrassing enough.
New York City's riches are manifold and manifest. It's also so huge, more of a whirling planet than a city – both exhilarating and exhausting.
But someone asked me once "What is Philadelphia?" and I've been trying to figure it out ever since.
Compare and contrast might be the ticket to understanding…
New York Subway
Photo: Joseph G. Brin © 2012
VILLAGE PEOPLE
West Greenwich Village glows at dusk like a movie set with low scale buildings and warm light beckoning from restaurants and shops (if you can pronounce Mxyplyzyk then we know you've been there). That burrito place looks especially popular – if you like burritos.
At Grano's, on the corner of Greenwich and 10th, chef/owner Maurizio Crescenzo warmly greets new arrivals. The place is thriving yet intimate, busy yet friendly. Italy is still a foreign country and though Italian food may not seem so ethnic or exotic these days, I still like it. Grano's food and service is good, unpretentious. A corner table is just right with generous views directly to the street and to a side-wall mirror reflecting dynamic, Hopper-like city vignettes of the evening. A ceiling coffer adds welcome dimension to the carved out space.
On the way home, a panhandler with a good voice sang, "I've got sunshine on a cloudy day…" He repeated that one line to everyone either because it was the only one he knew or because he wasn't going to expend extra energy on passersby who weren't paying for the privilege.
The enduring charm of the Village is, presumably, due to the preservation activist legacy of Jane Jacobs, though I understand a respectful yet revisionist view was published last year ("Reconsidering Jane Jacobs"). Just the same, nothing is immutable. St. Vincent's Hospital (Faded sign: "St. Vincent's Hospital was here on Sept. 11, 2001") is no more.  The hospital itself was no architectural marvel but provided vital services and cohesion to the community. It toppled in financial controversy and will be fully demolished. High rising condos are on the march.
The old National Maritime Union headquarters has the crunching jaws of a cartoon bulldog (Hence, the "Overbite Building") and yet, if it was to be torn down, it might be missed. Please see link below for happy ending.
Subway platform
Doll's House, F.A.O. Schwartz
Spontaneous gathering at a religious shrine
Consumers
Noah's Stuffed Ark
Dancing mannequins, Fifth Avenue
Seinfeld did not eat here…
New York City, contrary to popular belief, can be friendly not brash. Perfect strangers on a bus were accommodating and jovial. It may be what you bring to the experience that counts as much as what you take away. We had a great time!
Philadelphia, by comparison, seems to be a sedate, modest person with a family branch of boorish relatives (often sports fans) that won't leave the table. However, if you take the time to get to know this "person" you find someone reserved but far from sedate – someone with an incredible life story of adventure, courage, innovation and intrigue far beyond your imagination–a self-contained city with deep pockets of intellectual, scientific, medical and artistic brilliance. A city of national firsts.
So Philadelphia is an exceptional, great city, it just isn't an open treasure chest like New York. Truly amazing things are happening here as we speak, but you have to be motivated to pan for gold. We try to be hip, open and welcoming but it's a bit like Elaine Benes trying to dance.
You know, though, the trains run in both directions. It's a short trip to Philadelphia from NYC and well worth it – that's my New York impression.
Joseph G. Brin is an architect, fine artist and teacher based in Philadelphia, PA. He is writing a graphic novel on Al Capone to be published on Kindle.
Brin's fine art rowing poster site: www.brushstrokesrowing.com/gallery
Art and strategic design for a bully-free Philadelphia ("B. Free.") (http://bfreephiladelphia.wordpress.com).
Credits: All photographs by Joseph G. Brin © 2012
Twitter: @AncientGlass
LINKS:
Grano Trattoria
Mxyplyzyk:
https://www.mxyplyzyk.com/v03/index.htm
Preservation/St. Vincent's:
http://www.observer.com/2011/08/rudin-lpc-st-vincents/
Elaine Benes, uhm, dancing: