February 3, 2020
This Is Not a Theme Bar
Pinky's, an eclectic Los Angeles watering hole, pays tribute to '80s nostalgia and the Maison de Verre.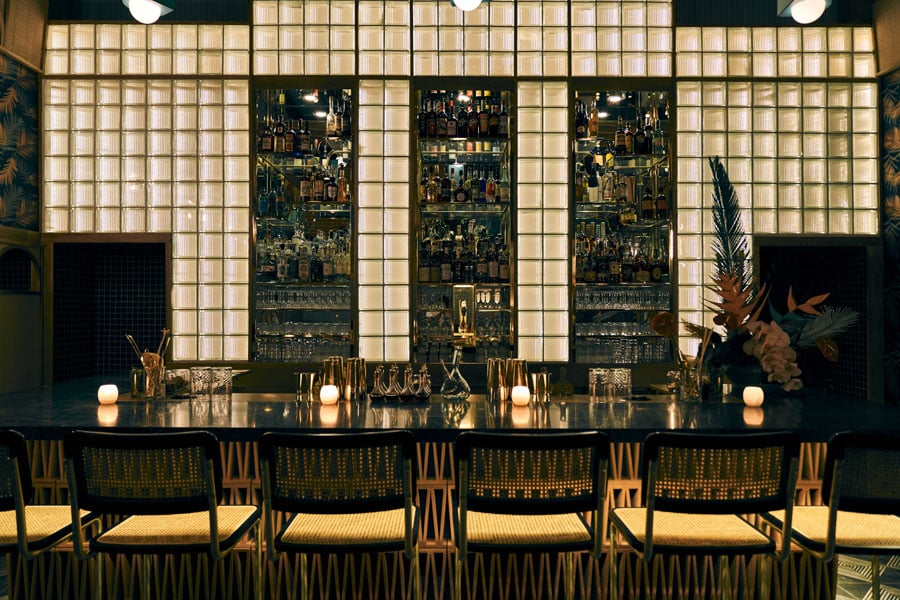 In the current high-concept–driven hospitality culture, restaurateur and self-taught designer Beau Laughlin has a strong point of view that resists being siloed. "It's '80s-inspired, but it's definitely not a theme bar by any means," he says about Pinky's, his latest venture located in Los Angeles's Los Feliz neighborhood.
The hopping nightlife spot, featuring beverage director and co-owner Jordan Young's tightly edited cocktail list, a small menu of drinking-friendly finger foods, and nightly DJs selected by Alex Rodriguez, deftly combines a set of design touchstones. These references range from French industrial Modernism to midcentury Miami to 1980s American suburban pool culture, packed into all of 1,000 square feet (inclusive of restrooms and storage).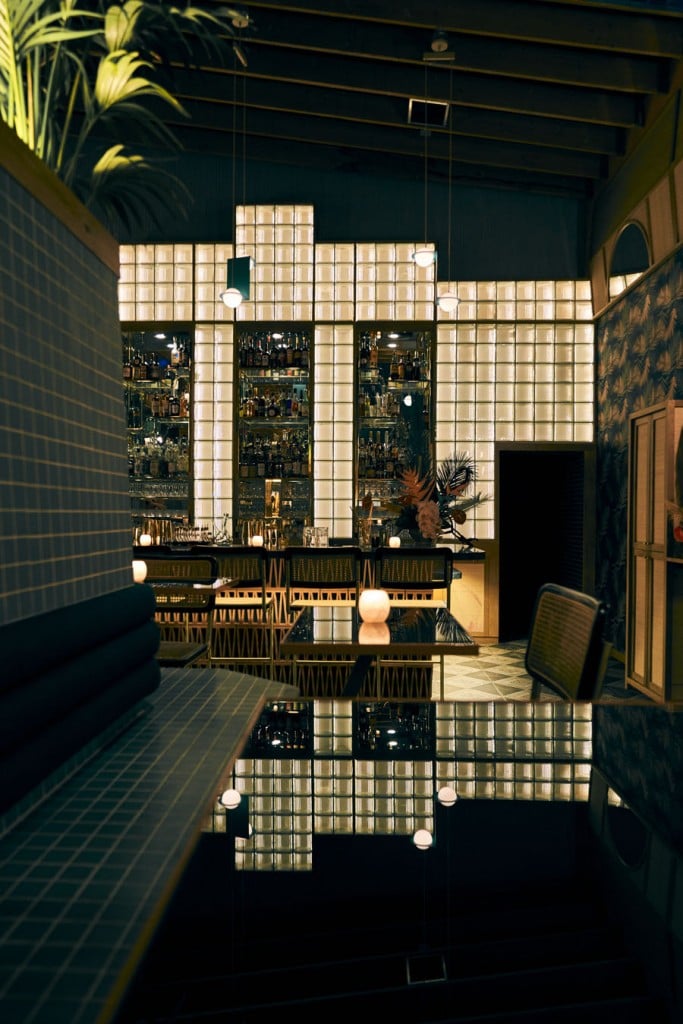 "The biggest challenge was to make it feel bigger than it really was," Laughlin notes. He and business partner Jay Milliken operate food and drink destinations in the area, including the restaurant Atrium—which is located directly behind community favorite Skylight Books and across the pedestrian alleyway from Pinky's—and Sawyer in nearby Silver Lake. The room Pinky's occupies was previously a rehearsal and experimental performance space used by the adjacent Skylight Theatre.
---
More from Metropolis
---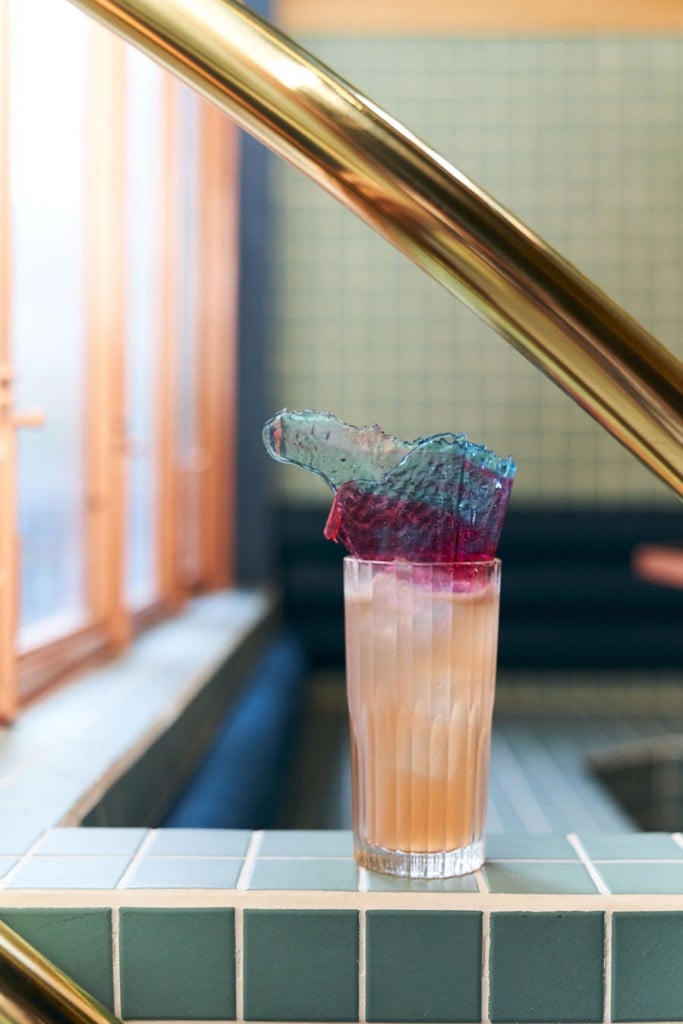 Laughlin, who is also a general contractor and builds his projects with his own crew, points to the 1932 Paris landmark Maison de Verre as his first inspiration. "The heart of the whole thing was to create a nod to that," he explains. So, the bar at Pinky's is illuminated by a glass-block wall that makes for a dramatic focal point. Additional atmospheric light comes from delicate turquoise pendant lighting placed above the bar from Montreal-based Lambert et Fils's Laurent collection and conical sconces by Souda in Brooklyn, enhanced by strategically placed mirrors.
Tropical details run throughout, including cane-fronted panels, a concrete breezeblock bar front, and flashy wallpaper with copper-accented leaves. Laughlin mounted live agaves upside-down to the ceiling to function as living "chandeliers." Florist Amelia Posada of Birch and Bone regularly refreshes the sculptural tropical floral arrangements on the bar. But the variety of materials and clever spatial planning stop short from making Pinky's too much of any one thing.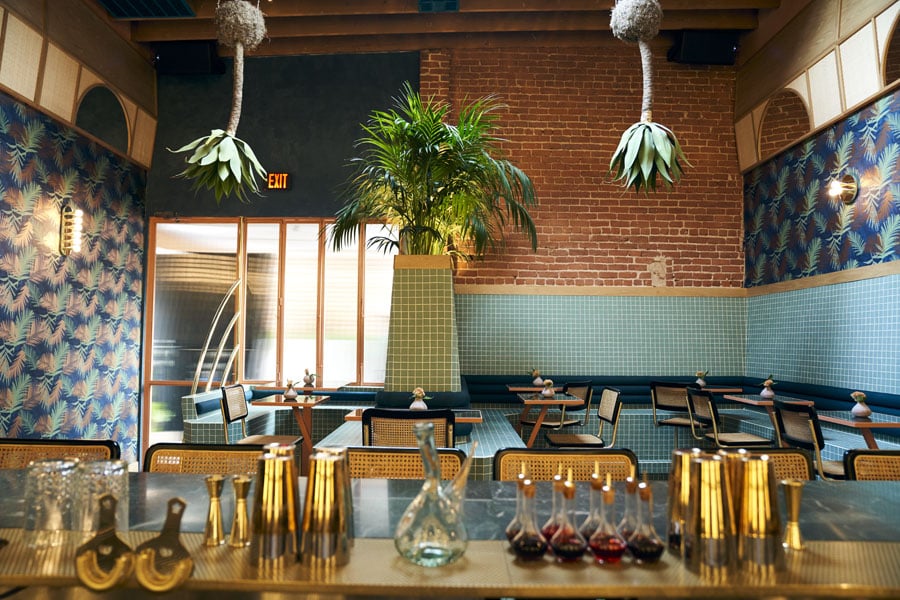 Laughlin's personal history as a competitive swimmer informed the main seating scheme opposite the bar. The built-in high bench is covered with two-inch square teal tiles that evoke an empty California pool, but with foot rests and floating back bolsters to up the comfort factor. It's one of the nostalgic retro elements that Stranger Things fans might appreciate—meanwhile,the black toilet paper Laughlin insists on stocking in the restrooms seems to recall the graphic, campy high glamour of Patrick Nagel illustrations. The unforgiving geometry of the materials at Pinky's demanded exactingly precise calculations, as they needed to work in the tight space—and have the desired impact.
"It's a little bit gauche, but in a controlled, modern way," Laughlin jokes. "But I think it comes together."
You may also enjoy "A 1959 Modernist Office in Sacramento Shines Again."