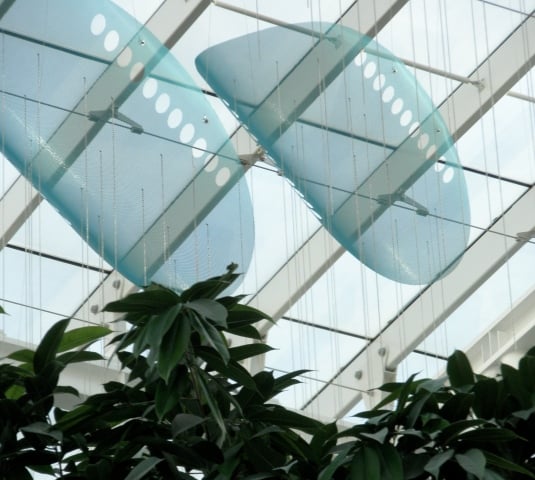 February 28, 2011
Places that Work: IND Airport
While checking in at the Indianapolis International Airport, I was thrilled to find a number of biophilic design principles in use, particularly in the airport's Civic Plaza. IND is the first greenfield airport built after 9/11, designed by HOK, and opened in November 2008.Biophilic designers recognize the positive influence nature has on human well-being. So […]
While checking in at the Indianapolis International Airport, I was thrilled to find a number of biophilic design principles in use, particularly in the airport's Civic Plaza. IND is the first greenfield airport built after 9/11, designed by HOK, and opened in November 2008.
Biophilic designers recognize the positive influence nature has on human well-being. So the HOK architects, working with their natural-sciences consultants, suffused the airport's Civic Plaza with sunlight that enters through the massive skylight and window-wall. Although there's not too much green on view inside, the space is enlivened by tall plantings and support elements reminiscent of large tree forms. This connection to plant life is reinforced by the landscape architecture—from numerous windows travelers can make visual contact with the surrounding flora.
The security checkpoints and retail entryways to the plaza create a sense of prospect and refuge (a protected view into a larger open space) that our species find desirable. Pools of sunlight on the walls of the plaza call to mind the dappled light humans are known to love. A sculptural installation overhead (Rob Fisher's JetStream), adds a sense of gentle, pleasant motion to the grand space, evoking the movement of clouds on a bright, blue-sky day. 
---
More from Metropolis
---
The environment here is predominantly rectilinear. This is appropriate for an airport because straight lines bring thoughts of efficiency to mind–and who doesn't want to move quickly through these stressful places?
The plaza also features a number of curved architectural elements, furnishings, and decorative details. These work to soften the grand room and create a feeling of being nurtured. Such supportive, comforting essence is really important in airports – research indicates that 25% of us are afraid to fly and that as many as 20% actually on an airplane at any one time are scared to be there.
Here's to hoping that IND doesn't remain a rare airport, but that it's the beginning of a shift to designs that make travelers feel good,  while serving them with up-to-the minute mechanical devices. The ever-present reminders of the natural world give people a much-needed connection to something slower, more evocative, more memorable and reassuring than what we've grown to expect of airports.
Sally Augustin, PhD, is a principal at Design with Science . She is also the editor of Research Design Connections and the author of Place Advantage: Applied Psychology for Interior Architecture (Wiley, 2009). She can be reached at [email protected] .
Sally Augustin's previous post in this series was about the The Grainger Ballroom, in the Chicago Symphony Orchestra (CSO) building.