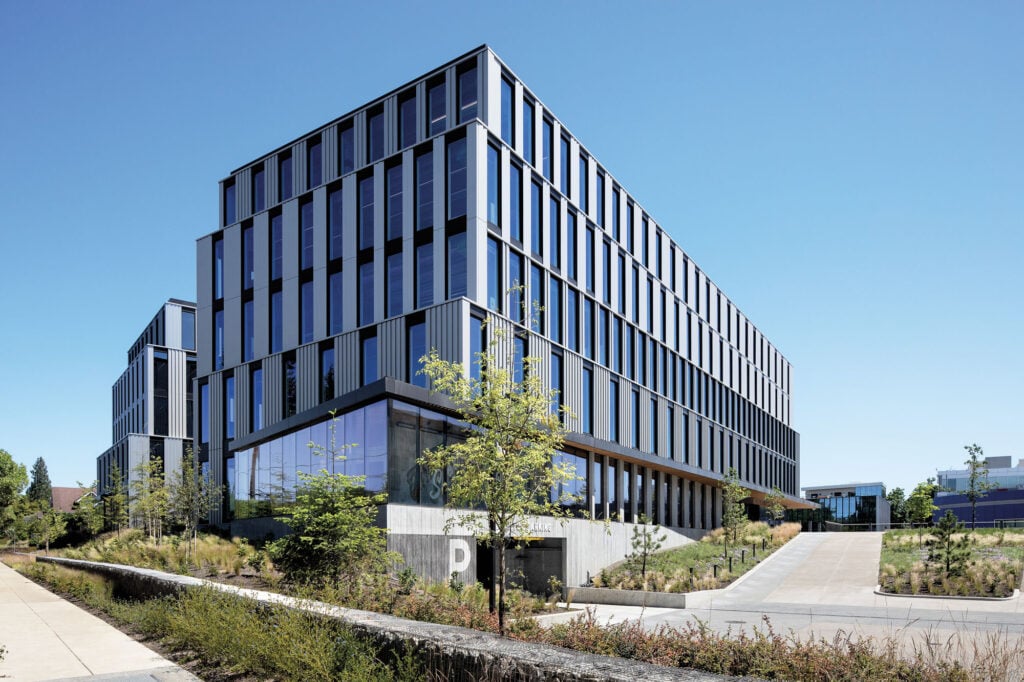 October 13, 2021
In Portland, the Adidas Village Connects Creativity, Community, and Sport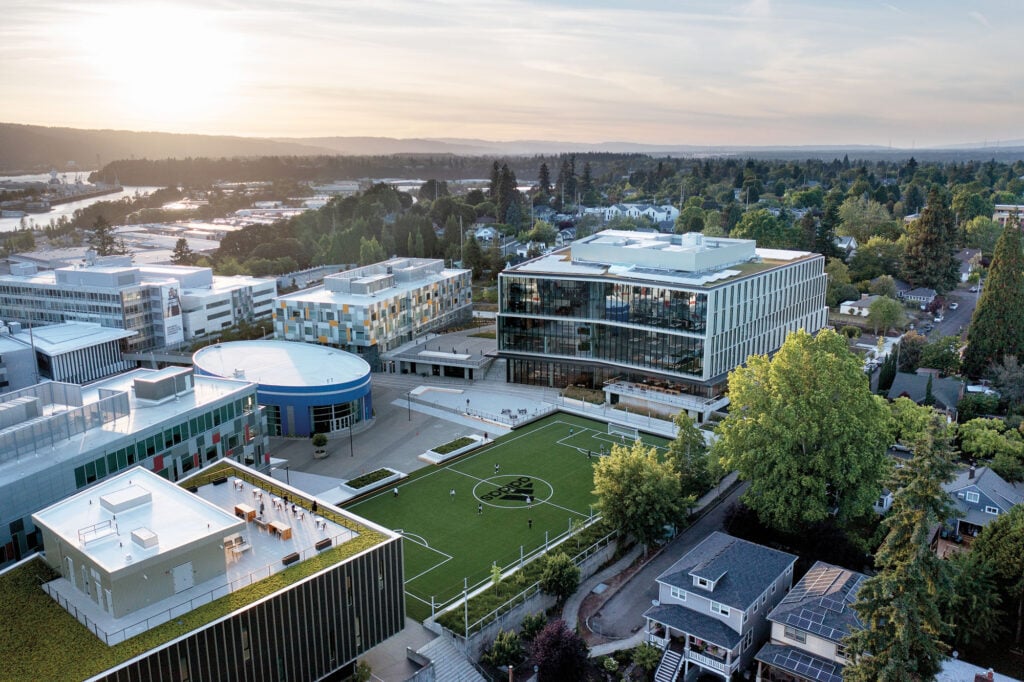 When Adidas moved its North American headquarters to Portland in 2002, the German athletics giant eschewed the suburbs (the realm of its biggest competitor, Nike) and instead renovated a former inner-city hospital building four miles north of downtown Portland. But the hospital's adjacent park-ing lot had not been for sale, necessitat-ing a convoluted entry at the back of a different building across busy Greeley Avenue. Now, however, a new arched entry—made from three steel bands, resembling the brand's three stripes—leads to a remade central plaza with the new Gold and Performance Zone Buildings bookending the field.
---
More from Metropolis
---
A hybrid structural system of mass timber and precast concrete, the pieces of which were manufactured off-site, allowed for a months-shorter construction timeline than would have been possible with traditional on-site construction. "We've never seen a system like this anywhere else," says LEVER Architecture principal Thomas Robinson. Yet the wood and concrete were also an aesthetic decision. "Timber became part of the interior story, which is about authenticity and being connected to Portland and the region," the architect adds. Inside, cross-laminated timber panels and glulam ceiling beams are spotlighted by hidden LEDs to accentuate the beauty and color of the wood.
The buildings, totaling 460,000 square feet and targeting LEED Gold certification for their sustainable design, had to fit beside an existing neighborhood of single-family homes. To integrate the Gold Building with the site's context, LEVER's design breaks up its mass by cutting a large courtyard into its northern facade. It's also set back from the property line, with lush native plantings by Seattle-based landscape architects Gustafson Guthrie Nichol (GGN) that help soften the transition. With parking relocated underground and pedestrian pathways throughout, the campus is also meant to be open to the public as pass-through space.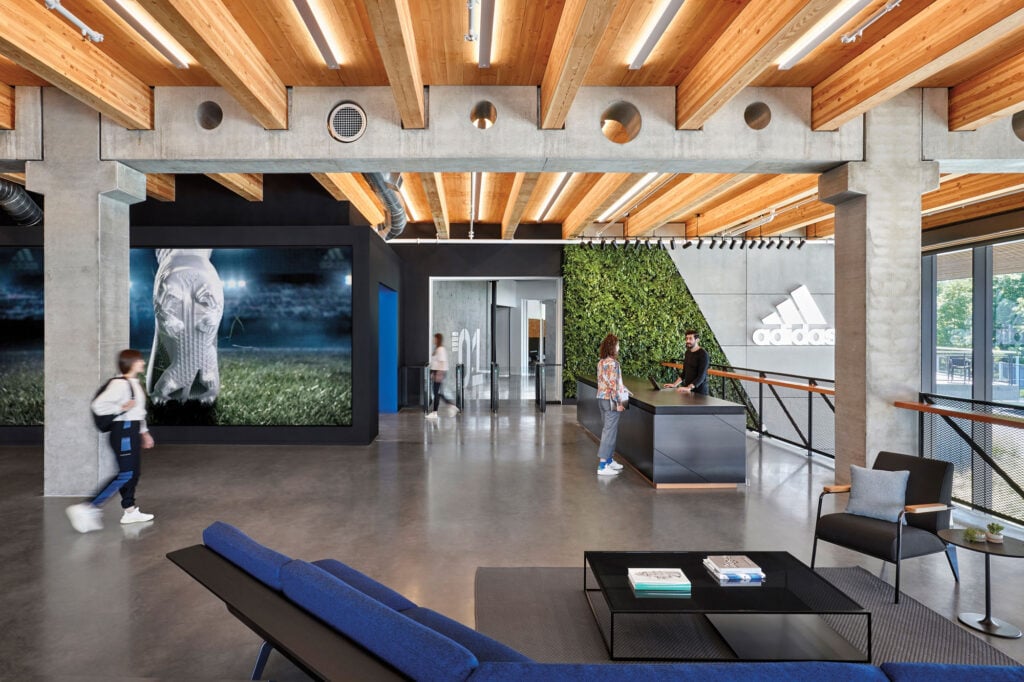 The Gold Building, which houses the company's designers (moved from an adjacent existing structure known as the Yellow Building), includes a variety of offices, meeting rooms, and open shared spaces, part of a Village-wide plan to accommodate up to 2,300 employees.
In a post-pandemic world, even the hardest-working staffers need reasons to come into the office. And when they do, Adidas hopes for cross-pollination between different departments. That's why both the Gold Building and the new Performance Zone Building feature a food hall and juice bar. The Performance Zone is devoted entirely to health and wellness, with a yoga studio, a gym, and a living room–like lounge and outdoor patio facing the field. If meetings sometimes gravitate to this more relaxed space, that's just part of embracing the work-life overlap. 
Though the layout and selection of workstations was developed before the pandemic, thankfully "it was all done with flexibility in mind," explains Mindi Weichman, Studio O+A design director. Workstations are made from long library tables that give users freedom to configure them in different ways and a series of so-called "creator tables" that sit on casters to allow easy repositioning. "The flexibility that was built in early on," she adds, "has allowed Adidas to make the necessary shifts for social distancing without needing to completely reset the entire floor."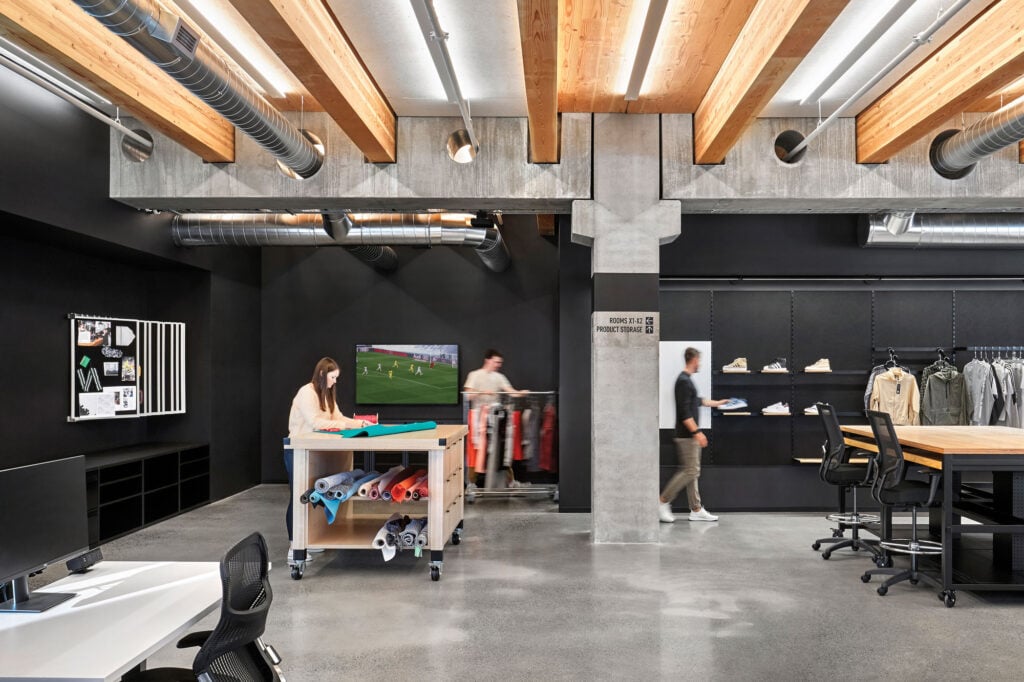 On these open-office floors, the stadium-like feel of public areas gives way to interiors inspired by the Adidas MakerLab, a functional but high-energy space in the former hospital building (known as the Green Building). With a variety of 3D printers and other design tools in one big room, the ambience came not from posters of famous Adidas-signed athletes (a theme throughout the building) but from a shared collaborative energy. Here, under higher ceilings than in the old hospital, with open workstations and an assortment of shared breakout spaces, "it just works," says Adidas corporate real estate director David Remos.
Though it seems like a simple open space, looks can be deceiving; a lot of work went into it, he explains. "The interiors celebrate the beauty of the building—it's not overdone. But you have such a functional work area now. And I think that's what the employees enjoy the most." But graphics peppered throughout also make the place fun, appearing in unexpected places like the undersides of the central-atrium stairway, which are clad in the tread patterns of Rod Lavers, Stan Smiths, and other classic Adidas shoes.
"It really feels like this campus is going to be just humming with different areas of activity," Remos adds. "That's what we were after."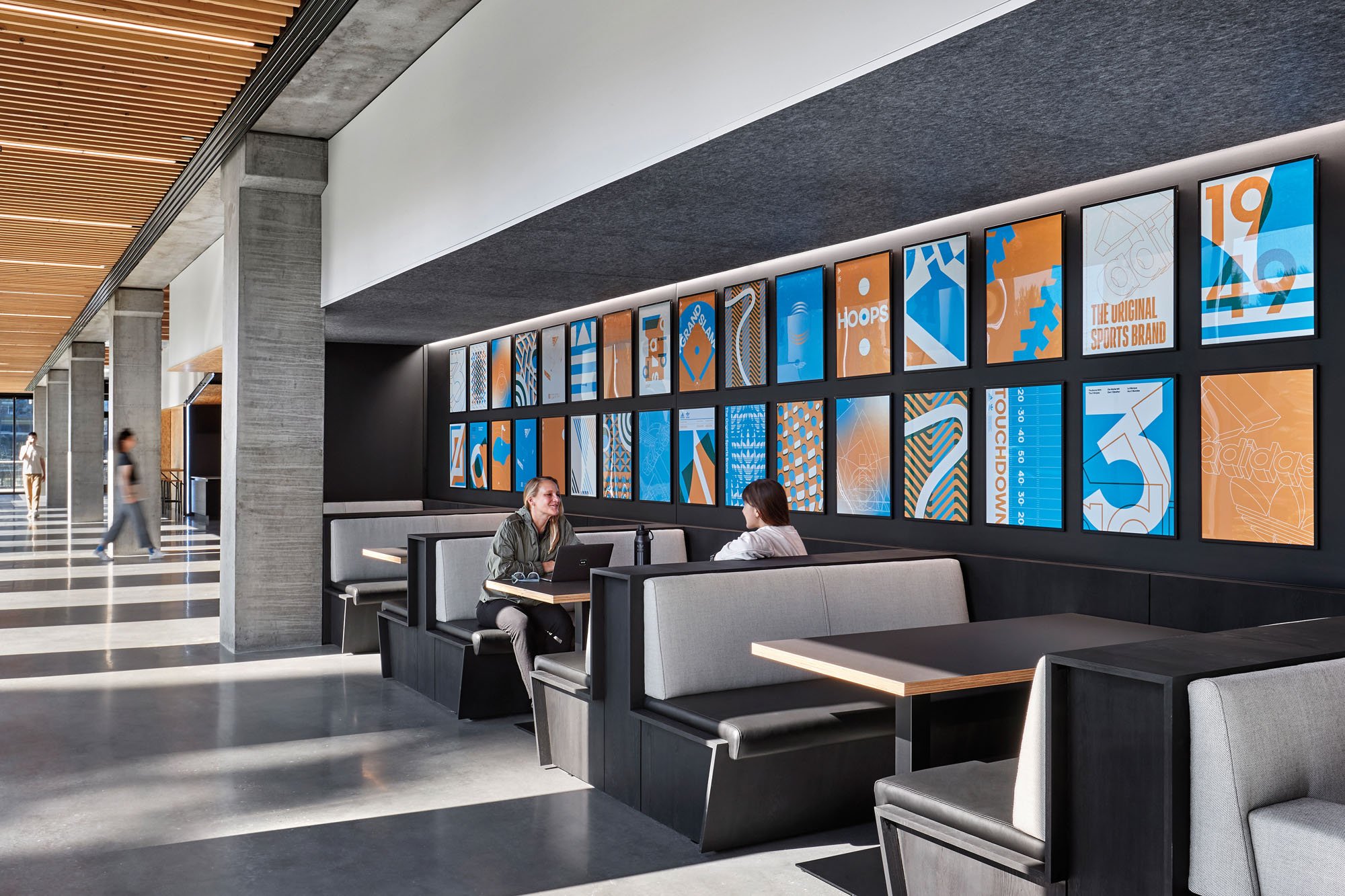 Would you like to comment on this article? Send your thoughts to: [email protected]