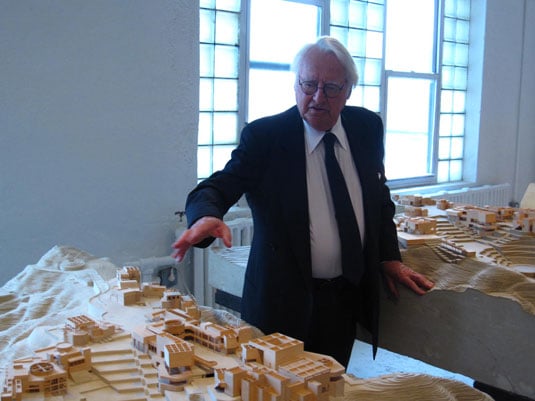 May 7, 2010
Richard Meier in Miniature
Starting today, Richard Meier's Long Island City model museum is once again open to visitors. This is the fourth summer that Meier has invited the public into the 3,600-square-foot space, which houses more than a hundred models spanning the architect's 40-year career. The centerpiece of the collection is a pair of massive wooden mock-ups of […]
Starting today, Richard Meier's Long Island City model museum is once again open to visitors. This is the fourth summer that Meier has invited the public into the 3,600-square-foot space, which houses more than a hundred models spanning the architect's 40-year career. The centerpiece of the collection is a pair of massive wooden mock-ups of the Getty Center (above), the larger of which was constructed in 16 pieces. During client presentations, Meier would pull this model apart to explain his design process. When the Getty was finally finished, after 15 years, he couldn't bring himself to just toss it. "We figured at the end, we might as well keep it," Meier told a group of journalists yesterday.
Another noteworthy remnant of the Getty design on display is a small-scale gallery mock-up (below)—complete with miniature paintings—which you can actually climb inside. Meier's team would wheel this hut from their Los Angeles workshop out into the parking lot, to give the curators an idea of how natural light filtering in through a skylight would illuminate the room.
---
More from Metropolis
---
The Getty is hardly the only project represented at the museum. Also on display are Meier's first model for the Smith House, in Connecticut, and his proposal for the World Trade Center site (designed with Peter Eisenman, Charles Gwathmey, and Steven Holl), among many others. All of the models, Meier noted, were made possible thanks to the work of the hundreds and hundreds of young architects who have interned for him over the years.
Here's a snapshot of the small model workshop in Meier's New York office. Evaluating and tweaking physical models is so central to the firm's design process that it maintains a roster of interns who do nothing but construct them—and all new architects starting at the firm must put in a stint in the workshop before they can begin designing.
The Richard Meier Model Model Museum is open on Fridays, 10 a.m. to 5 p.m., from now until August. To schedule an appointment, call Richard Meier & Partners Architects at 212-967-6060. (If you can't make it on a Friday, note that the museum will also participate in this year's Open House New York, in October.)