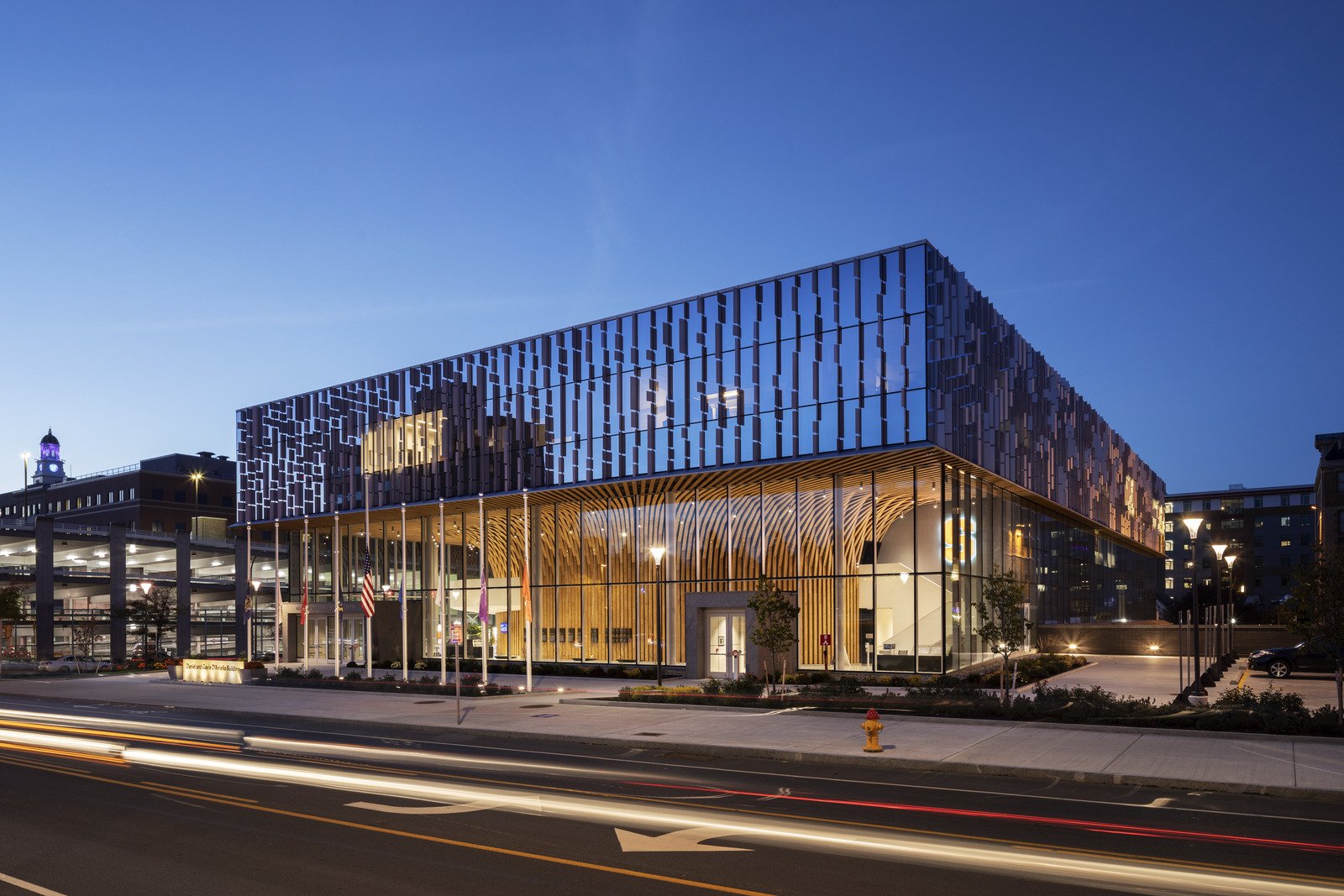 December 20, 2021
SHoP Architects Designs a Multi-Use Facility for Veterans at Syracuse University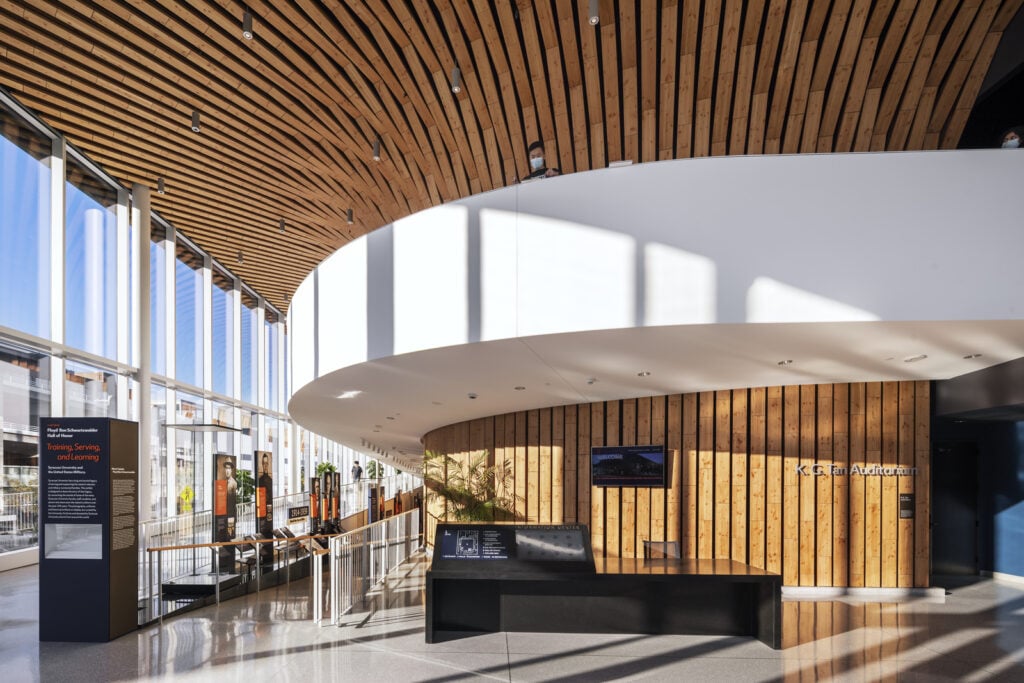 "A lot of our veterans are challenged when they get back and we wanted to create this as a completely shared experience," says Christopher Sharples, a founding principal at the firm, noting that the building now serves as an important physical and social conduit between the academic environment and cityscape, as well as military and civilian life.
Imbued with civic duty, the four-story structure provides a spatial experience that feels democratic for all users through the situating of its city-block-wide, monumental base in the shallow of a hill upon which the campus sits. The ground and first floors outwardly appear to meld with an important city corner juncture where a shift in elevation marks the transition from urban to campus fabric. Inside, a series of subtle program changes and sloped floors mitigate this physical transition to make circulation nearly seamless while assimilating academic areas with public space.
---
More from Metropolis
---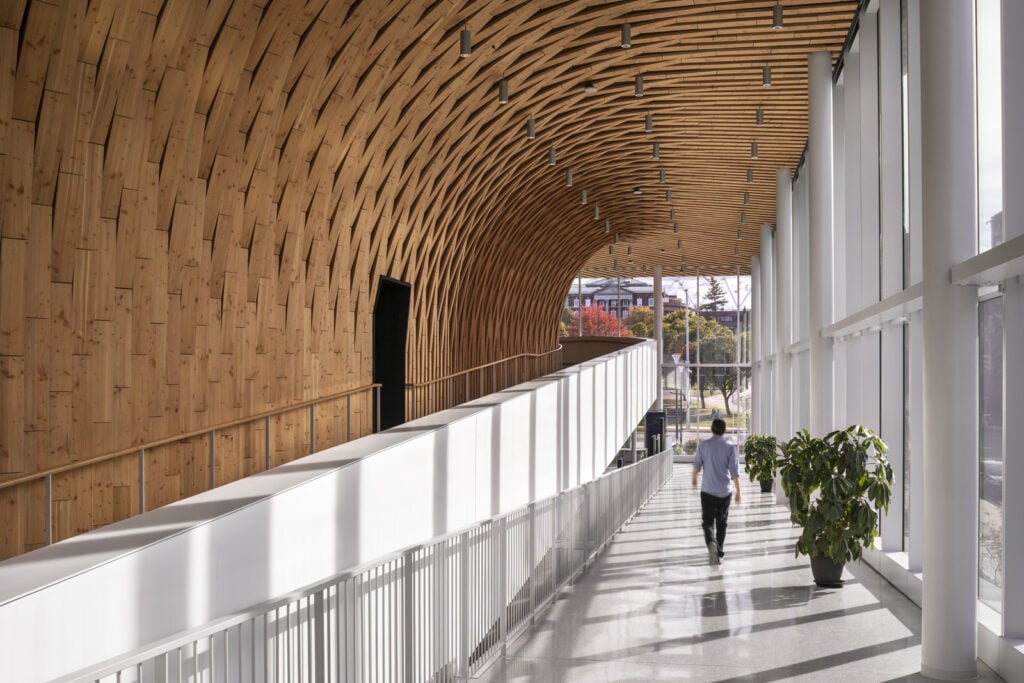 Accessibility is paramount in the veteran's social transition and the architecture is empathetic of that. Comfort and ease-of-use are celebrated through ADA requirements that become significant architectural elements like the lower levels' ramped promenade that wraps around the building's public nucleus—a 750-seat, multi-story auditorium.
The auditorium is surrounded by an exhibition space with a visual gravity that pulls people in. Interior walls rise up as a rippling wave of Douglas fir panels over the ramp system while a two-story glazed curtain wall eliminates the threshold between exterior and interior. A generous courtyard at the entrance proper slips underneath the glass exterior creating an undertow from the street to the canopy's underside.
The upper-most mass and top floor of the NVRC sits in contrast to those below it in programming, materiality, and access. Angular aluminum fins protruding by 10, 12, 14, or 16 inches from a reflective glass curtain wall create an atmospheric mirror—taking advantage of Syracuse's uniquely gray skies—shields a ring of offices and private spaces. The rooms and those with access to them are privy to views of the city and campus outward as well as the rooftop parade ground that lies inward.
"This is where [military students and veterans alike] can go and have intimate celebrations," says William Sharples, another founding principal of the firm. "They saw it as a profound gift in terms of how the project speaks to them."
Would you like to comment on this article? Send your thoughts to: [email protected]