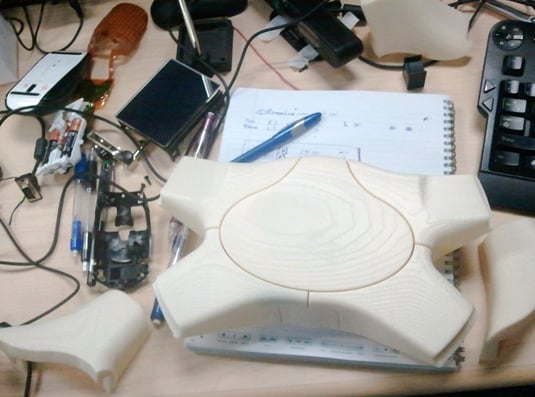 October 6, 2012
On Technology and the Importance of Play in the Workplace
AIA Technology Symposium from KPFF Cinema on Vimeo.While attending the recent AIA Portland Technology Symposium I was inspired to think about the importance of play relative to technology's emerging impact on the design professions. I went into the conference knowing that successful companies often foster a culture of experimentation and exploration. They encourage employees to […]
AIA Technology Symposium from KPFF Cinema on Vimeo.
While attending the recent AIA Portland Technology Symposium I was inspired to think about the importance of play relative to technology's emerging impact on the design professions. I went into the conference knowing that successful companies often foster a culture of experimentation and exploration. They encourage employees to explore tangents, push boundaries, and chase down hunches knowing that it may have little to do with how a company's goods and services are delivered. Employees are simply asked to play and see how far they can take an idea.  Play helps you keep your finger on the pulse of innovation and connects processes to adjacent possibilities.
Presenters at the Technology Symposium came from brands like Nike, Laika, Adidas, Pixel Pool, Ziba, Intel, Lucid Design Group, ADX, showing how they use technology to Think, Make, and/or Tell.  There were almost no architects in the lineup. It wasn't until nearly the end of the event that J. Meejin Yoon spoke and we heard from inside our profession; but in reality she is more an artist/creative problem solver than an architect. In fact, creative problem solving was the common thread that ran through the symposium.
---
More from Metropolis
---
The speakers explored the current and emerging relationship between the "creative" and technology. While I had anticipated to hear how technology can think, tell, or do without the human brain, this was not the case. The fear of technology's power, dating back to IBM's unveiling of the first super computer, is prevalent even among those who champion its prowess. The idea of being replaced by technology is where we, designers, get scared. The major distinction between designers and their technology is vision, and the desire to control that vision. When technology is synonymous with tool, we don't seem so conflicted – tools are trusted to hands, vision is followed. Craft still comes from the craftsman, creativity from the creative and architecture from the architect.
The power of technology as tool is its ability to streamline design parameters in a more directed, vetted, and fitted manner, be this through structural modeling, energy modeling, rapid prototyping, BIM environments, or exploring delivery methods.  Technology pushes design forward by allowing designers to make things more quickly, from prototyping objects to exploring manufacturing processes to exploring materials.  But it also increases our ability to access  the tools and the information to use those tools, thus increasing the speed of ideation, to prototype, to creation, to marketplace by simply making it easier to get over previous hurdles.
left to right:  The Jammy!  A funky-fresh boombox (top: Leaptronic.com, bottom: Nicolle Clemetson), PICA:TBA (top: Ellen Fortin, bottom: Mitch Snyder), manufacturing tools and inspiration (Adidas)
Though the focus of the presenters was technology, many showed a very powerful low-tech design tool – the pin up wall.  Robbie Fuller, category designer from Adidas, stressed the importance of the idea wall as compass – the perfect tool for telling and developing ideas, showing process, stepping forward and backward quickly, yet rich with ideas.  It is vital to the design process to get the ideas onto the wall, creating opportunities for the unexpected. The idea wall is important to the flow of serendipitous ideation, and fundamental to creating the "spark."
What emerged at the symposium as technology's biggest impact on design was something unexpected and rather exciting. Technology is driving the speed and type of interaction that designers have with the client and audience.  It has resulted in an increasingly changing context, where the potential services are not necessarily distinct deliverables but continuous engagements, malleable relationships, fluid paths, reputations, influence, and conversations.  It has opened the potential to provide more services to more people. This speed makes play tantamount for engaging our creativity.  Play becomes the method for understanding and defining the constantly evolving forms of creativity, which is why the presentations looked like so much fun, and why we envy the successes of businesses that look like playgrounds.
This business model of play was a common refrain at the symposium. The presenters emphasized the importance of a culture that prizes exploration, creation, and the ability to fail as well as succeed. Lucas Ainsworth and Victoria Fang from Intel's Experience Research Lab showed their process for developing a steering wheel that controls the driver's experience like a touch screen.  The process began with ethnography, observing and recording how passengers engage with the automobile.  They then placed themselves in the experience, riding in cars and ripping apart equipment to quickly mock-up prototypes that worked like their initial vision.
Prototype in progress (Intel Experience Research Lab)
This sense of observing, acting, and doing is a valuable lesson and, though it is present in architecture education, it is seemingly absent in the architecture profession. It sometimes feels as if architects are so careful that we are paralyzed to act or chase tangents or heaven forbid, our tails. If it is ok to fail big, it is ok to go big. It is ok to play. It may be in play that architecture finds parity with the other design professions. And one day we, too, can be the envy of the playground.
Ian Roll is a practicing designer at ZGF Architects in Portland, OR with more than ten years of professional experience. He is the co-creator of He Looks Like Him, a multi-disciplinary collaborative created to explore innovative possibilities across variable creative fields.  Since receiving his MA from the University of Oregon he has worked in Boston, New York City, and Portland on a range of architectural projects of various types and scales, as well as brand design and development, and visualization and content development for experiential and retail environments.
http://www.luciddesigngroup.com/
http://store.nike.com/us/en_us/?l=shop,fuelband
http://www.intel.com/content/www/us/en/research/intel-research.html