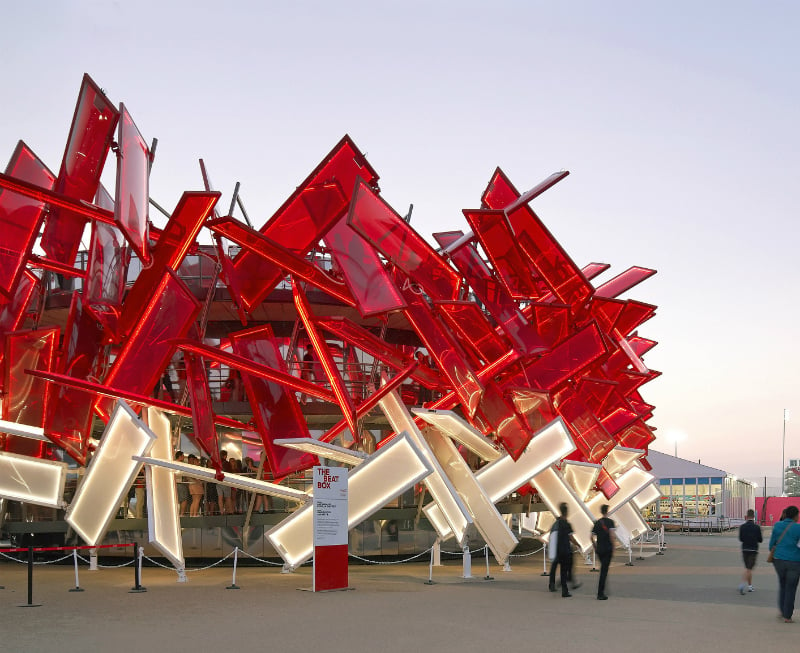 October 1, 2013
Ten Design Leaders Handpick Young Talents to Watch
Design's leading voices help us identify
the next wave of burgeoning talent.
London-based architect Pernilla Ohrstedt partnered with designer Asif Khan and music producer Mark Ronson to design Coca-Cola's pavilion for the London 2012 Olympic Park.
Courtesy Hufton+Crow
When we began our search for pathbreaking emerging designers, we knew part of the effort would involve reaching out to influential figures in design who have an almost innate ability to spot fresh promise. All ten experts have displayed not just a sharp eye but also a gut instinct for sniffing out the future. And together they've helped us assemble an impressive group of new talent.
---
More from Metropolis
---
We think the Select Ten represent a generational portrait. Although their work ranges far and wide, they seem to share a way of working marked by fluidity—between the digital and the hand, between disciplines, between collaborators and colleagues. It feels less about personal expression (although all the work is uniformly expressive) and more about a shared vision. As we move forward, this seems particularly hopeful given the larger challenges ahead. In the meantime, enjoy the creative pyrotechnics on the pages below. This is just the beginning for all of them. —Martin C. Pedersen
---
Pernilla Ohrstedt
London, Established 2012
Architecture / Art / Product / Branding
Selected by John Cary
Pernilla Ohrstedt, founder of London-based Pernilla Ohrstedt Studio, didn't set out to become an architect. The 32-year-old grew up in Stockholm with parents who were architects, and she came to London in 2000 to study art and design. "Then I realized that the architecture schools in London allow you to blur those boundaries," Ohrstedt says.
She quickly earned a reputation for applying a fresh sensibility and an adventuresome approach to materials and fabrication across the fields of architecture, art, product design, and branding. She curated the Canadian Pavilion at the 2010 Venice Architecture Biennale, built an interactive music installation for Coca-Cola's pavilion at London's 2012 Olympic Park with architect Asif Khan, and is in the midst of designing a collection of prefab houses for a Swedish company. Ohrstedt regularly partners with the fashion industry, and this fall, she designed the catwalk for Topshop's London Fashion Week show. As with all her projects, she tries to create a sophisticated yet surprising environment, in this case by juxtaposing geotextiles—meant to manage landscape erosion—with high-fashion models.  Ohrstedt aims to reinvent her viewpoint with every project. "I'm not looking to create a specific style," she says. "I'm looking to explore, to surprise myself as I work."—Elizabeth Evitts Dickinson
Ohrstedt fabricated a catwalk stage set for London fashion label Antipodium from more than 10,000 Fresnel lenses cut to resemble chain mail, giving the rigid material (detail, left) a surprisingly fluid appearance.
Courtesy Kris Atomic
"Pernilla effortlessly blurs the lines between high design and social design," says John Cary of Public Interest Design. "She's also proven adept at working at various scales, from the Coke pavilion at the Olympics to more precious objects."
---
 A Practice for Everyday Life
London, Established 2003
Graphic design / Exhibitions / Branding
Selected by Zoë Ryan
Kirsty Carter and Emma Thomas always knew that they couldn't work for anyone else. The pair collaborated while in school, quickly gaining respect for each other's opinions. "The first year we worked on our own," says Carter, "but we took advice from each other. We began to work on a few projects together. We were different in our visual approach, but were looking at the same materials and ideas." So when they graduated with their masters' degrees in graphic design from London's Royal College of Art, it simply made sense that they start a firm.
Carter and Thomas's school projects were recognized by Creative Review magazine's Creative Futures Award. Then the high-end department store Selfridges commissioned them to create a window, providing a key opportunity to showcase their research-based approach. By the time they decided to formally join forces, they had already created a distinct aesthetic. "A lot of our work is quite playful," Thomas says, "but executed in a minimal way."
For its Bauhaus exhibition, APFEL interpreted the public's perception of the movement, while offering a unique perspective. The exhibit was nominated as one of the Design Museum's Designs of the Year 2013.
Courtesy Luke Hayes
A Practice for Everyday Life (or, as they often refer to it, APFEL) has grown into a studio of five designers, plus freelancers and interns. It has taken on major projects, such as creating the brand identity for the art gallery Hepworth Wakefield and designing the Bauhaus: Art as Life exhibition at the Barbican Art Gallery—but the size of a project doesn't determine what the studio chooses to take on. Carter and Thomas love working on print publications, which have included Design Research Unit 1942–72 and Nigel Henderson & Eduardo Paolozzi: Hammer Prints Ltd 1954–75. "There is no doubt we still love smaller projects," Carter says. "It's the variation that keeps us interested." —Shannon Sharpe
"They're part of a generation that seeks relevance through a hands-on approach, coupled with a deep knowledge of digital technology that affords them new meanings and possibilities for creative expression," says Zoë Ryan of the Art Institute of Chicago.
---
New Friends
Brooklyn, New York, Established 2009
Textiles
Selected by Jamie Gray
New Friends, the textile and housewares studio founded by Kelly Rakowski, 34 (pictured right), and Alexandra Segreti, 29, may use a traditional, low-tech weaving technique—all rugs, wall hangings, and housewares are created on a handmade frame loom using a Navajo comb—but the results are anything but conventional. The designers incorporate a mix of fibers—from hand-dyed wools from the Catskills and shiny man-made synthetics—to fashion contemporary and boldly geometric patterns that feel both timeless and timely.
Their partnership began in 2009 when Rakowski, a New York City–based graphic designer working for Todd Oldham, and Segreti, a textile designer at Urban Outfitters living in Philadelphia, found each other through their blogs. "I emailed Alex and said I loved her blog and it turned out that she had been reading mine, too," Rakowski says.
New Friends uses a handmade frame loom and Navajo comb to create its contemporary takes on traditional textiles. Above: Three pieces from the Troppo IV series, created for the online marketplace One Kings Lane Artisanal, in wool, Japanese paper yarn, and metallic yarn.
Courtesy New Friends
The two began a long-distance weaving collaboration. "We sent each other yarn and a few months later we met in person for the first time," Rakowski says. They were shocked at the similarities in their work and how well the pieces fit. The start-up has since morphed into a full-fledged enterprise; the website One Kings Lane featured an edition of their small weavings in September. They are also starting work on a second collection of weavings and housewares (their first collection in 2012, called Best Woof, sold out).  But it was creating a large, on-site weaving for Matter during New York Design Week this past spring that felt like the real turning point. "We started out hand-weaving on a small scale and I wondered if going bigger was going to be a hurdle," Segreti says. "Matter pushed us to go big and we realized that we can do this." —EED 
"Alex and Kelly take the art of crafting to the next level, not by reinvention, but with a deep respect for tradition and a keen eye for new and unexpected materials," says Jamie Gray of Matter. 
---
Ball-Nogues
Los Angeles, Established 2004
Installation art
Selected by Christopher Hawthorne
From the beginning, Ball-Nogues has occupied an unusual space between art and design-build. The Los Angeles–based studio's two principals, Benjamin Ball (pictured left) and Gaston Nogues, are both 45-year-old SCI-Arc grads who have done stints at Gehry Partners—one of their first projects together was a giant, golden shade structure constructed of deftly manipulated Mylar that floated over a courtyard on a busy street in the Silver Lake neighborhood of L.A. Their work remains more an examination of materials than it is a creation of forms.
Take Euphony, a recent project inside the atrium of the Music City Center in Nashville. The building was conceived as a giant guitar, and within it, Ball-Nogues's 110-foot-high draped sculpture seems to quiver in space. This evanescence is extraordinary when you realize that it's achieved with 28 miles of stainless steel ball chain, and 1,800 pounds of material arranged in catenary curves that form a spiraling, twisted surface. "It's about finding the vocabulary that's feasible for chain," Ball says. "We wouldn't know the full extent of what it could be if we didn't know the full extent of the logistics."
Euphony might look like a diaphanous swirl, but the 110-foot installation in Nashville's Music City Center weighs 1,800 pounds and is made of precisely draped lengths of stainless steel ball chain.
Courtesy Bruce Cain, portrait courtesy Robin Black
The studio has done earlier projects along these lines, including a 2009 installation for Museum of Contemporary Art that involved 3,604 separate lengths of colored twine. Euphony grew from that, allowing Ball and Nogues to refine certain techniques—including the creation
of a custom software, which enabled them to control and design the proximity between the lines, as well as a machine that colors and cuts the individual lengths of twine or chains. —Jade Chang
"The funny little secret of digitally enabled architecture is how much craft, how much painstaking hands-on work, is required to build the most fluid designs," says Christopher Hawthorne of the Los Angeles Times. "Ball-Nogues fundamentally understands and embraces that." 
---
 Elliott Hedman
Cambridge, Massachusetts
Experience design / Research / Psychophysiology
Selected by Tim Brown
The formal name of Elliott Hedman's field of study is Ambulatory Psychophysiology Applied to Design. "Just rolls off the tongue, doesn't it?" says the 27-year-old PhD candidate and instructor at the MIT Media Lab. In layman's terms, he is an "experience designer," helping organizations find reliable ways to peep into the mind of the end user.
Hedman's research and design work has three major components: Physiological monitoring (using sensors attached to the fingertips), video observation, and interviews. While working as a researcher at IDEO, he learned how to combine MOXO sensors—which measure skin conductance—with design. The largest organ in the body, the skin, is a highly emotional surface. "Our sweat glands react in intense ways when we're under stress," Hedman says. "So we can see when a child with autism gets stressed approaching a swing, or a customer becomes confused picking from the thirty choices of shampoo."
MOXO sensors attach to the fingers and measure skin conductivity; Hedman uses a combination of video observation and sensor data.
Courtesy Elliot Hedman
For the New World Symphony, in Miami, Hedman measured audience engagement in an attempt to help the organization find ways to connect with new listeners. "We could see that first-time participants struggled to interact with their first classical concert," he says. "So
we changed the structure of the program to more and shorter performances, as clapping and song transitions were a consistent way to re-engage all listeners."  This kind of specificity in measuring emotional response is pioneering and valuable. "I try to take the guesswork
out," Hedman says, "and give companies precise details on the experience their organization delivers." —MCP
"I really admire Elliott's determination and, perhaps more importantly, his insatiable curiosity," says Tim Brown, president of IDEO.  
---
Egg Collective
Brooklyn, New York, Established 2011
Product / Interior design
Selected by John Edelman
Portrait (from left): Crystal Ellis, Stephanie Beamer, and Hillary Petrie
Egg Collective launched its debut collection at last year's International Contemporary Furniture Fair (ICFF), where it received the New Designer 2012 award. Since then the firm has been garnering accolades for its quality furniture and lighting that combines a commitment to authentic, American-made craftsmanship with a fresh, contemporary aesthetic. The founders—Stephanie Beamer, Crystal Ellis, and Hillary Petrie—met in 2002 when they were freshman architecture students at Washington University in St. Louis. "We realized early on that our work benefited from the collaborative process, and after graduation, we wanted to continue working together," Petrie says. "The design process today is very much the same as it was in our early days together."
Most of Egg Collective's designs are either fabricated in-house or made by local manufacturers. Above (clockwise from top left): Samuel side table, Rose vessels, Hawley side table, Oscar dining table.
Courtesy Egg Collective
Most ideas begin with the trio sitting around the table with a sketchpad. Once the initial concept is established, each of them takes on a different role: Beamer oversees shop drawings; Ellis, the creative director, refines the ideas; and Petrie runs the front of house, managing relationships with clients and subcontractors. "We focus on furniture, objects, and lighting, but we're interested in a broad scale of design," Petrie says. Last year they were selected to design a seating installation for the promenade at the New York City Ballet's David H. Koch Theater, and this fall the group debuted a new dining chair at the inaugural WestEdge Design Fair in Santa Monica, California. The trio also plans to develop new work for next year's ICFF. —Paul Makovsky
"Egg Collective are champions of the local handcrafted movement, but they're doing so in a way that feels chic and forward moving," says Kari Woldum of Design Within Reach. 
---
PEG Office of Landscape + Architecture
Philadelphia, Established 2004
Landscape architecture / Research / Writing
Selected by James Corner
Design, writing, and research are the foundations of PEG office of landscape + architecture, helmed by Karen M'Closkey and Keith VanDerSys (pictured, from left), but it's the firm's site-built construction and pragmatism that keeps its projects from being merely theoretical. Founded in 2004, PEG primarily focuses on the public realm—streets, vacant lots, and parks—to address the issues challenging postindustrial cities. The designers work at every scale—whether it's a tiny site in Philadelphia, where they live and work,or a multi-acre park in Ecuador—and experiment with new forms of digital media and fabrication to create customized solutions, such as a prototype of geo-cells—three-dimensional structures filled with gravel, soil, or plants—that remedy storm water runoff in vacant urban lots. "We work across scales," M'Closkey says, "so even when we're working in a small lot, it's implicated in the larger systems of the city."
For this project in Syracuse, New York, PEG proposed a series of surfaces and objects that would engage both the body and the environment in order to knit together art, exercise, and green infrastructure.
Courtesy PEG
Many of their projects use repeatable patterns to create a legible structure that addresses ecological and aesthetic needs, making the infrastructure visible to the user. "We also look for something that's overlooked and find a way to address that," VanDerSys says. A competition in Syracuse is a perfect example; there they developed Heat Seats, pieces of public furniture that double as composting repositories for organic matter collected during vacant-lot maintenance.
M'Closkey and VanDerSys teach at the University of Pennsylvania, which they say feeds their practice by allowing research into the future possibilities of landscape design. They're now putting those ideas into writing and their latest book, Dynamic Patterns: Visualizing Landscapes in a Digital Age (Routledge Press) will appear in 2015. —EED 
"PEG is a very special and innovative firm that melds sophisticated formal interests in pattern, geometry, and ornament with living systems and ecological intelligence," says James Corner of Field Operations. "As a consequence, their work is both smart and beautiful—practically elegant."
---
Dirk Winkel
Berlin, Established 2004
Product
Selected by Nassir Kassamali
Dirk Winkel is a patient man. The 33-year-old Berlin-based product designer spent more than two years creating his Winkel w127 lamp, an elegantly tapered desk lamp that uses energy-efficient, multichip LED diodes to emit a powerful and even light. Of his typically long gestation periods, he says, "I like the idea of really asking myself what has influenced or astonished me for a long time without losing my interest."
Often his interest focuses on the ways in which we fabricate mass-produced products. Winkel says he is not interested "in churning out products just because they might go with the current fashion," but instead enjoys taking a step back to observe and innovate. For the Winkel w127 lamp, produced with Wästberg and BASF, he wanted to prove that plastic could be as substantial a material as metal and that it could also be ecological. Winkel applied mechanical techniques common to the automotive and electronics industries to fabricate the lamp from fiberglass-reinforced bioplastic, which is more environmentally responsible than crude-oil- based plastics.
Dirk Winkel's w127 lamp, launched in 2013 at Milan, has been nominated for both the Swedish Design S award and the London Design Museum's Design of the Year award.
Courtesy Wastberg and Dirk Winkel
Winkel continues to experiment with new processes and materials while keeping the longevity of his products in mind. "Every take on doing a sustainable product counts, no matter if it's about the material, the concept, or the design," he says. "It is not a burden, or a marketing trick, but a true chance to do better products with a longer lifespan and more joy and value."  —EED 
"Good design does not need lengthy explanations," says Luminaire's Nasir Kassamali. "It has a purity about it. To me that's the essence of Dirk's work."
---
David Korins
New York City, Established 2001
Theater / Film / Television
Selected by David Rockwell
The designs of David Korins run the gamut: theater, television, film sets, events, window displays, even weddings. "It's a gift and curse," he says of his multi-dimensionality, although no outside observer would ever call him cursed.
Korins launched his career in 2001, founding the Edge Theater Company with director Carolyn Cantor, making a name for himself by creating fully immersive environments. He has become a much sought-after set designer, working on shows that have included Motown, Annie, and Passing Strange (which he calls his "Wow, he has arrived!" show).
David Korins's work on Broadway musicals such as Annie (above) and Passing Strange (below) has secured him a place as a luminary in the theater design world.
Images courtesy David Korins Design
Korins is currently working on his most exciting project to date—a permanent installation in Times Square called Broadway 4D. "It's a really interesting hybrid of a lot of things," he says. "They're filming fifteen of the most popular musical theater numbers of all time in 3-D and we're going to show it with a 4-D setting so it'll be a major attraction, and it'll be there forever." Performers include Hugh Jackman and Patti LuPone. The lighting designers are Jules Fisher and Peggy Eisenhauer; William Ivey Long is creating the costumes. "These are the titans of musical theater and they've chosen me to represent them to build the scenery," Korins says. "It's a huge honor. It's a complement of theatrical design, film, production design, attractions, and theme parks all rolled into one. It's kind of a first in its industry." —SS
"David is an amazing young designer," says David Rockwell, founder of the Rockwell Group. "I really admire his ability to envision fully immersive environments for theater, film, opera and TV—and his endless energy." 
---
Alexandra Daisy Ginsberg
London
Art / Design / Biosynthetics
Selected by Paola Antonelli
"We think it's kind of squishy," says Alexandra Daisy Ginsberg of her theoretical space food, a fruit that could be grown from yeast engineered to photosynthesize electricity. "You could take a cheese wire and cut a slice off of it." It's not a very appetizing suggestion on Earth, but on a two-to-three-year mission to Mars, organisms that can be farmed aboard a shuttle might provide physical and emotional sustenance. "It's a small provocation," says the artist and designer of Seasons of the Void, which she created, along with two collaborators, for the recent Alive: New Design Frontiers show at Paris's Espace Foundation. The project was inspired by a NASA job listing for someone to develop "novel organisms to use in food for a Mars mission."
E. chromi (top) and Synthetic Kingdom
Portrait courtesy Harry Borden; others courtesy Alexandra Daisy Ginsberg
Ginsberg's work is full of such provocations. She teases out the implications of complex science in projects like the Supertask—a work in progress that attempts to construct a model of the whole world, which simultaneously probes the ways in which models affect the thing that they're modeling. Though the 31-year-old's background is not in the hard sciences—she studied architecture at Cambridge University and design at both Harvard and The Royal College of Art—her work often achieves its goal of spurring scientists into unexpected avenues of research. In her 2009 project, E. chromi, done in collaboration with James King, London-based Ginsberg worked with a team of Cambridge students who had created bacteria that could secrete different colors—she helped them imagine future applications for their creation, and later met scientists who were trying to replicate their hypothetical scenarios. Her new book, Synthetic Aesthetics: Investigating Synthetic Biology's Designs on Nature (MIT Press), appears in March. —JC
"Daisy Ginsberg represents a new generation of designers who are forging tighter connections between design and science, plotting new biological entities with elegance, wisdom, empathy, and responsibility," says Paola Antonelli of MoMA.