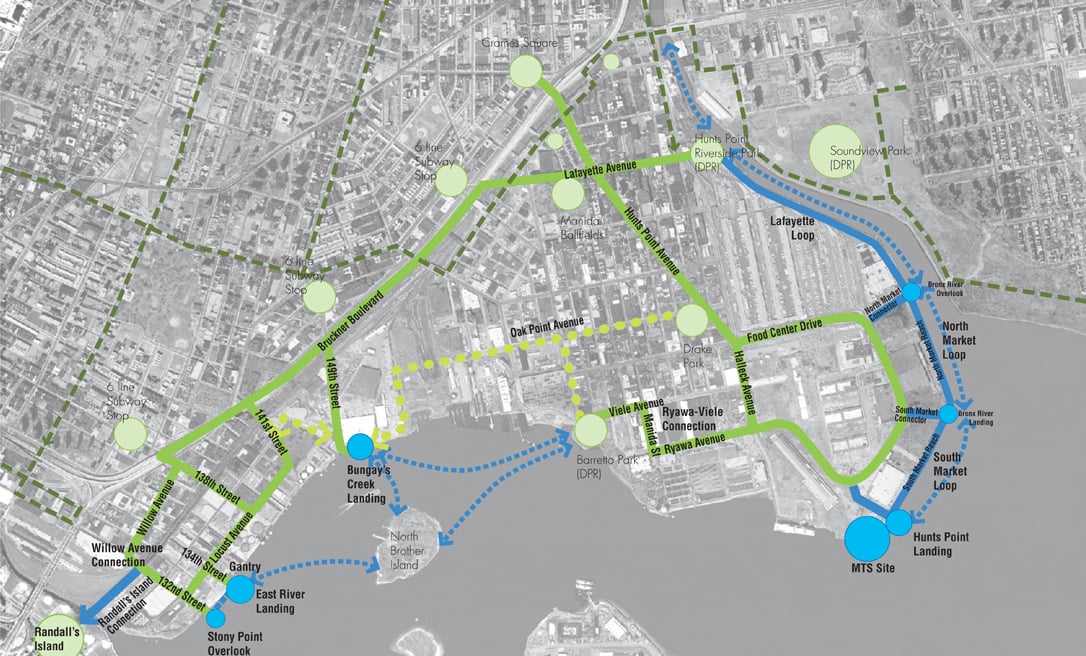 September 25, 2012
The Green Team Part 3: A Second Life in the South Bronx
What to do about massive amounts of contaminated soil?
Hunts Point Landing in the South Bronx, our latest project, was described by Michael Kimmelman in the New York Times, "River of Hope in the Bronx" this July. It is the fourth in our 20-project South Bronx Greenway master plan, conceived in 2006 to reclaim portions of the borough's industrial waterfront by transforming brownfields into greenways and park space and providing public access to the river for the first time in 60 years.
Greenway routes and destinations from the South Bronx Greenway Master Plan (2006)
---
More from Metropolis
---
Courtesy Mathews Nielsen Landscape Architects/NYC Economic Development Corporation
The Hunts Point peninsula, loosely bounded by the elevated Bruckner Expressway and ground level rail lines, is a relatively isolated locale. It is laden with massive food distribution operations, oil depots, waste-handling operations, scrap metal dealers, auto salvage yards, a sewage treatment plant, a prison, and a small mixed-use residential community. Our park is located at the former terminus point of Farragut Street at the Long Island Sound, wedged between a food distribution center and a City of New York Department of Sanitation (DSNY) salt shed. Clearly, the site's constrained size presented considerable design challenges. In addition to these, our Green Team was also faced with an additional quandary—what to do about massive amounts of contaminated soil from a coal gasification plant that used to occupy the site? To meet our goal of restoring the degraded shoreline to a functioning tidal marsh and to treat all of the site's stormwater in a biofiltration pond, we knew we had to excavate it. But the disposal of that much fill would have been very expensive. Trucking, lack of available receiving facilities, and disposal fees would have quickly added up to a large sum.
Material excavated from the shoreline (right) was stockpiled on site and dewatered prior to placement and fine grading of the upland berm.
Courtesy Mathews Nielsen Landscape Architects
After weighing multiple options, we decided to submit a request for a Beneficial Use Determination (BUD) to the New York State Department of Environmental Conservation. This course of action was recommended by HDR, Inc., a firm that prepared the Phase II Environmental Site Assessment; they have also continued as our subconsultants for Hunts Point Landing, providing environmental science and engineering services. If we got our BUD, it would allow us to reduce all the material that we'd need to move from the site by giving us permission to move part of it to another site area. Our submission was successful, allowing us to transport the material to the upland portion of the park after "dewatering" through stockpiling. This resulted in significant savings. But financial rewards were not the only advantage of our BUD. The new soil plan also provided aesthetic benefits, giving us enough fill to achieve a dramatic topographical change on our constricted site. The slope we constructed from it provided a promontory with striking views out to the Sound; it also serves as barrier, both visual and noise, from an adjacent distribution center and parking lot.
The planted berm (left) reaches an elevation over seven feet higher than the adjacent distribution center's parking lot. The siting of the berm limits unpleasant views of the adjacent property and provides overall reduction in noise from the distribution center.
Courtesy Mathews Nielsen Landscape Architects
On paper, the transformation of our site from a flat roadbed to a long, continuous, topographically-interesting public park required significant fill; this could have been a very costly solution. But the decision to pursue the BUD allowed a sizeable portion of the construction costs to be allocated to other park amenities, helping us achieve our original design intent of a lowland shoreline and useable upland. Hunts Point Landing's official opening is September 24. We hope you will visit this fall, and if you have been there already, return for the cool weather experience. In our next post, we will explore "instant landscapes" or how the size, selection, and placement of plant materials make our projects aesthetically enjoyable from the outset.
This post is part of The Green Team series.
Terrie Brightman, RLA, ASLA is a practicing landscape architect at Mathews Nielsen Landscape Architects in New York City with over eight years of professional experience. Since receiving her BLA from Pennsylvania State University she has worked on riverfronts in Pittsburgh, private residences in California and Florida, a sustainable community in Turkey and multiple public parks, plaza, and waterfronts throughout New York City. Terrie is a member of her firm's "Green Team," established to collaboratively determine innovative ways to address the challenges of environmental shifts and complex urban renewal issues.