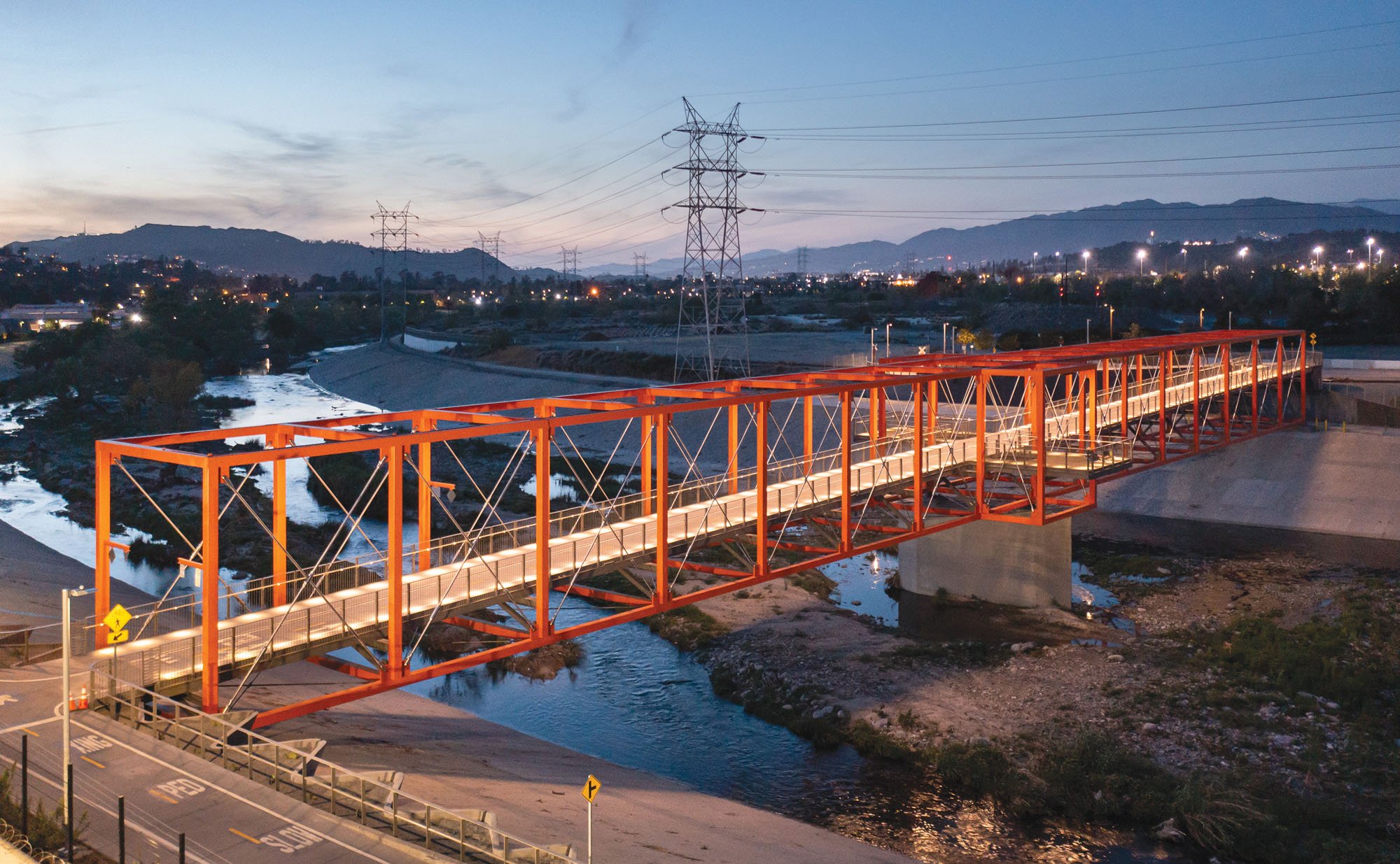 August 22, 2022
The L.A. River Gets A Geometric New Pedestrian Crossing
One part railroad trestle, one part Sol LeWitt sculpture, the Taylor Yard Bikeway/Pedestrian Bridge traverses the Los Angeles River with a minimalist gesture: An 18-foot-wide pathway seems to float inside a structural grid. The 400-foot-long, traffic-cone-orange steel-frame structure is part of a larger revitalization of the 51-mile river, which once was seen as nothing more than a concrete drainage channel. But in the past decade, Angelenos have found a new love of the waterway—especially its soft-bottomed stretches, which are dotted with islands of tall grasses and scruffy trees and edged with the Los Angeles River Trail, a popular greenway and bike path connecting Downtown L.A. to Griffith Park.
Designed by SPF:architects and engineered by Arup, the car-free bridge opened to the public in March and is the third crossing of the river completed by the City of Los Angeles Bureau of Engineering in recent years. It connects Elysian Valley and Cypress Park, two riverfront neighborhoods historically cut off from each other and currently seeing increased development. Cyclists zip along a bike path on the west riverbank, dodging dog walkers. On the opposite bank, the bridge lands at the southern tip of the future 42-acre Taylor Yard G2 River Park, an ambitious part of the ongoing L.A. River Revitalization Master Plan (initiated by the L.A. County Board of Supervisors and led by design and engineering consultants like Studio-MLA, Gehry Partners, OLIN, and Geosyntec).
According to Arup engineer Kevin Acosta, the design makes use of a modular Pratt truss, with tension rods for the diagonals. The robust structural system necessitated only one concrete pier in the river and should remain safely dry in a 100-year flood, per U.S. Army Corps of Engineers mandates. Segments of the structure were preassembled at a nearby fabrication yard and then spliced together on-site to minimize construction time and impact on the river ecosystem.
"It's heroic in its simplicity," says architect Zoltan Pali, founder and principal at SPF:architects. He likens the bridge to "a handshake"— a place where the community can meet in the middle. As such, at midspan the steel frame bumps out to accommodate two overlooks, where one can pause and take in a typical L.A. panorama: electrical towers, the hills of Elysian Park, and the occasional egret.
---
More from Metropolis
---
Would you like to comment on this article? Send your thoughts to: [email protected]