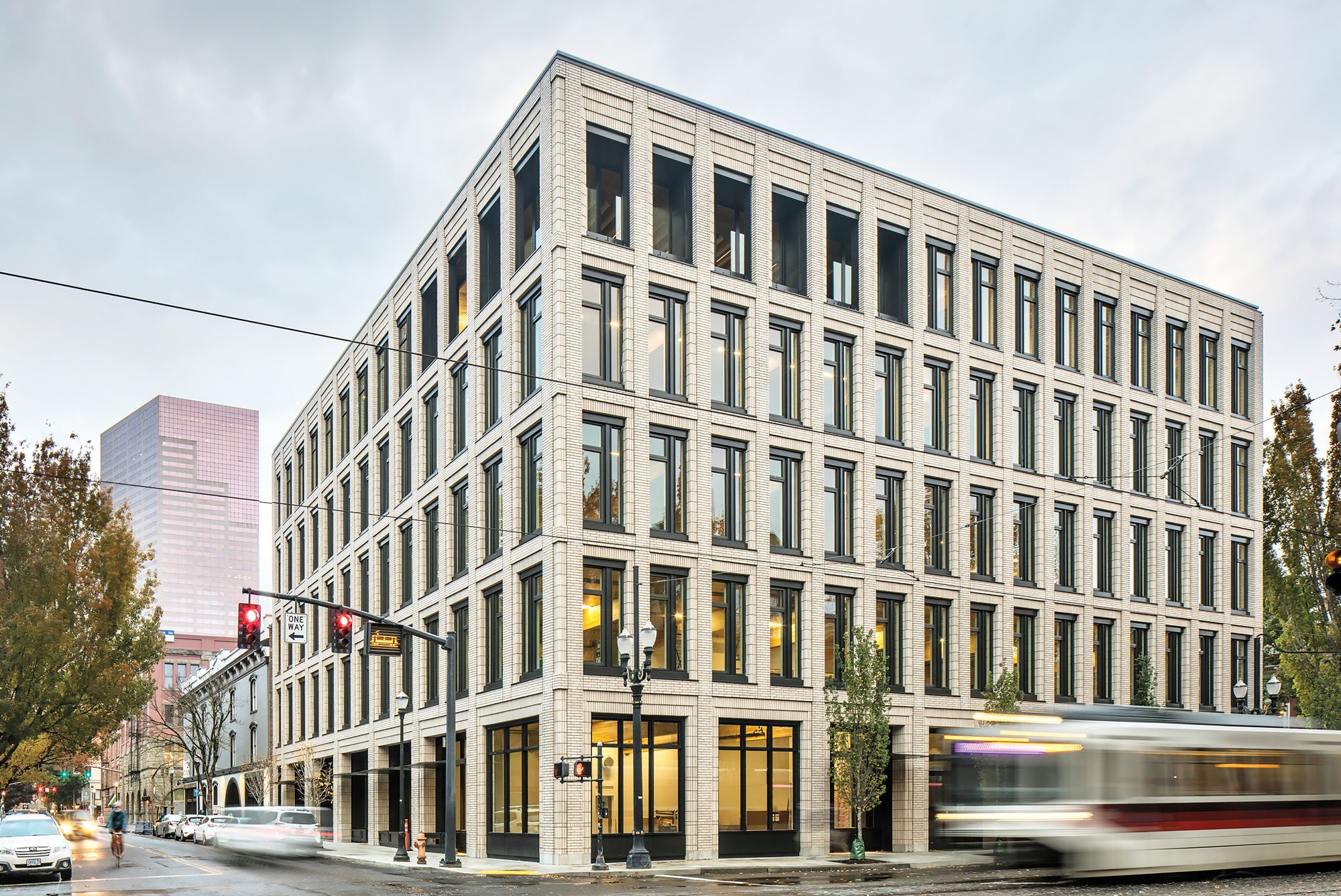 December 21, 2022
The PAE Living Building Rises in Portland, Oregon
Portland, Oregon's Skidmore/Old Town Historic District, with its 19th-century National Register–listed fabric of cast-iron architecture (and corresponding restrictions on height and style), might seem an unlikely place for what is expected to be the state's first fully Living Building Challenge (LBC)–certified structure. The timing of the project, which broke ground in April 2020, just after the COVID-19 pandemic began, wasn't ideal either.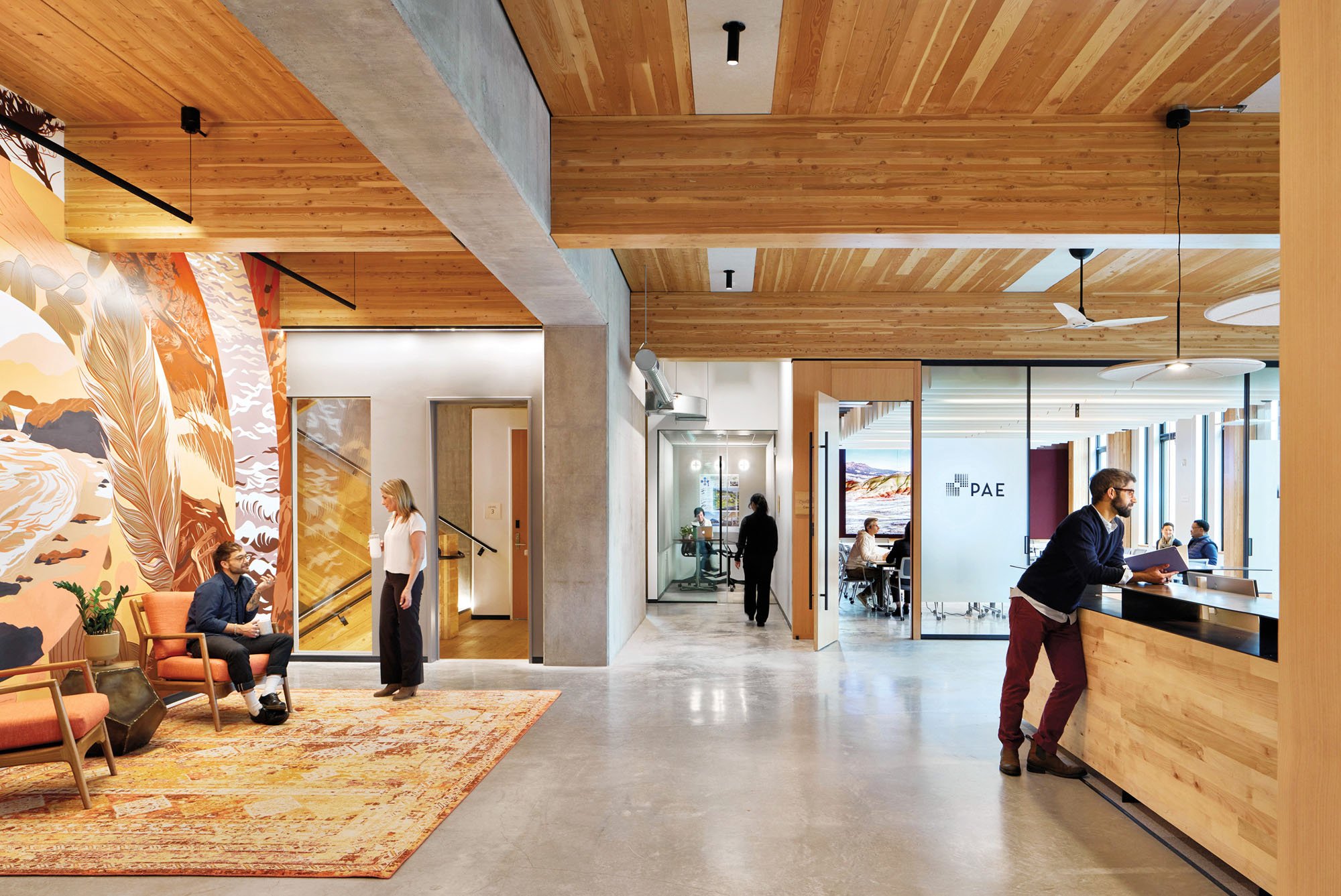 Yet the PAE Living Building, completed last fall and named for its anchor tenant, PAE Engineers, is a successful developer-led speculative office venture that comprises ground-floor retail and four floors of office space above—three and a half of which are already leased. The building was designed by ZGF Architects, itself founded in Portland, to be the first such project to meet LBC requirements, and at 58,000 square feet, the nation's largest. It is expected to be fully certified in summer 2023, after a mandatory 12-month waiting period to track post-occupancy performance.
While the contemporary brick-clad exterior had to blend in with nearby historic buildings to win city landmark-commission approval, to meet LBC strictures the building had to do a lot more: generate all its own energy and then some, capture and treat all its water on-site, and meet carbon-related materials imperatives.
Still, to attract tenants, the PAE building had to offer "a rent that was acceptable, which meant people were willing to pay some premium but not a giant premium," explains Jill Sherman of Edlen & Company, the project's developer. "We really didn't know going into it if that was feasible or not." But features like natural ventilation, solar power, and timber framing have proved to be selling points—even as the market for office space cools.
Because PAE's portfolio includes over a dozen LBC-certified projects, including 2011's Bullitt Center in Seattle and 2015's RMI Innovation Center in Colorado (with ZGF), its headquarters was a chance to demonstrate sustainable design's evolution. That's one reason the new building's ground-floor attraction is a window into its utility room, although in this case that term seems incomplete.
---
More from Metropolis
---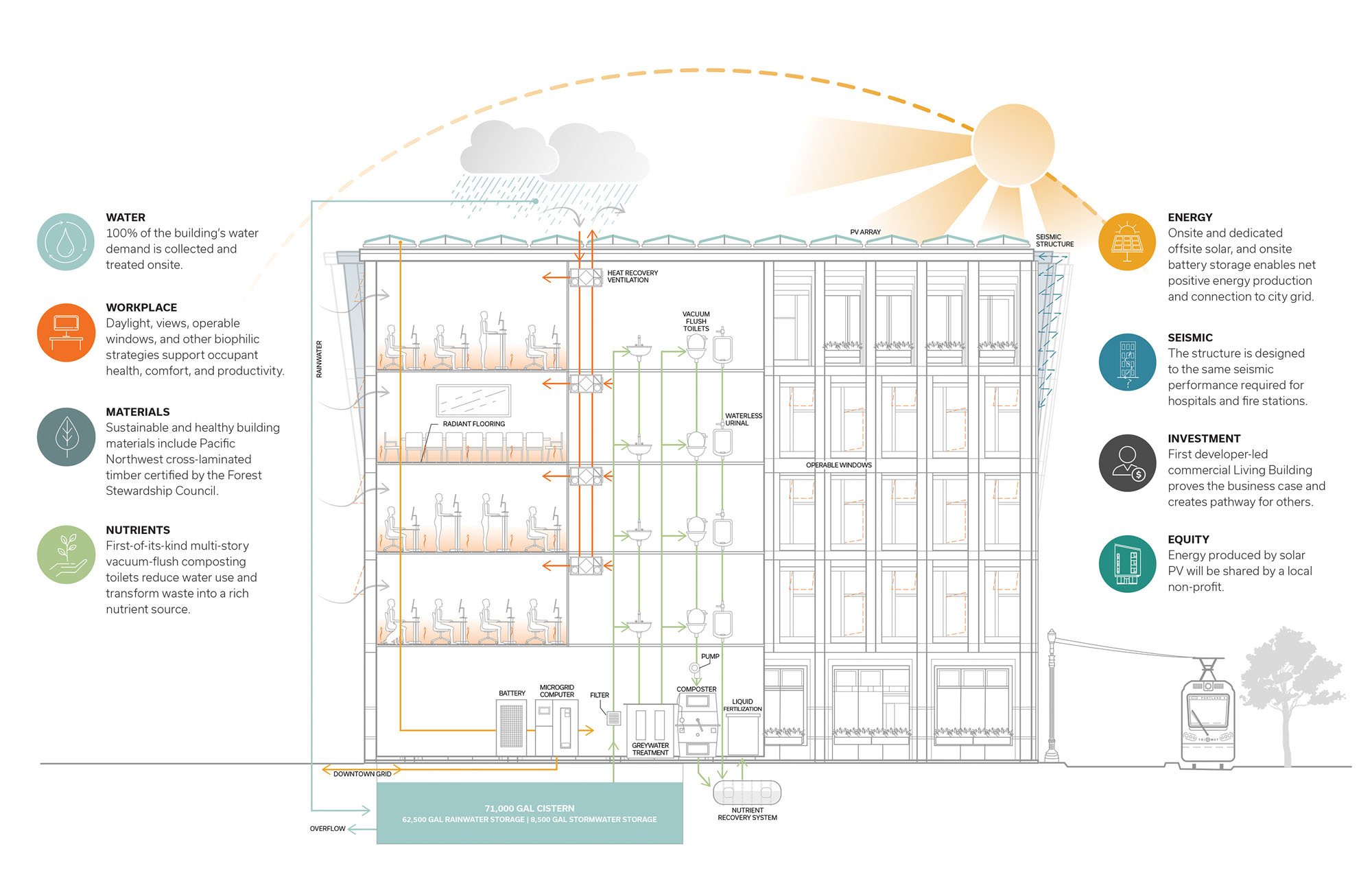 "Think of it less like a utility room and more like an ecosystem," says PAE principal Marc Brune. "It's a closed loop, and we're generating things that are beneficial to the environment." Utilizing a 71,000-gallon cistern, 100 percent of the building's wastewater is collected and treated on-site. The building's vacuum-flush toilets and composting waste system represent a functional (and olfactory) improvement over the Bullitt Center's foam-flush toilets, Brune explains. Nutrients such as phosphorus and ammonium bicarbonate are drawn from the waste and sold as retail-grade plant fertilizer.
A tight thermal envelope helps the PAE building achieve a 53 percent energy savings over building code before solar harvesting. A 133 kW rooftop photovoltaic array is paired with a 280 kWh battery, allowing a two-way connection to give back to the city's electrical grid and the ability to operate off-grid at a reduced capacity. The project also offsets its additional grid-derived energy use by providing a 215 kW off-site PV array to the Renaissance Commons, an affordable housing project across town.
The building's top floor features a 1,500-square-foot employee dining and gathering space with large NanaWall operable glass panels that fold away. "We've eroded the corner a little bit," says ZGF Architects principal Justin Brooks. "It becomes like an outdoor space once you open all of the windows."
Inside, the PAE building's cross-laminated-timber structure is left exposed, helping to attract tenants as well as sequester carbon. Natural light is maximized by leaving the ceilings uncluttered by electrical conduits (embedded between floors) or even beams. Instead, upturned beams mounted into the floors have created a series of benched window seats. The PAE building also meets International Building Code Risk Category IV structural seismic standards, the same level required for hospitals and fire stations. Even in an earthquake or other natural disaster, it will likely be safe inside with the lights on and water running—that peace of mind helps attract and retain talent.
"People are 75 percent of our costs," Brune says. "If we can get one percent better productivity, this building actually pays for itself. It's a hard thing to quantify, but we believe it, and I feel like we're seeing it already."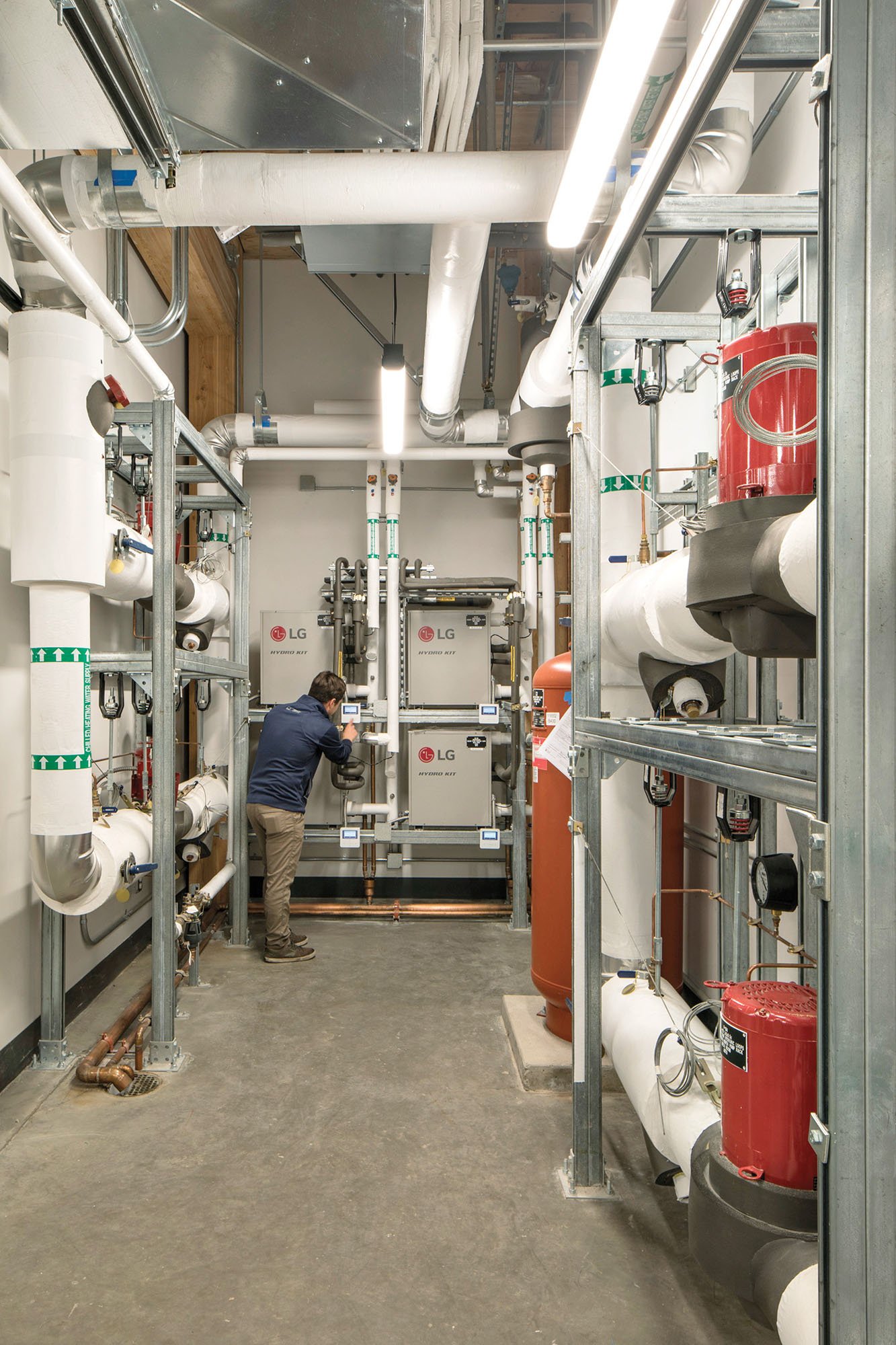 Would you like to comment on this article? Send your thoughts to: [email protected]