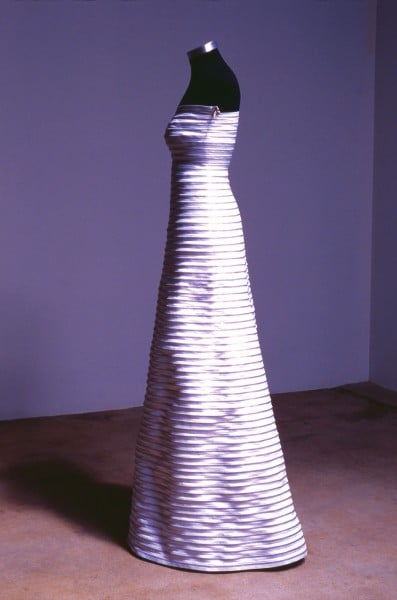 September 16, 2008
They're Crafty!
An exhibit that explores labor-intensive art opens at Portland's Museum of Contemporary Craft
Laura Splan, Doilies (SARS), 2004
---
More from Metropolis
---
The craft revolution has been brewing for years-from the late-nineties hipster appropriation of knitting to last year's standout traveling exhibition Radical Lace and Subversive Knitting, from the dedicated DIY-ers who make apron smocks out of old pillowcases to the popularity of ReadyMade magazine. One of the strongholds of that revolution is the Pacific Northwest, with its vibrant tradition of craft, and of subverting traditional craft. Starting this week Portland's Museum of Contemporary Craft pushes that one step further with their new show, Manuf®actured: The Conspicuous Transformation of Everyday Objects. Guest curated by Steven Skov Holt, who is a former editor of ID and current head of the CCA's Industrial Design department, and art historian Mara Holt Skov, this exhibition focuses on artists who are using craft techniques to make art out of mass manufactured objects.
These are not just pretty curiosities. An elegant column dress by artist Cat Chow is, upon closer examination, made out of a single, very, very long, industrial zipper.
 Bonded, 2000
A cache of toy soldiers melted together to form a bowl becomes a meditation on war, while a vast array of lipstick tubes, with the lipstick itself carved into chess piece-like shapes, is an equally poignant look at the war of self-image.
  Dominic Wilcox, War Bowl – Green Soldiers, 2002; melted plastic army soldiers; approx. 17 x 4″
 Livia Marin, Ficciones de un uso, 2004; 2200 lipsticks
The show, ultimately, hopes to "illuminat[e] issues such as over-abundance, re-appropriation, the relationship between creator and creation and environmental awareness through thought-provoking reuse."
The exhibition includes work by 16 artists from the U.S., England, France and the Netherlands including: Hrafnhildur Arnardottir, Boris Bally, Harriete Estel Berman, Jerry Bleem, Constantin & Laurene Boym, Cat Chow, Sonya Clark, Mitra Fabian, Livia Marin, Régis Mayot, Devorah Sperber, Jason Rogenes, Laura Splan, Marcel Wanders and Dominic Wilcox.
Images courtesy of Museum of Contemporary Craft
Bonus: On Thursday, September 18th, the guest curators (who have cleverly subverted the tradition of double-barreled surnames) will be presenting a slide lecture at the museum discussing the three-years-in-the-making development of Manuf®actured.
LECTURE—CraftPerspectives – Manuf®actured: From Readymade to AlreadyMade,
Thursday, September 18, 6:30 PM, University of Oregon's White Stag Building (70 NW Couch Street, Portland), $5 (Free for members and students)
EXHIBITION—Manuf®actured: The Conspicuous Transformation of Everyday Objects, August 28, 2008 – January 4, 2009, Museum of Contemporary Craft, 724 Northwest Davis Street, 503.223.2654, Tuesday-Sunday 11 AM to 6 PM, Thursday 11 AM to 8 PM, admission is free