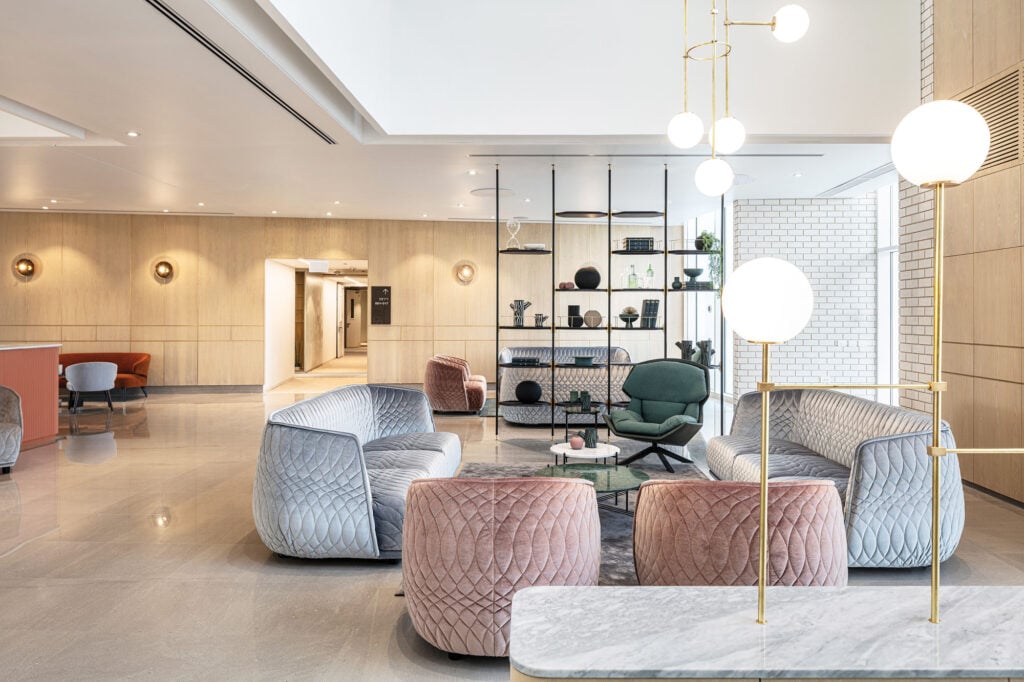 July 7, 2022
Three Projects Challenge the Retirement Community Aesthetic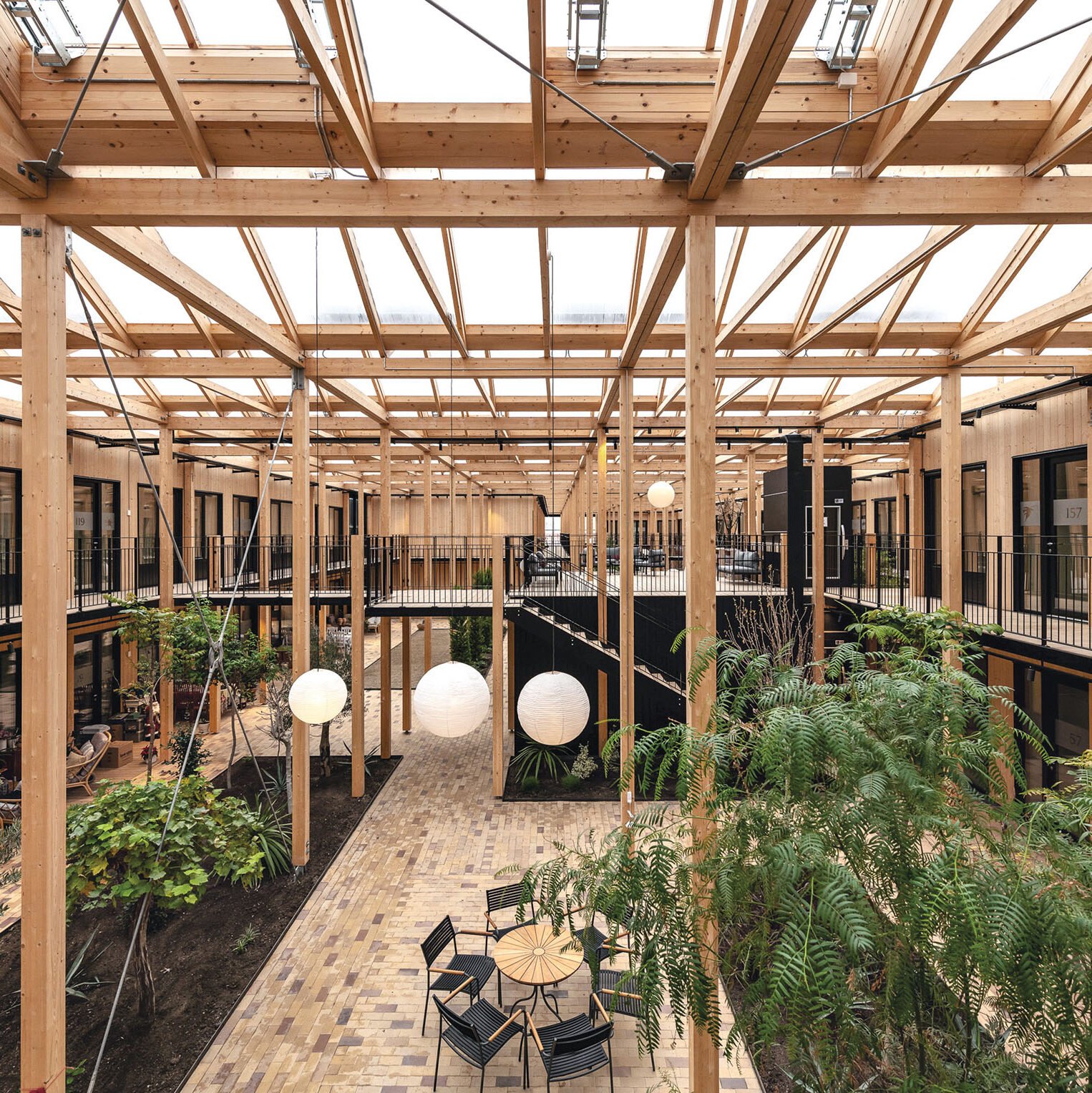 Apartments, enveloped by corrugated polycarbonate, are made from prefabricated units of cross-laminated timber (CLT). They range from roughly 500 to 900 square feet, each structured to overlook the main garden area. The exterior of the blocks, clad in scorched timber planks with pale wooden lining, extends to offer covered patio spaces for balconies and ground-floor homes. At the western edge of the site, a smaller structure boasts guest rooms and a communal area with a shared kitchen overlooking a garden. In between blocks, a series of intimate gardens are framed by a grid of CLT columns, replicating, according to lead architect Jonas Sangberg, "the atmosphere of living in a summer house all year round." Sangberg notes that in designing the project, the goal was optimal accessibility for residents without giving spaces the sterile appearance of typical retirement communities. This meant creating homes that could easily be navigated by wheelchair, but that were still in conversation with the type of luxe modern Scandinavian designs Sangberg has become known for.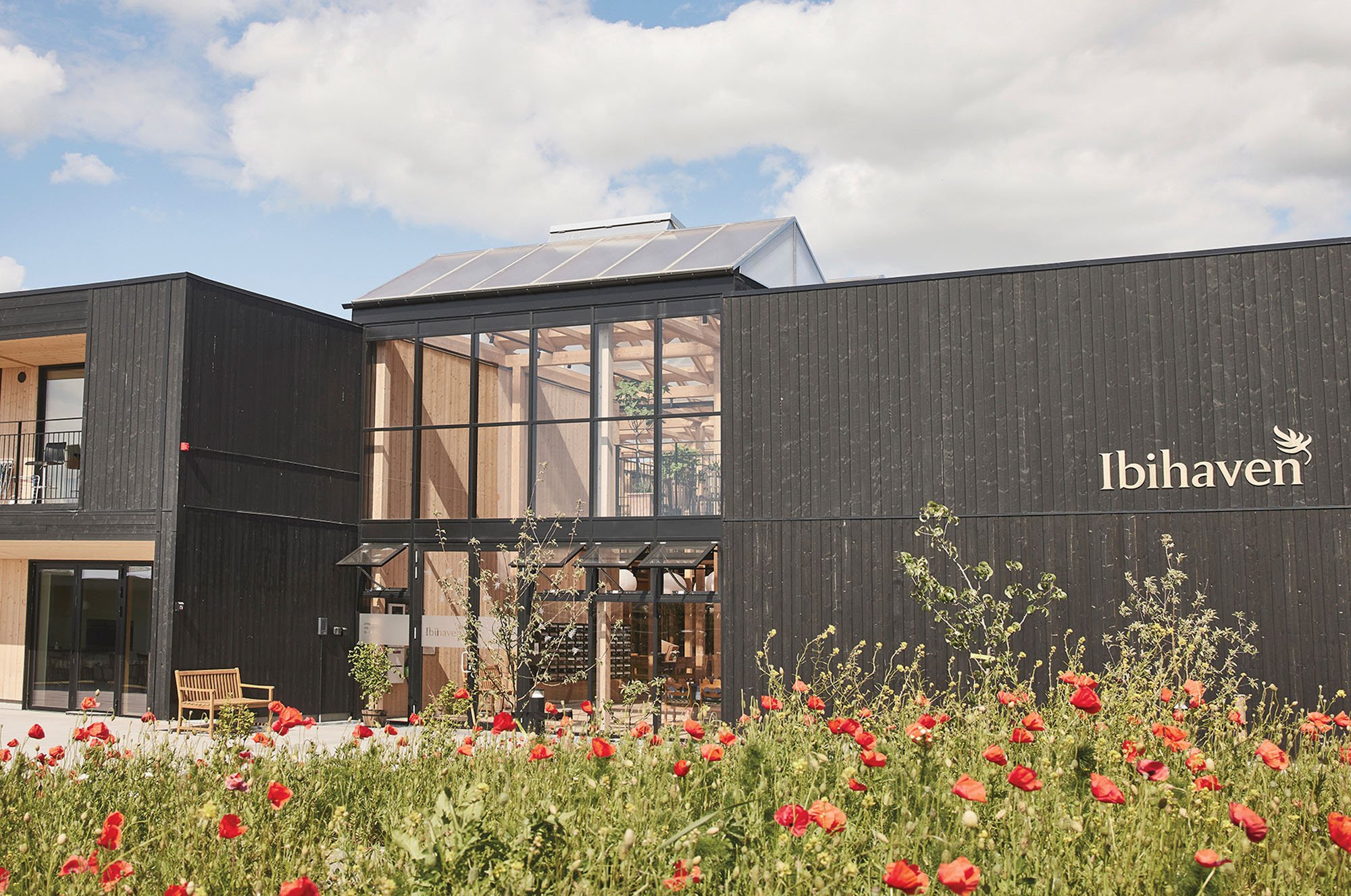 "A major challenge among 'older Denmark'—and probably the rest of the Western world—is loneliness," explains Sangberg. "In our design, it was important to ensure both privacy and community," leading to plans that transition between the two zones in semiprivate areas at the front of each home. The main atrium also serves as an access road to the homes, creating opportunities for organic socialization. "An important design parameter for us was to ensure that these homes could be paid for with an ordinary Danish public national pension," he says, pointing to the egalitarian values that have long punctuated Scandinavian daily life. "At the same time we wanted to make a beautiful, sustainable construction. It has been a great challenge, but we think we succeeded, by having the developer, contractor, and engineer, as well as other experts, be part of the design process from the very beginning."
---
More from Metropolis
---
BAYIT BALEV, TEL AVIVAMIT DESIGN STUDIO
Tranquility and rejuvenation are paramount at Israel's luxury retirement chain Bayit Balev, which translates to "home in the heart." The newest outpost, Bayit Balev Petah Tikva, located 30 minutes from Tel Aviv, is a collaboration between Canaan Shenhav Architects, Maccabi Healthcare Services, and Amit Design Studio. The five-story building contains five floors of 211 self-contained housing units, with three levels of connected communal spaces and a ground level that bridges the main reception and lobby area with a coffee shop, salon, and mezzanine. Beneath, a lower floor features a secondary lobby leading to an elegant dining room with floor-to-ceiling windows, a synagogue, a cobalt-hued gym, a cinema, clinics, and classrooms.
The space was inspired by the colors and shapes of Bauhaus design. "We consider Bauhaus the cultural and visual environment of this target population," says Gali Amit, founder of Amit Design Studio. "The challenge was to design a retirement home that does not look 'elderly.' To create spaces that convey a contemporary modern atmosphere that at the same time is homey, warm, and inviting." The fresh color palette is soft and neutral, with wood-clad feature walls in sage and salmon, and oak counters and cabinets contrasting with sleek gray marble floors and eggshell-white ceilings and contrasting painted panels. Vibrant pink, red, and lavender hues add pops of color on the lower levels and in the theater. "It was essential to convey a sense of vitality and 'alive and kicking,' " continues Amit. "All of these ideas offer a unique experience, escaping the ordinary local environment."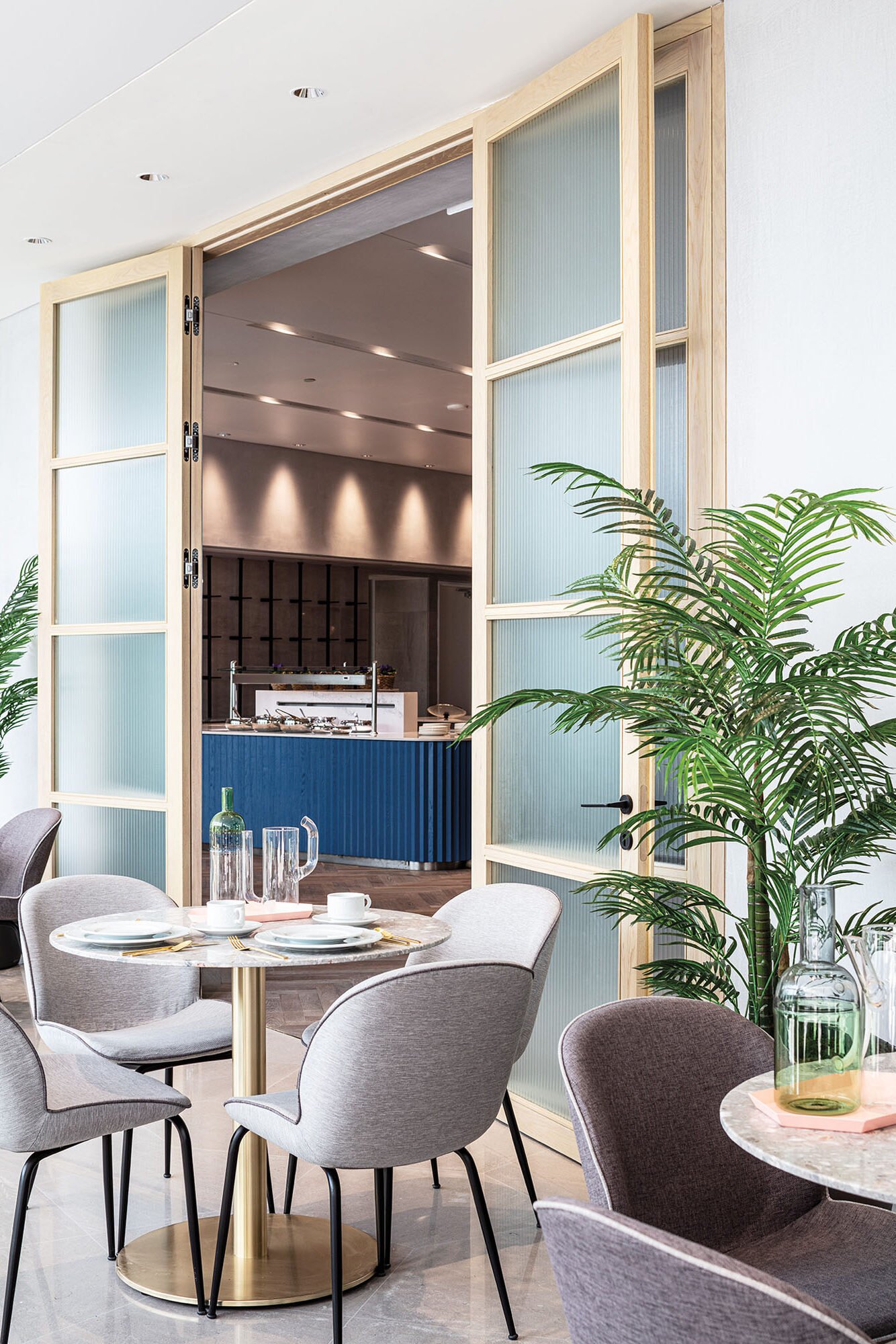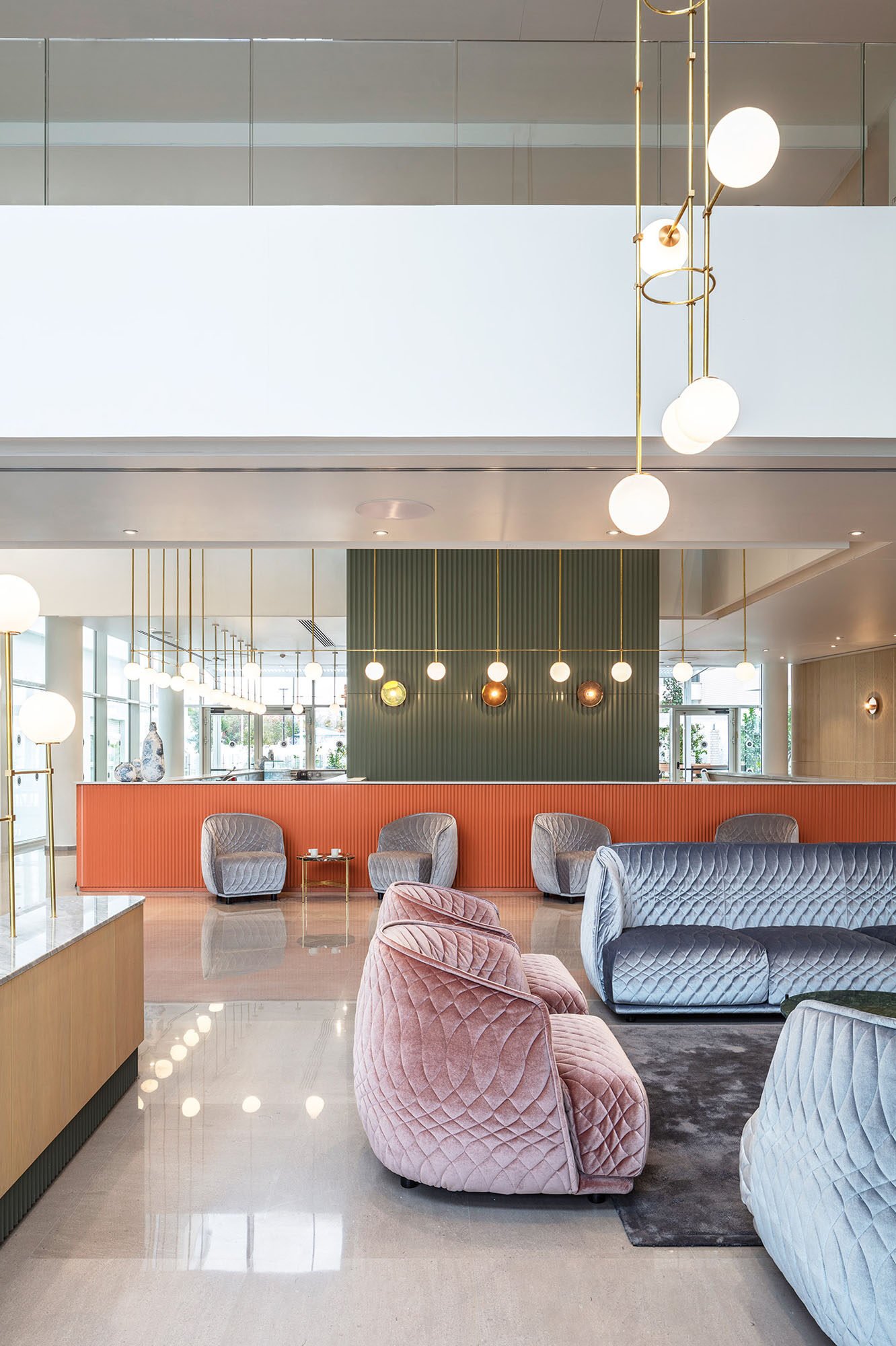 BELLE VUE, LONDONMORRIS + COMPANY
Belle Vue, a retirement community set in Hampstead, North London, is a case study in honoring history while embracing modernity. Designed by London- and Copenhagen-based Morris + Company, the "sociable community" building, composed of several one- and two-bedroom apartments with plentiful communal spaces, is nestled within a conservation area of Victorian-era brick houses. The exterior is a russet-hued wrap of red Belgian brick laid at a ten-degree angle on the ground level to utilize sun and shadow patterns. Mid-height, cutaway brick beams bolster windows and balconies, while whitewashed bricks sit within light cream mortar at upper levels. The cumulative effect is a light-rose cast that wraps the ground floor, entryway, and interior courtyard, contrasted by horizontal lines of concrete.
The project was recognized in the Architects' Journal AJ Architecture Awards 2021 housing category (£10m and over) for its approach to site and massing, where judges noted there was a real sense that residents had created an organic community.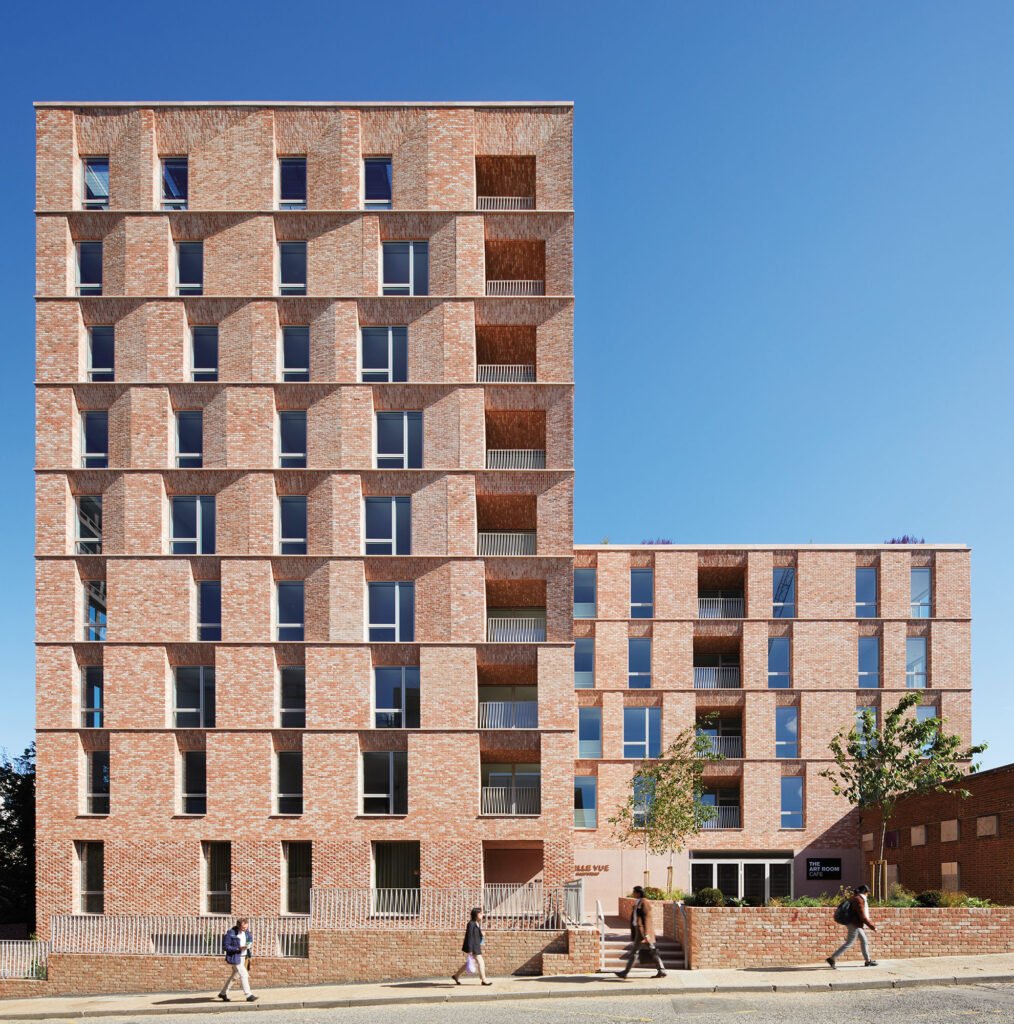 The development is enhanced by a seamless transition between indoors and outdoors, taking into consideration individual accessibility needs, including mobility and ability to maneuver up and down steps, as well as custom in-unit tailoring. Each apartment is situated within four conjoined blocks that range from four to ten stories and accommodate 59 one- and two-bedroom apartments. The blocks are linked with a modulated brickwork facade that frames a central garden space. Most apartments feature views onto courtyards and terraces, as well as the surrounding Belsize Park neighborhood. Individual loggias fringe private living spaces, while deep inset corner balconies with steel filigree balustrades enhance privacy.
The ground floor features plush lounges, a library, and a street-level public café and restaurant, while the lower-ground-floor wellness suite overlooks a shared courtyard—essentially, everything one could need to feel at home both in a residential space and in the bustling world around them.