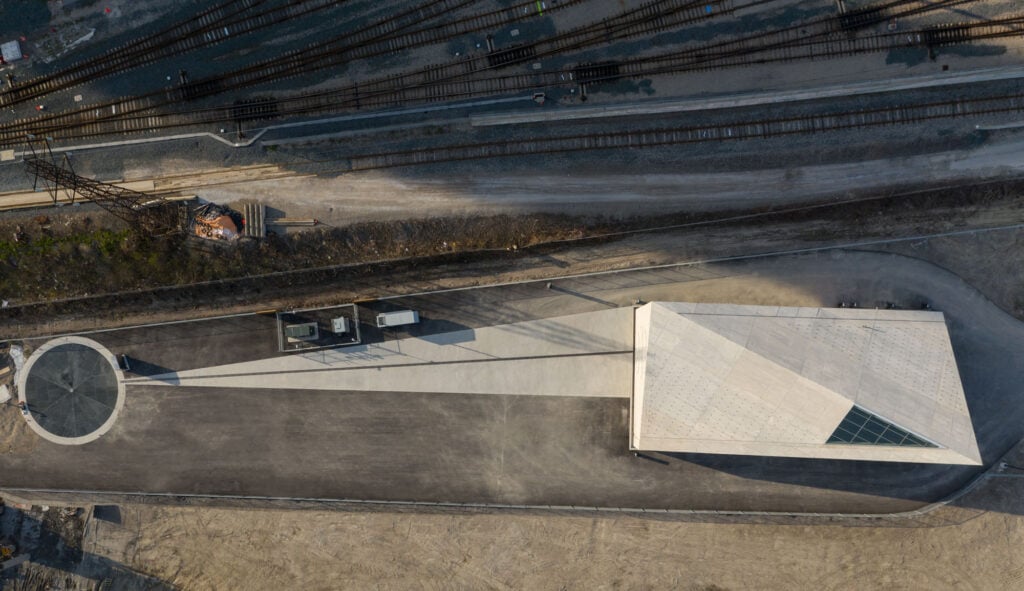 November 24, 2021
Toronto's Sculptural Stormwater Treatment Plant Sparks an Interest in Infrastructure
The design they settled on manipulated the simple box of a typical treatment plant by pushing down at one end and up at the other. Hanson thinks of it as "a way of showing the citizens of Toronto that this is something a bit different."
The design promised clients a mixture of "the pragmatic and the poetic"— imagining the 6,500 square-foot plant as an inverted stone well, discreetly housing a complex system of tanks, pumps, and machinery all linked to a large stormwater reservoir. While a strategically placed opening in the facade reveals glimpses inside, the structure creates an overall sense of mystery about its inner workings.
Materially, both the building and landscape have been constructed with exposed concrete to create an abstraction of ground and wall and to mitigate solar heat gain. Etchings and grooves cover the volume, leading rainwater on a journey from roof to wall, to ground plane and into the reservoir shaft, illustrating the system of urban hydrology that takes place out of sight.
"We felt this was a huge opportunity to connect the public with the purpose of the plant by showing the movement of water across the building itself," explains Hanson. "When it rains, you can see this particularly from the surrounding towers looking down onto the roof of our building. Water is becoming such a precious commodity in our world, it's important that people understand how we manage all the rainfall in our cities. We wanted to find a visual way of telling that story."
Hanson hopes that the Stormwater Facility reignites the desire to create more interesting infrastructural and industrial spaces. "Back in the early 1900s we had buildings like the R.C. Harris Treatment Plant being constructed," she says. "That has beautiful yellow bricks and proportioned windows, and it became a civic icon."
People, she argues still care about the civic architecture of their cities and want to engage with the design of infrastructure more meaningfully. She cites the massive interest the Stormwater Facility received on social media platforms like Instagram as an example of a new generation that wants public design to be more than plain steel sheds. "I hope that our project shows that when municipalities actually invest in their civic buildings, and in doing something interesting to showcase their importance, the public connects more," she concludes.
---
Would you like to comment on this article? Send your thoughts to: [email protected]