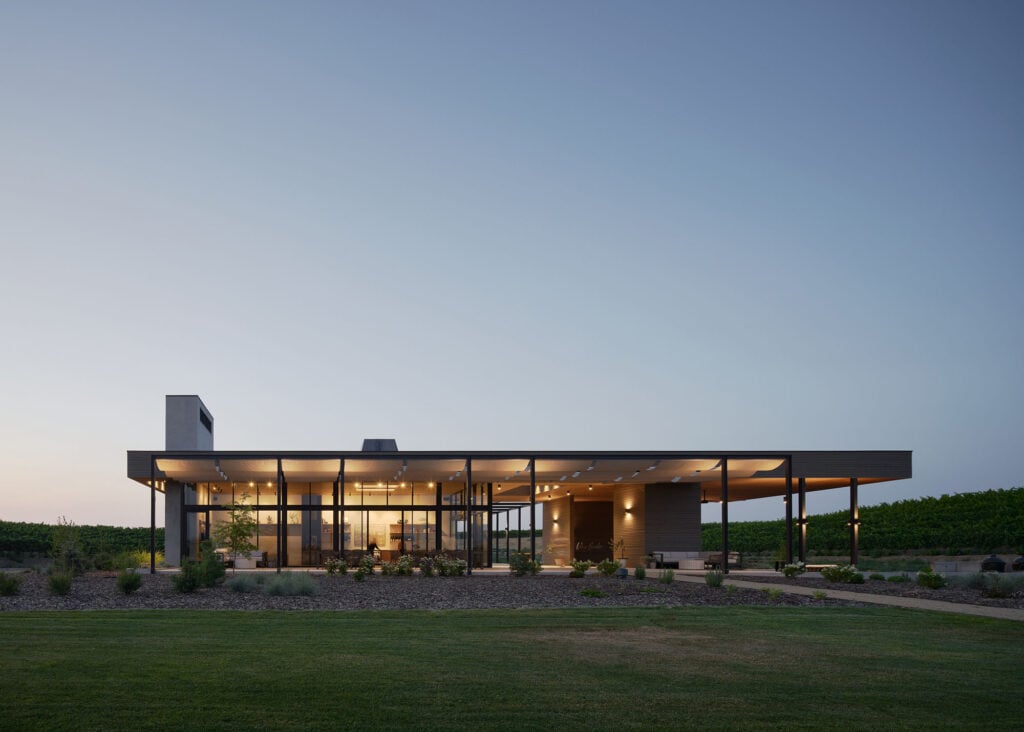 November 16, 2021
In Walla Walla, Washington, a Tasting Room for a Small Winery Treats Guests to Constant Discovery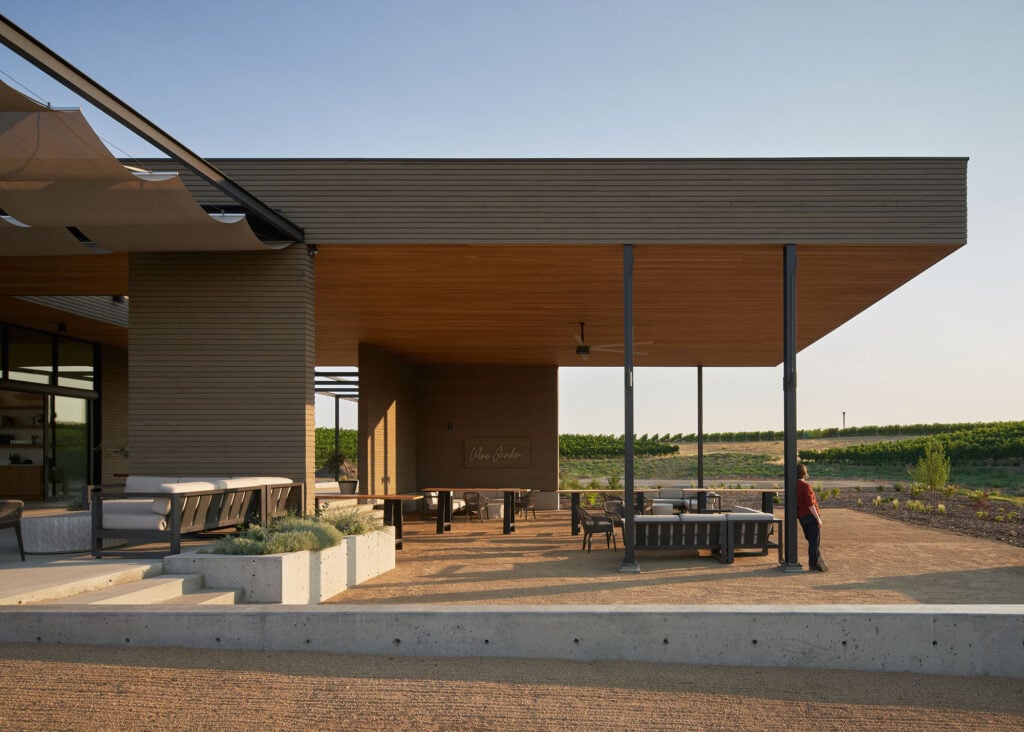 They became connoisseurs of fine wines and those who make them. They searched for grapes from small vineyards across the Pacific Northwest. And they planned to start out with a minimal tasting room and production facility in downtown Walla Walla.
Then Joe stumbled across a tiny piece of land on a farm south of town. "It's a leftover cove in a barley field," says architect Jon Gentry, co-founder of GO'C, the Seattle-based architecture firm. "The farmer couldn't make a turning radius in it, and wanted something interesting to happen there."
The Woodworths, who'd seen and loved GO'C's design for Cor Cellars' tasting room in Lyle, Washington, acquired the cove— and promptly contacted Gentry. With his partner Aimée O'Carroll, all four visited the site, then slipped into a restaurant for a glass of wine— and a few sketches. "They were about setting up the view and the promenade—to see the barley fields and epic landscape beyond – and bring the landscape closer through the framing," Gentry says.
The parcel was tucked away completely out of site. "That gave us a chance for a sense of journey and discovery because it's so private," Gentry says. "The building is revealed to you as you approach the cove."
That approach surprises visitors constantly, starting with their first view from the parking lot. They stroll south through a 70-foot steel arbor to an open vestibule, with indoor tasting room to the west and outdoor tasting room to the east. Beyond is a sweeping view of planted fields and the Blue Mountains. "It's a continuous 'Wow— this is cool!'" Joe says.
Materials are deferential: steel columns, bronze mullions, a raised concrete plinth, rough-hewn cedar cladding, a Venetian-plastered fireplace, crushed granite for paths and outdoor floor, and a light, pillowy, canvas-like material overhead outside.
The open-air design was a hit when it debuted mid-pandemic in July 2020. It's now booked in advance, with a maximum of 20 groups daily. "We wanted to make it feel like a house, rather than a tasting room with a bar," Ashley says. "It's small enough that it feels cozy and doesn't have a corporate feel."
That's a vibe this couple won't likely experience ever again.
Would you like to comment on this article? Send your thoughts to: [email protected]