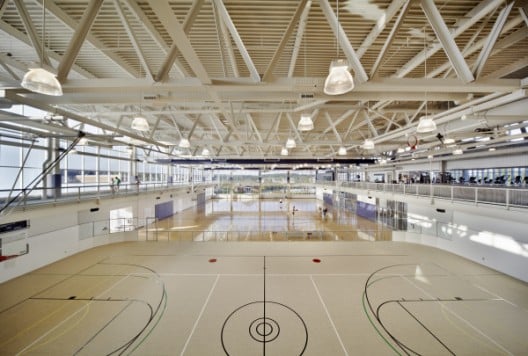 September 5, 2013
The "Wellness Center," the Hybrid Typology Popping up on University Campuses
A new breed of recreation design on college campuses express a growing interest in student health
Until recently, student health and counseling services have predominantly been offered independently of athletics and recreation. But as institutions contemplate a more unified approach to health and wellness, the boundaries of these traditionally separated campus services are becoming blurred. Many believe that unifying these various programs and services under one roof is in the best interest of their students' long-term health, as well as a potential budgetary and operational boon.
This recent shift in mindset has supported the emergence of a new breed of recreation centers that is only anticipated to multiply. "We're seeing more and more universities come to us with a new set of challenges and program needs, as opposed to simply saying 'we need this type of building'," says Brad Lukanic, Cannon Design's executive director of education.
---
More from Metropolis
---
The Student Wellness & Recreation Center at Georgia College
Courtesy JWest Productions
One example of this new breed of recreation center is the Student Wellness & Recreation Center at Georgia College, which integrates student health and counseling services among basketball courts, treadmills, and lounge areas. At Spelman College, a new fitness and wellness center is a result of the college's dramatic decision to eliminate its intercollegiate athletics program to increase recreation and wellness funding.
"It was startling how much of our operating budget was devoted to athletics programming that only benefitted 80 of our 2,100 students," says Beverly Daniel Tatum, president of Spelman College. "It just didn't make sense. So we decided to put all that funding into a 'Wellness Revolution' that can benefit every Spelman student."
University of Denver, Colorado
Courtesy Bill Timmerman
Spelman College became the second school to leave the NCAA in the past decade when it announced its departure in 2012. Although the decision was initially met with mixed reaction, president Tatum's wellness revolution has picked up steam. The college is collaborating with Cannon Design and Menefee Architecture on a new 59,000 sq. ft. Fitness & Wellness Center to support the campus-wide initiative.
"We believe that Spelman's Wellness Revolution will help our students realize their greatest potential and lifelong wellness, ultimately transforming the future health of black women and the communities they represent," says president Tatum. "One of Spelman's first steps in helping the Revolution take root is to modernize our existing fitness facility, Read Hall, built in 1950 for 500, with a new, state-of-the art facility to adequately serve our approximately 2,100 students and more than 600 faculty and staff members."
University of Denver, Colorado
Courtesy Bill Timmerman
The definition of wellness varies greatly across the country, but the underlying mission is often the same – to improve overall health and wellbeing. The University of Colorado Denver's Anschutz Health and Wellness Center was designed to foster a culture of sustainability, healthy lifestyles, and disease prevention. The facility is unique in its combination of a fitness center, a wellness clinic and research labs, a green roof with vegetable and herb gardens, a healthy bistro, a research and educational grocery lab, classrooms, and meeting rooms.
"We wanted this facility to be the beacon that makes the University of Colorado Denver campus, and our community and state, the epicenter for promoting wellness," says James O. Hill, PhD, executive director of the Anschutz Health and Wellness Center. "This whole center is devoted to making wellness an American core value."
Northern Arizona University's Health and Learning Center
Courtesy Bill Timmerman
The university is hoping that efforts stemming from the Anschutz Health and Wellness Center and its supporting medical campus will help the state of Colorado tackle preventable health issues such as obesity. University of Colorado president Bruce Benson acknowledges that U.S. obesity rates are expected to continue to climb, but he believes that "the Anschutz Health and Wellness Center is the very beginning of getting this stopped and getting this changed . . . they will be doing great things in solving the problems that face us and working on nutrition, exercise, and lifestyles."
Northern Arizona University's Health and Learning Center consolidates five previously dispersed facilities into one cohesive student learning environment that blends student health and counseling, classrooms, campus recreation, and intercollegiate athletics. The "facility design has transformed the recreation health, disability, and athletic services provided on campus into a state-of-the-art collaborative health model for the future," says Beth Applebee, Northern Arizona University's campus health director.
Northern Arizona University's Health and Learning Center
Courtesy Bill Timmerman
The entire facility is focused on increasing opportunities for collaboration among a diverse range of user groups. Recognizing the many benefits of a collaborative approach, the university and design team engaged students throughout the development of the Health and Learning Center and incorporated their ideas and recommendations in the design.
Today's students live in the digital world and have more access to information than ever, utilizing technology and social media to educate, monitor, and support their personal health goals. Whether they actually hit the gym daily is debatable, but they do recognize the importance of developing healthy habits, and they seek guidance, institutional resources, and facilities to achieve their personal health goals. Attracting students is the lifeline of institutions, and, like it or not, a state-of-the-art wellness and recreation center can be a meaningful differentiator.
This article originally appeared on ArchDaily as "Welcome to the Wellness Center: A New Breed of Recreation Design" 
---
Colleen McKenna leads Cannon Design's sport practice from the firm's Boston office. Her diverse portfolio includes college and university recreation and wellness centers, intercollegiate athletic facilities, and several cutting-edge fusion facilities. Learn more about Colleen's work and follow Cannon Design on Twitter @cannondesign