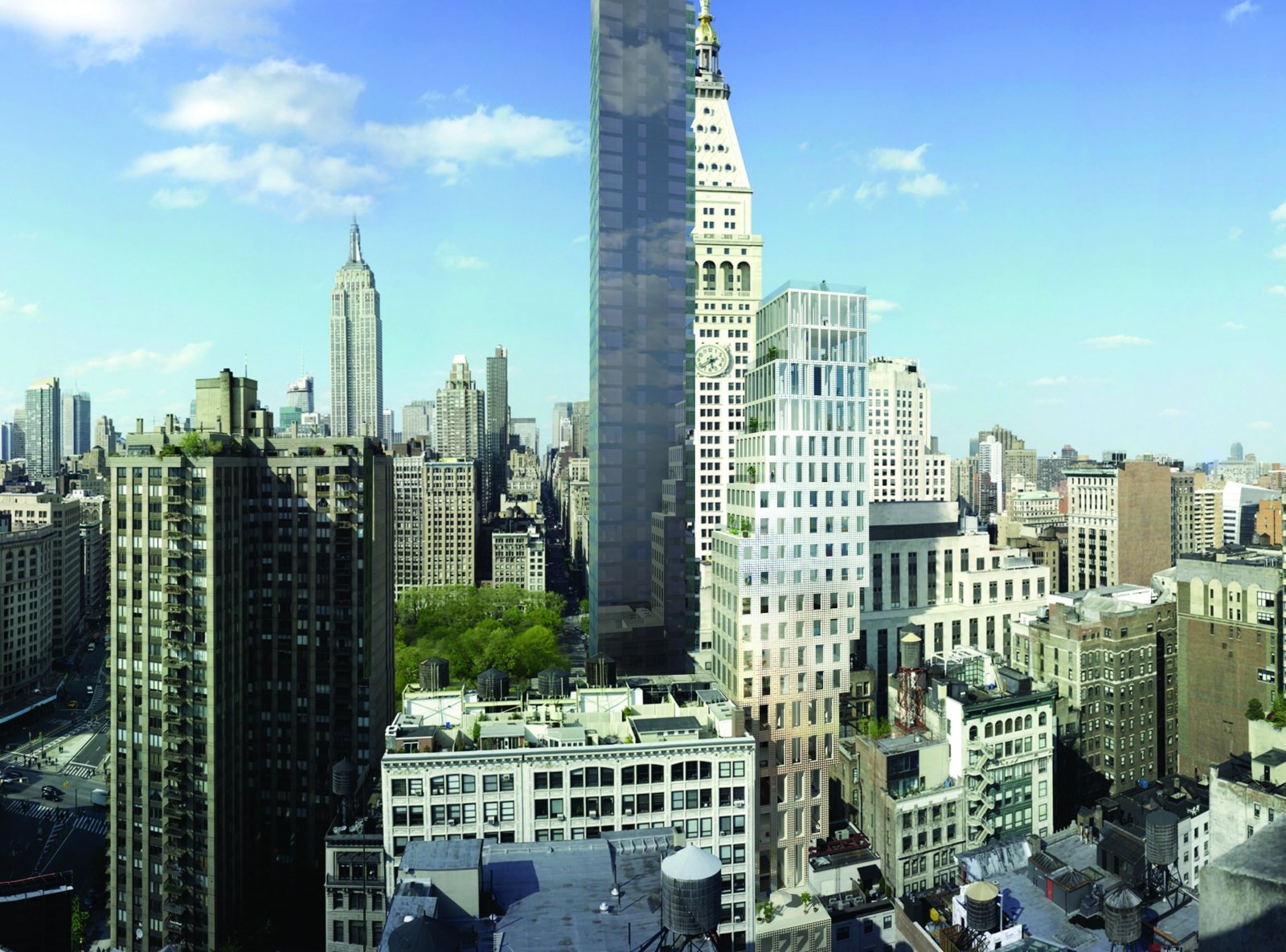 November 28, 2016
Never Built New York: Journey Into the New York City That Never Was
A new book compiles remarkable architectural and planning projects that would have drastically changed the city we know today.
Office of Metroplitan Architecture, 23 East 22nd Street
Images courtesy Metropolis Books
---
Imagine the waters surrounding the Statue of Liberty were filled up with land. That you could walk right up to Lady Liberty herself, following a path from Manhattan's Battery Park. Believe it or not, in 1911, this could have been.
In Never Built New York, authors Greg Goldin and Sam Lubell (foreword by Daniel Libeskind) describe with irony, and sometimes nostalgia, the most significant architectural and planning projects of the last century, projects that would have drastically changed the city—but never did.
The book organizes over one hundred projects in a geographic way, starting with citywide plans to projects located in Downtown, Midtown and Uptown Manhattan, Bronx and Queens, Brooklyn and Staten Island. Some are well known, such as the long-lasting battle for the design of the United Nations headquarters or the tragic collapse of an ambitious master plan for Ground Zero. Others are unexpected and surprising—see Moshe Safdie's Habitat New York residential project or radical as Koolhaas' tower for 23 East 22nd Street. A few are pure flights of fancy. Most really could have been built; for reasons often financial and political in nature, however, they never saw the light of day.
"The book taps into a part of all humanity—the what if. "What if I had done that. What if I had married her? What if I had moves there? Everybody thinks about that," says Lubell.
Just as compelling as the extraordinary collections of drawings is the vivid language the authors use to tell the projects' stories. Goldin and Lubell, whose editorial tone ranges from sarcastic to critical, introduce the reader to the people behind these visionary projects, giving us glimpses of their dreams and obsessions.
Raymond Hood, the architect behind the Daily News Building and the American Radiator Building, is one such protagonist. The authors recount how, in 1925, Hood designed a 10-thousand-foot-long bridge that was also a skyscraper. The design included two residential towers 50 to 60 stories tall, which functioned as pillars to anchor the suspended bridge.
The megastructure would have accommodated space for 50,000 people, shops, theaters, and esplanades. Elevators would grant residents access to the waterfront for boating, swimming, or other aquatic activities. Hood defended the scheme as a feasible solution to traffic congestion: "Serious minds have claimed that the project is not only structurally sound but possessed of unusual advantages, financially."
Raymond Hood Skyscraper Bridge
Traffic congestion was also a source of vexation for Robert Moses, whose 1941 Mid-Manhattan Expressway project was part of a major scheme to build five crosstown expressways. At a height of ten floors above the street, the expressway would have run through a densely built mid-town, literally breaking into existing buildings. Moses envisioned commercial and parking spaces on top of the viaduct, and  buildings hanging from the highway "like barnacles on some great seagoing bark," in the authors' words.
Another protagonist, Rufus Henry Gilbert, felt the city needed more mass transit. In 1870 he envisioned a train propelled by compressed air that would run inside "atmospheric tubes." These pneumatic tubes would be suspended on top of a slender gothic arch, supported by fluted Corinthian columns. Gilbert battled with all his force to see his project come true, but was defeated by lack of fundings and power maneuverings. According to Lubell and Goldin, he died "impoverished and broken."   
The non-built New York informs the one existing today. In some cases, it underlines the city's lack of audacity; how else would one characterize the ditching of Mies van der Rohe's sleek modernist tower cluster, south of Water Street, for one of the bulkiest office towers in the city–One New York Plaza? In others, it shows an urban nightmare narrowly avoided— what if, for example, Moses's crazed Midtown-Expressway and 5th Avenue extension through Washington Square Park had been given the go-ahead?
Never Built New York is ultimately a guide to the city that goes beyond what's immediately visible. It helps compare the New York that "is" with the one it could have been, and what it might one day be. As Goldin and Lubell put it: "this trek through the distant and recent past is also a journey ahead. Never Built New York is about the power of ideas to shape the future. Indulge and imagine."
Rufus Henry Gilbert Elevated Railway
Ludwig Mies Van Der Rohe Battery Park Apartments
T. Kennard Thomson, "City of New Manhattan." The plan consisted in extending Manhattan for four miles into the Upper Bay. This 1,400 acres addition would have stretched the city from Battery Park all the way to the Statue of Liberty and beyond.