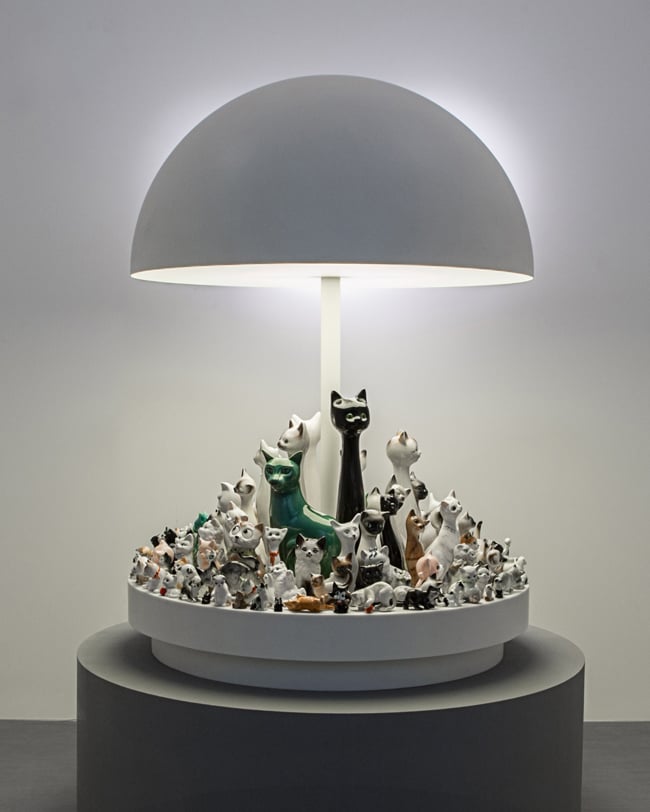 January 25, 2017
'Art Light' Exhibit Explores the Art of Illumination
Carpenters Workshop Gallery's latest show features the limited edition light fixtures of multiple international artists and designers.
Open Space by Morgane Tschiember
Images Courtesy Carpenters Workshop Gallery
---
Carpenters Workshop Gallery, an art and design gallery that produces and exhibits what it calls "functional sculptures," is known for exhibitions that highlight the work of one artist. However, its latest show, Art Light, now at its Fifth Avenue gallery in New York City, features the limited edition light fixtures of multiple international artists and designers. After a successful run last year at the gallery's Paris branch, this iteration showcases some classic pieces as well as a selection of new works.
Director Ashlee Harrison says it was a challenging process to put together a show with such a diverse collection. "All of the artists in the show have a strong aesthetic and personal narrative. There is a wide variety of material, scale, and process, but the common thread is the sculptural element in each of the works."
The lighting elements presented range from sleek and contemporary to outsized and whimsical. The Open Space series of lamps by Morgane Tschiember are comprised of tube-like fluorescent fittings surrounded by concrete, while Raft Cats by Stuart Haygarth features a Corian and spun metal shade with a group of feline figurines at its base. As Harrison notes, "There are touches of playfulness, but the functionality is still there, each piece has that balance."
These objects of artistry and utility, which include wall sconces and chandeliers, are displayed like traditional artworks or sculptures. Tabletop lamps sit on pedestals, and the walls are not standard gallery white but painted a deep charcoal color so that the illumination is amplified throughout the space.
While many design exhibits focus on home furnishings, with one or two lamps on view, Harrison believes that lighting will continue to gain in popularity, not only as a decorative accent for interiors, but as standalone artwork. "Lighting is a highly collectible design element. In the show there are innovative designs made of new materials, but these are also pieces that make you feel something. I hope viewers are inspired."
Art Light is on view from January 26-March 4 at Carpenters Workshop Gallery in NYC, 693 Fifth Avenue.
Raft Cats by Stuart Haygarth
Embrace by Atelier Van Lieshout
Table Cocoon by Nacho Carbonell
Lathe Lamp by Sebastian Brajkovic
Les Cordes by Mathieu Lehanneur
Manhattan by Frederik Molenschot
Barometro Table Lamp by Giacomo Ravagli
Swarm Study X by Random International
Eiffel Tower Lamp by Studio Job