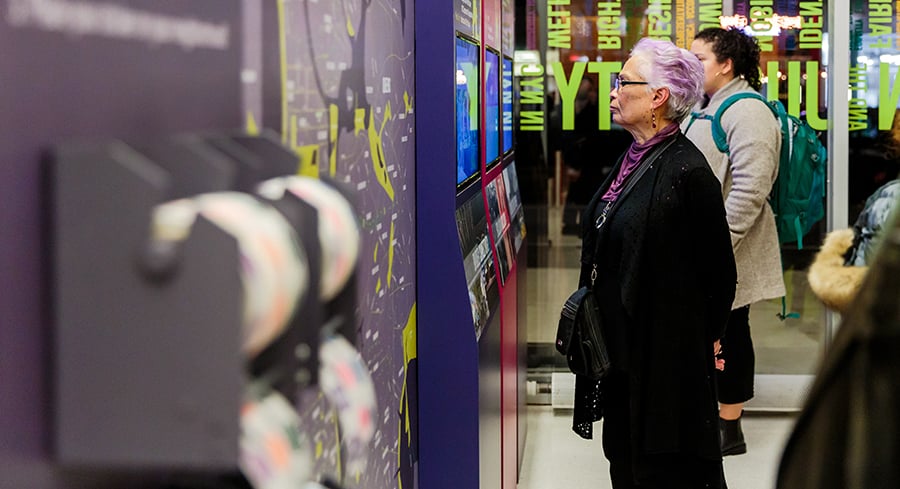 January 16, 2019
Design and the Just City in NYC Opens at the Center for Architecture
At the exhibition, open through March 30, Harvard GSD's Just City Lab presents five projects that use design to counter injustice.
Last Thursday night, a crowd gathered at the Center for Architecture (CFA) in New York City for the opening of Design and the Just City in NYC, a small but dense exhibition tucked into a corner of the space's ground level. Curated and presented by the Just City Lab at Harvard GSD, the exhibition displays five New York projects that use design and planning to address systemic racial and spatial injustice—strategies ranging from a completed charter school and mixed-use campus in East Harlem to a diversity plan for a public school district in Brooklyn.
The show, like the Just City Lab itself, approaches designing for justice as a research question. "There is such a heightened need to think about justice. Not just equity, not just equality, but justice," says professor and planner Toni L. Griffin, who directs the multidisciplinary research group. "It was really important for us to test, and be a bit provocative about, whether or not injustice is something we can help dismantle through design. I think framing it as a question keeps it as a pursuit."
The Just City Lab frames justice as a design value, akin to the more established values of sustainability, resiliency, equity, and diversity, but emphasizes the contextual, participatory nature of the term. The Lab's Just City Index—50 concepts that create an environment of justice, like choice, democracy, mobility, and power—provides an "adaptable tool" for communities "to describe and create a vision statement for the specific aspect of justice that's important to them," says Griffin. The Index is presented as part of the CFA exhibition.
The idea that communities must be empowered to create unique definitions of justice is central to Design and the Just City. "When we looked at other frameworks that used values—whether it's a resiliency index, happiness index, a livability index—it pre-prescribes for you, 'You're resilient if you're this,'" Griffin explains. "We thought it was important to have an index that allows each community to self-select the values that are important to them."
The curatorial team selected the five projects as case studies that, together, would represent both a range of locales in New York City and design fields. Each, presented as a slideshow, identifies a unique set of manifestations of injustice—many of them resulting, at least in part, from past design and planning decisions—countered by different justice-motivated strategies.
---
For example, take the D15 Diversity Plan led by WXY with the NYC Department of Education and the Center for Racial Justice in Education. It aimed at counteracting segregation in Brooklyn's District 15 intermediate schools, a condition exacerbated by a grades- and test score–dependent process of admission. Over the course of a year, the project team engaged the community in public workshops, encouraging parents and residents to develop strategies to improve integration and opportunity. Among those chosen: equitable admissions, better access to information, free transportation, and the creation of a full-time coordinator to help monitor progress.
The sheer density of information on show in this very small space makes one wish for a web or print version to peruse at home, where the mix of architecture, planning, and research approaches might be more deeply considered. Absent that, however, one can sit and spend time with each project; the exhibition designers built out gallery benches that are painted a cheerful chartreuse. On opening night, architects, planners, and students crowded in, snapping pictures and adding stickers to a map of the city to mark spaces of justice from their own experience.
Design and the Just City in NYC is the second iteration of the Lab's curatorial efforts, the first of which, shown at Harvard GSD in spring 2018, featured projects from across the country. With both exhibitions, says Griffin, "we're giving people a different lens by which to think about how they design, what they design, who they design with, and the collaborations that can happen if you think about issues of justice."
You may also enjoy "The Architecture Lobby Launches Case Studies of Fair Labor Firms."