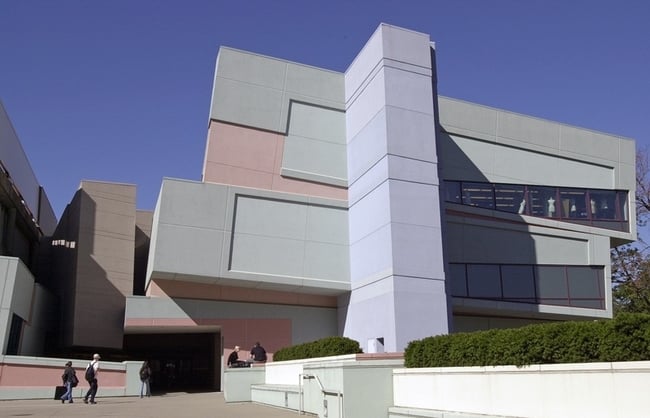 January 30, 2017
Diversity Champions: 8 Schools That Aren't Just Paying Lip Service To Diversity
Many colleges are working to be more inclusive, but these architecture and design schools are going above and beyond.
Courtesy RISD
Although diversity and inclusion initiatives have been sweeping universities across the U.S. for years (and for good reason), the need to openly and proactively recruit diverse students has only crystallized since the election of President Donald J. Trump. The following eight design and architecture schools (plus two honorable mentions) stand out for taking their diversity efforts above and beyond the rest. From scholarships to inclusive faculty training programs, these schools are game changers, setting a new precedent for more inclusive higher education.
Courtesy University of Cincinnati
University of Cincinnati is one of the premier institutions for industrial design, and adding to their accolades they are now considered a "Diversity Champion" by Insight Into Diversity, the oldest magazine devoted to Diversity and Inclusion in higher education. Recognized for their efforts in diversifying their full-time faculty, an initiative organized by the Office of Diversity and Inclusion, the school hired 26 new underrepresented minority faculty members and hope to continue their efforts into 2017 with the Urban Futures Faculty Cluster Hiring, which will provide $4 Million dollars to hire tenured track faculty for research proposals that center around "affordable housing; educational equity; race, policing and community crime prevention; urban inequalities; and gender and urban sustainability."
---
Courtesy Zara Tzanev
Historically, Harvard is one of America's best institutions, and their Graduate School of Design is no exception. GSD recently announced a new fellowship created by Phil Freelon—a leading architect in contemporary practice and a former recipient of the GSD's Loeb Fellowship, which promotes diversity in scholarship. The new fellowship will provide a full tuition scholarship to a minority student. The GSD also outlines numerous commitments to diversifying their students and faculty on their Diversity Initiatives page. However, Harvard is a standout because of their unparalleled amount of student groups: 18 student-run organizations that promote diversity, including GARLIC's GSD (Chinese design issues), GSD MEdiNA (Middle East and North Africa Design issues), and QiD (Queers in Design).
---
In addition to being listed as one of Forbes' Top 25 Public Colleges, the Princeton Review also ranks VA Tech 7th in the Nation for "Lots of Race/Class Interaction". A campus-wide effort to make diversity a priority has also led to its  recognition as a "Diversity Champion" by Insight Into Diversity. In addition to the diversity of the student groups, the school also hosts a lecture series titled "Intersections: Interdisciplinary Conversations about Social Justice and the Built Environment." Moreover, Virginia Tech has some amazing initiatives to promote new forms of pedagogy, literally teaching teachers how to enable inclusive classrooms.
---
Ranked in the Top 50 in the World University Rankings, The University of Texas, Austin is one of America's best public universities. While the school has many initiatives supported by Their Department of Diversity and Community Engagement, , including a 3-tiered approach to thematic hires (hoping to fill the gaps in faculty to support a more diverse learning environment), one of the shcool's most impressive feats is their 28 year old Multicultural Engagement Center. Since the beginning, MEC's provides "six student-run agencies, provides leadership development opportunities, presents peer-facilitated social justice and education trainings, offers a number of support services to student organizations, and hosts community outreach programs such as culturally relevant campus tours and student panels."
---
Courtesy Auburn University, College of Architecture Design & Construction
Not only does each college inside of Auburn publically publish their strategic plans for their diversity initiatives, but they really put them in place as well. A look at the enrollment numbers over the last 40 years at Auburn shows that while enrollment isn't ideal, it is getting better every year. Auburn's Educational Opportunity Resource Center shows what's the driving force behind these numbers, and how the university has strived to "implement best practices for recruiting and retaining students from diverse backgrounds; provide underrepresented students with information about financial aid, careers, tutoring, and mentoring."
---
Courtesy Flickr Creative Commons
Ohio State is known around that United States as a premier university but is attempting to be better known for it's diversity efforts. One of the most giving and rewarding centers is their Bell National Resource Center on the African American Male. With initiatives like the Early Arrival Program and Project 25, the center also has a fellowship program for any scholars pursuing topics related to African American Males, the lowest lowest demographic currently in higher education. Ohio State also has numerous endowments for students the LBGTQ community to help with cost of their education.
---
Courtesy Eileen Barroso/Columbia University Office of Public Affairs
Columbia University has a household name in academia and in the field of Architecture, but is also doing some impressive efforts around providing safe spaces for its student LGBTQ student body. Providing students with on campus safe zones adn provide extensive resources to Trans community members on for things like a gender neutral bathroom maps, housing accommodations, and have even instituted a "Preferred Name" policy. They are also a "Diversity Champion" by Insight Into Diversity.
---
Courtesy RISD
One of the most impressive efforts in diversifying their populations goes to RISD. Part of this expansion includes a Martin Luther King Lecture Series, providing the RISD and local communities "with meaningful moments of service, reflection, self development, inspiration and celebration.". In addition to the lecture series, Project Open Door is extensive programming to reach out the the inner city of Providence. And also check out RISDiversity, a college wide, multimedia project documenting and collecting various narratives of students with different backgrounds.
---
Honorable Mentions:
Carnegie Mellon also boasts extensive efforts to bring attention to Diversity and improving it in their campus. One highlight of their efforts are their inclusive and intensive pre-college summer courses. Being completely free, this summer programs is for students of diverse backgrounds to attend and explore the fields of their potential interests, such as architecture  or design. Furthermore, the college recently announced their Spring Lecture series – a line up of all women speakers.
Cornell University, Architecture, Art and Planning has many efforts to diversify their populations including their Center for Intercultural Dialogue. This center does has a unique approach to continuing open dialogue across many student ethnic groups, guiding by a program they call Breaking Bread, which "brings different groups for dinner and facilitated discussion to drill down more deeply into important issues and learn more about each other, leading to greater understanding and appreciation of different backgrounds, perspectives, and world views"