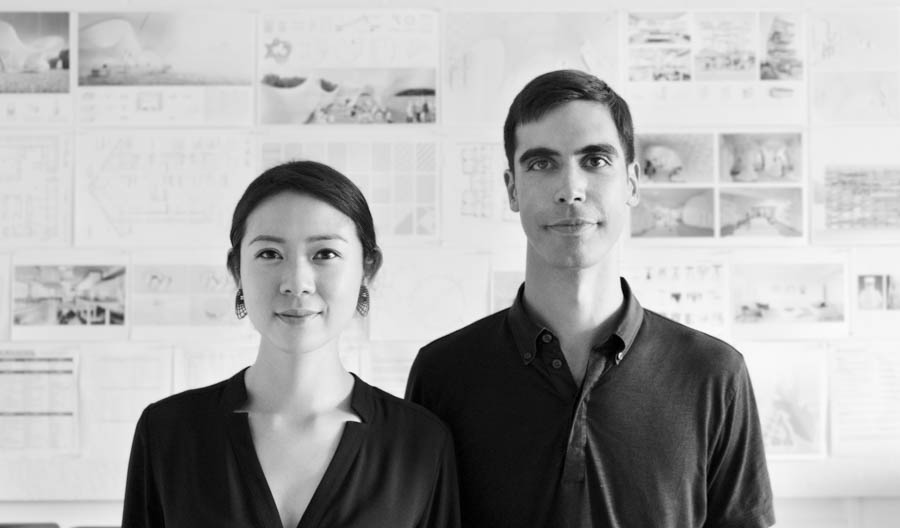 July 10, 2020
With Interactive Concepts and Unfussy Materials, Hou de Sousa Knows "What the Public Wants"
New York designers Nancy Hou and Josh de Sousa create public art installations driven by practicability, adaptability, and a keen awareness of what delights.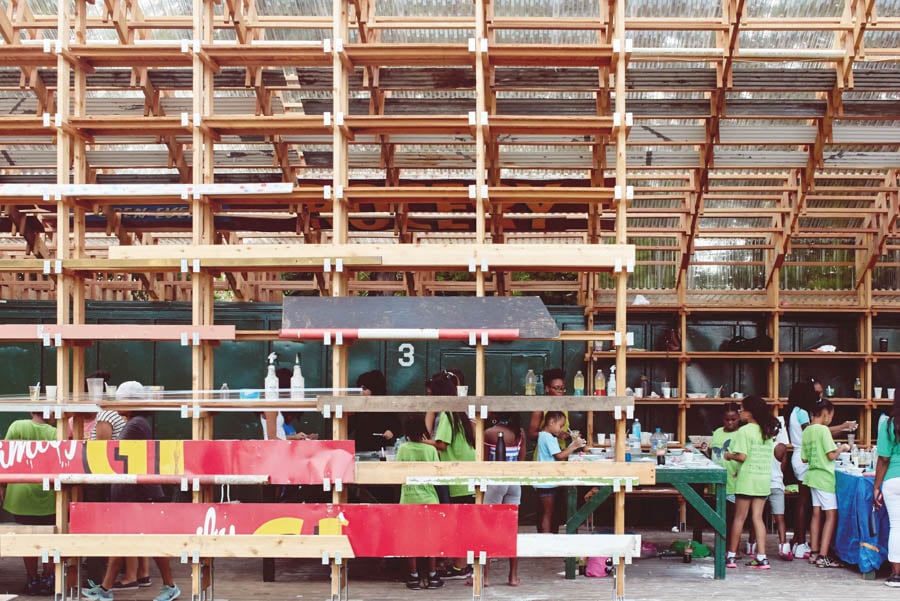 Hardship breeds innovation, as the adage goes. When architects Nancy Hou and Josh de Sousa graduated from Harvard GSD, the Great Recession awaited, sending them to Quito, Ecuador—where Hou grew up—to follow a few hospitality commissions and interior renovations. They relocated to New York about three years later after receiving two big residential projects, only to find that they had been nixed. "We were like, 'Oh, why did we leave Ecuador?' " recalls de Sousa. But by all accounts, any early doubt has dissipated as their collaboration has matured into an inventive, buzzy practice, with a flurry of public artworks that revel in their public and artistic aspects.
An early pavilion by the duo, Sticks, neatly ties together many of Hou de Sousa's priorities and musings. The scaffold like mono-pitched-roof structure serves as a toolshed and an impromptu venue for small gatherings at Socrates Sculpture Park, a beloved green space on the Queens waterfront. It's formally straightforward, with a single prevailing material (lumber), and it embraces—indeed, beckons—physical interaction and modification. Small brackets in the space frame hold scraps, ad hoc sculpture, and other oddments that can be switched in and out, and the pair happily and humbly accept that their work ended when the users (i.e., the park and its visitors) took over. "There's an understanding that the client is going to be changing this thing constantly," de Sousa remarks. "It's out of our hands in a very real sense."
Raise/Raze, the inaugural installation in the disused Dupont Underground tunnel in Washington, D.C., also evinces that open-ended primacy of the public. The 2016 piece is conceptually unfussy and materially simple; its novelty lies in the haptic dynamism it fosters. Hou emphasizes the endless permutations and iterations a simple conceit (in this case, a modifiable block of recycled plastic balls) can entail. "What these projects have in common is the design of what the system is," she says, "which goes back to the flexibility in how the system can be applied."
In some cases, the studio appears to deliberately play up the material and visual qualities of temporary projects, knowing that the public will interact with them tangibly, yes, but more important, digitally, in broadcasting them via social media. Prismatic, an installation of black rebar and variegated fluorescent cord that sat for several months on the Georgetown waterfront in D.C., seemed built for the Instagram era, endlessly kaleidoscopic and ever changing, depending on a visitor's location and sight line. Its cousin Ziggy, a follow-up work composed of the same basic components but arranged as site furniture and a series of portals, drew throngs of curious visitors to New York's Flatiron North Public Plaza during the past holiday season. "After doing Prismatic, we had a handle on what the public wants, and we're going to just give them an overload of it," de Sousa says, likening it to an "Instagram machine." "We did not predict people were going to be as crazy as they were," adds Hou. "It's a holiday installation, so we just kind of ran with that idea."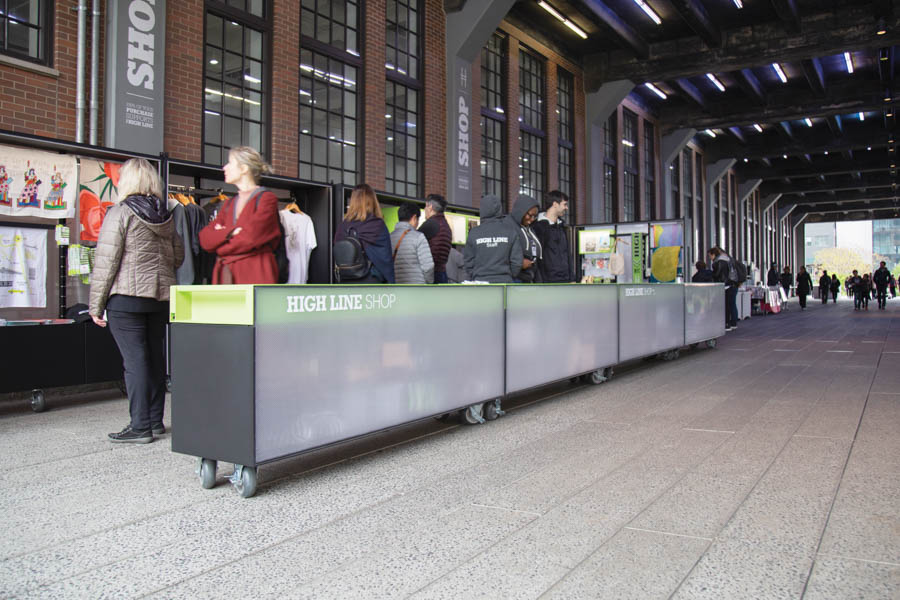 The rationale may sound a bit flip, but for the pair, it's a carefully cultivated, unpretentious approach that pervades the final product. "We haven't been overly concerned with being capital-A architects," de Sousa reflects. "We don't think a project has to be serious to be successful." That delight is often the result of a work style that prioritizes form and material on the basis of what just "works." Hou de Sousa combines generative, high-tech methods with the often-restrictive considerations of labor, budget, and fabrication; the ensuing designs demonstrate a premium on legibility and realizability. Hou explicates this gospel of pragmatism in terms of materials and assembly methods that "make sense given its use and the budget we're given…. With every project we constantly ask the question of how—how is it going to get built?"
As in most conversations these days, I spoke with Hou and de Sousa over Zoom, the videoconferencing app that has replaced meeting rooms, neighborhood bars, and street corners. The studio has been working on Go—an upcoming pavilion on Google's main Mountain View, California, campus—which encourages visitors to physically spin its constituent discs. While the duo aren't second-guessing their commitment to tactile interaction (who could have predicted the precepts of social distancing and hygiene?), the pandemic has challenged them to reconsider their work in light of new requirements. "Design still has an obligation to bring pleasure, joy, and culture to the public," de Sousa stresses. Asks Hou, "How do we bring people together, but separate them at the same time?" It's a difficult, paradoxical question that will condition how we live and build for years to come. But if the pair's experience navigating past hardship is any indication, it's also one that Hou de Sousa will be well prepared to answer.
You may also enjoy "Worrell Yeung Transforms a Former Factory Into a Hub For a New Generation of Makers."
Register here for Metropolis Webinars
Connect with experts and design leaders on the most important conversations of the day.