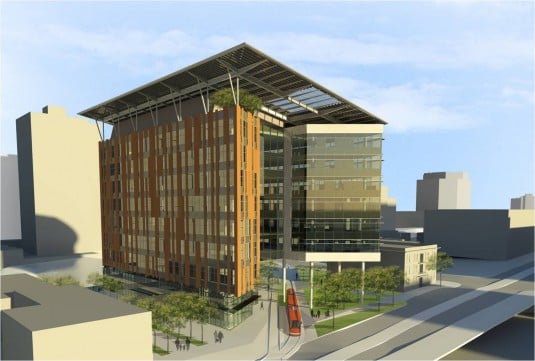 March 22, 2012
Innovation for Hire
Courtesy SERA Architects and GDB Architects Disappointment has become an everyday feeling since 2008 for those of us in the design and construction fields, as we saw too many of our pet projects dematerialize. But the loss is especially painful when a project has more potential for innovation than others. For me, the recent decision […]
Courtesy SERA Architects and GDB Architects
Disappointment has become an everyday feeling since 2008 for those of us in the design and construction fields, as we saw too many of our pet projects dematerialize. But the loss is especially painful when a project has more potential for innovation than others. For me, the recent decision of the Oregon State Legislature not to fund the Oregon Sustainability Center was devastating, but I am still hopeful for a powerful outcome.
The team behind the Oregon Sustainability Center (OSC) has offered up a visionary prototype for tomorrow's built environment. The center was designed to demonstrate how buildings can be resource neutral or even restorative. The design for the 130,000 sq. ft., seven-story OSC included classroom, conference, research and exhibit space. Seen as home to leading environmental and sustainable development organizations of all sectors — public, private, nonprofit, and higher education — the OSC was to be a true living laboratory, a sustainability beacon for Oregon.
This living laboratory for sustainability-related research was envisioned as a testing ground for the commercialization of technologies; and served as a convener for people, ideas, education, and research—all collaborating to advance sustainability learning and practices. At the time it was conceived, the OSC was thought to be the nation's first urban high rise project to pursue the Living Building Challenge, achieving triple net-zero performance: producing enough energy onsite from renewable sources to meet all of its needs; capturing and reusing all rainwater; cleaning and filtering all wastewater generated onsite.
As a partner in the OSC, my organization, Oregon BEST (Oregon Built Environment & Sustainable Technologies Center), committed to working in tandem with the design team. We were set to make this building a platform for learning about how Living Buildings really work—during design as well as in operation. For the past two years since starting with Oregon BEST, I have worked to continue the effort to generate a series of research projects that would answer the questions of whether and how such high-performance buildings could meet their performance objectives. Forty faculty members from across the Oregon university system gave their time over the entire span of the project, in an effort to understand what the development team was really working towards achieving with the new kind of building they proposed.
This collaboration culminated in a robust set of 11 projects that explored such topics as net zero energy, water consumption, occupant comfort and behavior, and advanced building materials. The research agenda was created by Oregon's academic institutions, in concert with a proposed lab space for ongoing research projects in the building that was to have been managed by Oregon BEST. The effort was to be the single greatest attractor of corporate partnerships in the project.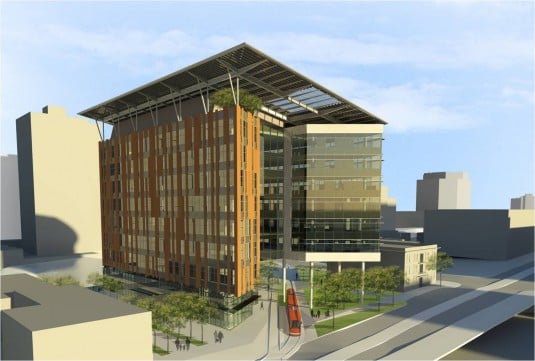 Courtesy of SERA Architects and GDB Architects
The community of companies that got engaged in this research program inspired us to create the Oregon BEST Sustainable Built Environment Research Consortium, a program which engages private companies in shared research projects, in conjunction with our university partners. As it turns out, the ability to deploy, test, and demonstrate emerging technologies in a building designed to host such demonstrations is a relatively uncommon opportunity. The consortium is designed to make such demonstrations more accessible to both building owners and manufacturers.
The Oregon State Legislature, arguing that a project that represents economically sustainable practices and wise investment opportunities should be undertaken by the private sector, not government. So they voted against bond funds that would finance the state's portion of the project. Without debating the nuances of the legislature's decision or its merits, I can say that the state has passed up an opportunity to invest in a state-of-the art project that would maintain and significantly advance Oregon's leadership position in innovation towards high-performance urban environments.
In the wake of the legislators' decision, I remain optimistic about what the results of our two-year collaboration have taught us, despite our disappointment that the OSC is not moving forward as originally conceived. I am hopeful because the effort to achieve the Living Building Challenge in an urban setting brought together a remarkable array of talented people representing a great deal of regional expertise. The ownership group (the City of Portland and the Oregon University System) assembled experts, primarily from Portland, that broke their own conventions in the effort to work together. Add to that the community of outside advisors on design, and you have the greatest architectural and engineering talent ever assembled to create something visionary and of shared value.
Today we have a community of practitioners who are familiar with the resources available to them in Oregon BEST's Member Faculty. They now know how to pursue collaborative research on their other projects. This community of practitioners has demonstrated abilities, and is ready to hit the ground running given the opportunity.
The skills developed in pursuit of the OSC have already demonstrated economic benefits. Just this past September, Interface Engineers, the OSC engineer of record, was awarded a massive project in the Middle East. As Interface's Omid Nabipoor stated, in testimony to the Portland City Council, "We competed for this project in Qatar against many, many large engineering, architecture firms from all over the world. Because of our combined and vast experience, because we were a Portland-centered business, we were able to beat a lot of these teams and get this project." I am optimistic that the competitive spirit of our professions will drive ever further innovation, and only hope that Oregon is able to retain that expertise through future projects here at home.
I still hold out hope for the OSC because the project continues to enjoy a broad base of support and the project team is committed to working in partnership toward the construction of the OSC. The need for OSC – as university space, as research facility, as jobs generator, and as a physical manifestation of Portland's and Oregon's leadership in green technology ––persists. The project team is looking at all available financing options in the private market and is having conversations with potential investors.
In the event that this particular living building is not built, our ability to pursue all 11 of the OSC's research projects in a single building may be at risk; but I wouldn't discount it. These research projects emerged in response to the demand for the insights they would have offered us. The need for understanding complex, integrated buildings, systems, and their occupants grows with every building owner that decides to pursue the Living Building Challenge, or (perhaps more importantly) even every one that decides against doing so.
I'm also heartened by the knowledge that we have significantly more resources than we had when we started this exploration several years ago. We have the coalition of more than 15 businesses and organizations that created the Sustainable Built Environment Research Consortium to fund projects of shared interest, including two that are underway, working to answer questions on materials and behaviors raised by the OSC, answers that are of value to the industry at large. The OSC has primed the pump. Oregon BEST is ready to direct that energy where it is needed.
---
Johanna Brickman is sustainable built environment program manager at Oregon BEST (Oregon Built Environment & Sustainable Technologies Center).