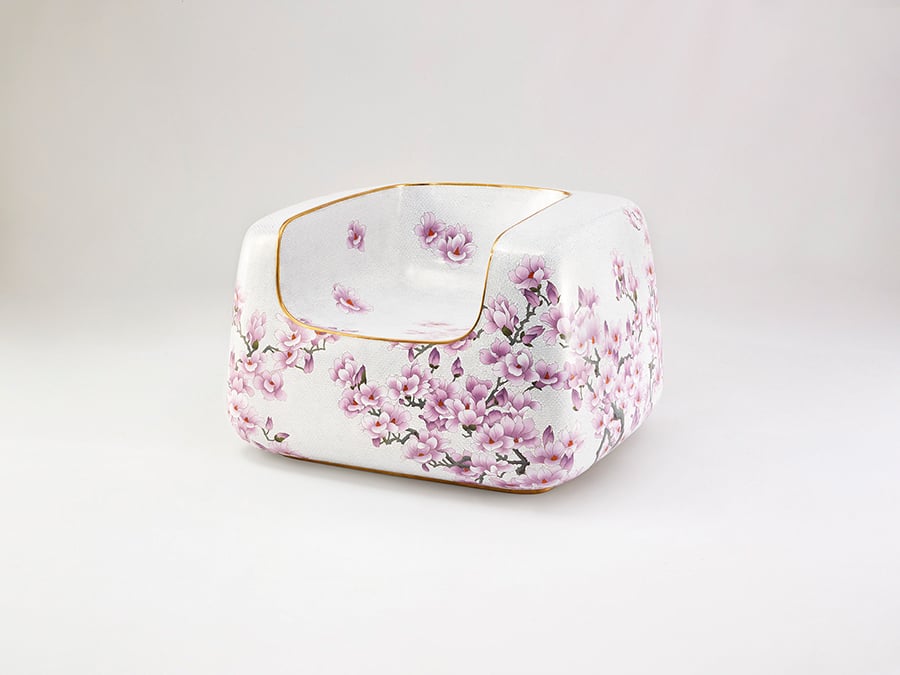 January 28, 2019
At Gagosian Show, Marc Newson Highlights Uncommon Craft Techniques
Trained as a jeweler and silversmith, Newson tells Metropolis that he's intrigued by rarely-used materials and crafts. The show features designs made with cloisonné and Venetian glass-making techniques.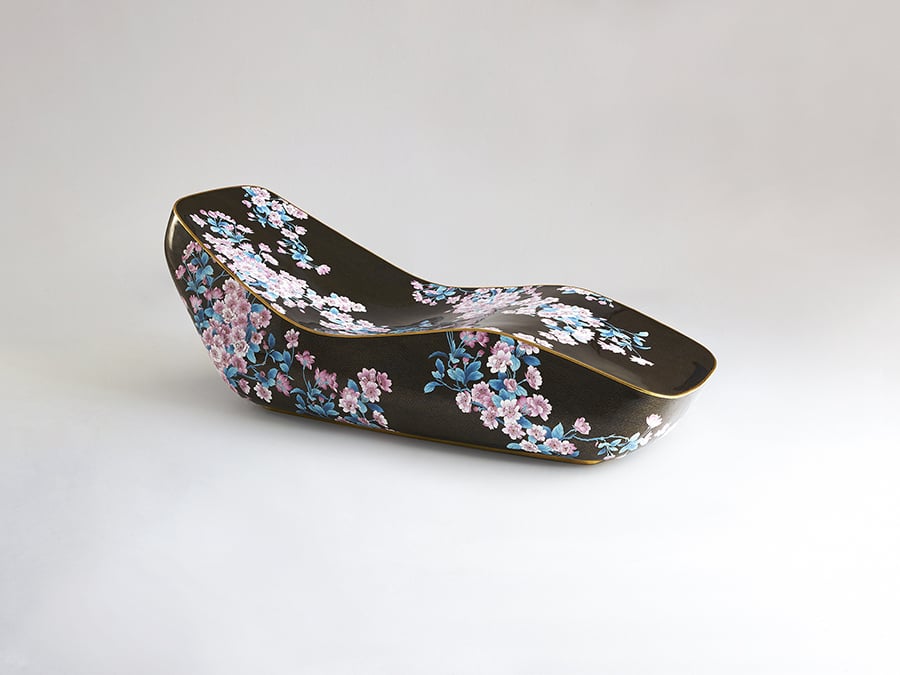 ---
Australian-born, London-based designer Marc Newson is having his first exhibition of limited-edition furniture in more than a decade at the Gagosian gallery at 522 West 21st. St. in New York.
On display through February 20, the works include chairs made of cast glass in a variety of rainbow hues; pieces made in cloisonné; a new series of aluminum surfboards; tables, desks and consoles made of Murrina glass; and three Aikuchi swords made of wood, brass, steel, and ray skin. Most of the objects—except for the swords—are available in editions of three, plus two artist's proofs.
Interviewed at the press preview for the exhibition, Newson said he had trained as a jeweler and silversmith in his home country, as a way "of learning how to work with materials." He said this training taught him "how to work with materials in a really specific way, particularly metals, in ways that are not considered by the worlds of design and architecture."
Newson said he is especially intrigued by materials that are no longer popular and by techniques that, for the most part, are not widely practiced. Such crafts "involve very specific levels of understanding, in most cases techniques that were developed centuries ago. It's very difficult to find people to do them."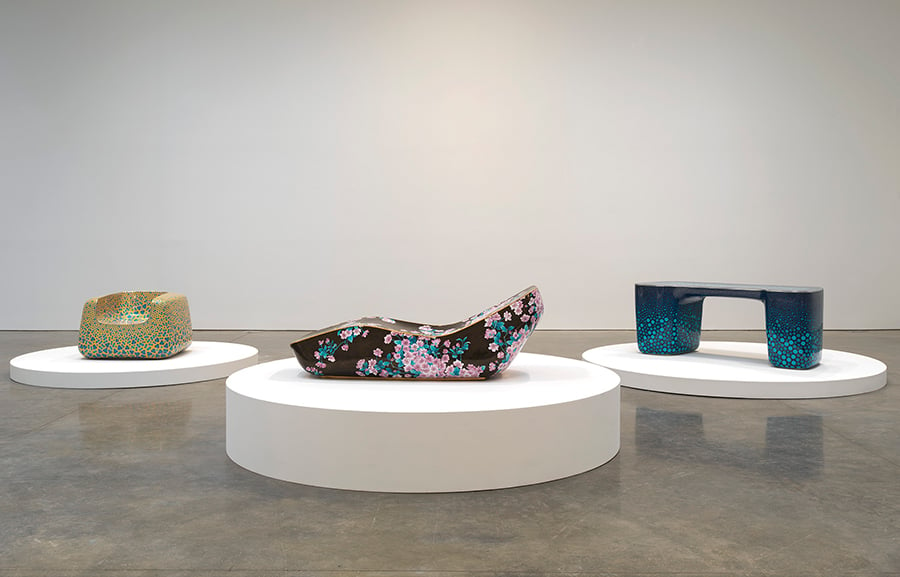 ---
Nevertheless, when seeking to make these latest creations, he was able to identify people in China whose parents and grandparents had been cloisonné artists. Newson "essentially built a factory and infrastructure around them" in order to execute his designs. Not all the show's items were made in China, however. The Murrina works employ a classic Venetian glass-making technique that fuses glass rods together and then slices them to reveal patterned cross-sections, all on a huge scale. These Murrina pieces were made in the same place in the Czech Republic where Bohemian glass has been blown for centuries; the cast glass chairs were also made here. (Gagosian has said the identity of the exact Czech manufacturer is confidential.)
The Japanese swords were made by Newson in collaboration with swordsmith Saburo Nobufusa Hokke, a Japanese Living National Treasure from the Tohoku region.
The gallery said that "by relocating these objects into the realm of fine art, Newson underscores their cultural significance, showing the value of technical precision to be both a functional and an esthetic concern."
Newson, who has called design "a great opportunity to improve on what is already out there, to simplify, to beautify, to technologically improve," explained he enjoyed "the impossibility" of the works in the exhibition. "I admire the craftsmanship and the ability of the people who made them. Crafts skills are dying, if not dead. In many ways, we're regressing as a civilization completely."
Newson was recently appointed chair of the International Design Council of the Design Museum in London. His work is in the collections of museums worldwide, and he has ongoing relationships with companies ranging from Apple, Louis Vuitton, Montblanc, and Hermes to Nike, Don Perignon, and Beretta, creating designs that span sectors such as technology, yachts, aerospace and fashion.
You may also enjoy "Heatherwick Studio Transforms Derelict London Rail Sheds Into Retail Destination."