October 25, 2018
Think Investing in Good Design Is a Waste? Think Again.
A groundbreaking new study from McKinsey & Company shows that companies who invest in good design reap major fiscal rewards.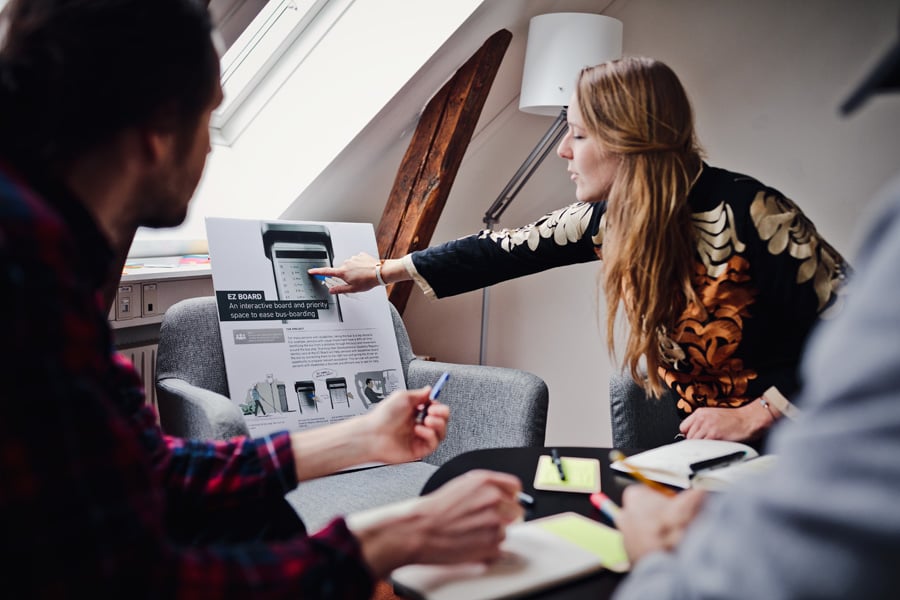 Within the design community, the value of so-called "good design" is an oft-discussed—and largely unscrutinized—issue.
Of course, science and research increasingly demonstrate that design has the ability to benefit our physical health, our productivity, and our well-being. And it goes without saying that being in an airy hotel lobby or scrolling through a beautiful website just feels good.
But how are businesses—the actors with both the decision-making power and the capital to implement game-changing design ideas—to know if design, in the long run, is a worthy investment?
A trailblazing new report issued by McKinsey & Company aims to provide a solid business case for design—with the numbers to back it up. The study, unveiled today by the management consulting firm's newest arm, McKinsey Design, shows that companies that strategically invest in design reap significant fiscal rewards.
McKinsey Design surveyed 300 publicly-traded companies—evenly distributed across the consumer goods, medical technology, and retail banking sectors—over a five-year period to measure firms' financial growth alongside their design capabilities. During the research phase, the firm collected nearly 2 million pieces of financial data and more than 100,000 separate "design actions," and compiled them into a single indicator called the McKinsey Design Index (MDI), which scores companies on a scale from zero to 100.
The researcher's findings were stark: According to the report, companies with the highest MDI scores increased their revenue by as much as 32 percent over the five year period, as compared with their industry peers. The firms similarly increased their total returns to shareholders by 56 percent. The findings, says report co-author, Benedict Sheppard, "elevates design to a C-level topic."
But "design" as outlined in this study asks participants to consider a broader a spectrum of definitions—one that likely goes beyond what is conventional for practitioners such as architects and interior designers. McKinsey grouped the company's various "design actions" into four discrete themes: How companies leverage design data to make smart decisions (dubbed "more than a feeling" in the report); How companies factor in user experience across products and services ("more than a product"); How firms integrate design expertise across teams ("more than a department"); and how companies iterate and advance ideas over time ("more than a phase"). Companies who actively pursue growth across all four categories—be it the design of a banking app, or instating a designer on an executive team—inevitably score higher the index. "Design isn't just about a color, material, finish—it isn't about a beautiful chair," asserts Sheppard. "This is pan-industry. This is a global topic."
To designers and business owners alike, many of these items can feel like smart business practices, rather than a design concern. And as with all studies, there is the underlying question of correlation versus causality. Is 32 percent revenue growth strictly a product of smart design thinking, or one of visionary leadership, or simply a desirable good or service? "This is a social science, so every study is one of correlation," says Sheppard. "What gives us confidence is when we gave [our findings] to our social scientists this is one of the strongest correlations they saw. And not just tied to the overall MDI number, but the four separate themes."
Aside from the numbers, it also lends credence to a set of beliefs the industry has held for decades. "This finally proves what designers have been going on and on about for years and years and years," said Dezeen's Marcus Fairs during a panel discussion that followed the report reveal.
"It's validating," echoed Jenny Arden, AirBNB's director of design. "There's a lot of initial intuition from what our users are telling us that we bring straight to the C Level…but if your company is too heavy on intuition and there is no robustness behind your decision making, that's also a problem."
Of course, not all designers have access to a C-Suite. And of course, not all business even have a C-Suite. But the report's key takeaways are persuasive and McKinsey Design is making the principles applicable and accessible even to small firms: Beginning November 9, companies can take a free, 30-minute assessment to better assess its design capabilities and where opportunities for growth lie.
Sheppard and his research team hope that such findings will empower designers—armed with quantitative evidence—when speaking with companies, and also compel company leaders to make designed-based decisions.
"I think it may raise the bar for everyone," says Sheppard. "Regardless of whether you're working on a medical device, which helps people, or are improving a car dealership experience, which just makes your day slightly less frustrating, all make the world a better place…We don't have an option not to do it."
You might also like, "Why Architects Need to Get Dirty to Save the World."