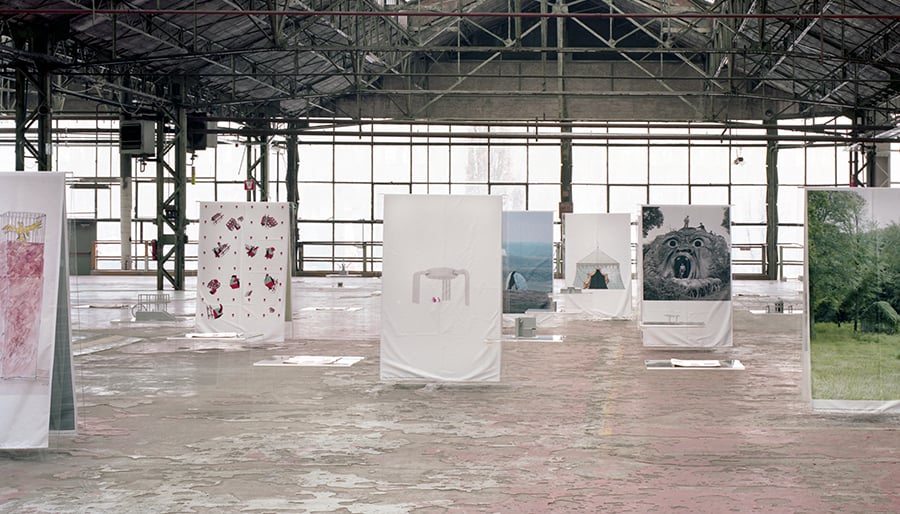 March 27, 2019
The Architectural Folly Attempts a Return at a Brussels Exhibition
Miscellaneous Follies at the KANAL – Centre Pompidou argues that in today's post-truth world, the spiritual, sensual, and ambiguous folly has acquired a new resonance.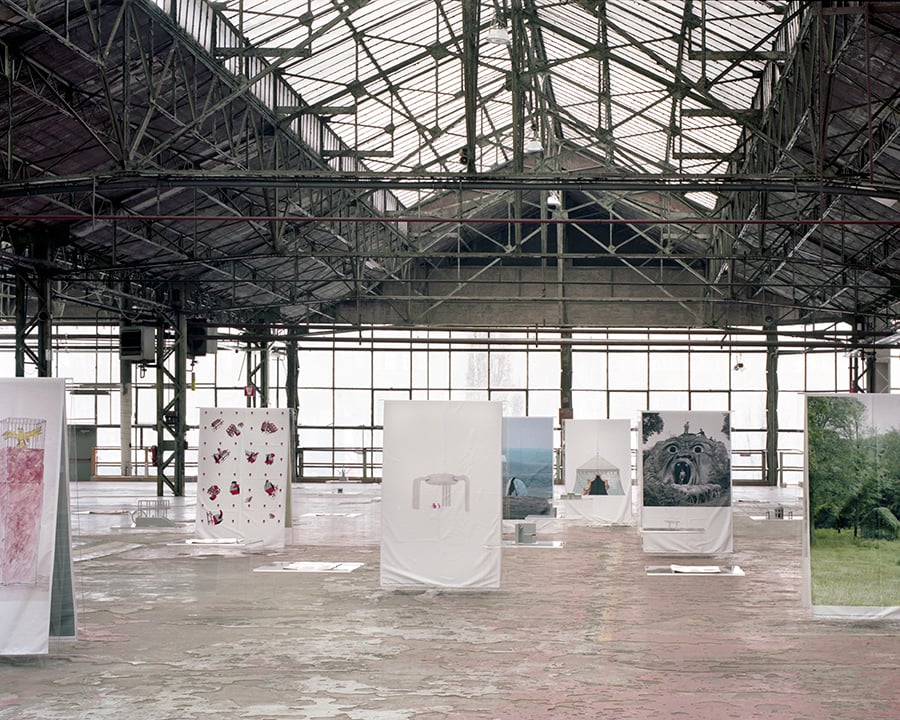 ---
The folly, as an architectural type, is a provocative and perplexing phenomenon. Ever since 16th century arts patron Pier Francesco Orsini created the Parco dei Mostri in central Italy—where monstrous purpose-made ruins and sculptures have intrigued visitors for centuries—this ostensibly functionless typology continues to channel spirituality, sensuality, ambiguity, and the unknown. In today's era, where Modernism's pursuit of a unifying narrative has been replaced by an embrace of mixed messages and post-truths, the folly has taken on a new resonance. That idea is the focus on the new exhibition Miscellaneous Follies at KANAL – Centre Pompidou in Brussels. As Cédric Libert, one of the show's curators, said at the show's opening, "The contemporary condition is this very unstable world, of infinite quantities of messages. At the same time, the interesting thing about the collapse of one great narrative, is that we can all [have] multiple [narratives]."
The exhibition is the result of extensive research by architects Benjamin Lafore and Sébastien Martinez-Barat, who curated and designed the show alongside Libert and cocurator Michel Mathy. Presented in one of KANAL's hall-like spaces, Miscellaneous Follies features a grid of gray architectural models (set atop acrylic plinths) paired with large-format images displayed on A-frames. The curators built the models and organized the photography, which reference a wide range of follies both built and imagined. Thus, the exhibition unfolds like a landscape to be freely explored. There is some organization, however: Certain areas focus on particular tropes, such as monsters, facades with horrific faces, temples, grottos, pyramids, and more (including Frank Gehry's fishlike model for a prison). By agglomerating these types, the show makes them appear like a closely-related species that evolved over the centuries in different places.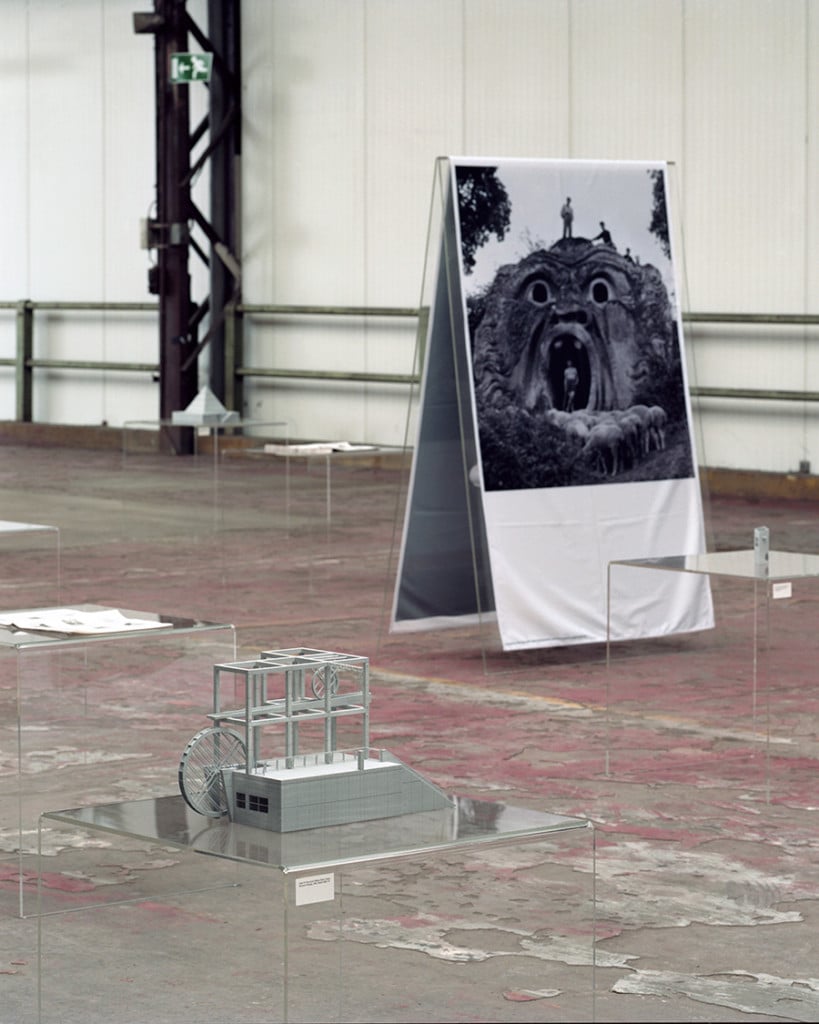 To help visitors understand these tropes, the curators and designers created newspaper-format guides that are available to guests on the acrylic plinths. So, for the 'parcs à folies' trope (a gardenlike landscape that has served as a typical backdrop for the erection of follies), the newspaper guide depicts examples from the Parco dei Mostri, London's Kew Gardens (1736), the Folie Saint James in Paris (1777), Bernard Tschumi's Parc de la Villette (1987), and the Gwangju Folly project of the 21st century. Other tropes include ornate trellises from late-nineteenth century Chantilly and Linderhof Palace, and Arata Isozaki's Osaka follies (1990).
Despite the newspaper guides, the undeniably well-researched Miscellaneous Follies suffers somewhat from a density of knowledge that fails to translate into the exhibition space. The show is penetrable only with a guide, and the models themselves—uniformly gray and plasticky—are not remarkable enough to carry visitors on visuals alone. The content that would be fascinating as a book falls short in an exhibition context.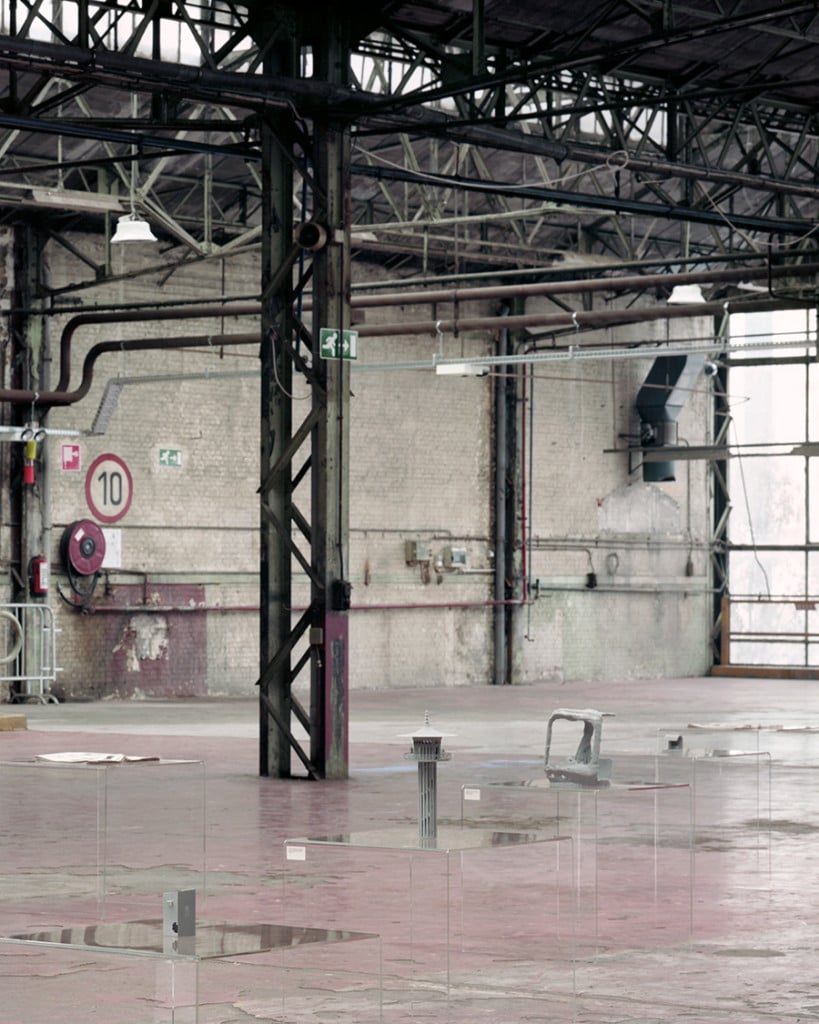 What's more, Miscellaneous Follies is swallowed by its extraordinary surroundings. KANAL – Centre Pompidou is a new cultural center currently emerging in a 1930s, 376,000-square-foot former Citroën factory in the Molenbeek area of Brussels. With its curtain walls, folded ceiling, and exposed trusses, it's a structure as rational as a folly is irrational. In its current state, known as "KANAL BRUT," the space is open to the public for 13 months until June 2019, when it closes and renovations begin. This means the trappings of the building's former life are left on full display alongside new interventions—Miscellaneous Follies among them. Parking spaces and directional arrows are still painted on the floor, and apparatuses for raising and painting automobiles remain in place. With the building's scale and character intact, the thrill of the visitor experience is more akin to exploring a post-industrial ruin than a future Pompidou.
Miscellaneous Follies and the rest of the extensive KANAL BRUT programming are part of a wider effort to acquaint Brussels residents with the building's cultural potential before it closes for the four years for renovations. The public competition to convert the premises was won by a collaborative team of London and Basel–based Sergison Bates, Zurich-based EM2N, and Brussels-based noAarchitecten. The group beat out OMA and Office KGDVS (among others) based on what noA partner An Fonteyne describes as the team's "natural" approach to the building. "We really tried to deal with it in a very natural way, not turning it into something else and not trying to make architectural interventions that would be in competition with the building," she explains. "We trust in what is there."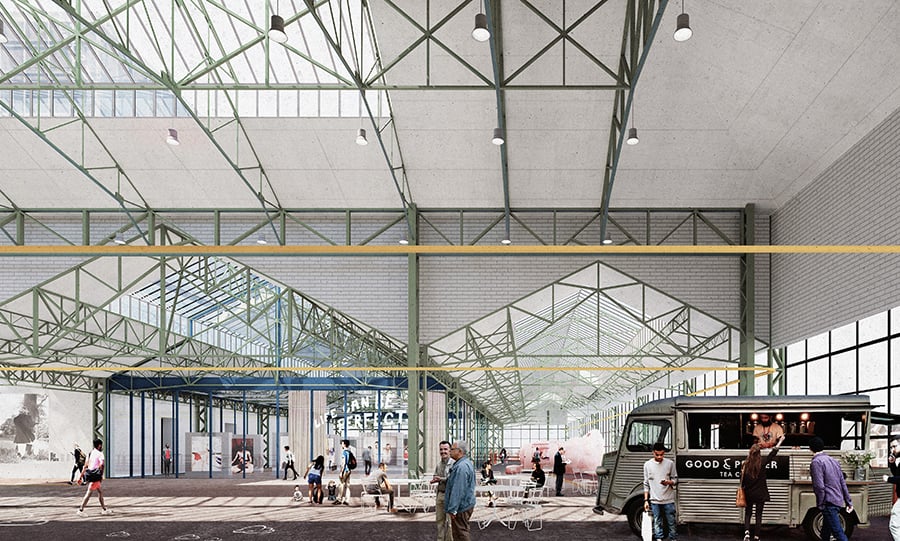 ---
The teams formed a new office, Atelier KANAL, made up of members from each firm plus new employees, who are currently situated inside KANAL and are occasionally visible to visitors with clipboards and drawings, studying the building's details. When complete in 2023, the $150 million KANAL – Centre Pompidou, which is funded with public money and with support from the Centre Pompidou in Paris, will be the first national contemporary art museum in Belgium. The former factory's structure, with its dramatically glazed curved former showroom facing toward the city center, will remain largely untouched, the main intervention being the insertion of three new volumes that will stand independent of the facade but will penetrate underground and through the roof above. These new spaces will house controlled environments for exhibiting artworks.
In addition to gallery space, KANAL will house artists' workshops, a café, performance spaces, and other flexible-use public spaces. "It's easy to call it a city within the city, but I don't think it's that," explains Fonteyne, referencing the project's multiple uses. Instead, she hopes visitors will enter a new mindset on crossing KANAL's glazed threshold. It will be an uncanny affect, she hopes, not unlike the metaphysical resonances of the Miscellaneous Follies: "It's this idea of being outside the ordinary, although it doesn't look so different. It's a way to find concentrations, to allow yourself to enter something else."
You may also enjoy "The Kansas City Fabricator Quietly Exporting Its Architectural Prowess to the World."
Would you like to comment on this article? Send your thoughts to: [email protected]