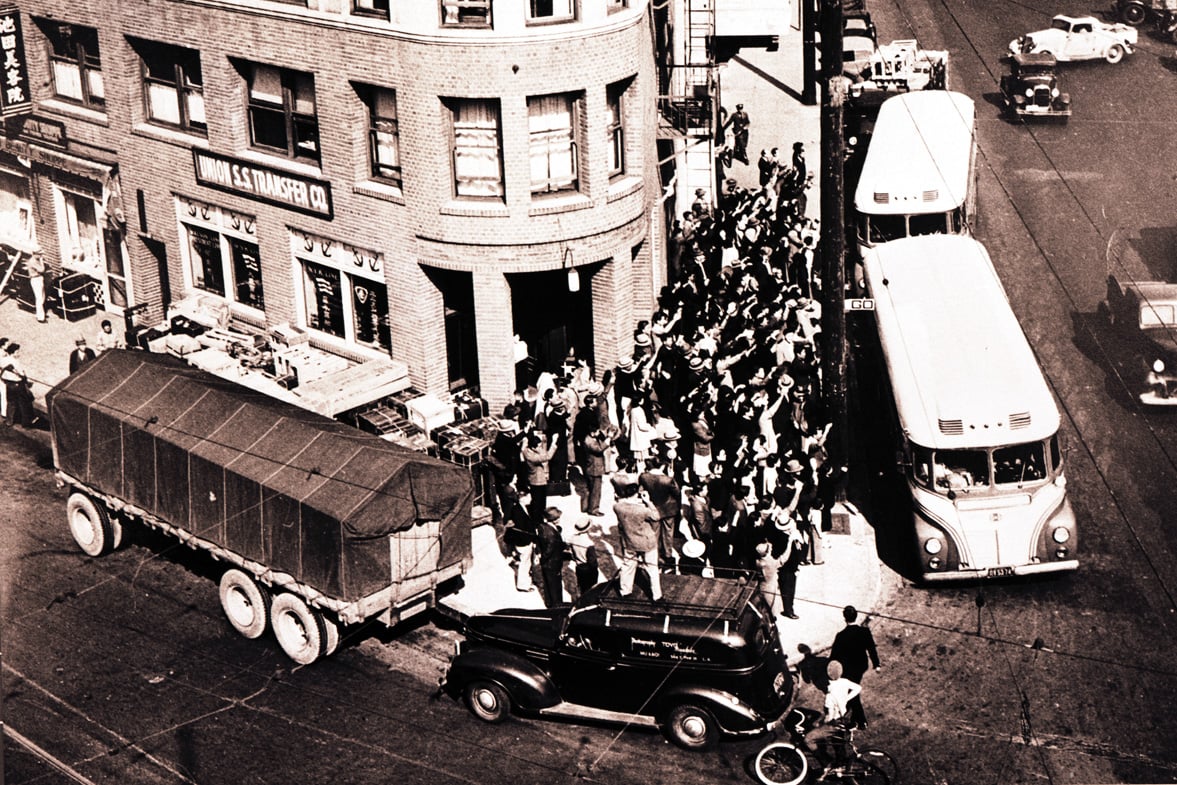 September 9, 2022
Memory on Every Corner: L.A.'s First Street Corridor
First and Central was one of the city's "Civil Control Stations," where buses picked up interned Japanese to take them to one of 10 Concentration Camps nationwide that opened in 1942. According to Japanese American historian and writer Naomi Hirahara, internees were taken to the camps in stages, with most transit carried out in April. A famous March, 1942 photo (above) taken by the late photographer Jack Iwata included dozens of Japanese Americans boarding a bus at First and Central. They had volunteered to go to the Manzanar camp in California's Owens Valley to help set it up as an assembly center. The Japanese American National Museum stands today at this very site to commemorate Japanese American history with a special focus on the legacy of the internment camps.
First and Central is indicative of the deep backstory of First Street, which is quietly one of LA's most historic thoroughfares, filled with poignant memories from the Japanese American, African American, Chicano, Jewish American, Filipino American and Korean American communities. In a city of world-famous roadways, which have commonly been used as movie titles and song subjects, First is much less known. But a closer look at its landmarks and seminal moments demonstrate that when it comes to public memory and historical legacy, First is as significant as Sunset, Wilshire, Crenshaw, Ventura or Hollywood Boulevards.
The First Street Corridor intersects generations, cultures, religions, architectural eras and levels of development. From east to west, it stretches through Monterey Park, East L.A., Boyle Heights, the Downtown Arts District, Little Tokyo, Downtown, Historic Filipinotown (often referred to as HiFi), Koreatown and eventually all the way to Beverly Hills. Though the name changes to Beverly Boulevard just west of Downtown, it remains the same continuous street.
The built environment along its length transitions from single family homes to green spaces like Belvedere and Obregon Parks, to mom and pop Mexican eateries, concrete bridges, dozens of murals, a new train station, luxury condos, century-old Buddhist temples, postmodern skyscrapers, poured concrete art deco masterpieces like John Parkinson's City Hall, and newer venues like Frank Gehry's Walt Disney Concert Hall and Diller Scofidio + Renfro's The Broad.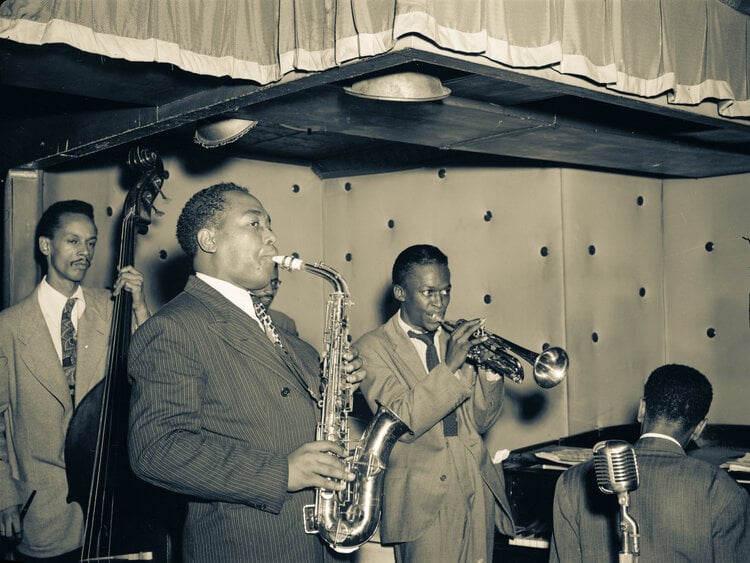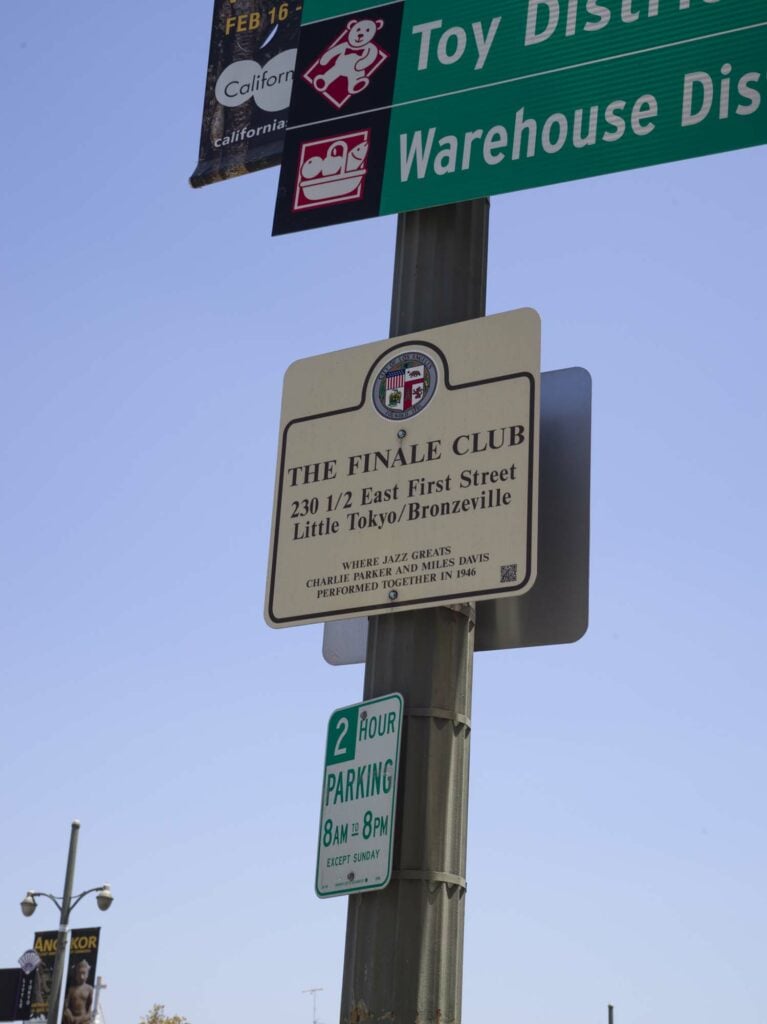 A Forgotten History: The Central Avenue Jazz District
Beyond architecture and the built environment, First bridges cultural history. On the same block where Japanese Americans were taken to be interned, there is a significant African American story. Central Avenue is the historic home of the city's Black community, and the Central Avenue Jazz District was a lively corridor from the 1920's into the Sixties. During the so-called "Second Great Migration" of the 1940's, when defense production skyrocketed throughout the city, thousands of African Americans moved to Los Angeles for new work and a new life. During the consequent housing shortage many African Americans moved into the new vacancies around Little Tokyo created by E.O. 9066. This is why during the Second World War Little Tokyo was called Bronzeville.
Jazz venues from further south along Central also filled the vacancies created by interned Japanese. The Finale Club, on First two blocks west of Central, was recently designated a historical monument. Charlie Parker and Miles Davis both played there in 1946. Though the club has not been there for decades, a sign marks the monument at 230 ½ East First Street. Ruben Guevara's 2022 play Masao and the Brown Nightingale spotlights The Finale Club. (The play was staged at Casa 0101 Theater in Boyle Heights, which is also on First Street.)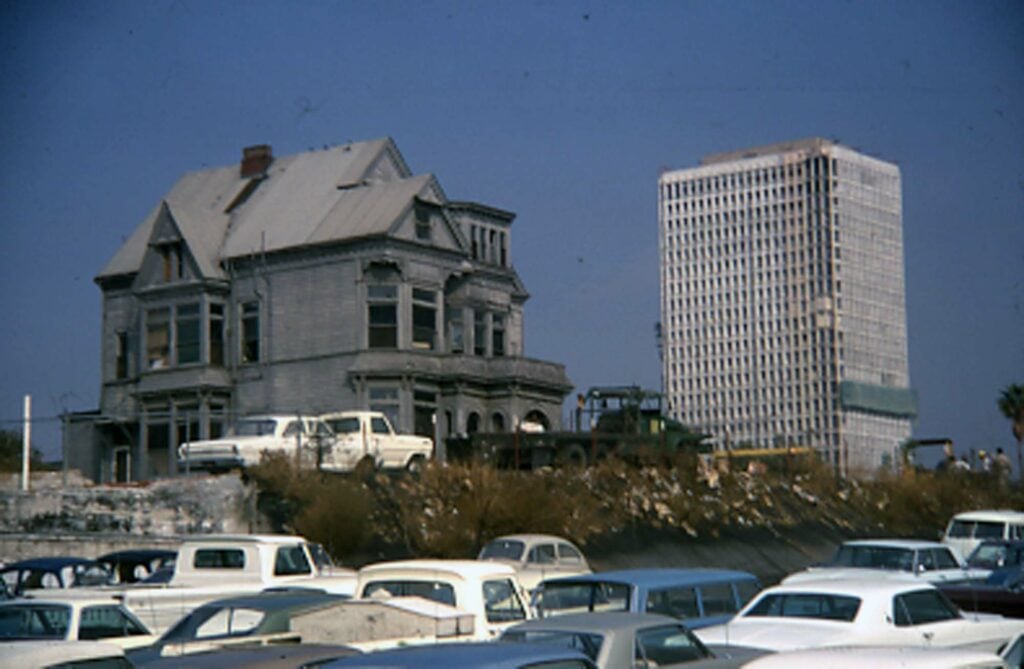 Civic Center/ Bunker Hill: Grand Projects and Scorched Earth Urbanism
Just west of Little Tokyo, First enters the Civic Center, with its bulky government buildings. This stretch of the street includes some of LA's most massive structures, including City Hall, AECOM's LAPD Headquarters, the Los Angeles Times former home, Morphosis Architects' Caltrans District 7 headquarters, and SOM's new federal courthouse. A few blocks west along First is Gehry's Disney Hall, the Music Center, and a brand new structure also designed by Gehry, the Grand LA. This new $1 Billion project includes two towers with a 28-story hotel, 45-story residential structure, and several retail stores. Its developer, The Related Companies, dubs it "a city within a city." The ribbon was cut on July 13th. It took 15 years to finish.
This section of First is known as Bunker Hill. Long before the concert halls, condos, and 40-story skyscrapers, it was known for large Victorian homes. These mansions marked Bunker Hill as the city's first wealthy district from the 1860s until the Depression. It became a working-class area until the late 1950s, when the city, employing eminent domain, leveled several blocks of old buildings. Read John Fante or Carlos Bulosan for tales about old Bunker Hill and its Depression-era single-room-occupancies. Today's gleaming architecture rests on top of this history.
The first structure built after Bunker Hill's erasure was architect Welton Becket's Dorothy Chandler Pavilion, in 1962. Named after the wife of the former publisher of the Los Angeles Times, it has hosted the Oscars, Opera, and theater events. One more iconic structure, a block west of Disney Hall, is the John Ferraro Building, the elegant Modernist headquarters for the Los Angeles Department of Water and Power. Designed by A.C. Martin in 1965, it measures 17-stories-tall and is, fittingly, surrounded by a reflecting pool.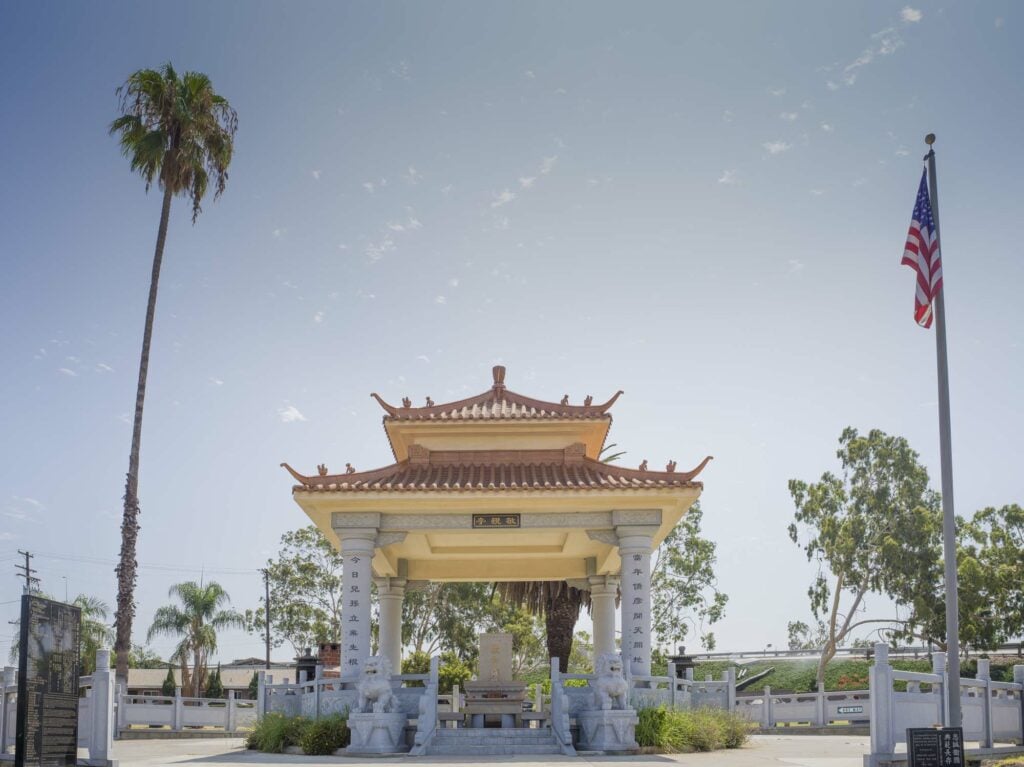 Monterey Park: Center of Chinese Migration
At its eastern end, First Street terminates at Atlantic Boulevard in Monterey Park, America's first city to have an Asian American majority. Historically, Monterey Park was Japanese American, Mexican American and Anglo, but it transformed rapidly in the 1970s and 80s, when thousands of Chinese and Taiwanese immigrated after the Immigration and Nationality Act of 1965 eliminated the national origins quota system. Within a decade, the Chinese population would dominate.
A mile west of Monterey Park, at First and Eastern, is the Chinese Cemetery of Los Angeles, established in 1922. For many years it was the only cemetery in the city where Chinese Americans could be buried with dignity. Prior to its formation— largely due to the Chinese Exclusion Act of 1882, but dating back to 1877— the only place Chinese Angelenos could be interred was the city-owned Potter's Field, a few miles west at First and Lorena St., next to the Evergreen Cemetery. This is where destitute residents and unclaimed bodies were buried, and the city required Chinese residents to pay $10 to be interred there, while whites were not charged.
My mother-in-law, Fujiko Kitamura, was a Japanese immigrant who moved to Monterey Park from Tokyo in 1979. Shortly after arriving in California, she worked as a waitress at Tanuki Koji in Little Tokyo's Japanese Village on First. She never liked driving on the freeway, so First became her central artery, providing a direct path to Little Tokyo. While waiting tables Kitamura befriended an older Japanese woman who invited her to a local Buddhist church, the Rissho Kosei-Kai, also on First in Boyle Heights. Geographically the church is about halfway between Monterey Park and Little Tokyo. Kitamura ended up becoming a member for 40 years until she passed away in June of 2021. First Street eased her transition into Los Angeles, serving as a guiding spine, as it has been for thousands of Angelenos.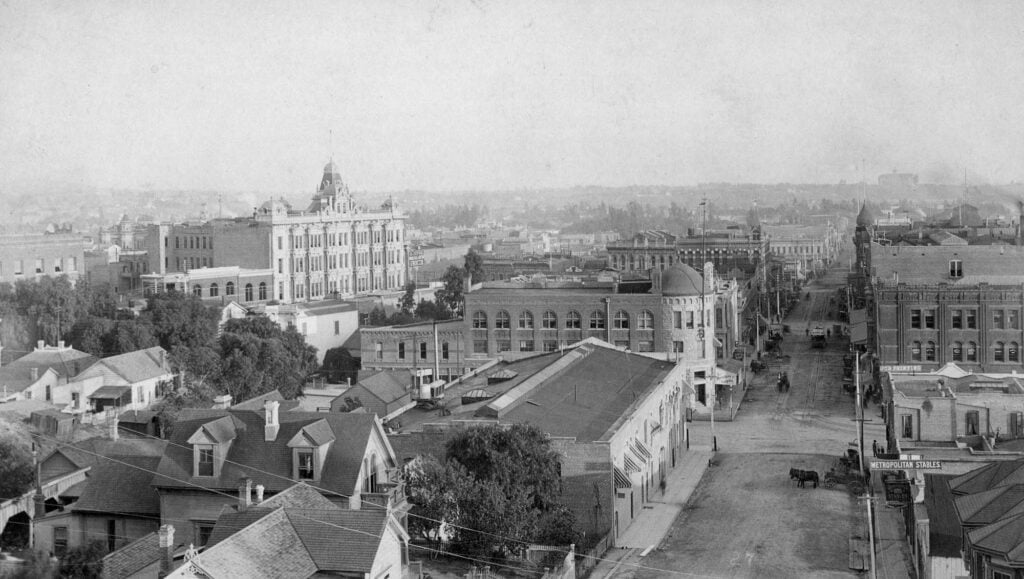 East LA: In the Middle of It All
Just west of Monterey Park along First is Belvedere Park, in East Los Angeles. East L.A. is neither a separate city nor an official part of Los Angeles— it is actually a part of unincorporated Los Angeles County. Belvedere, Maravilla and City Terrace are neighborhoods within East Los Angeles, whose geographic boundaries are east of Boyle Heights at Indiana Street, south of the El Sereno District at the 10 Freeway, north of the city of Commerce near the 5 Freeway, and west of both Monterey Park and Montebello. East Los Angeles is a large area, often conflated with Eastside neighborhoods like Boyle Heights, El Sereno, and Lincoln Heights. But similar to the confusion around Inglewood and South Central Los Angeles, they are separate entities. Belvedere Park was once much larger, but it was cut in half when the 60 freeway was built in the early 1960s. Its southern section along 3rd Street was the starting point of the National Chicano Moratorium on August 29th, 1970.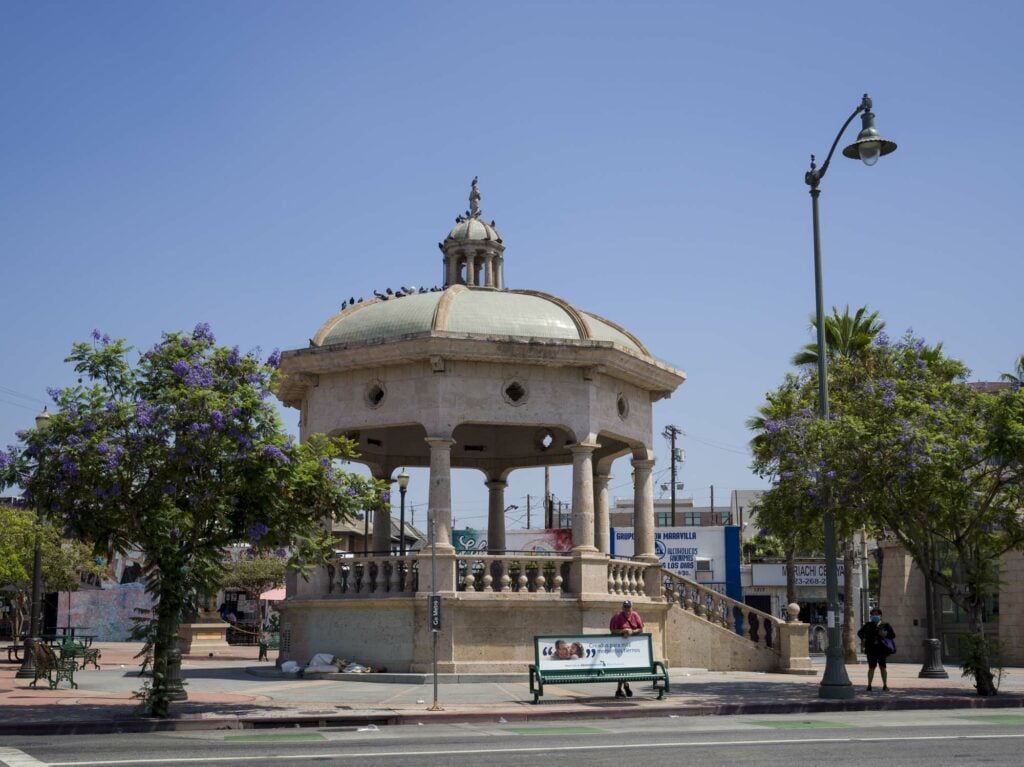 Boyle Heights: Multicultural Solidarity
First is one of the main streets of Boyle Heights, the iconic district between Little Tokyo, East Los Angeles, and Monterey Park. In many ways this was L.A.'s first truly multicultural area, because the city had restrictive housing covenants in most of its other neighborhoods. Early 20th Century Boyle Heights had the largest Jewish population west of the Mississippi, and a significant Japanese American population, while it has always been a center for Mexican residents. There were even significant Russian, Armenian, and African American groups in the area.
George Sanchez's recent book, Boyle Heights: How A Los Angeles Neighborhood Became the Future of American Democracy, elucidates how its historic mix of Mexican, Jewish and Japanese-American residents epitomized multicultural solidarity. Though the area is now predominantly Latino, vestiges of the Japanese community remain, like the Rissho Kosei-Kai temple, the Tenrikyo Church, Otomisan restaurant, and the Japanese School on Saratoga Street.
As First Street cuts through East L.A. and Boyle Heights it is filled with famous eateries that are sacred to the Mexican-American community, like Liliana's Tamales, La Gloria Tortilleria, and the El Mercado Market, with its copious food stalls. There's also Al & Bea's, El Sol Taqueria, Teresita's, and Chalio's Birrieria.
The Evergreen Cemetery, also on First Street, is L.A.'s oldest non-denominational burial ground. Established in 1877, its graves reflect the city's diverse population, with sections for African American, Chinese American, Mexican American, Japanese American, Armenian American, and Jewish American Angelenos. Though the cemetery was originally segregated by group, it was one of the only places where People of Color could be buried in the city until well into the 20th Century. It holds iconic Angelenos like Charlotta Bass and Biddy Mason, along with early city leaders like the Hollenbeck, Lankershim, and Van Nuys families.
Mariachi Plaza, on First and Boyle, is where groups of mariachi musicians await potential customers. There's a bandshell for live music performances. It has become one of Los Angeles's most iconic intersections. Local businesses include Eastside Luv, Espacio 1839, and the lending library Libros Schmibros. There's a Gold Line Metro Station below street level that contains a mural by artist Sonia Romero depicting Boyle Heights' multicultural history, and there's a statue in the plaza honoring the pioneering musician Lucha Reyes.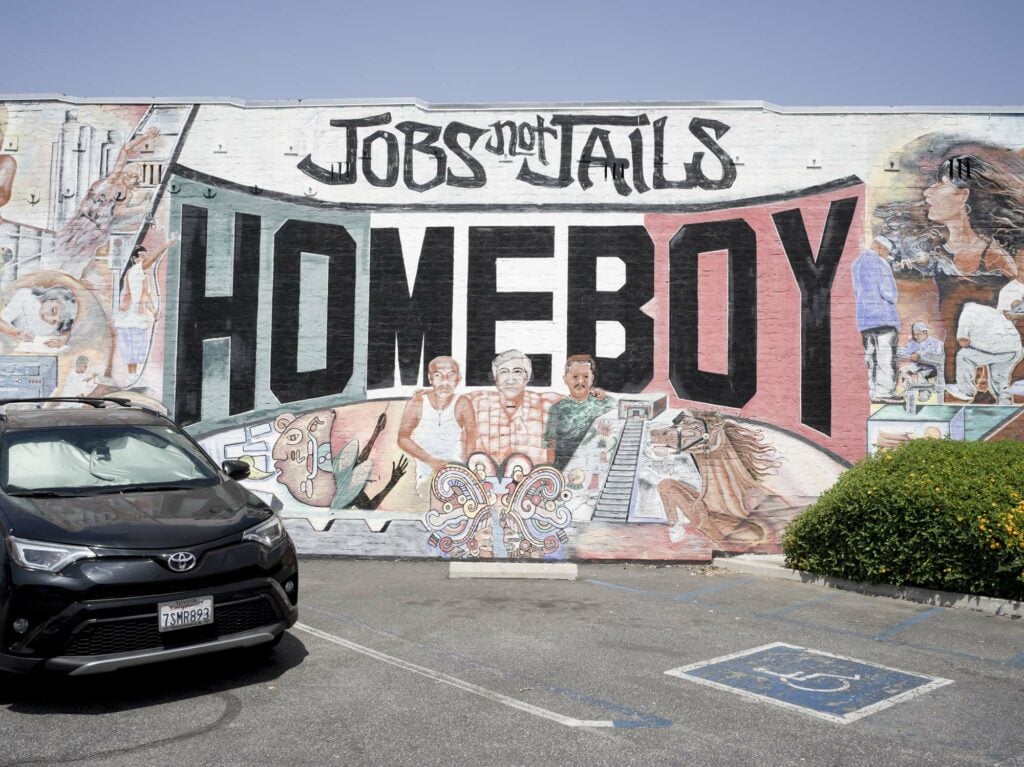 On the western edge of Boyle Heights along First is the recently renovated Pico Aliso Housing Project. Pico Aliso is where Homeboy Industries launched out of the adjacent Dolores Mission Catholic Church in 1992. Known for being the world's largest gang rehabilitation and re-entry program, Homeboy has provided training and support for thousands of formerly gang-involved youth. Its first official office opened in 1994 at 1848 East First Street. Founded by Father Greg Boyle, the organization has helped countless troubled youths find jobs and purpose. One of its signature phrases is "nothing stops a bullet like a job."
One of Homeboy's many success stories is muralist Fabian Debora. The former gang member, who grew up at Pico Aliso, is now the Executive Director of the Homeboy Art Academy, also on First just east of Evergreen Cemetery. Debora, who met Father Boyle when he was 11, has painted murals all over the world and shown work in fine art galleries, films, and television shows. He has designed book covers for Boyle's previous books, and their latest collaboration is Forgive Everyone Everything, a collection of Boyle's 50 most inspiring stories accompanied by Debora's art. Debora has now helped hundreds of youth in the same spirit that Father Boyle helped him. He has a large mural along First near Mariachi Plaza, and was recently commissioned to create another on First and Lorena, across from Evergreen. He sees murals as a portal across time and space into a better world.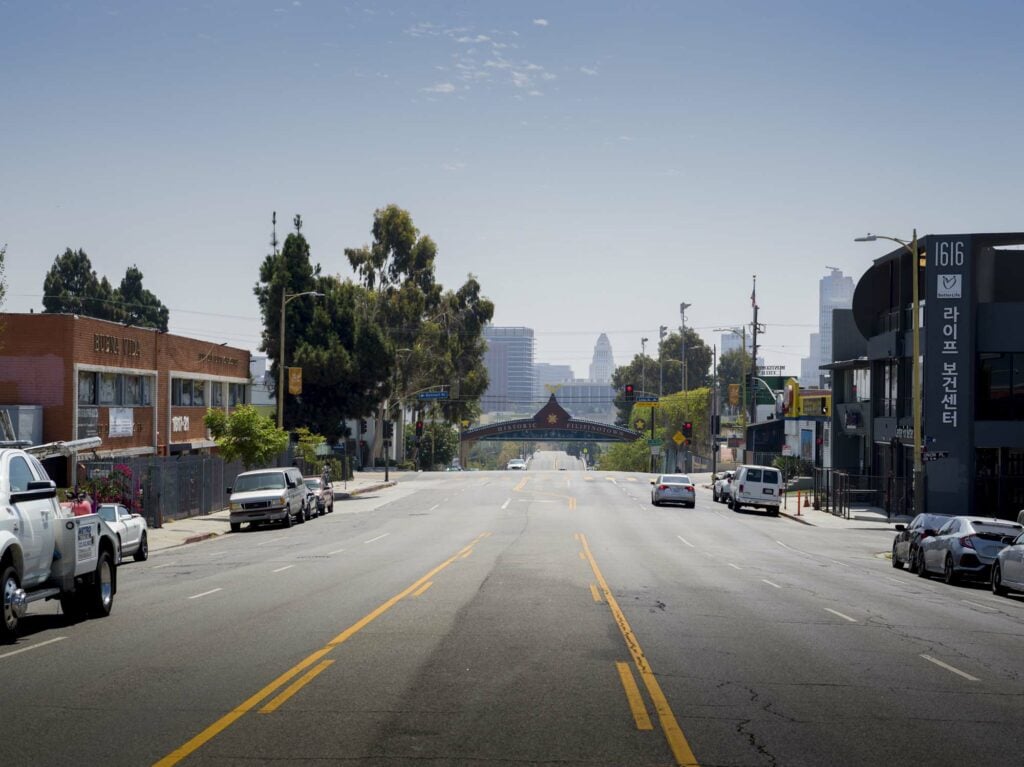 Historic Filipinotown: A Glorious History, A Golden Legacy
Just west of Downtown, First changes to Beverly Boulevard near Belmont High School, one of the sites of the 1968 East L.A. Chicano Student Walkouts (Blowouts), an early catalyst of the Chicano Civil Rights Movement. Though First's name changes, it remains the same street. This stretch is where a few districts intersect: Temple-Beaudry, Historic Filipinotown and Echo Park. South of this portion of Beverly is the MacArthur Park/Westlake District, a well-known Central American neighborhood. Further to the west is Koreatown, and just northwest are Thai Town and Little Armenia. The farthest western stretch of Beverly goes all the way past the Beverly Center Mall and Cedars-Sinai Medical Center into Beverly Hills, where it eventually merges with Santa Monica Boulevard.
Historic Filipinotown, where First becomes Beverly, is the first official historic cultural district in the U.S. for the Filipino American community. On its eastern edge is a brand new 30-foot-tall, 80-foot-wide arched gateway emblazoned with the neighborhood's name "Historic Filipinotown" across both sides. The gateway, which opened this May, includes three symbols of Filipino culture: the parol (lantern), the gumamela flower (hibiscus rosa-sinensis), and the Sarimanok (a legendary bird). The gateway, called "Talang Gabay: Our Guiding Star," was designed by the interdisciplinary Filipino artist Eliseo Art Silva.
Southern California has several Filipino enclaves, including West Covina, Carson, Cerritos, and Eagle Rock, but it's the district just west of Downtown where the Filipino-American community first settled here a century ago. Cal State Northridge Asian American Studies Professor Allan Aquino breaks it down: "Though Filipinos first set foot in California as subjects of the Spanish empire in the late 1500s, the first major immigration wave to California arrived in the 1920s, establishing homes, businesses, and cultural centers near Little Tokyo and Echo Park in the area now known as Historic Filipinotown. This Los Angeles neighborhood, also regarded as "HiFi" or "P-Town," was so named in 2002 because of its role as an historic gateway for Filipino Americans settling in the United States."

This stretch of Beverly is also where you can find the original location of Tommy's Burgers, at Beverly and Rampart. Before Tommy's, at Beverly and Union, is a small pocket park that is easy to miss. Unidad Park used to be a vacant lot before transforming into a community garden sponsored by the Filipino American grassroots group Search to Involve Pilipino Americans (SIPA). Its genesis dates back almost three decades, to when the lot was owned by Filipino-American doctor Carmencita Chuateco. The city purchased the land and converted it into a public space through the Los Angeles Neighborhood Land Trust (LANLT).
Unidad Park's "unity" theme celebrates the historical connection between Filipino and Latino workers that gave rise to the farm workers movement in Delano, California in 1965. Its garden's slopes are a nod to rice terraces in the Philippines. Its crown jewel is a 25-foot high, 150-foot long mural painted in 1994-95. Titled "A Glorious History, A Golden Legacy" and also painted by Eliseo Art Silva, it is the largest mural in America depicting Filipino American History. The mural includes the Filipino labor leaders Larry Itliong and Philip Vera Cruz next to Cesar Chavez. It also honors famous Filipino public figures like boxer Manny Pacquio, Black Eyed Peas MC Apl de Ap, poet Carlos Bulosan, retired Rams quarterback Roman Gabriel, and Corazon Aquino, among dozens of others.
"Memory is the most important ingredient in nation building," states Filipino American author F. Sionil Jose. This quote appears in the bottom left-hand corner of Silva's mural, and the sentiment is relevant to not only Unidad Park, but to Historic Filipinotown, Little Tokyo, Boyle Heights, Monterey Park, and the entire First Street Corridor. Memory is a glue that builds social cohesion.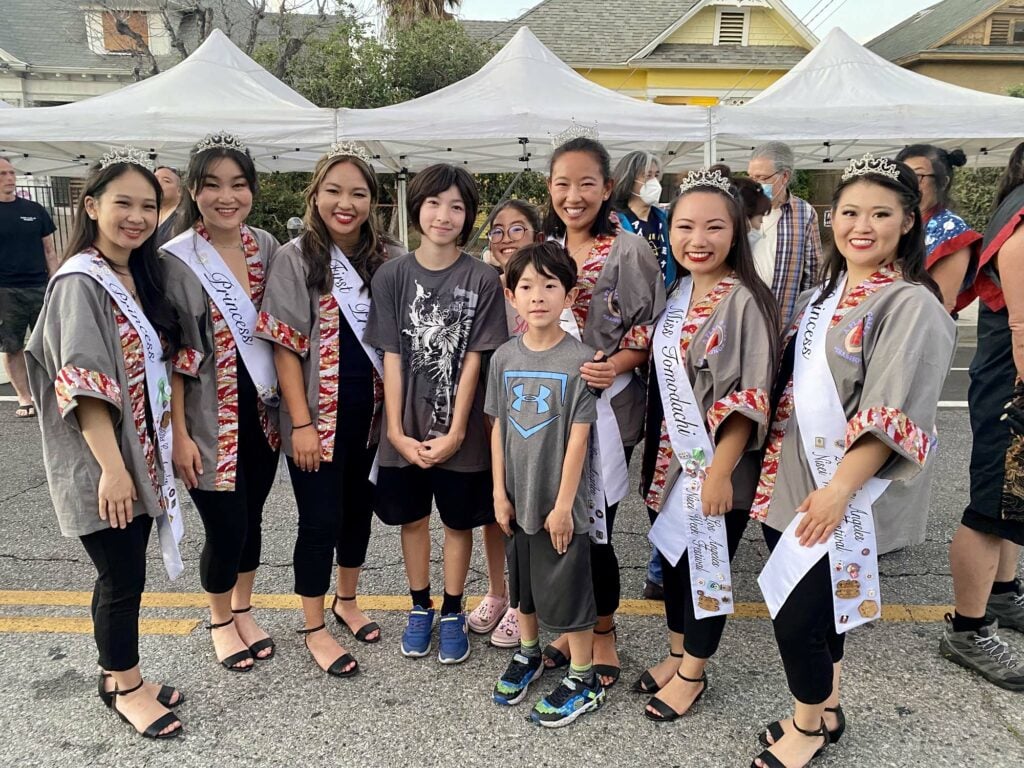 Dancing for the Ancestors on First Street
Moreover, memory is becoming increasingly important as hundreds of American neighborhoods are being erased and gentrified. In this era of transition, the sacred memories along the First Street Corridor at sites like Unidad Park, the Japanese American National Museum, Evergreen Cemetery, Belvedere Park, and Mariachi Plaza offer a nation-building ingredient we need now more than ever.
On August 7th, the Boyle Heights Community Partners and Little Tokyo Historical Society organized the 1st Annual Nikkei Celebration, held on East First Street between Saratoga and Soto Streets in Boyle Heights. First Street was closed along this stretch from 3 to 8pm for a parade, performance and presentation. I was there the entire time.
A stage was placed in front of Otomisan Restaurant, which was being honored by the city as its longest running Japanese eatery, dating back to 1956. After a parade, a presentation by city officials, and several musical performances, hundreds of people danced to songs in Spanish, Japanese and English. The dance was part of a Japanese tradition called "Obon" held in early August, which is about celebrating ancestors. It is essentially a Japanese version of Dia de Los Muertos. At the end of every Obon festival, people dance in the streets in a big rotating circle. The highlight is this moment: when people of all cultures revel together to honor their ancestors and celebrate life. I saw three generations of Japanese Americans, Latinos, and people of all races dancing together in the middle of First Street as the sun set.
One of the songs everyone danced to, "Bambutsu – No Tsunagari," is a collaboration between pioneering Japanese American singer Nobuko Miyamoto and Grammy-winning East L.A. band Quetzal. The song blends "Son Jarocho," a mix of Spanish, Indigenous, Mexican and African influences, with a Japanese feel, and the title means "all things connected in Japanese." The song has become an Obon anthem, and its themes align perfectly with the history of First Street. We are all connected across generations and cultures, and one of the most obvious places you can see, feel, and remember this is along First Street.
Would you like to comment on this article? Send your thoughts to: [email protected]