November 1, 2021
A Virtual Exhibition Explores Ways to Upcycle Single-Use Plastics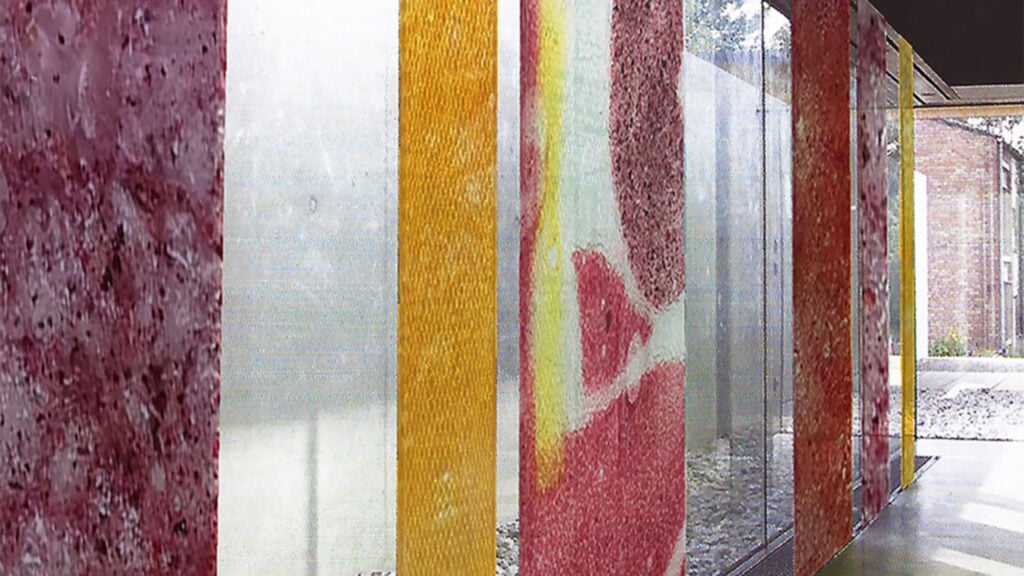 The work of eleven RCA students is featured in this project's online exhibition, including top winner Bethany Voak's reimagination of the lifespan and potential uses of expanded polystyrene packaging; Voak's research found this material 100 percent recyclable but not commonly recycled in the United Kingdom.
During her research, Voak discovered an organic compound that causes the polystyrene to change into a moldable consistency that is hard compared to polystyrene's normal sponginess, and that can be smooth or textured. Voak's goals, the exhibition said, are "to shine a light on an issue in the UK recycling system, and also show that the uses of polystyrene can go beyond the packaging and thermal insulation that it is commonly known for," for use in both leisure and hospitality environments.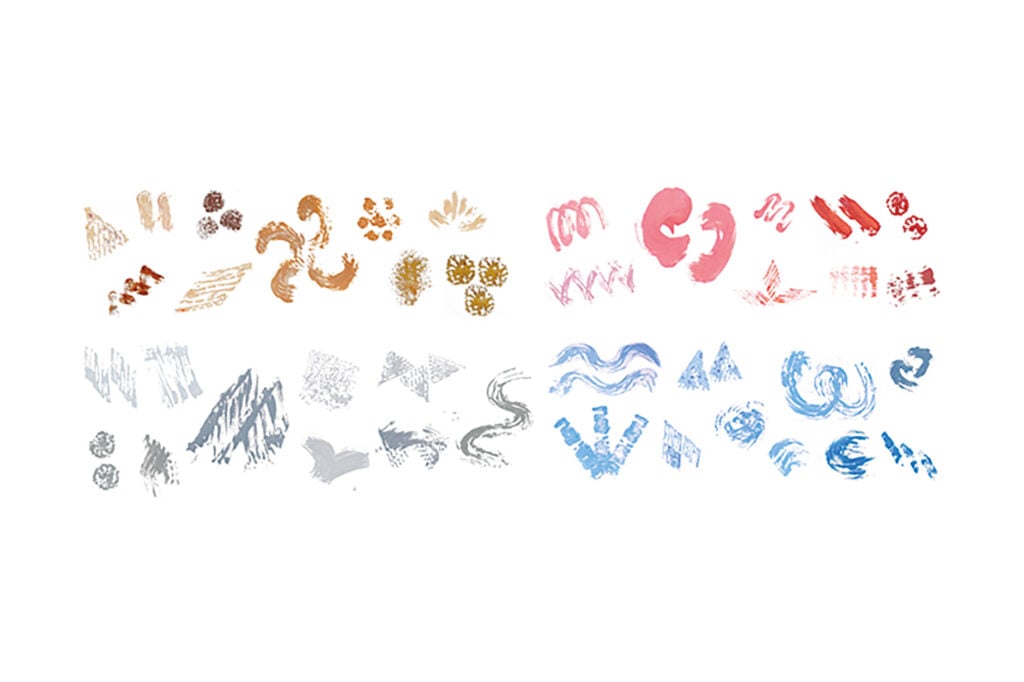 PriestmanGoode deemed two other students' concepts "highly commended." Henrietta Dent created new textiles out of polypropylene and polyethylene nets found in supermarket waste streams. Semi-rigid and malleable, the textiles allow color and light to diffuse through them, and could be used in an interior transport environment, such as the subway, "to add vibrancy and juxtapose against a neutral space," the exhibition said.
The second "highly commended" concept, by Yuke Liu, features a set of painting tools created from recycled, single-use, EPE fruit net foam. The color palette for these tools is divided into four groups, soil, body, ocean, and air, which correspond to the four key areas affected by single-use plastics. These tools were designed for use in museums, creative workshops, stores, and domestic settings.
One of the runners-up, Liv Wilkinson, considers plastic not only an "ocean issue" but also a "desert issue," since she said plastic bags are blown across the desert "even if disposed of properly, resulting in harm to the natural landscape and wildlife." She created new materials out of plastic bags, which could be used in the lounge interiors of UAE's drone taxi airports, now only a concept.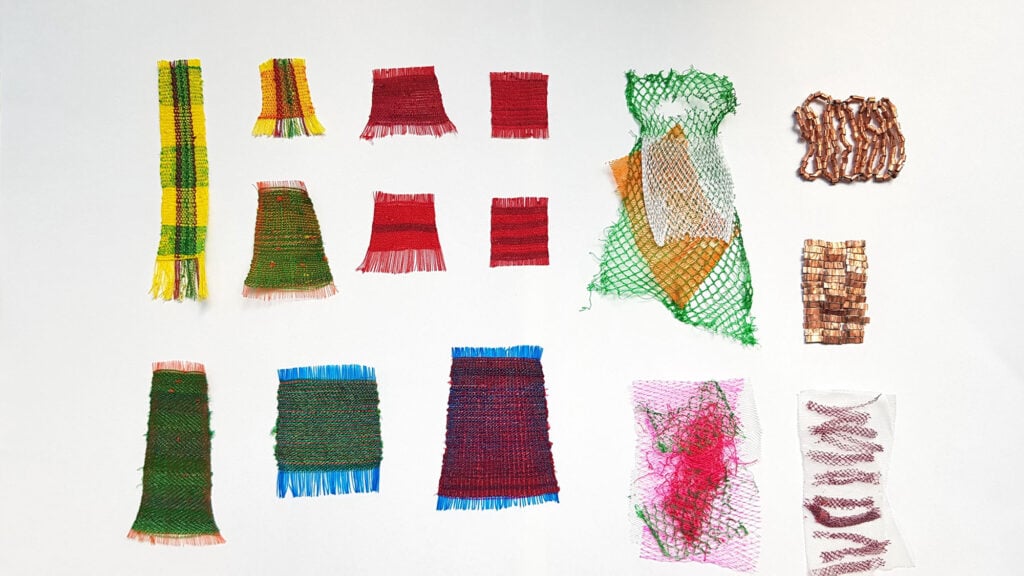 Another runner-up, Vicki Zhiwei Hong, who comes from Fujian, China, collected waste materials such as incense packaging, red plastic bags, and tea light cups frequently found at Buddhist temples. Taking these materials she designed a lotus-shaped table lamp which emits the scent of incense when it is used; in Buddhist culture the lotus shape represents purity and dignity.
Maria Kafel-Bentkowska, head of PriestmanGoode's color, material, and finish team—which is made up of experts in textiles, new materials, trends, and product designs, and which oversees the RCA collaboration—said one of the main challenges facing the RCA students who participated in the project this year is they did not have access to the school's lab facilities and had to "get creative with how to make new materials within their own home environments."
She said a number of the students, including Voak, will continue to develop their projects during their second year of study, and that PriestmanGoode will follow them to see if their concepts are actually realized.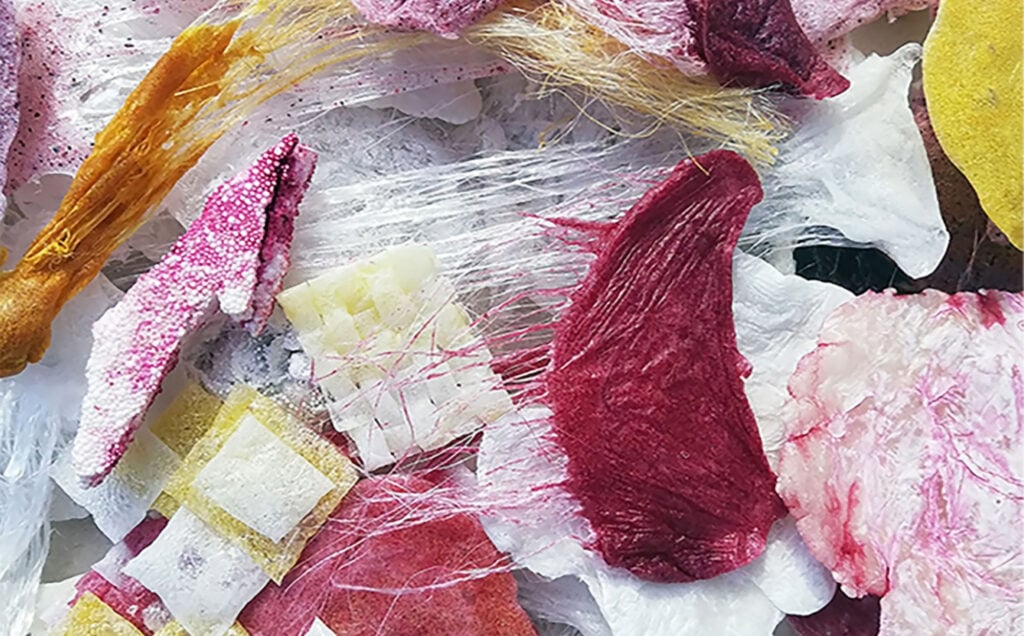 Would you like to comment on this article? Send your thoughts to: [email protected]